1955: Elvis Presley performed at Eagles Hall in Houston, Texas.
1956: "Rock Around The Clock" by Bill Haley & the Comets returned to #1 in the U.K.
1957: Love the title--A new rock & roll show, Cool for Cats, premiered on BBC television in the U.K.
1959: Elvis Presley wrecked his BMW while driving on the Autobahn in Germany.
1962: The Beatles auditioned for Decca Records, playing 15 songs for the A&R man. He declined to sign them, opting instead to sign the Tremeloes. Bad career move for the A&R man.
1964: The Beach Boys recorded "Fun Fun Fun" at United Western Recorders in Hollywood, California.
1964: The first Top of the Pops show aired on BBC television in the U.K. from an old church hall in Manchester, England. DJ Jimmy Saville introduced the show, featuring the Dave Clark Five ("Glad All Over") the Rolling Stones ("I Wanna' Be Your Man") and the Hollies ("Stay"). The first song played was "I Only Want To Be With You" by Dusty Springfield. Other groups featured on film were the Beatles ("I Want To Hold Your Hand"), Cliff Richard and the Shadows, Gene Pitney and Freddie & the Dreamers.
1965: The Yardbirds, featuring a young guitarist named Eric Clapton, were in concert for two shows at the Odeon Cinema in Hammersmith, London.
1965: James Brown logged a sixth week at #1 on the R&B chart with "I Got You (I Feel Good)".
1966: Whipped Cream & Other Delights by Herb Alpert & the Tijuana Brass was #1 on the Album chart for a sixth week. The album had already been on the chart for 34 weeks, quite a bit back then. Again, you want to look at achievements within context and the fact that it dominated for that time is impressive. In fact, the group was second only to the Beatles for album sales in the 1960's.
1966: Simon & Garfunkel's breakthrough song "The Sound Of Silence" became their first #1. Look out from behind, though, as the Beatles jumped from 11 to 2 in only their third week with "We Can Work It Out".
1966: Ricky Nelson filmed the final episode of The Adventures of Ozzie & Harriet.
1967: Gary Lewis of Gary Lewis & the Playboys and Jerry's son, was drafted into the United States Army.
1967: The Grateful Dead and Big Brother & the Holding Company performed at the New Year's Wail/Whale in Panhandle Park in San Francisco, California.
1967: The Doors made their television debut on KTLA-TV Channel 5 in Los Angeles, performing "Break On Through".
1967: Sonny and Cher were barred from the Tournament of Roses Parade in Pasadena, California, because they supported the people who rioted on Sunset Strip in Los Angeles.
1968: For the first time in history, LP sales outpaced sales of singles with 192 million units sold.
1971: To celebrate the Beatles' ten years in the music business, Radio Luxembourg played seven continuous hours of Beatles music.
1972: Three Dog Night became the first rock band to be included in the Tournament of Roses Parade in Pasadena, California.
"Rock and Roll" from 'Led Zeppelin IV'...
1972: Stanley, Idaho's Carole King made it two straight #1 albums in a row as she followed up the epic Tapestry with Music. Led Zeppelin IV was second with Cat Stevens moving up to #3 with Teaser and the Firecat. Chicago At Carnegie Hall edged up and Grand Funk Railroad reached #5 with E Pluribus Funk. The rest of the Top 10: The previous #1 There's a Riot Goin' On from Sly & the Family Stone, Don McLean at #7 with American Pie, Santana III was eighth, Tapestry from King was #9 after 39 weeks and All In the Family from the landmark television show of the same name was #10.
1972: Three Dog Night started the New Year with the new Adult #1--"An Old Fashioned Love Song".
1972: With one smash hit at the top, Three Dog Night continued the momentum, as "Never Been tT Spain" moved from #81 to #43 in its second week on the chart.
Jonathan Edwards with "Sunshine"...
1972: Melanie continued to have the right formula with "Brand New Key" at #1. Don McLean closed to #2 with "American Pie" while Sly & the Family Stone's former #1 "Family Affair" and "An Old Fashioned Love Song" by Three Dog Night trailed. The rest of the Top 10: Michael Jackson and "Got To Be There", the Chi-Lites remained in the #6 spot with "Have You Seen Her", Dennis Coffey & the Detroit Guitar Band reached #7 with "Scorpio", Jonathan Edwards moved to #8 with "Sunshine", David Cassidy's remake of "Cherish" was #9 and fellow teen idol Donny Osmond was at #10 with "Hey Girl/I Knew You When".
1976: Robert Plant, lead singer of Led Zeppelin, walked for the first time without assistance after his August, 1975 crash in Greece.
1977: The Roxy reopened as a punk club in London with the Clash performing.
1977: Genesis performed at the newly renovated Rainbow Theatre in London.
1977: Wings flew over the U.K. chart with "Mull Of Kintyre", a song that would go on to be #1 for nine weeks.
1978: The Little River Band released the single "Lady".
1979: Bruce Springsteen's cheek was ripped open when some dunce in the crowd in Richfield, Ohio threw a lighted firecracker on stage.
1980: Rush released their seventh studio album--Permanent Waves.
1980: Cliff Richard became the third rock act (following the Beatles and Elton John) to receive an MBE from the Queen of England.
1982: ABBA, who did a grand total of one tour in North America, performed for the final time in Stockholm, Sweden.
1984: Alexis Korner, whose band Blues Incorporated was a linchpin in the British Rock Family Tree, as chronicled on Inside the Rock Era, died from lung cancer in London at the age of 55. Mick Jagger, Keith Richards, Charlie Watts, Jack Bruce and Manfred Mann are just a few of the musicians who played with Korner in Blues Incorporated.
1985: Kylie Minogue appeared on television in the premiere of the Australian soap opera
The Henderson Kids
.
(Note: some websites insist Minogue appeared on the show in 1989. 'The Henderson Kids' only ran two seasons, 1985 and 1986.)
1985: Although they have since strayed far, far, far away, VH-1 premiered as an adult contemporary video channel.
1987: The Cutting Crew released the single "(I Just) Died in Your Arms".
1988: Prince played a charity concert after midnight in aid of the Minnesota Coalition for the Homeless at his Paisley Park Studios in Chanhassen, Minnesota.
1990: In one of the shrewder moves of the Rock Era, Polygram purchased the rights to the ABBA catalog.

1991: Buck Ram, songwriter ("Only You" for the Platters) and producer for both the Platters and Penguins, died at the age of 73 in Las Vegas, Nevada.
1994: One of Mariah Carey's last great songs, "Hero", was #1 for a second week while former #1 "Again" by Janet Jackson was second. Ace of Base remained third with "All That She Wants" while the new collaboration between Rod Stewart, Bryan Adams & Sting--"All For Love" moved to #4. Meat Loaf was still at #5 with "I'd Do Anything For Love (But I Won't Do That)" and Toni Braxton climbed up to 6 with "Breathe Again". Another good song in the Top 10 was Michael Bolton's "Said I Loved You...But I Lied".
2002: After messing up "friend" George Harrison's marriage and then dumping Harrison's wife, Eric Clapton married 25-year-old Melia McEnery in a secret ceremony at the 15th Century St. Mary Magdalene Church in Ripley, Surrey, England.
2002: Gavin Rossdale of Bush proposed to Gwen Stefani of No Doubt. Apparently, no doubt that she would say "Yes".
2002: Alicia Keys captured five Grammy Awards for her amazing album Songs in A Minor.
2002: Dido's Life for Rent finished 2001 as the top-selling album in the U.K.
2011: Chuck Berry collapsed on stage at Congress Theater in Chicago, Illinois. He was helped off stage, only to return 15 minutes later. Berry was then forced off almost immediately. The 84 year-old then re-emerged to tell fans he wasn't able to continue.
2013: Patti Page ("Tennessee Waltz") died in Encinitas, California at the age of 85.
Born This Day: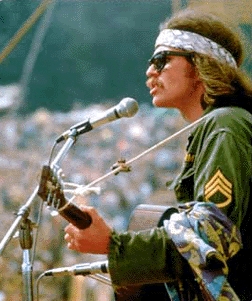 1942: Country Joe McDonald was born in Washington, D.C. (Note: several websites, including some prominent music ones, incorrectly say that Country Joe was born in El Monte, California. According to the official website for Joe, he was born in Washington, D.C., then moved with his family to El Monte.)
1942: Billy Francis (William Francis Jr.), keyboardist with Dr. Hook, was born in Ocean Springs, Mississippi; died May 23, 2010 in Seymour, Missouri.
1946: Boz Burrell of Bad Company was born in Holbeach, Lincolnshire, England; died September 21, 2006 of a heart attack at his home in Spain. (Note: 'Allmusic.com' reports that Burrell was born August 1; that is in conflict with two respected newspapers--'The Los Angeles Times' and 'The Independent', which both say that Boz was born January 1.)
1950: Morgan Fisher, keyboardist of Mott the Hoople and later a producer, was born in Mayfair, London.
1952: Andy Johns, noted producer and engineer, who worked with the Rolling Stones, Led Zeppelin, Joni Mitchell, Van Halen, Jimi Hendrix, Eric Clapton, the Steve Miller Band, Jethro Tull, Free, Cinderella, Ten Years After, Humble Pie and Joe Satriani, was born in Leatherhead, Surrey, England; died April 7, 2013 at the age of 71 in Los Angeles from complications of a stomach ulcer. (Note: some websites claim Johns was born in Epsom, Surrey, England, but 'The New York Times" reported that he was born in Leatherhead.)
1958: Michael Penn, singer/songwriter ("No Myth") and brother of Sean, was born in New York City.
1958: Joseph Saddler (Grandmaster Flash) was born in Bridgetown, West Indies