1956: Elvis Presley signed a contract with the William Morris Agency to represent him in arrangements with movie companies.
1957: "Rock Around The Clock" by Bill Haley & the Comets, which was a hit in Great Britain before it was re-released in the Untied States, went over a million in sales in the U.K., the first million-seller in Great Britain alone.
1961: Bobby Darin hosted Bobby Darin and Friends on NBC, becoming the youngest person to headline a TV special.
1963: The Beach Boys recorded "Surfin' U.S.A." and "Shut Down" at Western Recorders Studio in Hollywood, California.
1964: Sales of "I Want To Hold Your Hand" by the Beatles had already topped 1.5 million in England alone while "She Loves You" was at 1.3 million.
1966: The Outsiders released the single "Time Won't Let Me".
1967: John Lennon bought an 1843 circus poster reading "For the Benefit of Mr. Kite" at an antique shop in Sevenoaks, Kent, England. He later

wrote a song about the title.
1969: Bobby Darin walked off
The Jackie Gleason Show
after he was told he could not sing "Long Line Rider".
1970: A new British blues band debuted on the chart on this date with a song that included 20 seconds of vocals. The song was "Oh Well". After making numerous lineup changes, they found the right combination and took the world by storm beginning in 1975 with the song "Over My Head". The group is of course Fleetwood Mac.
1970: Members of the Grateful Dead were arrested in New Orleans, Louisiana, for possession of LSD and barbiturates.
1970: Creedence Clearwater Revival filmed a television special at their concert in Oakland, California. The show was filmed by ABC-TV, and combined with documentary footage filmed in 1970 and was to be the pilot episode for the show In Concert. However, the show did not air as planned, and In Concert did not premiere until over two years later, so CCR's concert was not broadcast by ABC. The CCR episode, however, was broadcast in several European countries, and was first shown in the U.S. by WNEW in New York.
1970: Slim Harpo ("Baby Scratch My Back" from 1966) died of a heart attack after a suspected drug overdose while recording in Baton Rouge, Louisiana. (Note: some websites claim Harpo died in London, but John Broven, in the book 'South to Louisiana: Music of the Cajun Bayous', says that Harpo was scheduled to go to Europe, but died in Baton Rouge.)
1970: Led Zeppelin II battled Abbey Road by the Beatles for a third week at #1 on the Album chart.
1970: The Jackson 5's first single release, "I Want You Back", remained at #1 on the R&B chart for a fourth week.
1970: The hottest mover was Brook Benton's "Rainy Night In Georgia", up from #63 to #34.
1970: The Jackson 5 finally toppled B.J. Thomas's song "Raindrops Keep Fallin' On My Head" after four weeks at #1 with "I Want You Back". "Venus" by the Shocking Blue was a strong second while B.J. was third. Led Zeppelin had their biggest career hit although Billboard didn't really know how to measure the popularity of their songs, forgetting to factor in album sales into their list of the most popular songs (just one of several factors Inside The Rock Era includes that most of our competition). The rest of the Top 10: "Without Love (There Is Nothing)" from Tom Jones, Elvis Presley's double-sided "Don't Cry Daddy"/"Ruberneckin'", Dionne Warwick moved to #7 with "I'll Never Fall In Love Again", Sly & the Family Stone advanced from 15 to 8 with "Thank You (Falettinme Be Mice Elf Agin)"/"Everybody Is A Star", Diana Ross & the Supremes with their former #1 "Someday We'll Be Together" and another former chart-topper ("Leaving On A Jet Plane") was #10 for Peter, Paul & Mary.
1971: Members of the Jackson 5 received the keys to their hometown of Gary, Indiana, as it was declared "Jackson Five Day" in Gary.
1972: A new trio released their first single on this date, and they would become one of the Top 100 Artists of the Rock Era*. America released "A Horse With No Name".
1972: Aretha Franklin sang a moving version of "Precious Lord, Take My Hand" at the funeral for Mahalia Jackson at the Arie Crown Theatre in Chicago, Illinois. Over 6,000 people packed the Theatre to pay respects, including Chicago Major Richard J. Daley, Coretta Scott King, Sammy Davis, Jr. and Ella Fitzgerald.
1973: Charlie Freeman, guitarist who played for Rita Coolidge and Delaney & Bonnie, died at age 31 after a lifetime of drug use and alcohol abuse.
1976: "Mamma Mia" by ABBA knocked Queen's "Bohemian Rhapsody" from the #1 position in the U.K. after nine weeks. Ironically, the members of Queen were subconsciously aware of the takeover when they put these words into "Bohemian Rhapsody"--"Mamma Mia, Mamma Mia, Mamma Mia let me go."
1977: The Climax Blues Band released the single "Couldn't Get It Right".
1976: The Best of Roy Orbison ruled the U.K. Album chart.
1976: John Denver & Olivia Newton-John's duet "Fly Away" resumed the #1 position on the Adult chart.
1976: "Sing A Song" by Earth Wind & Fire returned to #1 on the R&B chart.
Barry Manilow's "New York City Rhythm"...
1976: Earth, Wind & Fire prevailed for a third week at #1 on the Album chart with Gratitude. Bob Dylan moved from 23-2 with Desire, leaping over Paul Simon's Still Crazy After All These Years. Chicago IX - Chicago's Greatest Hits was fourth with Helen Reddy's Greatest Hits fifth. It must have been a time for collections, because History, America's Greatest Hits, was seventh. In between, Trying To Get the Feeling by Barry Manilow. The rest of the Top 10: Family Reunion by the O'Jays, Alive! from Kiss and The Hissing of Summer Lawns by Joni Mitchell.
1976: The Ohio Players definitely rode "Love Rollercoaster" to the peak, skipping over Barry Manilow's "I Write The Songs". Donna Summer was third with "Love To Love You Baby" while Hot Chocolate was up to #4 with the great song "You Sexy Thing". The O'Jays remained the same with "I Love Music" while the former #1 "Convoy" by C.W. McCall moved back up to #6. The rest of the Top 10: "Sing A Song" from Earth, Wind & Fire, Paul Anka achieved his 46th career hit with "Times Of Your Life", David Ruffin was at 9 with "Walk Away From Love" and Paul Simon moved in with "50 Ways To Leave Your Lover".
1978: Greg Herbert, a latter member of Blood, Sweat & Tears, died from drugs at age 30 in Amsterdam while the group was on a European tour.
1979: The Clash began their first tour of the United States, with Bo Diddley opening, at the Commodore Ballroom in Vancouver, British Columbia, Canada. (Note: some websites state that the concert was at the Pacific National Exhibition Stadium in Vancouver, but it was at the Commodore Ballroom, according to the official website for the Clash.)
1981: "Fantastic Voyage" by Lakeside took over from Kool & the Gang's "Celebration" as the #1 R&B song.
1981: Eddie Rabbitt remained king of the Adult Contemporary chart for the third week with "I Love A Rainy Night".
1981: A hot new Canadian act first debuted on the chart with a single that had released several weeks before--"Turn Me Loose". It was the great group Loverboy.
1981: Former Randy Meisner was hot with his solo hit "Hearts On Fire", which moved from 65 to 50.
1981: Neil Diamond's "Hello Again" was the highest-debuting song at #32.
1981: Blondie moved into the top spot with "The Tide Is High", edging out John Lennon's "(Just Like) Starting Over". Kool & the Gang had their sights set on the prize with "Celebration", which stormed from 12 to 3. Eddie Rabbitt moved up with "I Love A Rainy Night" and newcomers Air Supply were at #5 with "Every Woman In The World". The rest of the Top 10: Rod Stewart's "Passion", Neil Diamond's smash "Love On The Rocks", Dolly Parton moved from 18-9 with "9 to 5", Diana Ross remained ninth with "It's My Turn" and Barry Manilow scored his 18th career hit and 11th Top 10 song with "I Made It Through The Rain".
1984: The Soundtrack to "Footloose", one of The Top 100 Soundtracks of the Rock Era*, was released.
1985: Barbara Cowsill of the Cowsills ("The Rain, The Park & Other Things") died of emphysema at age 56 in Scottsdale, Arizona. (Note: some websites state that Barbara died of cancer, but according to the book 'Rock Obituaries - Knocking On Heaven's Door' by Nick Talevski and 'People' magazine, Barbara died of emphysema.)
1986: Little Richard co-starred in the movie Down and Out in Beverly Hills, which opened in theaters.
The incredible song "Homeless" from 'Graceland'...
1987: The landmark album Graceland by Paul Simon took over at #1 in the U.K.
The Bangles became the top self-contained female group of the Rock Era...
1987: Over across the pond, the #1 album was Slippery When Wet by Bon Jovi for a fourth week. The Bangles were up to #2 after 53 weeks with Different Light.
1987: A brand new #1 on the Adult Contemporary chart--"At This Moment" from Billy Vera & the Beaters.
One of the best videos of the Rock Era no doubt helped Genesis.
1987: Billy Vera & the Beaters remained #1 for a second week with the great song "At This Moment". "Open Your Heart" by Madonna was second, getting the best of Robbie Nevil's "C'est La Vie". Genesis had a bonafide smash with "Land Of Confusion". The rest of the Top 10: Cyndi Lauper with "Change Of Heart", Janet Jackson's former #5 "Control", Glass Tiger remained seventh with "Someday", Gregory Abbott tumbled with "Shake You Down", Bon Jovi was impressive with a 15-9 leap for "Livin' On A Prayer" and Samantha Fox was all about "Touch Me (I Want Your Body)".
1988: The Red Hot Chili Peppers performed at The Mean Fiddler in London.

1988: Herb Alpert performed the national anthem of the United States at Super Bowl XXII at Jack Murphy Stadium in San Diego, California. Chubby Checker performed at halftime.
1993: Michael Jackson and 3,500 local children performed at halftime of Super Bowl XXVII at the Rose Bowl in Pasadena, California. Garth Brooks sang the U.S. national anthem.
1998: Yanni broke the gross revenue record for the MCI Center in Washington, D.C. with proceeds of $860,300. Janet Jackson broke that record on July 9, 1998 with $875,000.
1998: 18-year-old Usher rose to #1 in the U.K. with "You Make Me Wanna'".
1998: Some pretty solid albums in the Top 10. The Soundtrack to "Titanic" was #1 again with Celine Dion's Let's Talk About Love second. Listeners just wanted to get "My Heart Will Go On" (which was on both albums) any way they could. The self-titled debut by the Backstreet Boys was fourth with My Way from Usher fifth. Other albums of note: The Spice Girls were up from 13 to 6 with the "Spiceworld" Soundtrack, Chumbawamba with Tubthumper, Matchbox 20 placed the great album Yourself or Someone Like You at #8 and Garth Brooks' Sevens was #9.
1999: Cher sang the U.S. national anthem at Super Bowl XXXIII at Pro Player Stadium in Miami, Florida.
2001: KISS announced that Peter Criss was leaving the group and would be replaced by Eric Singer for the remainder of the farewell tour. Criss performed with the group for the final time on October 7, 2000.
2007: Thirty-six years after his death, Jim Morrison's poetry was used to help fight global warming. The previously unreleased "Woman In The Window", written and recorded by Morrison shortly before his death in 1971, was set to music and used to promote the Global Cool campaign.
2010:
Beyonce
won six Grammy Awards, a record for females, at the Staples Center in Los Angeles. The star won Song of the Year, Best Female Pop Vocal Performance, Best Female R&B Vocal Performance, Best R&B Song, Best Contemporary R&B Album and Best Traditional R&B Vocal Performance.
2010: Taylor Swift captured four Grammys, including Album of the Year for Fearless.
2012: M
ichael Andre Lewis (Mandre), keyboardist who played for the Who, Diana Ross, Jimi Hendrix, Marvin Gaye, Sly & the Family Stone and Frank Zappa, died in Shreveport, Louisiana at the age of 63.
Born This Day:
1928: Chuck Willis ("C.C. Rider" from 1957) was born in Atlanta, Georgia; died during surgery in Chicago, Illinois of peritonitis while at the peak of his career on April 10, 1958.
1930:
Al De Lory, pianist who co-wrote "Mr. Custer" for Larry Verne, and arranged and produced "Gentle On My Mind" and "Wichita Lineman" as producer for Glen Campbell for over 25 years, was born in Los Angeles; died February 5, 2012 in Nashville, Tennessee at the age of 82. De Lory also worked with the Beach Boys, Doobie Brothers, Tina Turner and the Crystals and produced the Turtles.
1946: Terry Kath, founding member and guitarist of Chicago, was born in Chicago, Illinois; died January 23, 1978 in Woodland Hills, California when he pointed a pistol at himself at a party, told friends the gun wasn't loaded and pulled the trigger.
1951: Harry Wayne Casey, founder, songwriter, lead singer and keyboardist of K.C. and the Sunshine Band, and also a producer, was born in Opa-Locka, Florida. (Note: the 'Rolling Stone' wannabe 'Allmusic.com' (why anyone would also want to be consistently wrong as 'Rolling Stone' is a question for the ages) and other websites insist that Casey was born in Hialeah, Florida, but according to the respected sources, such as the newspaper 'The New York Times', 'Turner Classic Movies' and the Hit Parade Hall of Fame, Casey was born in Opa-Locka, and worked at a record store in Hialeah.)
1951: Phil Manzanera, lead guitarist of Roxy Music and also a producer, was born in London.
1954: Adrian Vandenburg, guitarist of Whitesnake ("Here I Go Again" from 1987), was born in The Hague, the Netherlands. (Note: several places are cited as birthplaces by various websites, including Den Haag, Zuid-Holland, the Netherlands and Enschede, Overijssel, the Netherlands. According to our best research, the most credible source is Peavey Guitars, which made a line of guitars named after Vandenburg. According to the Peavey Vandenberg Guitars website, Vandenburg was born in The Hague.)
1956: Johnn
y Rotten (real name John Lydon), lead singer of the Sex Pistols, was born in London. (Note: 'Allmusic.com' and other websites claim he was born in Finsbury Park, London, and other websites say he was born in Holloway, London, but according to Lydon's official website, he was born in London, and grew up in Finsbury Park. This was confirmed by the newspaper 'The Guardian'.)
1965: Jimmy Ryser, guitarist for John Mellencamp, was born in Cleveland, Ohio.
1966: Al Doughty (real name Alan
Jaworski
), bassist of Jesus Jones ("Right Here, Right Now"), was born in Plymouth, England.
1967: Jason Cooper, drummer of the Cure, was born in London.
1967: Chad Channing, original drummer for Nirvana, was born in Santa Rosa, California.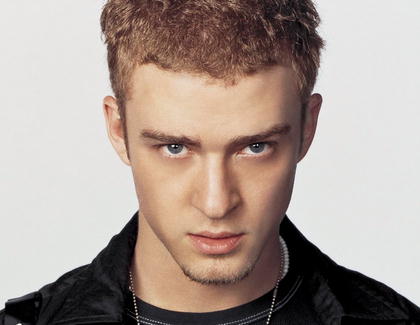 1981: Justin

Timberlake

, lead singer of *NSync and solo star, was born in Memphis, Tennessee.