This album reached #1 in just its second week and tied Led Zeppelin II for the group album with the most weeks at #1 (7). It also spent three weeks at #2 and two at #3. The album was on the chart for 41 weeks and has sold 6 million copies to date. It has shown great longevity and has two important factors in its corner--tremendous airplay and a 9.14 Track Rating*. You will note that to be one of the highest among the Top 100 Albums of All-Time*.
Not only was this album #1, but its strength brought the entire Led Zeppelin catalog up to the point where every Led Zeppelin album was in the Top 200 at the same time! It was also #1 in the U.K., Canada and New Zealand.
"Fool in the Rain" was the only single, but every song on this album received considerable airplay from album rock stations, Top 40 stations and even country stations (which played "Hot Dog"). "In the Evening" has already been featured here as one of the outstanding "Underrated/Unknown" songs of the Rock Era. "All My Love" was a big hit throughout the nation despite not being released as a single. "Sound Bound Saurez" is a great rocker and "I'm Gonna' Crawl" is exemplary of famous Led Zeppelin blues rock.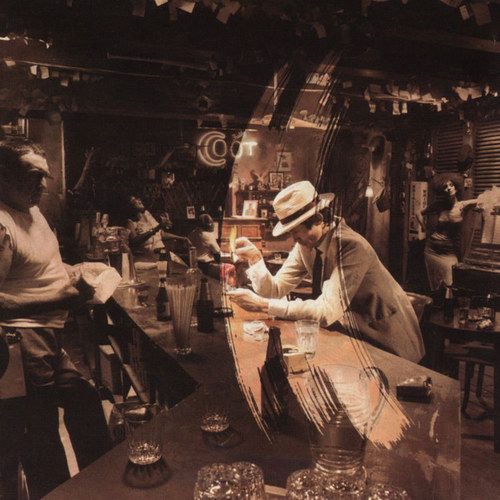 As it turned out, In Through the Out Door would be the last studio album Led Zeppelin would ever do. Because of drummer John Bonham's untimely passing, the three surviving members decided the group would not continue without him. That was a very respectable thing to do. In Through the Out Door represented some of Led Zep's best work.



The album sleeve was unique, in that the outer sleeve looked like a plain brown paper bag and the inner sleeve featured black and white artwork. The interesting thing was that if you washed that inner sleeve with water, it would be permanently colored. There were six different sleeves with a different pair of photos and with the brown sleeve, you would not know which one you were getting until you opened the album. The pictures all show a bar scene taken from a different point of view. The bar happens to be the Absinthe Bar at 400 Bourbon Street in New Orleans, Louisiana.





In 1980, Hipgnosis was nominated for a Grammy Award for the best album package

and the American Music Awards nominated In Through the Out Door as Favorite Pop Album.


In Through the Out Door:

Side one
1. "In the Evening" (John Paul Jones, Jimmy Page, Robert Plant) --6:49
2. "South Bound Saurez" (Jones, Plant) --4:12
3. "Fool in the Rain" (Jones, Page, Plant --6:12
4. "Hot Dog" (Page, Plant) --3:17

Side two
1. "Carouselambra" (Jones, Page, Plant) --10:32
2. "All My Love" (Jones, Plant) --5:51
3. "I'm Gonna' Crawl" (Jones, Page, Plant) --5:30




Led Zeppelin's lineup was Jimmy Page on acoustic and electric guitar, Robert Plant on lead vocals, John Paul Jones on bass and John Bonham on drums.
The album was recorded over a two month period in November and December of 1978 at ABBA's Polar Studios and Stockholm Country in Sweden. Jimmy Page mixed the album at his home in Plumpton, England and produced the album along with executive producer P

eter Grant. Leif Mases was the engineer and

Barry

Diament

mastered it. The album was

released August 15, 1979 on Swan Song Records.
Led Zeppelin's superb album checks in at #61--In Through the Out Door.