1957: Elvis Presley released the single "(Let Me Be Your) Teddy Bear". (Note: several websites claim the song was released June 1. According to the book 'Elvis Presley: The King of Rock 'n' Roll' by Jean-Pierre Hornbach, it was released June 11.)
1960: We have those two or three moments in our lives when we have to make an important decision, choose a fork in the road. Drummer Tommy Moore had one of those moments on this date. Tommy decided to return to his job as a forklift driver instead of continuing with the Beatles.
1962: Monday fell on June 25 and of course that meant new releases from rock artists. Two great songs were both released on this day--"Breaking Up Is Hard To Do" from Neil Sedaka.
1962: The Beatles recorded a show for the BBC radio program "Here We Go" at the Playhouse Theatre in Manchester, England. Many of the patrons of the Cavern Club were on hand who had become huge fans of the group.
1964: Manfred Mann recorded "Do Wah Diddy Diddy".
1964: The Rolling Stones held a press conference on Michigan Avenue in Chicago, Illinois before police broke it up. The group wasn't smart enough to know you have to let authorities know about things like that in advance.
1965: It was announced that the Beatles would receive the "Most Excellent Order of the British Empire" awards from Queen Elizabeth in a ceremony later in the year. (Note: some websites say the Beatles received their awards on this date, while others say the announcement was made June 12. The announcement was made June 12, and the group did not receive the awards until October 26, according to 'Beatlesbible'.)
1966: Elvis Presley began filming his 26th movie Double Trouble. (Note: some websites insist filming began July 11, but the correct date is June 11, according to the book 'The Man Who Made the Jailhouse Rock: Alex Romero, Hollywood Choreographer' by Mark Knowles.)
1966: The Beatles had a super high debut with "Paperback Writer"--#28.
1966: "Paint It Black" became the new #1 song for the Rolling Stones. Lovin' Spoonful closed to #2 with "Did You Ever Have to Make Up Your Mind?" while Simon & Garfunkel challenged with "I Am A Rock".
1967: Country Joe and the Fish, the Sons of Champlin, Every Mother's Son, Tim Buckley, the Seeds, the Byrds, Jefferson Airplane, the Grass Roots, the Steve Miller Band and the 5th Dimension performed at the Fantasy Fair and Magic Mountain Music Festival in Marin County, California.
1968: John Lennon recorded "Revolution 9" in one studio at Abbey Road while Paul McCartney recorded "Blackbird" in another for their upcoming LP which became known as The White Album.
1968: While the Rolling Stones were recording their upcoming album Beggars Banquet, Olympic Studio in London caught fire. Now that's hot music.
1969: "The Ballad Of John And Yoko" became the 17th number one song for the Beatles in the U.K.
1973: Helen Reddy released the single "Delta Dawn".
1976: The Carpenters released the album A Kind of Hush.
1976: Fleetwood Mac performed on The Midnight Special with guest host Helen Reddy.
Foreigner was on their way...
1977: "I'm Your Boogie Man" by K.C. and the Sunshine Band unseated "Sir Duke" by Stevie Wonder, who took one of the biggest falls from #1 in the Rock Era, descending all the way to #9. Fleetwood Mac was at #2 with "Dreams", Marvin Gaye edged up to #3 with "Got To Give It Up" while Bill Conti was at 4 with the second-best version of "Gonna' Fly Now". The rest of the Top 10: Foreigner's first hit "Feels Like The First Time" moved from 9 to 5, Kenny Rogers had song #6--"Lucile", former Linda Ronstadt backup singer Andrew Gold's "Lonely Boy" was #7, Alan O'Day's one and only hit "Undercover Angel" reached the Top 10 and Climax Blues Band fell to 10 with "Couldn't Get It Right".
1979: Chuck Berry pleaded guilty to charges of income tax evasion and was sentenced to four months in prison.
1979: The Knack released the album Get the Knack.
1983: Loverboy had the highest debuting song with "Hot Girls In Love".
1983: Alex Van Halen, drummer for the group Van Halen, married Valeri Kendall in Los Angeles. Alex's brother Eddie was best man.
1983: "My Love" by Lionel Richie was #1 for the fourth straight week on the Adult Contemporary chart.
1983: Irene Cara was halfway through her run at #1 (three weeks already) with "Flashdance...What A Feeling". David Bowie was stuck at 2 with "Let's Dance" while Culture Club edged up to 3 with "Time (Clock of the Heart)". Men At Work dropped with "Overkill" with Lionel Richie's "My Love" moving up to #5. The rest of the Top 10: Michael Jackson's former #1 "Beat It" remained at 6, Thomas Dolby slipped to #7 with "She Blinded Me With Science", Naked Eyes scored a Top 10 with "Always Something There To Remind Me", Styx moved from 14-9 with "Don't Let It End" and Rick Springfield had his 11th hit--"Affair Of The Heart".
1986: Madonna released the single "Papa Don't Preach" in the United States.
1988: Stevie Wonder, Whitney Houston, Phil Collins, Dire Straits, Eric Clapton, George Michael, the Eurythmics, Simple Minds and UB40 performed at the 70th birthday tribute for Nelson Mandela at Wembley Stadium in London. The tribute was broadcast to 40 countries with an estimated audience of 1 billion people.
Carlisle enjoyed another solo hit...
1988: There were three new songs in the Top 10--"Dirty Diana" by Michael Jackson, "Circle In The Sand" from former Go-Go Belinda Carlisle and "The Valley Road" from Bruce Hornsby & the Range.
1988: George Michael remained at #1 on the Adult Contemporary chart for the third week with "One More Try".
1988: George Michael's album Faith had been bumped from #1 three times on the Album chart and each time, it returned to the top spot, a remarkable achievement. On this date, it was in week #11 at #1.
1990: Olivia Newton-John was named an environmental ambassador of the United Nations.
1993: The film biography of Ike and Tina Turner What's Love Got To Do With It opened in theaters. (Note: some websites report the movie opened June 9. It was on June 11, according to 'New York Magazine'.
1994: "Any Time, Any Place" by Janet Jackson was the new #1 song on the R&B chart.
1996: Metallica's gig at a small San Francisco, California club was broadcast live via the Internet.
1996: Carl Perkins was awarded a spot on Hollywood's Rock Walk.
1998: Scott Weiland of the Stone Temple Pilots missed a scheduled court date and checked himself into a drug rehabilitation center.
1999: Ricky Martin appeared on the NBC-TV show Today in New York City.
2000: Aaliyah hit #1 with "Try Again".
2001: Depeche Mode played at the Pepsi Center in Quebec City, Quebec, Canada.
2001: Sir Paul McCartney married Heather Mills at St. Salvator's Church in Ireland.
2002: The Bee Gees released their live album One Night Only on CD. The album was originally released September 7, 1998.
2005: Destiny's Child announced they would break up following their world tour. (Note: some websites claim the announcement was made June 15, yet according to 'MTV', the newspaper 'The Chicago Tribune' and 'People' magazine, the announcement was made June 11 during a concert in Barcelona, Spain.)
2006: Nelly Furtado was on top in the U.K. with "Maneater".
Born This Day:
1936: Jud Strunk ("Daisy A Day") was born in Jamestown, New York; died October 5, 1981 when he suffered a heart attack while taking off in his private plane in Carrabassett Valley, Maine.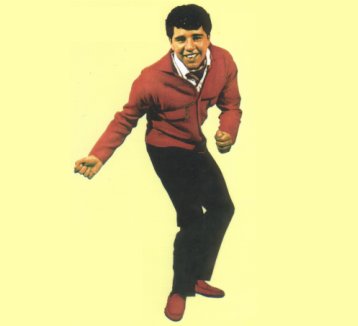 1940: Joey Dee (leader of
the Starliters who had the #1 "Peppermint Twist" in 1961) was born in Passaic, New Jersey.
1943: Reg Presley, lead singer of the Troggs, was born in Andover, Hampshire, England; died February 4, 2013 in Andover after a year-long battle with lung cancer.
1946: Mentor Williams, who
wrote the classic "Drift Away", which Dobie Gray turned into a #1 song in 1973, and also wrote for Jackie DeShannon, Alabama and the Ventures, was born in Omaha, Nebraska; died November 16, 2016 of lung cancer in Taos, New Mexico.
1947: Glenn Leonard of the Temptations was born in Washington, D.C.
1947: Richard Palmer-James, lyricist for Supertramp and King Crimson, was born in Bournemouth, Hampshire, England. (Note: some websites insist Richard was born in the county of Dorset, but Bournemouth did not become part of Dorset until after the 1974 Local Government Reorganization Act. Since Palmer-James was born in 1947, 27 years before the change took place, it is physically impossible for him to have been born in the county of Dorset and you will never see Dorset listed as the county of birth on his official birth certificate. At the time of his birth, Bournemouth was located in the county of Hampshire.)
1949: Frank Beard, the only member of ZZ Top who doesn't have a beard, was born in Frankston, Texas.
1950: Graham Russell of Air Supply was born in Nottingham, Nottinghamshire, England. (Note: some websites claim Russell was born on June 1. They are missing a digit; he was born on June 11, according to Russell on Air Supply's official website.)
1952: Donnie Van Zant, lead singer and guitarist with .38 Special, was born in Jacksonville, Florida.
1964: Penny Ford, who sang the lead vocal for Snap on "The Power" was born in Cincinnati, Ohio.
(Note: some websites show her birthday as November 6, but her talent agency, CA International Artists, indicates that it was on June 11.)
1969: Dan Lavery of Tonic