Inside the Rock Era has featured one album per day this summer as we salute The Top 100 Albums of All-Time in the Rock Era*. We are up to #10.
Back in Black
is a monumental achievement in many ways. First, it was the first album by AC/DC since the death of lead singer Bon Scott and the album was dedicated to him. The group even considered disbanding to honor him before hiring new lead singer Brian Johnson. For a new singer to step up the way Johnson did on an album that is now up to #10 All-Time is incredible, to say the least. Second, the album hit a national consciousness--when someone says "Back in Black" one immediately thinks of this album. Although just a few songs made it into mainstream radio (the singles "You Shook Me All Night Long" and the title track), the album sold like gangbusters pretty much from the beginning.
Back in Black
has proven to be one of the most durable albums as well, continuing at a steady sales pace to this day.
Although Def Leppard's album Hysteria has represented the top heavy metal album for quite some time, this one has overtaken it, at least temporarily. Every track on Back in Black is solid; it's one of the most consistent albums of the Rock Era.
Robert "Mutt" Lange, who as I'm sure you've noticed has produced several of The Top 100 Albums*, returned to help out AC/DC here and once again did an amazing job.
The chief factor in favor of this album is sales--22 million in the United States. Worldwide sales are up to 49 million, placing AC/DC right behind Michael Jackson's Thriller. When Inside the Rock Era presents The Top 100 Albums in the World, this will very much be a factor in favor of Back in Black getting a higher spot in that ranking. We do not know how many of those sales were from people who first bought an LP, then bought the cassette, then purchased the CD. Obviously, if the same people are buying the album multiple times, it's less impressive than if 22 million people purchased it.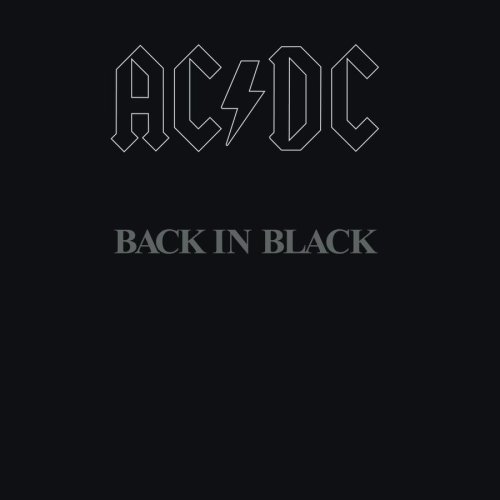 You listen to this album and it's difficult to believe the group came up with all of these songs at once--they remain among the most popular songs AC/DC has ever done. "Hell's Bells", "Shoot to Thrill", "Rock and Roll Ain't Noise Pollution", "Shake a Leg", "Have a Drink On Me"--they read like a Who's Who of top AC/DC songs. Most got exposure on album-oriented rock stations at the time and still get played to this day. That consistency is reflected in the Track Rating* of 8.95.
Despite all this, Back in Black was not a #1 album--it only peaked at #4 in the United States (It was a #1 album in both the U.K. and Australia.) Hence, as I've said many times, you can't look at only chart success, just as you can't look only at album sales. The most responsible ranking and the most credible ranking is going to look at a number of factors. That's what this Top 100 Albums ranking does. Back in Black, in fact, was only in the Top 10 for 22 weeks.
Back in Black:
(All songs by Angus Young, Malcolm Young and Brian Johnson.)
Side one
1. "Hell's Bells" --5:10
2. "Shoot to Thrill" --5:17
3. "What Do You Do for Money Honey" --3:33
4. "Give the Dog a Bone" --3:30
5. "Let Me Put My Love Into You" --4:16
Side two
1. "Back in Black" --4:14
2. "You Shook Me All Night Long" --3:30
3. "Have a Drink on Me" --3:57
4. "Shake a Leg" --4:06
5. "Rock and Roll Ain't Noise Pollution" --4:15
As mentioned above, Brian Johnson was the new lead singer for the group on this album, the phenomenal Angus Young was on lead guitar, Malcolm Young played rhythm guitar and sang backing vocals, bassist Cliff Williams also provided vocals while Phil Rudd played drums and percussion.
Back in Black was recorded from April to May of 1980 at Compass Point Studios in The Bahamas and Electric Lady Studios in New York City. The amazing Robert "Mutt" Lange was the producer, Tony Platt was he engineer, Brad Samuelsohn mixed it and Bob Ludwig and Barry Diament mastered the album. Bob Defrin provided art direction while Robert Ellis was the photographer. The album was released July 25, 1980 on Atlantic Records.
AC/DC leads us into the Top 10 Albums of the Rock Era* with Back in Black.