The albums get better as we count down, and we're up to #89 of All-Time, Whitney by Whitney Houston.
It was recorded in 1986 and 1987 and more than met expectations that had been raised by her great debut album. Houston became the first female artist to ever debut at #1 on the album chart and it was only the fourth studio album by a solo artist to achieve the feat. The only other ones to achieve that feat were Elton John's Captain Fantastic & the Brown Dirt Cowboy and Rock of the Westies and Stevie Wonder's masterpiece Songs in the Key of Life.
Whitney featured four smash hits--"I Wanna' Dance With Somebody", "So Emotional", "Didn't We Almost Have It All" and "Where Do Broken Hearts Go", all of which reached #1, making Houston the first female artist to have four #1 songs on the same album. Combined with her three #1's from her first album, that gave Whitney seven consecutive #1 songs to break the existing record held by the Beatles and Bee Gees. These singles, combined with a fifth, "Love Will Save the Day" served to keep the album front and center on radio stations across the country and across the world.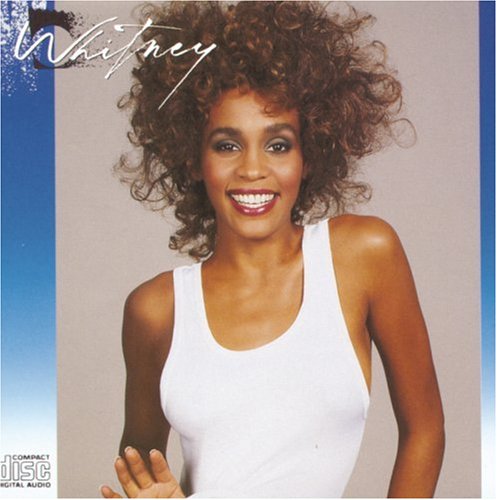 Whitney was nominated for three Grammys including Album of the Year, and she won one for Best Pop Female Vocal Performance for "I Wanna' Dance With Somebody". She won American Music Awards for Best Pop (Rock) Female Artist and Best Pop (Rock) Single for "I Wanna' Dance...".
The album was a blockbuster across the world. It was #1 in the U.K., becoming the first in history to debut at #1 in both the United States and the United Kingdom. The album was #1 for 11 weeks, #2 for 12 weeks, 30 in the Top Ten and 85 weeks on the album chart in the U.S. It was #1 in Canada for 11 weeks, #1 in Germany for 11 weeks, #1 in Norway for 11 weeks, #1 in Italy for five, #1 in the Netherlands for six weeks, #1 in Switzerland for 11 weeks, #1 in Sweden for four, Australia for three, Austria and New Zealand for two weeks and #1 in Spain, Finland and Taiwan just to name a few.
To date, the album has sold nine million copies and has a Track Rating of 8.77.
1. "I Wanna' Dance With Somebody" (George Merrill, Shannon Rubicam) --4:52
2. "Just the Lonely Talking Again" (Sam Dees) --5:34
3. "Love Will Save the Day" (Toni C.) --5:25
4. "Didn't We Almost Have It All" (Michael Masser, Will Jennings) --5:07
5. "So Emotional" (Billy Steinberg, Tom Kelly) --4:37
6. "Where You Are" (LeMel Humes, James Calabrese, Dyan Humes) --4:11
7. "Love Is a Contact Sport" (Preston Glass) --4:19
8. "You're Still My Man" (Michael Masser, Gerry Goffin) --4:18
9. "For the Love of You" (O'Kelly Isley, Ronald Isley, Marvin Isley, Chris Jasper) --5:33
10. "Where Do Broken Hearts Go" (Frank Wildhorn & Chuck Jackson) --4:38
11. "I Know Him So Well" (with Cissy Houston) --Tim Rice, Benny Anderson and Bjorn Ulvaeus --4:30
Narada was the drummer on the album, Paul Jackson, Jr. played guitar and Corrado Rustici played guitar synthesizer. Jennifer Hall, Jim Gilstrap, Kitty Beethoven and Nikki Harris provided backing vocals.
The album was recorded at New Music Group Studios in Stamford, Connecticut, Tarpan Studios in San Rafael, California, The Record Plant Studios in Sausalito, California, Ocean Way Recording in Hollywood, Larrabee Studios, Hitsville, Leed's L'Mobile and Devonshire Studio in Los Angeles, Z Studios in Brooklyn, New York and Right Track Studios, The Sound Track, Sigma Sound Studios, Record Plant Studios, Soundworks Digital Studios, The Hit Factory and Clinton Recording Studios in New York City. Jellybean Benitez, one of the most popular producers at the time, worked on one track while Kashif, Michael Masser and Narada Michael Walden from Perfection Light Productions did most of the work on the album. Walden arranged the album; it was mastered by George Marino at Sterling Sound. Milton Sincoff provided Art Direction and Richard Avedon was the Photographer.
The album was released on June 2, 1987 on Arista Records. At #89 All-Time--Whitney, by Whitney Houston.