One by one, the albums are revealed, and, whether we're fans or not, we're reminded of how great they were. We have saluted 69 albums so far in The Top 100 Albums*, bringing us up to #31.
While her debut album was very good quality, this is the album that made Madonna a superstar. The business-smart Madonna wanted to become one of the producers on this album to help steer her career in the way she wanted to. The album roared into the Top 10 in its second week and, in the midst of killer albums like Private Dancer from Tina Turner, Reckless by Bryan Adams, Make It Big from Wham, Prince's Purple Rain and Born in the U.S.A. from Bruce Springsteen, a second album from an up-and-coming singer had the gall to take over the #1 spot from Springsteen. Again it's not numbers that are all-important but what the numbers mean--the competition that must be considered. That lineup of albums would keep nearly every other album away from great statistics, so to reach #1 is going to be quite a feather in the cap.
Like a Virgin was #1 for three weeks, #2 for four and #3 for four more. The album remained in the Top 10 for a highly impressive 32 weeks considering that competition (with Phil Collins' No Jacket Required and others demanding attention). Madonna spent 108 weeks on the album chart (over two years) and to date has gone over the 10-million mark in sales. It should be obvious that those facts merit inclusion in The Top 100 Albums, if nothing else were in its favor. So now, it's a question of where it ranks. The Track Record* is an excellent 9.11, meaning the album is very consistent and not just a collection of the singles you hear on the radio.
I believe Madonna became an artist with this album; she began to explore different material, and included songs that mattered whereas the first album contained good danceable tunes and all but not much else. The addition of Nile Rodgers as producer was another good move. The album also reached #1 in Germany, Italy, the Netherlands, New Zealand, Spain and the U.K.; clearly Madonna wasn't just an American phenomenon. Again, the singles created exposure for the album but it was the quality that earns it its high status. The lead single was the title track and we all knew she was the farthest thing from it (I wouldn't touch her with a ten-foot pole) but somehow she pulled it off. It was a #1 smash, then "Material Girl" was chosen as the follow-up. It too represented what was worst in the world, longing for material items, but again somehow Madonna sung the song without backlash and reached #2. "Angel" (which reached #5) was the next single from the album, but came after the #1 "Crazy For You", which was a song Madonna did for the movie "Vision Quest" that is not on this album. In most countries, "Into the Groove" was the B-side to "Angel" and did not chart, and it was only added to the album on CD's (it wasn't originally on the studio album but rather from another movie--"Desperately Seeking Susan".) Madonna closed out her assault on the 1984-85 assault on the charts with "Dress You Up" which gave Like a Virgin four Top 5 songs and Madonna essentially six smash hits in six months. By 1985, Like a Virgin became the first album by a female artist to top five million in sales.
In addition to the four smash hits, the album also contains one of The Top Underrated/Unknown Songs of the Rock Era*, Madonna's remake of "Love Don't Live Here Anymore", in which she not only gives one of the best performances of her career, but was overcome with emotion during recording. Rodgers decided to leave her crying in the recording. "Over and Over" is a dance tune similar to what was included on Madonna's debut album; "Pretender" is another excellent song. There isn't an average track on the album and you make like other songs but I have covered what I believe to be the highlights.
Madonna was the big winner of the Billboard Music Awards in 1985, winning seven trophies. She won for Top Pop Artist, Top Pop Singles Artist, Top Pop Female Album Artist, Top Pop Female Singles Album, Top Dance Sales Artist, Top Dance Club Play Artist and Top Music Video.
She also received a nomination for International Album of the Year at the Juno Awards and Favorite Rock Female Artist at the American Music Awards.
Madonna received seven MTV Video Music nominations and won one (for Video Vanguard Award). "Like a Virgin" was nominated for Best Art Direction, Best Choreography and Best Cinematography, "Material Girl" was nominated for Best Choreography and Best Female Video and "Dress You Up" was also nominated for Best Choreography.
Like a Virgin:
1. "Material Girl" (Peter Brown, Robert Rans) --4:00
2. "Angel" (Madonna, Stephen Bray) --3:56
3. "Like a Virgin" (Tom Kelly, Billy Steinberg) --3:38
4. "Over and Over" (Madonna, Bray) --4:12
5. "Love Don't Live Here Anymore" (Miles Gregory) --4:47
6. "Dress You Up" (Andrea LaRusso, Peggy Stanziale) --4:01
7. "Shoo-Bee-Doo" (Madonna) --5:16
8. "Pretender" (Madonna, Bray) --4:30
9. "Stay" (Madonna, Bray) --4:07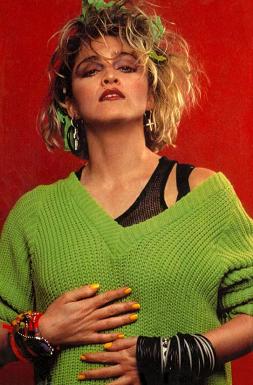 Rodgers played guitar and synclavier and brought his former Chic mates Bernard Edwards on bass and drummer Tony Thompson. Lenny Pickett played saxophone on the album, Nathanial S. Hardy, Jr. and Robert Sabino played synthesizer and Dave Weckl also plays drums. Brenda and Curtis King and George Simms contributed background vocals.
Like a VirginThe Top 100 Albums*.) As mentioned, Madonna produced the album along with Rodgers and former boyfriend Stephen Bray, who co-wrote many of the songs on Like a Virgin. Jason Corsaro was the engineer and Bob Ludwig mastered the album. Steven Meisel provided photography; Jeri McManus and Jeffrey Kent Ayer handled art direction and design. The great album was released November 12, 1984.
And it places #31 All-time...Like a Virgin, from Madonna.