Each day, we are featuring one of The Top Albums of All-Time in the Rock Era*, and it brings us up to a rock veteran who scored not only a major comeback in the late 1990's, but the biggest album of his career.
Carlos Santana, one of the Top Five Guitar players in the Rock Era*, has the #46 Album* with Supernatural. It has a lot going for it. The album debuted at # 19 and reached #1 on the album chart where it spent 12 weeks. It also logged 2 weeks at #2 and 4 weeks at #3. The album was a fixture in the Top 10, registering 44 weeks there, and it remained a top-seller for 102 weeks (just short of 2 years). To date, this incredible album has sold 15 million copies. Surprisingly, it only had two major hits--"Smooth" and "Maria Maria" (both which were monster #1's). Although the Track Rating* of 8.54 is one of the lower in the Top 100*, there are plenty of excellent tracks on the album.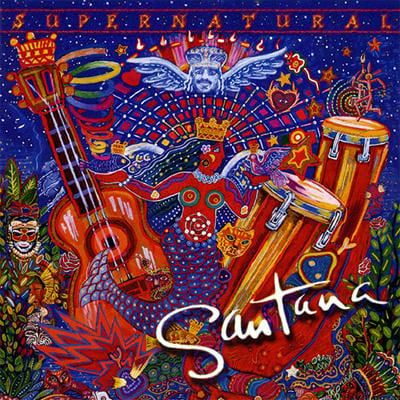 The album was conceived by record executive Clive Davis, who suggested that Santana invite some of the top modern talent to participate in the tracks. "Smooth" featured the lyrics of Rob Thomas, who at the time was the leader of matchbox twenty. Thomas also sang the lead vocal for the song that topped the single charts for 12 weeks. The Product G&B appeared on "Maria Maria"--that song was #1 for 10 weeks. Never before had an album had two songs that reached double digits at #1. Santana combined with Everlast for a song that did very well on the Modern Rock chart--"Put Your Lights On". "Corazon Espinado" was a single in Spanish-speaking countries. "Primavera" is one of the top instrumentals that Santana has ever done--it is superb. "Love of My Life" with the Dave Matthews Band is another fine cut. "Wishing It Was" included Eagle-Eye Cherry while "The Calling" brought in fellow ace guitarist Eric Clapton and features a "hidden track Day of Celebration" at the eight-minute mark.
Supernatural remains one of the most decorated albums in the Rock Era, capturing nine Grammy Awards, including the majors. The album won Best Rock Album and Album of the Year while "Smooth" was named Record of the Year. "Maria Maria" captured the Grammy for Performance by a Duo or Group with Vocal while "Put Your Lights On" won the Grammy for Best Rock Performance by a Duo or Group with Vocal. "Smooth" was honored for Best Pop Collaboration with Vocal. "The Calling" won for Best Rock Instrumental Performance. "El Farol" won the Grammy for Best Pop Instrumental Performance.
In addition to the nine statues won, Supernatural was also nominated for Best Pop Collaboration with Vocal for "Love of My Life",
Supernatural won Favorite Pop/Rock album and earned Santana a nomination for Favorite Pop/Rock Group at the American Music Awards. The album earned Santana the Blockbuster Entertainment Award for Favorite Rock Group. "Maria Maria" won the BMI Urban Award for Song of the Year. Supernatural won California Music Awards for Single of the Year ("Smooth") and Album of the Year. The album also won three Latin Grammy Awards including Album of the Year and won the Amigo Award in Spain for Best International Band. Santana was nominated for Best Music Video at the Billboard Music Awards and for Best International Group at the BRIT Awards. Supernatural charted in 10 countries and sold over 27 million copies worldwide.
Supernatural:
1. "(Da Le) Yaleo" (Carlos Santana, Ra, Polloni) --5:53
2. "Love of My Life" (with the Dave Matthews Band) (Santana, Dave Matthews) --5:47
3. "Put Your Lights On" (with Everlast) (Erik Schrody --4:45
4. "African Bamba" (Santana, Ismaila Toure, Sixu Tidiane Toure and Karl Perazzo) --4:42
5. "Smooth" (with Rob Thomas) (Itaal Shur, Rob Thomas) --4:58
6. "Do You Like the Way" (with Lauryn Hill & Cee Lo Green) (Lauryn Hill) --5:54
7. "Maria Maria" (with the Product G&B) (Santana, Perazzo, Raul Rekow, Ryclef Jean & Jerry Duplessis) --4:22
8. "Migra" (Santana, Rafi Taha, Tony Lindsay) --5:28
9. "Corazon Espinado" (with Mana) --4:36
10. "Wishing It Was" (with Eagle-Eye Cherry) (Eagle-Eye Cherry, Michael Simpson, John King, Nishita) --4:52
11. "El Farol" (Santana, Karl Porter) --4:51
12. "Primavera" (Porter, J.B. Eckl, Chein Garcia Alonso) --6:18
13. "The Calling" (with Eric Clapton) (Santana, Chester Thompson, Freddie Stone & Linda Graham) --12:28
The musicians joining Carlos Santana (who played lead and rhythm guitars, congas, percussion and sleigh bells and contributed vocals) on Supernatural included Eric Clapton on lead and rhythm guitar, Everlast, Francis Dunnery, Sergio Vallin, J.B. Eckl and Al Anderson on rhythm guitar, Benny Rietveld, Mike Porcaro of Toto,

Juan Calleros

and Tom Barney on bass, Raul Pacheco played rhythm guitar and percussion, Chester Thompson, Loris Hollan, Alberto Salas and George Whitty were on keyboards, K.C. Porter played keyboards and accordion, drummers were Billy Johnson, Horacio Hernandez, Rodney Holmes, Alex Gonzales, Gregg Bissonette, Jimmy Keegan and Carter Beauford, Karl Perazzo played congas, timbales and percussion, Herberto Hernandez played percussion and Raul Rekow and Luis Conte on congas and percussion.
Danny Wilensky played sax and flute, Mic Gillette and Jose Abel Figueroa played trombone and trumpet, Steve Toure, Ramon Flores and Jeff Cressman played trombone, Joseph Daley played tuba, Earl Gardner played trumpet and flugelhorn and Marvin McFadden, Javier Melendez and William Ortiz played trumpet. Joseph Herbert played cello, Daniel Seidenberg and Hari Balakrisnan played viola and Jeremy Cohen was on violin. Dave Matthews, Everlast, Rob Thomas, Lauryn Hill, Cee-Lo, Eagle-Eye Cherry, the Product G&B, Chad & Earl and Fher Olvera sang lead vocals while Perazzo, Tony Lindsay, Porter, Gonzalo Chomat, Gonzales, Hill, K.C. Porter, Fher Olivera, Jeanie Tracy and Lenesha Randolph contributed backing vocals.
Supernatural was recorded from 1998-1999 and produced by multiple people--Clive Davis, Jerry "Wonder" Duplessis, the Dust Brothers, Alex Gonzalez, Charles Goodan, Lauryn Hill, Art Hodge, Wyclef Jean, Fher Olivera, K.C. Porter, Dante Ross and Matt Serletic. The album was released June 15, 1999 on Arista Records.
Santana comes in at #46 with Supernatural.