You all knew when you saw this album in the countdown being from Michael Jackson it wasn't going to be Thriller.
#49 actually belongs to the follow-up, Bad. Bad was the seventh studio album from Jackson. It was a #1 album for 6 weeks (in fact it was one of a select few albums at that time that debuted at #1), but also spent 8 weeks at #2 and 6 weeks at #3. 20 weeks inside the Top 3 is impressive and so is 38 weeks in the Top 10. Bad was on the chart for 87 weeks (over a year and a half) and to date has sold 8 million copies.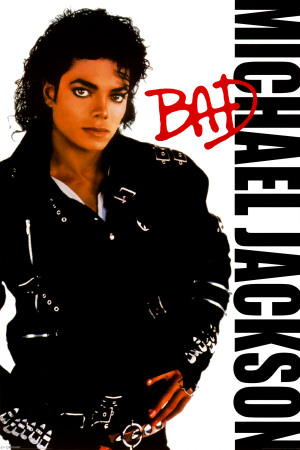 Thriller thrust Jackson into a superstar solo performer. Bad solidified that reputation. Bad is the only studio album to have five #1 singles and a sixth made the Top 10 and a seventh landed in the Top 20. "I Just Can't Stop Loving You" (with Siedah Garrett) was the lead single that reached the top and got the ball rolling. That was followed at #1 by the title track, "The Way You Make Me Feel", "Man in the Mirror" (one of the finest songs of Jackson's career), and "Dirty Diana". Do you realize that Jackson accomplished on one album what the record-holders of the Rock Era (the Supremes and Bee Gees) took two years to do (consecutive #1 songs)? It should come as no surprise, then, that the Track Rating* is a rather lofty 9.0. The album reached #1 in seven countries, something which will no doubt elevate the ranking when Inside the Rock Era does The Top 100 Albums in the World*.
"Smooth Criminal" and "Another Part of Me" were the other singles in the U.S. "Leave Me Alone" and "Liberian Girl" were successful singles internationally as well.
Besides the tremendous airplay, chart record of both the album and its singles, and the great Track Rating*, the album was well recognized. It won Grammies for Best Engineered Recording and Best Music Video-Short Form ("Leave Me Alone"). "Bad" won an American Music Award for Favorite R&B/Soul Song. and the album won Billboard Awards for #1 Album and Outstanding Artist of the Year. Jackson was named Best International Male Artist and Best International Solo Performer at the Brit Awards. "Smooth Criminal" was chosen Best Video at the Critic's Choice Awards and Jackson was Best Male Singer of the Year and R&B Album of the Year at the Soul Train Awards. All of that recognition is factored into the formula that decides The Top 100 Albums*, and obviously Bad was helped quite a bit by it.
Bad:
(All songs by Michael Jackson unless otherwise noted.)
1. "Bad" --4:07
2. "The Way You Make Me Feel" --4:57
3. "Speed Demon" --4:01
4. "Liberian Girl" --3:53
5. "Just Good Friends" (featuring Stevie Wonder) (Terry Britten, Graham Lyle) --4:06
6. "Another Part of Me" 3:54
7. "Man in the Mirror" (Siedah Garrett, Glen Ballard) --5:20
8. "I Just Can't Stop Loving You" (with Siedah Garrett) --4:11
9. "Dirty Diana" --4:41
10. "Smooth Criminal" --4:17
Paulinho Da Costa and Ollie E. Brown played percussion and David Williams, Bill Bottrell, Eric Gale, Danny Hull, Steve Stevens, Dann Huff, Michael Landau and Paul Jackson, Jr. played guitar. Nathan East played bass, Jimmy Smith played a Hammond B-3 organ, Greg Philinganes, John Barnes, Michael Boddicker, Rhett Lawrence, David Paich and Greg Philinganes played synthesizer, Barnes also played piano, Stefan Stefanovic was on keyboards while John Robinson, Miko Brando, Ollie E. Brown and N'dugu Chancler played drums. Larry Williams and Kim Hutchcroft played sax, Gary Grant and Jerry Hey played trumpet, Christopher Currell played synthesizers, synclavier keyboards, digital guitar and rubboard and background vocals were provided by Siedah Garrett, the Winans and the Andrae Crouch Choir.
Bad was recorded from January 5 to July 9, 1987 at Westlake Recording Studios in Los Angeles and produced by Quincy Jones with Jackson co-producing. Ken Caillat and Tom Jones engineered it. The album was released August 31, 1987 on Epic Records.
Michael Jackson owns the #49 Album of All-Time in the Rock Era* with Bad.