One by one, we are featuring The Top 100 Albums of All-Time in the Rock Era* and they are getting better each day. We're up to one of the most decorated albums of the Rock Era, the great album IV by Toto.
Toto had put out great music prior to this to be sure, but IV was a breakthough for the Los Angeles group. It reached #4 in a competitive field and remained in the Top 10 for 22 weeks and on the album chart for 82 weeks (over a year and a half). To date, it has sold 3 million copies but that's just part of the story. Thanks to two monster hits ("Rosanna" and "Africa") as well as "I Won't Hold You Back" and the underrated "Make Believe", Toto received consistent exposure on nearly any format that could look in the mirror and call itself a rock station. That included Top 40, Album Rock stations as well as Adult Contemporary. The airplay statistics generated from the album were phenomenal.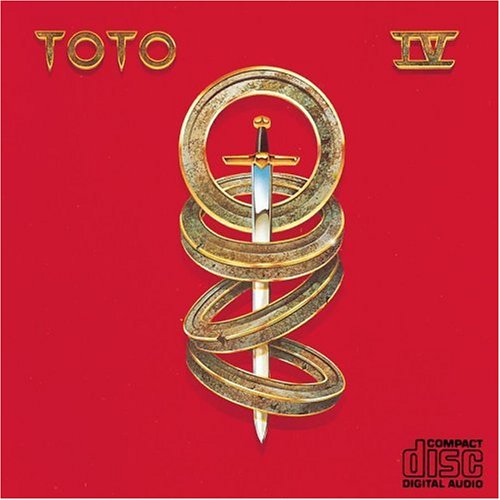 That helped generate publicity for the album but what earns it a spot in The Top 100 Albums* is its excellence and consistency. It has a very nice Track Rating* of 9.1, meaning it's an album you can track through without skipping a song. "We Made It" might be the only average song on the album, but most are "very good" to "excellent". "Lovers in the Night", "It's a Feeling" and "Good For You" are particularly nice tracks.
The work was recognized by Toto's peers, as it received six Grammy Awards including Record of the Year for "Rosanna", Album of the Year and Producer of the Year (Toto also produced the album). To earn each of the three major awards made headlines. That's extremely tough to do. IV also won for Best Engineered Recording, Best Vocal Arrangement ("Rosanna") and Best Instrumental Arrangement Accompanying Vocals ("Rosanna"). This all happened after the album had left the Top 10, but thanks to the attention, the album climbed back into the Top 10 in its 42nd week of release.
These hard-working musicians had paid their dues and continue to be some of the most sought-after musicians of the Rock Era. They have performed on countless albums and you will see their names pop up often on these Top 100 Albums*.
IV:
Side one
1. "Rosanna" (David Paich) --5:31
2. "Make Believe" (Paich) --3:45
3. "I Won't Hold You Back" (Steve Lukather) --4:56
4. "Good For You" (Bobby Kimball, Lukather) --3:20
5. "It's a Feeling" (Steve Porcaro) --3:08
Side two
1. "Afraid of Love" (Lukather, Paich, Jeff Porcaro) --3:51
2. "Lovers in the Night" (Paich) --4:26
3. "We Made It" (Paich, Jeff Porcaro) --3:58
4. "Waiting for Your Love" (Kimball, Paich) --4:13
5. "Africa" (Paich, J. Porcaro) --4:57
Toto was: David Paich who handled keyboards, lead and backing vocals and all horn and orchestral arrangements, Steve Lukather played guitar and piano and did lead and backing vocals, Bobby Kimball was the lead singer of Toto who also sang backing vocals, Jeff Porcaro played drums, percussion, xylophone and the tympani, Steve Porcaro played keyboards and sang lead and David Hungate played bass.
The group also received some excellent help from musicians like Tom Scott, who played sax on "Rosanna" and "Lovers in the Night". Lenny Castro played percussion and conga on the album, Ralph Deck played synthesizer, Martyn Ford was on strings, Gary Grant and Jerry Hey played trumpet on "Rosanna", Jim Horn played sax on "Rosana" and "Lovers in the Night" and recorders on "Africa" and Tom Kelly sang backing vocals on both "Rosanna" and "Make Believe". In addition, James Pankow of Chicago played trombone, Mike Porcaro played cello, Joe Porcaro was on percussion and Timothy B. Schmidt of the Eagles lent his great voice on "I Won't Hold You Back", "Good For You" and "Africa".
IV was recorded from 1981 to 1982. Al Schmitt was the Engineer on his album. It was released April 8, 1982 on Columbia Records.
Toto just misses the Top 50 for All-Time* with IV.