1956: Elvis Presley played the first of two nights in San Diego Arena. The San Diego Police chief released a statement saying that if he ever performed like he did again, he would be arrested for disorderly conduct.
The great group the Platters...
1958: The Platters released the single "Twilight Time". (Note: several websites report that the single was released on April 7. While there are no credible sources as to the exact date of release, there is an article in Billboard magazine, dated April 7, 1958, which says "The Platters have seldom missed, and are currently blazing with "Twilight Time", implying that the record was already released before April 7.)
1959: Buddy Holly's song "It Doesn't Matter Anymore" hit #13. It was the first posthumous release from Holly after his tragic plane crash.
1960: Elvis Presley recorded "Are You Lonesome Tonight".
1960: Percy Faith's "The Theme From 'A Summer Place'" was #1 for the seventh week in a row, and it wasn't close to done.
1964: We were first introduced to an amazing new talent whose body of work in film, stage and music overpowers nearly everyone in the Rock Era. Her first single debuted on the chart on this date. It was called "People"...by Barbra Streisand.
1964: Meet the Beatles! was the #1 album for the eighth consecutive week.
1964: The Beatles had #1, #2, #3, #4 and #5 on the U.S. Singles chart. They were #1 "Can't Buy Me Love", #2 "Love Me Do", #3 "She Loves You", #4 "I Want To Hold Your Hand" and #5 "Please Please Me". It was the first and only time any recording act has ever achieved the feat. The Beatles also had nine other singles on the Hot 100 for a total of 14 at the same time, also still a record for legitimate groups.
1965: John Lennon and Paul McCartney wrote "Help!", the title song for the Beatles' second movie.
1966: Percy Sledge released the single "When A Man Loves a Woman". (Note: some websites naively state that the song was released on April 16. Percy's classic debuted on the Singles chart on April 9. It is physically impossible for a song to make the Singles chart if it has not been released as a single yet.)
1967: Paul McCartney told Monterey Pop Festival organizer (and Beatles publicist) Derek Taylor that the Festival should invite a guitarist named Jimi Hendrix.
1967: Jimi Hendrix appeared on the first edition of the U.K. BBC-TV show Dee Time along with Kiki Dee and Cat Stevens.
1968: James Brown made a national television appeal for calm following the assassination of Martin Luther King.
1968: Jimi Hendrix, Joni Mitchell, B.B. King, Buddy Guy, Al Kooper and Ted Nugent jammed at an all-night blues, folk and rock session at the New Generation Club in New York after hearing news of Martin Luther King's assassination.

1969: Jim Morrison of the Doors turned himself in to FBI authorities in Los Angeles, after being sought for six counts of lewd behavior and public exposure in Miami, Florida at a concert March 2. (Note: many websites claim this happened on April 3, but the correct date is April 4, according to the official website for the Doors and the book 'Miami's Criminal Past Uncovered' by Sergio Bustos and Luisa Yanez.)
1970: Janis Joplin reunited with Big Brother & the Holding Company at a concert in San Francisco, California.
1970: The Jackson 5 reached #1 on the R&B chart with "ABC".
1970: Simon & Garfunkel's "Bridge Over Troubled Water" logged a sixth week at #1 on the Adult chart.
1970: The superb album Bridge Over Troubled Water, one of The Top 20 Albums of the Rock Era* on Inside the Rock Era, was #1 on the Album chart for a sixth week. Deja Vu, the first album to feature Neil Young with the trio of Crosby, Stills & Nash, debuted at #9.
1970: Crosby, Stills, Nash & Young had one of the hot new songs with their version of the Joni Mitchell song "Woodstock".
1970: The classic song "Bridge Over Troubled Water" stood tall at #1 for a sixth week for Simon & Garfunkel. The Beatles patiently waited with "Let It Be" while a solo hit from John Lennon--"Instant Karma" was third.
1973: The Supremes appeared at the Granada Cinema in Tooting, England, the last date on a 20-day U.K. tour.
1977: ABBA received a Gold record for the album Arrival.
1981: The documentary This Is Elvis premiered at the USA Film Festival in Dallas, Texas.
1981: Despite having several albums that are better, Paradise Theater became Styx's first #1 album. The Chicago group broke a record with four consecutive albums to go triple platinum (3 million sales).
1981: The legendary Smokey Robinson was the proud new owner of the #1 R&B song with his solo hit "Being With You".
1981: Barbra Streisand & Barry Gibb remained on top of the Adult Contemporary chart for the fourth week with "What Kind Of Fool".
1981: Gino Vannelli had another big hit as "Living Inside Myself" moved from #59 to #32.
Winwood's gift of positive thinking...
1981: Blondie held on to #1 with "Rapture", while "Woman" by the late John Lennon was second. Styx's "The Best Of TImes" peaked at 3 while Hall & Oates made a bid for another #1 with "Kiss On My List". Don McLean's remake of the Roy Orbison song "Crying" remained fifth. The rest of the Top 10: "Hello Again" from Neil Diamond, Grover Washington, Jr. & Bill Withers edged up with "Just The Two Of Us", REO Speedwagon's former #1 "Keep On Loving You", Steve Winwood scored his first solo Top 10 with "While You See a Chance" and "What Kind Of Fool" represented the 44th career hit for Barbra Streisand and the 38th for Barry Gibb.
1985: The Eurythmics released the single "Would I Lie To You".
1987: "Mandolin Rain" by Bruce Hornsby was #1 on the AC chart for the third straight week.
1987: Jody Watley controlled the R&B chart for a third week with "Looking For A New Love".
1987: U2 entered the Album chart at #7 with The Joshua Tree. It was the highest chart debut on the Album charts in seven years.
1987: With all their great songs, Starship officially had their second #1 song of their career with "Nothing's Gonna' Stop Us Now", although anyone who didn't have "White Rabbit", "Somebody To Love" and "Miracles" at #1 probably didn't deserve to be in the radio business.
1990: Gloria Estefan was able to leave the hospital after her serious car crash on March 20. Estefan required surgery to repair broken vertebrae.
1992: Bruce Springsteen hit #1 in the U.K. with his album Human Touch.
1992: One of The Top 10 Songs of 1992*, "Save The Best For Last" by Vanessa Williams was #1 for a third week. Mariah Carey scored her seventh straight Top 10 to open her career as "Make It Happen" moved in.
1994: Kurt Cobain's mother filed a missing persons report on her son.
1996: Take That ("Back For Good") appeared on The Ivo Niehe Show on Dutch television for the final time.
1996: Wilson Pickett was arrested for possession of cocaine while on probation, adding another year of jail time.
1996: The ashes of Jerry Garcia of the Grateful Dead were scattered in the Ganges River in India.
1998: Madonna's "Frozen" peaked at #2, tying her with Elvis Presley and Creedence Clearwater Revival for the most #2 hits in the Rock Era.
1998: K-Ci & Jojo began three weeks at the top with their #1 song "All My Life".
1999: The Coors album Talk On Corners reached #1 on the U.K. chart for the 10th time. It was the biggest-selling album of 1998 in the U.K.
2000: Pink released her first album Can't Take Me Home.
2002: Injuries to Dave Mustaine's left arm and hand forced Megadeth to break up after 19 years.
2002: R. Kelly was investigated on charges of child pornography in Chicago. On June 6, he was indicted on 21 counts.
2003: Meat Loaf announced his retirement following a last tour. He lied, and did not in fact retire.
2003: The Rolling Stones played their first concert in India, performing at the Palace Grounds in n Bangalore in front of 30,000 fans.
2003: Tom Petty & the Heartbreakers premiered "Black Leather Woman" on The Tonight Show With Jay Leno.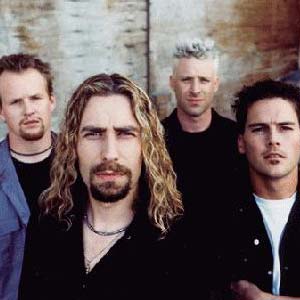 2004: Nickelback won Best Group at the Canadian Juno Awards.
2004: Beck married actress Marissa Ribisi at the San Ysidro Ranch in Montecito, California.
2006: In today's episode of Dangerous Inmates Run Rap Music, Rapper Black Rob was sentenced to seven years in prison for grand larceny. And moral compass-challenged people continue to like the "music".
2008: The Rolling Stones documentary Shine a Light opened in theaters.
2008: Beyonce Knowles married Jay-Z at his New York apartment.
2008: Procol Harum's Gary Brooker won back his full royalty rights to "A Whiter Shade Of Pale" at the Court of Appeals in London. The decision overturned a 2006 ruling that organist Matthew Fisher was entitled to a 40% portion of the royalties for the 1967 hit after Fisher argued that he had written the organ melody for the song. The Appeals Court ruled that there had been an "excessive delay" in the claim (40 years after the song came out).
2010: Laughter in the Rain, a musical based on the life of Neil Sedaka, premiered at the Churchill Theatre in Bromley, England.
Born This Day:
1934: Clive Davis, producer and record executive with Columbia and Arista, was born in Brooklyn, New York. (Note: some websites say that Davis was born in New York City, but the truth is that he was born in Brooklyn, a borough in New York, according to the book 'Whitney Houston We Love You Forever' by Jean-Pierre Hombach.
1936: Margo Sylvia of the Tune Weavers ("Happy, Happy Birthday Baby" from 1957) was born in Woburn, Massachusetts; died of a heart attack and stroke October 25, 1991 in San Diego, California. (Note: 'Allmusic.com' inaccurately says that Sylvia died on October 29. She died on October 25, according to credible sources including the Associated Press and the newspaper 'The Los Angeles Times'.)
1939: Hugh Masekela, songwriter, singer and trumpet player who had a #1 song with his version of "Grazing In The Grass", was born in Witbank, South Africa.
1940: Sharon Sheeley, songwriter whose credits include "Poor Little Fool" for Ricky Nelson and "Somethin' Else" for Eddie Cochran, was born in Los Angeles. Sheeley became Cochran's girlfriend and survived the 1960 car crash that claimed Cochran's life. Sheeley died from

complications following a cerebral hemorrhage.

May 17, 2002 at the age of 62.
1939: Major Lance ("Um, Um, Um, Um, Um, Um" from 1964) was born in Winterville,Mississippi; died of heart disease in Decatur, Georgia on September 3, 1994. (Note: some websites claim Lance was born in 1941 or 1942. They need to see the above photo.)
1948: Berry Oakley, founding member and bassist for the Allman Brothers Band, was born in Chicago, Illinois; died in a motorcycle crash November 11, 1972.
1948: Carol Douglas, a member of the regrouped Chantels, who went on to have the hit "Doctor's Orders" in 1974, was born in Brooklyn, New York.
(Note: several websites say that Douglas was born on April 7. Her 'MySpace' page says she was born on April 4. Some websites report that Douglas was born in Bedford-Stuyvesant, Brooklyn, New York. Bedford-Stuyvesant is a neighborhood, not a city, and neighborhoods are not shown on official birth certificates.)
1948: Pick Withers, original drummer for Dire Straits, was born in Leicester, England.
1952: Dave Hill, lead guitarist for Slade, was born in Holbeton, Devon, England. (Note: some websites claim Hill was born in Fleet Castle, Devon, England. First of all, it is the Fleat House and estate, not Fleet. Second, it is a building, not a city, and will never be included on an official birth certificate. Hill was born in the village of Holbeton in the county of Devon.)
1952: Gary Moore, the elite guitar player and vocalist for Skid Row and Thin Lizzy who came out with the spectacular solo album Still Got the Blues, was born in Belfast, Northern Ireland; died February 6, 2011 while on holiday in Spain
1952: Pete Haycock, lead guitarist of Climax Blues Band, was born in Stafford, Staffordshire, England.
1957: Graeme Kelling, guitarist of Deacon Blue, was born in Paisley, Scotland; died of pancreatic cancer in Glasgow, Scotland June 10, 2004.
1966: Mike Starr, original bassist of Alice In Chains, was born in Honolulu, Hawai'i; died March 8, 2011 from a prescription drug overdose combined with alcohol in Salt Lake City, Utah.
1971: Josh Todd, lead singer of Buckcherry, was born in Los Angeles.
1972: Magnus Sveningsson, bassist for the Cardigans ("Lovefool"), was born in Falköping, Sweden.