We have revealed the identities of 76 of The Top Guitarists of the Rock Era. Up next, #24 is in the same group as another of The Top 100 Guitarists*:
#24: Adrian Smith, Iron Maiden
38 years as an active guitarist
Adrian Frederick "H" Smith was born February 27, 1957 in London. He is a key songwriter and one of three guitarists in the heavy metal group Iron Maiden.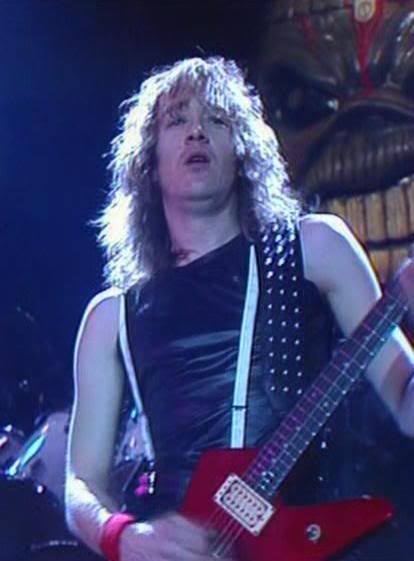 Smith grew up in Camden and became interested in rock music at age 15. He became friends with Dave Murray, whom we have already heard from in The Top 100 Guitarists*, and who would be a future bandmate of Smith's in Iron Maiden.
Smith purchased his first record, the album
Machine Head
by Deep Purple, and began practicing. Soon, he joined Murray in a band called Stone Free as their lead singer.
Murray inspired Adrian to begin learning how to play guitar. Smith was influenced by Johnny Winter and Pat Travers, which he says made him a melodic player rather than a mere shredder.
After he was through with school, Smith formed his own group, Evil Ways, later renamed Urchin, which included Murray on guitar. Murray left to join Iron Maiden and Urchin signed with a minor label, DJM Records. Iron Maiden offered Smith a position in the band which he turned down, but Urchin split in 1980. Without a band,
Smith ran into Steve Harris and Murray of Iron Maiden one day and asked Adrian if he might reconsider joining. Smith accepted the second offer and, after a successful audition, joined the group in November 1980.
Smith debuted with Iron Maiden on a television show in Germany, then toured the U.K. and helped record the album Killers in 1981. Adrian's songwriting prowess began paying off with The Number of the Beast, contributing "Gangland", "The Prisoner" and "22 Acacia Avenue", a song he had written several years before.
Smith and Murray formed what arguably is the best 1-2 punch at lead guitar in heavy metal. Both are ranked among The Top 100 Guitarists*. Iron Maiden next released Piece of Mind, which also contained several songs Smith co-wrote with lead singer Bruce Dickinson.
After a solo project called A.S.A.P. (Adrian Smith and Project) which produced the album Silver and Gold, Smith did not like the direction the group was going and left Iron Maiden in 1990. Smith formed the group Psycho Motel, which record the albums State of Mind in 1996 and Welcome to the World in 1997. then became a member of Bruce Dickinson's band in 1997. Dickinson and Smith reunited with Iron Maiden in 1999.
Iron Maiden went on a short tour and then the group's new lineup released Brave New World in 2000. After that, the group released Dance of Death in 2003, A Matter of Life and Death in 2006 and The Final Frontier in 2010.
Smith also played on the album Awoken Broken with Mikee Goodman of SikTh in the group called Primal Rock Rebellion.
Smith prefers his Jackson Adrian Smith Signature guitar, but he has used several others, including Dean, Jackson, Fender Stratocasters, Gibson Les Pauls, Ibanez Destroyer and Lado Guitars. He tours with a Gibson Les Paul Goldtop, a Jackson 1986 Superstrat, a Jackson Signature with black scratchplate and maple neck and a 70's Gibson SG. In 2007, Smith endorsed Jackson Guitars, his first endorsement in over 15 years.
Smith uses two 300-Watt Marshall 1960A 4 x 12 Cabinets loaded with 75-Watt Celestion G12-T75 Speakers, two Marshall 6100LM 100-Watt All-Tube Heads, two Marshall DSL100 JCM2000 amps and a Marshall 9200 Rack Power Amp.
Adrian uses a Dunlop Uni-vibe Wah Controller, a Yamaha MFC10 Midi Foot Conroller, a DigiTech Whammy Pedal, two Ibanez TS-808 Tube Screamers, a Mike Hill B.I.S. Isolation hole and a Lexicon MX200 multi-effects unit.
Smith is a veteran guitarist with all the skills; he can play fast, he has the technique, the showmanship and the music knowledge. Adrian Smith comes in next at #24...