This artist from Brooklyn was a prolific songwriter with many other artists recording his music. He also was one of the stars of the early Rock Era, yet like countless others, was left out when the Beatles started. Neil Sedaka did manage to make a big comeback in the 1970's. Here is his complete Hits List:
1957: "Laura Lee"
1958: "Ring-A-Rockin'"
"Oh Delilah!"
1959: "The Diary" (#14)
"I Go Ape" (#42)
"(Stop!) You're Knocking Me Out"
"Crying My Heart Out for You"
"Stupid Cupid"
"All I Need Is You"
"Oh! Carol" (#9, #1 in Italy)
"The Girl For Me"
"Going Home to Mary Lou"
1960: "Stairway To Heaven" (#9)
"You Mean Everything To Me" (#17)
"Run Samson Run" (#28)
1961: "Calendar Girl" (#4, #1 in Japan)
"Little Devil" (#11)
"Sweet Little You" (#59)
1962: "Happy Birthday, Sweet Sixteen" (#6)
"King of Clowns" (#45)
"Breaking Up Is Hard To Do" (#1 for two weeks)
"Next Door to an Angel" (#5)
1963: "Alice In Wonderland" (#17)
"Let's Go Steady Again" (#26)
"The Dreamer" (#47)
1964: "Bad Girl" (#33)
"The Closest Thing to Heaven"
"Sunny" (#86)
"I Hope He Breaks Your Heart"
"Let the People Talk"
1965: "The World Through a Tear" (#76)
1966: "The Answer to My Prayer" (#89)
"The Answer Lies Within"
"We Can Make It If We Try"
1969: "Star-Crossed Lovers" (#5 Australia)
"Rainy Jane"
"Ebony Angel"
1970: "Wheeling, West Virginia" (#20 Australia)
1971: "My World Keeps Getting Smaller Every Day"
"I'm a Song (Sing Me)"
"Superbird"
1972: "Beautiful You" (#43 U.K.)
"That's When the Music Takes Me"
"Dimbo Man"
1973: "Standing on the Inside" (#26 U.K.)
"Our Last Song Together" (#31 U.K.)
"Love Will Keep Us Together"
1974: "A Little Lovin'" (#34 U.K.)
"The Way I Am"
"Laughter in the Rain" (#1, #1 Adult Contemporary, #15 U.K.)
1975: "The Immigrant" (#22, #1 Adult Contemporary)--highly underrated.
"That's When the Music Takes Me"--underrated
"The Queen of 1964"
"Bad Blood" (with Elton John) (#1, #25 AC)
"New York City Blues"
1976: "Breaking Up Is Hard To Do" (slower version of his earlier hit--#8, #1 Adult Contemporary)
"Love in the Shadows" (#16, #4 AC)
"Steppin' Out" (with Elton John) (#36, #45 AC)
"No. 1 with a Heartache"
"You Gotta' Make Your Own Sunshine" (#53, #4 AC)
1977: "Amarillo" (#44, #4 AC)
"Alone At Last" (#17 AC)
"You Never Done It Like That"
1978: "All You Need is the Music"
"Sad, Sad Story"
1979: "Letting Go"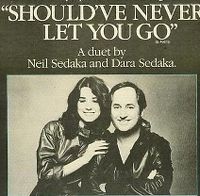 1980: "Should've Never Let You Go (with daughter Dara Sedaka--#19, #3 AC)
1981: "My World Keeps Slipping Away" (#36 AC)
"Losing You"
1984: "Your Precious Love" (with Dara Sedaka--#15 AC)
"Rhythm of the Rain" (#37 AC)
1985: "Love Made Me Feel That Way"
That's 28 hits with 8 going Top 10 and three #1's for Neil. On the Adult Contemporary chart, he had 11 hits, with six of those going Top 10 an two #1's.