1962: In a precursor to industry changes later, WINS in New York City, which featured disc jockey Murray the K, switched formats from Top 40 to easy listening.
1966: The Beatles released the single "Nowhere Man".
1966: The Righteous Brothers released the single "(You're My) Soul and Inspiration".
1968: Frankie Lymon died from drugs at the age of 25.
1970: Led Zeppelin had to perform as the group the Nobs in Denmark after the family of Ferdinand von Zeppelin in that country threatened a lawsuit.
1970: "Bridge Over Troubled Water" by Simon & Garfunkel had become a mass-appeal smash. The song that would become a classic took over on the Adult chart on this date.
"The Midnight Special" the way only CCR could do it...
1970: Led Zeppelin II was #1 on the album chart for a seventh week while previous #1 Abbey Road by the Beatles was still at #2 after 20 weeks and CCR edged up with Willy and the Poorboys. The "stop the presses", however, was news that Simon & Garfunkel moved from 106 to 4 in just the third week of release for the album Bridge Over Troubled Water. The rest of the Top 10: Tom Jones Live in Las Vegas, the self-titled Engelbert Humperdinck, Chicago II was up to #7, Diana Ross Presents the Jackson 5, Three Dog Night with their album Was Captured Live at the Forum and the Soundtrack to "Easy Rider" moved from 19 to 10.
1970: Here was a hot song--Edison Lighthouse jumped from #68 to #28 with "Love Grows (Where My Rosemary Goes)".
1970: "Bridge Over Troubled Water" by Simon & Garfunkel wasted no time to get to #1--just four weeks, one of the shortest times to get there of the Rock Era thus far. It debuted at #49 on February 7, moved to 13, to 3 and now to #1.
1972: Roberta Flack released the single "The First Time Ever I Saw Your Face".
1974: Bobby Bloom died of a self-inflicted gunshot wound, now considered accidental, at age 28.
1976: Stanley, Idaho's Carole King had the only new album in the Top 10--Thoroughbred, which vaulted from 16 to 10.
1976: "50 Ways to Leave Your Lover" by Paul Simon was the new #1 song on the Adult chart.
1976: "The Theme from 'S.W.A.T.'" by Rhythm Heritage was the talk of the land as the new #1 song and one of The Top 100 Instrumentals of the Rock Era*. They bumped Paul Simon out of the limelight while the new Miracles song without Smokey Robinson--"Love Machine" moved up to become a factor. Eric Carmen's first solo hit "All By Myself" was fourth. The rest of the Top 10: The 4 Seasons continued their comeback by moving from 12 to 5 with "December, 1963 (Oh, What a Night)", "You Sexy Thing" by Hot Chocolate was losing its power, the hot Eagles were up to #7 with their latest--"Take It to the Limit", former Spooky Tooth member Gary Wright powered from 18 to 8 with "Dream Weaver", the Captain & Tennille had their third straight Top 10 to open their career with "Lonely Night (Angel Face)" and Nazareth scored their only Top 10 song--"Love Hurts".
1978: The Atlanta Rhythm Section released the song 'Imaginary Lover".
1979: The John Denver and the Ladies (Tina Turner and Cheryl Ladd) television special was broadcast on ABC-TV.
1981: Yarbrough & Peoples took advantage of an opening and moved to #1 on the R&B chart with "Don't Stop the Music".
1981: Listeners heard the new song "Just the Two of Us" by jazz great Grover Washington, Jr. with Bill Withers on vocals and loved it--the song rose from 65 to 41 on this date.
ABBA with one of their most emotional songs...
1981: Eddie Rabbitt enjoyed a big crossover hit as "I Love a Rainy Night" moved to #1. Dolly Parton fell with "9 to 5", John Lennon was now at #3 with "Woman" and Kool & the Gang's former #1 "Celebration" was still strong after 19 weeks. The rest of the Top 10: REO Speedwagon and "Keep On Loving You", Styx with "The Best of Times", Blondie's former #1 "The Tide is High" was now at #7, Delbert McClinton was at #8 with "Giving It Up for Your Love", Dan Fogelberg with "Same Old Lang Syne" and ABBA reached the Top 10 for just the fourth time (What a joke, America) with "The Winner Takes It All".
1981: Dolly Parton enjoyed a #1 Adult Contemporary hit with "9 to 5".
1984: Michael Jackson won a Rock Era record eight Grammy awards for his work on Thriller.
1987: "Ballerina Girl" notched a fourth week at #1 on the AC chart for Lionel Richie. It was Richie's 47th week at #1 as a solo artist in the genre.
The Bangles' amazing sound captured on Different Light...
1987: Slippery When Wet by Bon Jovi was still #1 for the eighth week after 25 weeks of release. Cinderella had the top album of their career with Night Songs at #3. Other notable albums in the Top 10: The Way It Is from Bruce Hornsby & the Range at #4, Control from Janet Jackson was still at #6 after a full 52 weeks, Genesis was right behind her with Invisible Touch, the Bangles were still in the Top 10 after 57 weeks with Different Light and Fore!, the great follow-up album by Huey Lewis & the News, was 10th.
Somewhere out there, we tuned in our radios and heard Linda and James.
1987: Not only was "Livin' on a Prayer" the breakthrough hit that Bon Jovi needed, with a third week at #1, but it was on its way to becoming one of The Top 100 Songs of the Rock Era*. "Jacob's Ladder" by Huey Lewis & the News moved to challenge. Other notable songs in the Top 10: "Will You Still Love Me?" from Chicago, the Jets were at #5 with "You Got It All", "Somewhere Out There" by Linda Ronstadt & James Ingram became her ninth Top 10 hit and former Genesis member had another Top 10 with "Big Time".
1989: Bon Jovi released the single "I'll Be There for You".
1991: The famous Record Plant in Hollywood, California closed.
1991: "Curtis Mayfield Day" was celebrated in Los Angeles.
1994: Enigma released the single "Return To Innocence".
1996: Phil Collins left the group Genesis for a solo career.
The Spice Girls were back and as big as ever.
1998: The Soundtrack to "Titanic" was #1 after six weeks with the Celine Dion release Let's Talk About Love right behind. Yield from Pearl Jam lost ground while Sevens, the new album from Garth Brooks, moved from 24 to 4. The "Spiceworld" Soundtrack from the Spice Girls placed fifth while the self-titled Savage Garden still had plenty of steam. The rest of the Top 10: My Way from Usher, the debut by the Backstreet Boys, Matchbox 20 was at #9 after 50 weeks with Yourself or Someone Like You and K-Ci & JoJo found the Top 10 with Love Always.
2002: In today's two-part edition of Dangerous Inmates Run Rap Music, C-Murdger was indicted with second degree murder after a shooting at a nightcub.
2002: Mya, Lil' Romeo, Darius Rucker, India.Arie, Keb' Mo' and Carmen Electra recorded a song to benefit the Families of Freedom Scholarship Fund.
2003: Linda Suffoletto, who was hospitalized after the nightclub fire in Rhode Island started by the pyrotechnics in Great White's show there, bacame the 97th casualty. Sixty people remained hospitalized after the incident.
2005: In today's second episode of Dangerous Inmates Run Rap Music, 50 Cent told a radio station in New York that The Game had been dropped from people he associated with. The Game tried to get into the station to talk with 50 cent, shots were fired and a man was injured. There's a place for people like this--it has bars and often not much of a view.
2005: The circus that was the child molestation trial of Michael Jackson began in Santa Maria, California. Jackson was cleared of all charges.
2005: Chris Curtis, drummer of the Searchers, was found dead in his home in Liverpool, England at the age of 63.
2006: Two security guards were shot at a Kanye West concert in Birmingham, England by a fan trying to gain admittance without a ticket. Has the disease crossed over the Atlantic now?
2008: Mike Smith, lead singer of the Dave Clark Five, died of pneumonia at age 64.
2008: Ian Anderson, flautist of Jethro Tull, was given the Order of the British Empire medal from Prince Charles at Buckingham Palace in London.
2010: Neil Young performed at the closing ceremonies for the Winter Olympics in Vancouver, British Columbia, Canada.
Born This Day:'
1921: Saul Zaentz, industry executive who signed Creedence Clearwater Revival to Fantasy Records, was born in Passaic, New Jersey.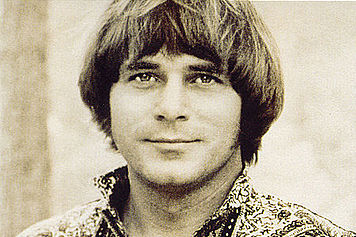 1940: Joe South ("Games People Play" and "Walk a Mile in My Shoes"), who also wrote "Rose Garden" for Lynn Anderson and "Hush" for Deep Purple, was born in Atlanta Georgia.
1942: Brian Jones (real name Lewis Brian Hopkin-Jones), founder and guitarist of the Rolling Stones, was born in Cheltenham, England.
1944: Bernadette Peters (real name Bernadette Lazzara, who had the hit "Gee Whiz" in 1980), was born in Queens, New York.
1944: Barbara Acklin ("Love Makes a Woman") was born in Chicago, Illinois.
1947: Marty Sanders of Jay & the Americans
1952: Edward Manion, saxophonist of Southside Johnny & the Asbury Jukes, who has also played for Bruce Springsteen and Bon Jovi
1957: Ian Stanley of Tears for Fears
1957: Philip Gould, songwriter, drummer and singer of Level 42, was born in Hong Kong, China.
1957: Cindy Wilson of the B-52's was born in Athens, Georgia.
1969: Pat Monahan, lead singer and songwriter of Train, was born in Waterford, Pennsylvania.