1954: Elvis Presley recorded "Blue Moon of Kentucky" at Sun Studios in Memphis, Tennessee. It would be the B-side for his first single "That's Alright".

1955: History unfolded as "Rock Around the Clock" by Bill Haley & the Comets became the first rock & roll #1 on This Day in Rock Music History*. Thus beginneth the Rock Era!
1956: Dick Clark began one of the longest runs in hosting a television series when he debuted as host of Bandstand on a TV station in Philadelphia. The show was eventually picked up by ABC-TV and would change its name to American Bandstand.
1957: Bobby Helms recorded "My Special Angel".
1957: The Elvis Presley movie Lovin' You premiered.
1960: Chubby Checker released "The Twist".
1962: Bob Dylan recorded the second session of the album, including "Blowin' in the Wind" that would be called The Freewheelin' Bob Dylan.
1964: The Animals' classic "The House of the Rising Sun" fended off all challengers in attaining the #1 spot in the U.K.
1965: The Who performed at the Locarno Ballroom in Basildon, England.
1966: The Temptations made it six weeks at #1 on the R&B chart with "Ain't Too Proud To Beg".
1966: "Paperback Writer" by the Beatles became one of the first songs to return to #1 after it had fallen previously. "Red Rubber Ball" by the Cyrkle was #2 and Frank Sinatra's former #1 "Strangers in the Night" fell to 3. Tommy James & the Shondells' first big hit "Hanky Panky" was up to #4 while Dusty Springfield was still at 5. The rest of the Top 10: The Troggs moved from 47-6 with "Wild Thing", the Capitols remained at 7, Syndicate of Sound was at #8 with "Little Girl", the Stones fell with "Paint It Black" and the Association had another Top 10 smash with "Along Comes Mary".
1968: The Temptations appeared in concert without David Ruffin for the first time at Valley Forge Music Festival.
1969: The Beatles recorded "Maxwell's Silver Hammer" for the White Album.
1969: Gladys Knight & the Pips performed on The Tonight Show.
1971: Jim Morrison was buried at Pere-Lachaise cemetery in Paris, France.
1972: Paul McCartney and Wings made their live debut at Chateauvillon on southern France.
1974: Crosby, Stills and Nash began a reunion tour in Seattle, Washington.
1977: The Emotions were flying up the charts with "Best of My Love", which climbed from 30-14 on this date.
1977: The Emotions had already been at #1 for four weeks on the R&B chart with "Best of My Love".
1977: Alan O'Day reached #1 after 15 weeks with "Undercover Angel". Shaun Cassidy climbed to 2 with his remake of "Da Doo Ron Ron" while Barry Manilow was up to 3 with "Looks Like We Made It". Bill Conti tumbled with "Gonna' Fly Now" as stations rushed to add the Maynard Ferguson version instead and Andy Gibb's "I Just Want To Be Your Everything" reached #5. The rest of the Top 10: "Got To Give It Up" from Marvin Gaye, Hot with "Angel in Your Arms" at 7, Steve Miller came in eighth with "Jet Airliner", likable Jimmy Buffett had song #9--"Margaritaville" and Barbra Streisand had her 23rd hit but only her fifth Top 10 with "My Heart Belongs To Me".
1977: The Fleetwood Mac album
Rumours
had been out 20 weeks, with half of those at #1. Barry Manilow gave a hint of what he could do live with the release of his live album at #2, Peter Frampton's follow-up to the blockbuster
Frampton Comes Alive
--
I'm In You
was up to #3 and the Commodores' self-titled album fell to 4. The rest of the Top 10: Steve Miller Band with their great album
Book of Dreams
,
Marvin Gaye at the London Palladium
was at #6, Cat Stevens remained at #7 with
Izitso
, Foreigner's debut was at #8, Heart had a hit album with
Little Queen
and Kiss debuted at #10 with
Love Gun
.
1978: The Rolling Stones crashed the Quiet Knight club in Chicago to jam with Muddy Waters.
1979: The Pretenders began a tour of the U.K. at Smatyz, Chester, England.
1981: The Jacksons began a national tour.
1983: Wham's debut album Fantastic reached #1 in the U.K.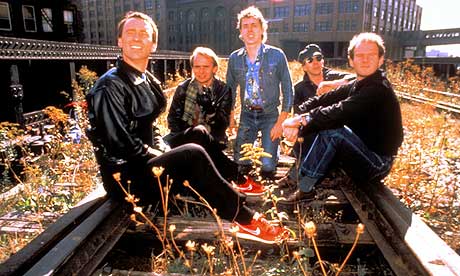 Men At Work at rest
1983: Some very good albums here. Thriller by Michael Jackson had spent 17 weeks at #1 before losing out to the Soundtrack to "Flashdance". Now, after two weeks, Thriller returned to #1. Def Leppard's great Pyromania album was #3 with Synchronicity firing up from 17 to 4. The rest of the Top 10: David Bowie at 5 with Let's Dance, Men at Work with Cargo at #6, Journey placed Frontiers at #7, Bryan Adams' breakthrough Cuts Like a Knife was #8, Prince's fine 1999 album was up to #9 after 34 weeks and H2O from Hall & Oates landed at 10.
Kajagoogoo was all Ga-Ga about their Top 10
1983: The Police reached #1 in six weeks, about as quick as you could back then, with "Every Breath You Take". Eddy Grant was still at 2 with "Electric Avenue" and Irene Cara finally fell from #1 after six weeks with "Flashdance". Sergio Mendes had his first hit in 14 years--"Never Gonna' Let You Go" while Kajagoogoo was at 5 with "Too Shy". The rest of the Top 10: Michael Jackson had the #6 song with "Wanna' Be Startin' Somethin'", Culture Club fell with "Time (Clock of the Heart)", the Kinks had a comeback brewing with their first Top 10 since "Lola" (13 years previous) called "Come Dancing", Styx fell to 9 with "Don't Let It End" and Madness had their first hit "Our House" at #10.
1986: Queen performed at St. James' Park in Newcastle-upon-Tyne, England.
1988: Glenn Medeiros had the top U.K. song with "Nothing's Gonna' Change My Love For You".
1988: "Make It Real" by the Jets was the #1 Adult Contemporary song.
1988: "Paradise" by Sade was #1 on the R&B chart.
Billboard and Joel Whitburn list this as Cheap Trick's best song... (???)
1988: Out of all the great Cheap Trick tracks, the one the reached #1 was "The Flame". Pebbles was at 2 with "Mercedes Boy", Def Leppard had their fourth hit from Hysteria--"Pour Some Sugar On Me" and Australia's INXS climbed from 9 to 4 with their great song "New Sensation".
1988: OU812 by Van Halen returned for a third week at the top of the album chart. Hysteria Faith from George Michael was hanging around at 3 and the Soundtrack to "Dirty Dancing" was #4. The highly underrated Scenes From the Southside by Bruce Hornsby & the Range was up to #5. The rest of the Top 10: Open Up and Say...Ahh! by Poison was #6, Appetite for Destruction was climbing back up after 46 weeks, Sade's fine album Stronger Than Pride was next, Tracy Chapman's debut was beginning to be discovered at #9 and More Dirty Dancing from the movie was #10.
1993: The Rolling Stones holed up at Ron Wood's house in Ireland to begin a month-long recording session.
1994: All-4-One made it eight consecutive weeks at #1 with "I Swear".
1994: Elton John moved into the Top 10 with "Can You Feel the Love Tonight", his 60th career hit and 26th Top 10 song.
1995: The Grateful Dead appeared in concert with leader Jerry Garcia at Soldier Field in Chicago for what turned out to be Garcia's last show He died of a heart attack the following month.
1996: For anyone wondering where Deep Purple's song "Smoke on the Water" was written--It was Montreux, Switzerland following a nightclub fire, and on this date, the great group played that famous song in Montreux for the first time.
1998: Troubled Scott Weiland was served a warrant when he neglected to show up in court for the second time for his trial on drug possession charges.
1998: Session musician, songwriter and producer Robert "Waddy" Wachtel was arrested for investigation of possessing child pornography.
1998: Janet Jackson set a record when her concert at the MCI Center in Washington, D.C. grossed $875,000. Yanni held the previous mark of $860,300, set earlier in the year.
1999: The marriage between Mick Jagger and Jerry Hall was annulled in a London court.
Babyface, one of the good guys in the Rock Era
1999: Indiana renamed a 25-mile stretch of Interstate Route 65 as "Kenneth Babyface Edmonds Highway". Later that day, Babyface donated $50,000 to establish a "Save the Music" campaign in the state.
1999: Sir Elton John had a pacemaker installed at a London hospital.
2000: Vertical Horizon topped the chart with "Everything You Want".
2001: Singer A.J. McLean of the Backstreet Boys entered a treatment center for alcohol abuse and depression. The group temporarily halted their Black & Blue Tour, resuming it August 24th.
2003: The Eagles performed at the First Union Center in Philadelphia, Pennsylvania.
2003: In today's episode of "Inmates Run Rap Music", Beanie Sigel, who had just posted bail for an attempted murder charge, was thrown back in jail where he belonged on weapons charges.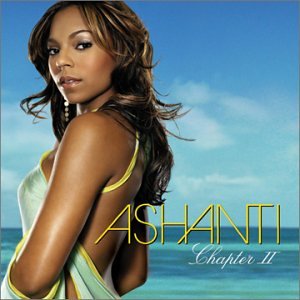 2003: Chapter II
by Ashanti reached #1 on the album
chart.
2004: David Bowie was forced to cancel several concerts after having emergency heart surgery.
2006: Lilly Allen led the way on the U.K. singles chart with "Smile".
2006: Muse
owned the top U.K. album with
Black Holes and Revelations
.
2012: Tim Cross, keyboardist, arranger and producer who worked with Hall & Oates among others, died of lung cancer.
Born This Day:
1925: Alan Dale, who reached #7 in 1955 with his version of "Cherry Pink and Apple Blossom White" and also had his own radio and television show, was born in New York City; died April 20, 2002.
1927: Ed Ames ("My Cup Runneth Over) and a member of the Ames Brothers, was born in Maiden, Massachusetts.
1929: Lee Hazlewood, singer, writer of "These Boots Are Made for Walking" for Nancy Sinatra, and producer was born in Mannford, Oklahoma; died of renal cancer on August 4, 2007 in Henderson, Nevada at the age of 78.
1941: Donald McPherson of the Main Ingredient was born in Indianapolis, Indiana.
1946: Bon Scott, original lead singer of AC/DC, was born in Kirriemuir, Scotland.
1946: Joe Micelli of John Fred and His Playboy Band ("Judy in Disguise" in 1968)
1947: Mitch Mitchell of the Jimi Hendrix Experience
1950: Gwen Guthrie ("Ain't Nothing Goin' But the Rent" from 1986) was born in Okemah, Oklahoma.
1954: Debbie Sledge of Sister Sledge ("We Are Family" from 1979) was born in Philadelphia, Pennsylvania.
1956: Marc Almond of Soft Cell ("Tainted Love") was born in Southport, England.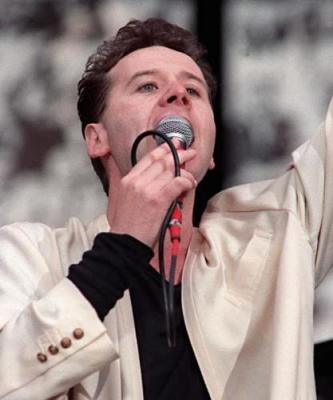 1959: Jim Kerr, lead singer of Simple Minds, was born in Glasgow, Scotland/
1965: Frank Bello, bass guitarist of Anthrax
1975: Jack White of the White Stripes and the Raconteurs was born in Detroit, Michigan
1975: Isaac Brock, singer and guitarist with Modest Mouse, was born in Helena, Montana.
1976: Dan Estrin, guitarist with Hoobastank