1958: CBS announced the invention of
stereophonic records. The new discs could be played on existing record players, but when played on new stereo players, the listener could hear a much richer and fuller sound.
1961: Every once in a while, OK, once in a "Blue Moon", a song comes around as good as this one--the Marcels jumped from 21 to 6 on this date.
964: The Beatles owned the top six positions on the Australian Pop chart.
1965: Jr. Walker & the All-Stars were at the top of the R&B chart for a third week with "Shotgun".
1965: Roger Miller dominated the Adult chart for the seventh week with "King Of The Road".
1965: Petula Clark shouted "I Know a Place" and she was in a hurry to get there, vaulting from #94 to #50.
1965: The Supremes landed their fourth #1 song in the U.S. with "Stop! In The Name of Love".
1966: On a tour of the U.K., Roy Orbison fell off a motorcycle, fracturing his foot. Orbison had to play the remaining dates while sitting on a stool.
1967: The Young Rascals recorded "Groovin'".
1967: A new British act first appeared on the radio. The Who debuted with their first single 'I Can't Explain".
1967: Jefferson Airplane released the single "Somebody To Love". (Note: some websites claim the single was released April 1, the date it first appeared on the Singles chart. Repeat after me: it is physically impossible for a song to be released to radio stations, listened to and added to radio station playlists, reported to trade papers, and printed and published by the trade papers, all in the same day.)
1967: Fats Domino appeared in concert for the first time in the U.K. at London's Saville Theatre. The Bee Gees and Gerry and the Pacemakers were the opening acts.
1967: The Beatles were awarded the Ivor Novello award for "Michelle", the most performed song in the U.K. in 1966.
1968: The Bee Gees began a 24-date tour of the U.K. at London's Royal Albert Hall. Also on the tour were the Foundations.
1968: The Beatles had the #1 song in the U.K. with "Lady Madonna", their 14th #1 song.
1971: Bruce Springsteen & Friendly Enemies opened for the Allman Brothers Band in Asbu
ry Park, New Jersey. Tickets were $4.
1971: The youth of the world continued to mourn their dead as Pearl by Janis Joplin was #1 on the Album chart and The Cry of Love from Jimi Hendrix was third.
1971: Marvin Gaye took over at #1 on the R&B chart with his classic "What's Going On".
1971: Ocean had one of the hottest new songs as "Put Your Hand In The Hand" rose from 71 to 37.
Harrison was proving he could write great songs too...
1971: For the second week, "Me And Bobby McGee" by the late Janis Joplin was #1. The Temptations were close behind in the rear view mirror with "Just My Imagination (Running Away With Me)". Tom Jones fell from his peak of #2 with "She's A Lady" and the other version of "Proud Mary", by Ike &Tina Turner, was #4 this week. George Harrison had the only new Top 10 song with "What Is Life".
1972: Elvis Presley recorded "Burning Love".
1972: The ultra-talented 5th Dimension released the single "(Last Night) I Didn't Get to Sleep at All".

1973: Jerry Garcia of the Grateful Dead was arrested after police found cocaine and LSD in his car after Garcia was pulled over for speeding in New Jersey.
1976: Paul McCartney and Wings had to postpone a tour of the U.S. for three weeks after guitarist Jimmy McCulloch fell in the hotel bathroom and broke a finger.
1976: Ketchum, Idaho's Carole King took over at #1 on the Adult chart with "Only Love Is Real".
1976: Johnnie Taylor remained at #1 for a third week on the R&B chart with "Disco Lady".
1976: The Four Seasons had their 44th career hit but the first #1 song for
them in 11 years (since "Rag Doll") with "December, 1963 (Oh What A Night)". Gary Wright was going to be a factor with "Dream Weaver" while the Captain & Tennille scored their third straight hit with "Lonely Night (Angel Face)". Eric Carmen's former #2 smash "All By Myself" was next with "Disco Lady" by Johnnie Taylor making a move. The rest of the Top 10: Rufus with "Sweet Thing", Aerosmith's "Dream On" became a hit three years after its initial release, the Bellamy Brothers shot up from 17 to 8 with "Let Your Love Flow", Maxine Nightingale was up from 14-9 with "Right Back Where We Started From" and the Bay City Rollers edged in with "Money Honey".
"Power of Love" from Gary Wright...
1976: Few groups had achieved enough success to release a compilation album after just five years, but on this date, The Eagles Greatest Hits 1971-1975, which had only been out four weeks, spent a third week at #1. Frampton Comes Alive! by Peter Frampton hung in at #2 with Ketchum, Idaho's Carole King third with Thoroughbred. Paul Simon had just captured the Grammy for Album of the Year and rose to #4 with Still Crazy After All These Years. The rest of the Top 10: Desire from Bob Dylan, Station to Station by David Bowie, Bad Company edged up with Run with the Pack, Queen's breakthrough, A Night at the Opera, was #8, Gary Wright's impressive album The Dream Weaver, rose to #9 after 32 weeks while the self-titled Fleetwood Mac was #10.
1978: Olivia Newton-John & John Travolta released the single "You're the One That I Want". (Note: some websites erroneously say that the single was released in May. The song debuted on the Singles chart on April 1, 1978. It is physically impossible for a song to be included on the Singles chart if it has not been released as a single.)
1979: Eric Clapton married Patti Harrison (ex-wife of George), the woman Clapton had infamously written about in "Layla", in Arizona.
1979: Bruce Springsteen's first video, "Rosalita" premiered on BBC-TV.
1981: AC/DC released the album Dirty Deeds Done Dirt Cheap in the United States. It had been a hit in their native Australia five years earlier.
1982: Ronnie Lane (Small Faces and Faces bass player) was admitted to a hospital for treatment of multiple sclerosis. Lane died 15 years later.
"Take Me to the Top", one of the top tracks on 'Get Lucky'...
1982: The Go-Go's held on to #1 on the Album chart for the fourth week with Beauty and the Beat, just ahead of Freeze-Frame from the J. Geils Band. Joan Jett & the Blackhearts were right behind with I Love Rock-n-Roll, the Soundtrack to "Chariots of Fire" was fourth and Escape was holding steady for Journey. The rest of the Top 10: Ghost in the Machine from the Police, Olivia Newton-John moved up with Physical, Foreigner's excellent album 4, comedians Bob & Doug McKenzie still hadn't taken off with Great White North and Loverboy grabbed the final spot with their great album Get Lucky.
1982: Bertie Higgins continued to own the #1 Adult Contemporary song with "Key Largo".
1982: Joan Jett & the Blackhearts had reached #1 and they weren't letting go with "I Love Rock 'N Roll". Journey remained #2 for a fifth week with "Open Arms" and the Go-Go's had their biggest career hit with "We Got The Beat". Stevie Wonder was stuck on 4 with "That Girl", keeping Air Supply from moving up with "Sweet Dreams". The rest of the Top 10: Olivia Newton-John with "Make A Move On Me", the J.Geils Band slipped with their former #1--"Centerfold", Vangelis ran into the Top 10 with "Chariots Of Fire", Buckner & Garcia had their novelty hit "Pac-Man Fever" about one of the top video games ever produced and the J. Geils Band wasted no time with a follow-up as "Freeze-Frame shot up from 18 to 10.

1984: Metallica made their U.K. live debut at the famous Marquee Club in London.
1986: Van Halen began their 112-date North American tour at the Hirsch Memorial Coliseum in Shreveport. It was the first VH tour with Sammy Hagar aboard.
1987: Borrowing a page from the Beatles, U2 performed from the roof of a store in downtown Los Angeles to shoot the video "Where The Streets Have No Name". Traffic came to a standstill and thousands of spectators stopped to watch. The police had to stop the video to bring normalcy.
1989: Simply Red released their remake of the great song by Harold Melvin & the Blue Notes, "If You Don't Know Me By Now".

1991: Donnie Wahlberg of New Kids on the Block was arrested after setting fire to carpets at the Seelbach Hotel in Louisville, Kentucky.
1992: "Hound Dog" by Elvis Presley went over three million in sales. (Note: numerous websites erroneously report that the song was certified as having sold three million in 1958. This simply isn't true--it didn't happen until 1992 and anyone can check out the RIAA Gold & Platinum Database to verify that the correct date was March 27, 1992.)
1993: "Freak Me"by Silk was #1 for a third week on the R&B chart.


1993: Snow captured the #1 song in America for the third week with "Informer". Other noteworthy songs in the Top 10: "Don't Walk Away" from Jade, Duran Duran's excellent "Ordinary World", Whitney Houston rose from 9 to 6 with "I Have Nothing", passing her own song "I'm Every Woman", Peabo Bryson & Regina Belle combined for "A Whole New World", Arrested Development and their great song "Mr. Wendal" and Bon Jovi remained in the #10 position with "Bed Of Roses".


1995: Elton John and Tim Rice won the Oscar for Best Original Song with "Can You Feel The Love Tonight" from the movie The Lion King.
1995: Tupac Shakur's Me Against the World went #1 on the Album charts. It marked the first time that youth in America had given someone a #1 album that was in jail for sexual assault.


1997: The ever-popular Will Smith had the #1 song in the U.S. with "Gettin' Jiggy Wit' It".
1998: Construction began on Alice Cooper's new Alice Cooper'stown Restaurant in Phoenix, Arizona.
2000: Singer-songwriter Ian Dury died of metastatic colorectal cancer at the age of 57.
2001: Christina Aguilera signed a sponsorship deal with Coca-Cola, a month after Britney Spears had signed a deal to promote Pepsi.
2002: Jennifer Lopez hit #1 with "Ain't it Funny".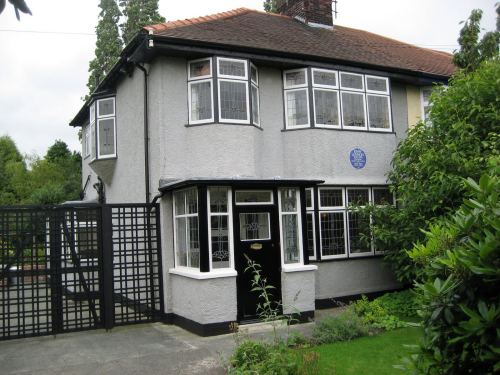 2003: John Lennon's childhood home at 251 Menlove Avenue in Liverpool was opened to the public.
2003: The Rolling Stones had to postpone their Hong Kong concerts over fears of the spread of the killer Asian flu, a severe acute respiratory virus.
2006: Former Village People "policeman" Victor Willis was arrested in San Francisco, California by real police after he disappeared from a drug and gun trial. Willis was facing charges on possession of cocaine in July of 2005.
2006: Ne-You was #1 in the U.K. with "So Sick".
2007: Scott Weiland's (Velvet Revolver) wife was arrested on suspicion of burning over $10,000 of his belongings outside their home after police found a bin of smoldering clothes.
2008: On today's edition of Dangerous Inmates Run Rap Music, Remy Ma (name even sounds like a criminal) was convicted of assault in Manhattan Supreme Court after shooting another woman in New York City outside a nightclub in July, 2007.
2013: Gordon Stoker, singer with the Jordanaires, who backed Elvis Presley on such songs as "Don't Be Cruel" and "Are You Lonesome Tonight", and also worked with Connie Francis, Johnny Horton, Patsy Cline, Jim Reeves, Julie Andrews and Tammy Wynette, died in Brentwood, Tennessee at the age of 88.
2014: Keyboardist Christine McVie rejoined Fleetwood Mac after being away from the group for 16 years. The Mac embarked on a North American tour.
Born This Day:

1927: Mo Ostin, record executive who managed Reprise Records with Frank Sinatra, signed Jimi Hendrix to a contract and brought R.E.M. to Warner Brothers, was born in New York City.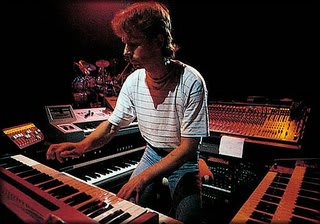 1950: Tony Banks, keyboardist of Genesis, was born in East Hoathly, Sussex, England. (Note: 'Allmusic.com claims Banks was born in East Heathly, England. There is no such city; the name of the town is East Hoathly, and to be professional, you always want to add the name of the county.)
1953: Walter Stocker, lead guitarist of the Babys, who also toured with Rod Stewart and Air Supply, was born in London.
1959: Andrew Farriss, keyboardist of INXS, was born in Perth, Australia. (Note: some websites claim Farriss was born in Cottesloe, Australia, but according to the official website for INXS, Andrew was born in Perth.)
1962: Jann Arden ("Insensitive" from 1994) Springbank, Alberta, Canada. (Note: some websites say Arden was born in Springbank. She was born in Calgary, then moved to Springbank, according to the book 'Famous Female Musicans' by Ruth Solski.)
1964: Clark Datchler of Johnny Hates Jazz ("Shattered Dreams) was born in Sutton, Surrey, England.
1965: Johnny April, bassist for Staind, was born in Enfield, Connecticut.
1970: Mariah Carey was born in Huntington, New York.
1970: Brendan Hill, drummer and original member of Blues Traveler, was born in London.
1975: Fergie, vocalist

of the Black Eyed Peas, was born in Hacienda Heights, California.