Inside the Rock Era began featuring The Top 100 Guitarists of the Rock Era* on February 1. We're now up to #13. He's a pleasure to listen to. Another of those rare breed of guitarists who doesn't waste notes playing a bad riff but chooses his notes carefully.
44 years as an active guitarist
Eric Johnson was born August 17, 1954. He blends elements of rock, blues, jazz, soul folk, New Age and classical music into his songs. In addition to being one of The Top 100 Guitarists of the Rock Era*, Johnson also is an accomplished pianist.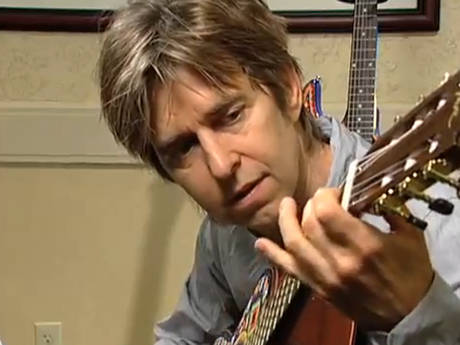 Johnson studied piano at an early age and began playing guitar at age 11. He was influenced early by Jimi Hendrix, Bob Dylan, Eric Clapton, Cream, Mike Bloomfield, Django Reinhardt and West Montgomery. Eric joined Mariani, a psychedelic rock group, at the age of 15. After graduating from high school, Johnson briefly attended the University of Texas and joined a local fusion group known as the Electromagnets. The group recorded regionally but disbanded in 1977.
Eric next formed a touring trio, the Eric Johnson Group, which recorded the album Seven Worlds in 1978. Contract disputes, however, held up the release of the album until 1998. As Eric was unable to get a new management contract, he began working as a session guitarist for artists such as Carole King, Cat Stevens and Christopher Cross. Johnson finally began attracting attention and he signed a recording contract with Warner Brothers. His major-label debut, Tones, was released in 1986.
Guitar Player magazine featured Johnson on its cover in May 1986. One of the tracks from Tones, "Zap", was nominated for a Grammy Award for Best Rock Instrumental Performance. However, the album did not sell and Warner Brothers did not renew Johnson's contract.
Eric signed with Cinema Records, a small label distributed by Capitol, and released Ah Via Musicom. Guitar magazines praised Johnson for his rich, violin-like tone, and "Cliffs of Dover" won Johnson a Grammy for Best Rock Instrumental Performance. This time, his album sold well, going Platinum. But after supporting Ah Via Musicom for three years on tour, he delayed the release of his next album for three years as he recorded, then scrapped, several completed tracks.
"Pavilion"/"Venus Reprise"
Venus Isle was finally released September 3, 1996. It showed great growth as both a songwriter and a guitarist, but received mixed reviews and Capitol too dropped him. Johnson was nominated for two Grammys, however, from the album--"Pavilion" and "S.R.V.", both in the Best Rock Instrumental category.
Later that year, Eric went on the G3 tour with Joe Satriani and Steve Vai, a great showcase for his abilities.

In 1994, Johnson formed the side project Alien Love Child and played shows while working on Venus Isle. The concerts were well received and eventually, the album Live and Beyond, was released in 2000.

Johnson recorded Souvenir in 2002 on his own label, Vortexan Records. The album was released on the Internet and received 65,000 plays in its first seven weeks. Johnson went on an electric tour in 2003 and an acoustic tour the following year.

Eric Clapton invited Johnson to perform at his Crossroads Guitar Festival in 2004, giving Eric additional exposure. Johnson released his next album Bloom in 2005, and earned another Grammy nomination for Best Pop Instrumental Performance. Also that year, a performance Johnson gave for the program Austin City Limits, was released on CD and DVD. Johnson also released an instructional guitar DVD, The Art of Guitar, in 2005.

Johnson was part of the theatrical production "Primal Twang: The Legacy of the Guitar", a journey through the 3,5000-year history of the guitar. He then did a second tour of the G3 event, this time with Satriani and John Petrucci before starring in another theatrical production--"Love In: A Musical Celebration", in which he performed a set of Jimi Hendrix music.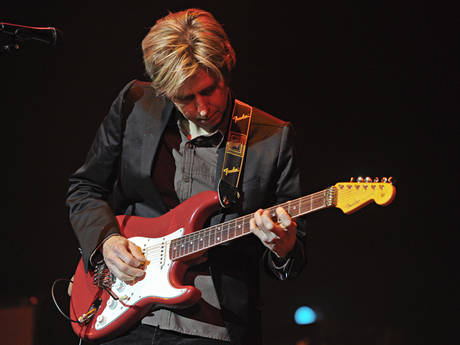 Johnson is a master of guitar techniques, employing a great array of guitar skills. Not only that, he doesn't waste notes--Eric knows when and how to use those techniques and skills. Johnson is a shredder, but what makes him stand out is his melodic sense and his ability to play any time of music and play technically sound. Johnson is a precise, clean player with one of the best tones of all-time.
Johnson plays Fender Stratocasters and Gibson ES-335 guitars through Fender, Dumble and Marshall amplifiers. He has also played Robin, Rickenbacker and Jackson Charvel guitars, and in 2001, acquired a Gibson Custom Shop '59 Les Paul Reissue.
In 2003, C.F. Martin & Company released an Eric Johnson Signature MC-40. In 2005, Fender produced the Eric Johnson Signature Fender Stratocaster and in 2009, the Eric Johnson Signature Stratocaster Rosewood model.
Johnson uses several effects, including the Ibanez Tube Screamer, the Dallas-Arbiter Fuzz Face, the BK Butler Tube Driver, the TC Electronic Stereo Chorus, the Vox CryBaby wah-wah, the Electro-Harmonix Deluxe Memory Man delay, the Xotic AC Booster, the Boss DD-2 Digital Delay and the Line 6 Echo Pro Studio Modeler.
In addition to the artists mentioned above, Johnson has also played on albums by over 50 artists, including Richard Marx (Rush Street), Rodney Crowell, John McLaughlin, John 5 and Chet Atkins.
Most people outside the guitar community are not aware of Johnson, but guitarists are well aware of his God-given ability. Here's a man who knows his instrument: knows what it is capable of, and knows the sound he wants to achieve from it. There are guitarists behind him who are faster, guitarists who have achieved a higher financial level of success, but none combined the overall level of speed, experience, tone and technical expertise that Johnson has. Which is why Eric ranks as The #13 Guitarist of the Rock Era*...