Only 17 guitarists to go. Up next, one of the most distinctive guitarists in The Top 100*, his playing helped give rise to what we know as heavy metal, and yet he also introduced classical themes into rock:
#17: Ritchie Blackmore, Deep Purple, Rainbow, Blackmore's Night
50 years as an active guitarist
(some of his best solos)
Ritchie Hugh "Ritchie" Blackmore was born April 14, 1945 in Weston-super-Mare, Somerset, England. Blackmore is a pioneer in fusing classical music with blues rock. He was a top-notch session musician before joining Deep Purple, then formed the group Rainbow and later the folk rock group Blackmore's Night.
Ritchie received his first guitar at age 11 and took classical guitar lessons for a year. He began an apprenticeship as a radio mechanic at London's Heathrow Airport at the age of 15 and was given guitar lessons by Big Jim Sullivan.
Blackmore began playing with local bands before being hired as a session guitarist by Joe Meek's music productions. Ritchie played on over 40 albums as a session musician. After establishing himself as one of the bright young guitarists, Blackmore joined Deep Purple in 1968. Originally, the group's style was psychedelia and progressive rock.
In May 1968, Deep Purple recorded their debut album, Shades of Deep Purple. The album contained the hit "Hush", which reached #4. In October, the group received a big break when they were chosen to support Cream on their Goodbye tour.
Deep Purple's second album, The Book of Taliesyn, was released during the tour and reached #38 on the album chart.
Deep Purple's struggling record label, Tetragrammaton, delayed production of a new album until the conclusion of the group's 1969 tour. Finally,
the group recorded the album
Deep Purple
, but poor promotion by the label led to poor sales.
The album would contain their final recordings with the original lineup.
The label went out of business, leaving the group with no money and a questionable future.
Warner Brothers took over ownership of Deep Purple and released their records in the 1970's. Keyboardist Jon Lord, drummer Ian Paice and Blackmore met to discuss taking the band in a heavier direction. Bassist Nick Simper and lead singer Rod Evans were replaced by vocalist Ian Gillan and bass guitarist Roger Glover.
Despite this, the group's next project was the Concerto for Group and Orchestra, a three-movement project written by Lord that Deep Purple performed at the Royal Albert Hall with the Royal Philharmonic Orchestra.
Beginning in 1970, Deep Purple became a hard rock outfit. They released the album In Rock, which contained "Speed King", "Into the Fire" and "Child in Time". Blackmore's high-paced guitar solos, the distorted organ of Lord, Gillan's howling vocals and the great rhythm section of Glover and Paice set Deep Purple apart from its earlier releases. In Rock was, along with Led Zeppelin II, the beginning of heavy metal.
The group then released Fireball in 1971 hot on the heels of In Rock. "Fireball" and "Strange Kind of Woman" were released as singles. Three months later, Deep Purple traveled to Switzerland to record the album Machine Head. The group was set to record the album at a casino in Montreux, using the Mobile Studio of the Rolling Stones, but at a concert by Frank Zappa, a man fired a flare gun into the ceiling and burned down the casino. The incident inspired the song "Smoke on the Water". Machine Head was later recorded in a nearby empty Grand Hotel.
The album reached #1 in the U.K. and #7 in the U.S. and in addition to the classic "Smoke on the Water", also contained "Highway Star", "Space Truckin'" and "Lazy". Deep Purple went on four North American tours in 1972 and a tour of Japan led to the live double-album Made in Japan. Made in Japan remains as one of the most popular and best live recordings of the Rock Era.
What has become known as "the classic Deep Purple Mark II lineup" released the album Who Do We Think We Are in 1973, which featured "Woman from Tokyo". But exhaustion was taking its toll in the form of tensions within the group. The three albums in 1973 had made Deep Purple the top-selling artists of 1973, but they were overworked and Gillan and Glover quit the band after the group's second tour of Japan.
The band hired bassist Glenn Hughes and then held auditions for a new lead singer. Deep Purple decided on David Coverdale. The group performed at California Jam on April 6, 1974, that attracted over 250,000 fans. The new lineup produced the album Burn, Deep Purple's second album to reach the Top 10, and went on another world tour. Hughes and Coverdale added elements of funk and blues, an influence that was more pronounced on the album Stormbringer in 1974.
Blackmore did not like the new sound, and quit to form his own band.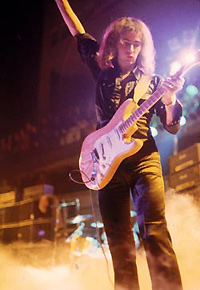 That band would become known as Rainbow, and it featured lead singer Ronnie James Dio and his blues rock band Elf. Blackmore tailored the group to fit his desire to bring classical music in and fuse it with rock. Blackmore began learning to play cello so he could write unique chord progressions in the new style.
The group's first album was called Ritchie Blackmore's Rainbow in 1975. Dio was the only musician to remain, so Blackmore recruited a new lineup for the Rising album in 1976. Ritchie then had to replace Dio with new lead singer Graham Bonnet for the album Down to Earth in 1979. "Since You Been Gone" from the LP became a smash hit.
But Bonnet too left and Joe Lynn Turner became the new lead singer of Rainbow. The group recorded Difficult to Cure in 1981. Blackmore was impressed with Foreigner and that group's sound was an influence. Rainbow released Straight Between the Eyes in 1982, which included the single "Stone Cold". Bent Out of Shape was released in 1983, with Blackmore nominated for a Grammy Award for the instrumental "Anybody There". Rainbow, however, disbanded in 1984.
Blackmore joined a reunion of Deep Purple featuring singer Ian Gillan and recorded two albums with the lineup. Former Rainbow singer Joe Lynn Turner joined the group for the album Slaves & Masters in 1990. Blackmore left Deep Purple for a second time in 1993.
Ritchie then reformed Rainbow with new members in 1994. The effort yielded the album Stranger in Us All in 1995. The group had a successful tour but the group was once again put on the back burner after a concert in 1997.
Blackmore then formed the folk rock duo Blackmore's Night with his girlfriend Candice Night and they promptly released their debut album Shadow of the Moon. Blackmore described their sound as "Mike Oldfield plus Enya". Ritchie played acoustic guitar to back Night's vocals. The project was originally intended to produce one album but it has endured with several album releases and tours. The duo released Fires at Midnight in 2001 and a live album, Past Times with Good Company, in 2002. Their music has sold well in Germany and Russia.
Blackmore was influenced by Jimi Hendrix, Jimmy Page, Django Reinhardt, Les Paul, James Burton and Duane Eddy.
Blackmore plays blues scales and phrasing with dominant minor scales from classical music. Ritchie could play hard rock, funky, blues, and now folk. He truly understands each style and what it takes to sound good in each genre. Blackmore was one of the first to introduce classical scales and chord progressions into rock music, and also one of the first to use sweep picking. He also brought midieval, baroque influences into his playing and Blackmore had a great melodic sense Blackmore used pedal points and arpeggiated triads over a classical chord progression, techniques he borrowed from Johann Sebastian Bach.
Throughout the 1960's, Blackmore played a Gibson ES-335 guitar but switched to a Fender Stratocaster and used them almost exclusively until Blackmore's Night. Ritchie is one of the first rock guitarists to use what is known as a "scalloped" fretboard, which is created by filing the wood and carving a shallow "U" shape between the frets.
Blackmore began his career using 200W Marshall Major stacks. Since 1994, he has used Engl valve amps because he believes they sound better at low volume.
Blackmore has used a Hornby Skewes Treble Booster and for the Burn album, utilized an EMS Synthi Hi Fi guitar synthesizer. Ritchie sometimes used the wah-wah pedal and a variable control treble-booster, and he also employed the Moog Taurus bass pedals during concerts. He also used a Unicord Univibe, a Dallas Arbiter Fuzz Face and an Octave Divider.
Blackmore's guitar playing is unique and distinctive. He has come up with countless guitar riffs and, along with Jimmy Page and Tony Iommi, one of the founding fathers of heavy metal. Blackmore comes in at #17 for the Rock Era*...