Inside the Rock Era has presented 85 of The Top 100 Guitarists of the Rock Era*. We've looked over the lists that others have presented. The exact rankings are immaterial, and no one is going to agree 100% with any list out there, unless it is your personal one (!), but of the credible lists that have been released, we strongly believe this list includes most of the most talented guitarists, known and unknown to the general public, who have stood the test of time, inspired others to pick up a guitar, and who have stretched the boundaries of the instrument for future generations.
#15 is a prolific guitarist who has brought his unique sound to the Rock Era party for 45 years:
#15: Robert Fripp, King Crimson, Solo
45 years as an active guitarist
Robert Fripp was born May 16, 1946 in Wimborne Minster, Dorset, England. Fripp is a master of crosspicking on the guitar, a technique usually more associated with banjo playing. Fripp is the only member of King Crimson to have played in all of its incarnations. Fripp has played on more than 1,000 albums in his career.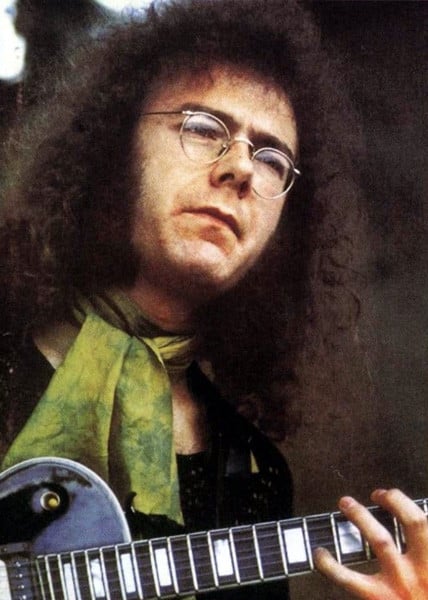 Fripp started playing guitar at age 11 and began professionally in 1967 when he responded for an advertisement by bassist Peter Giles and drummer Michael Giles. The trio released two singles and an album, The Cheerful Insanity of Giles, Giles and Fripp.
Following the breakup of the group, Fripp and Michael Giles formed King Crimson in 1968 with Greg Lake, Peter Sinfield and Ian McDonald. Crimson's first album, In the Court of the Crimson King, was released in 1969 and is generally recognized as being one of the most influential albums in the field of progressive rock. Giles and McDonald had musical differences however, and King Crimson broke up after the release of the album, only to be re-formed several times since.
Fripp remained committed, and recruited new members. King Crimson went through several lineup changes before Fripp disbanded them in 1974.
During times in which the group was not active, Fripp has participated in several projects. He worked with Keith Tippett on the albums Septober Energy in 1971 and Ovary Lodge in 1973. Fripp also worked with Van der Graaf Generator and collaborated with Brian Eno for the albums No Pussyfooting in 1973 and Evening Star in 1974.
These two albums featured Fripp's experiment with a tape delay on dual reel to reel tape machines, ultimately called Frippertronics.
Robert performed the outstanding guitar solo on "Baby's on Fire" on Eno's debut solo album
Here Come the Warm Jets
in 1974. Fripp and Eno continued their partnership in 1975 with several live shows in Europe, and Fripp also played guitar solos on Eno's album Another Green World.
Fripp spent some time outside the music industry in the 1970's, studying the teachings of Gurdjieff. When he returned, he played guitar for Peter Gabriel on Peter's debut solo album in 1977. He toured with Gabriel afterwards and also played on and produced Gabriel's second album the following year.
In 1977, Fripp played guitar on the David Bowie album Heroes and collaborated with Daryl Hall on his solo release Sacred Songs. Robert's work for other artists began to pay dividends as several, including Phil Collins, Hall & Gabriel, returned the favor by helping him on Fripp's 1979 solo album Exposure. Fripp then wrapped up the decade performing on Blondie's album Parallel Lines.
Fripp then worked with bassist Busta Jones, drummer Paul Duskin and vocalist David Byrne to produce the album God Save the Queen/Under Heavy Manners. He also assembled a group called League of Gentlemen that toured in 1980.
In 1981, Fripp joined yet another incarnation of King Crimson with singer and fellow lead guitarist Adrian Belew, percussionist Bill Bruford and Tony Levin on bass. This lineup released Discipline, Beat and Three of a Perfect Pair before splitting in 1984.
Fripp also worked with Andy Summers of the Police on the albums I Advance Masked and Bewitched. In 1982, Fripp played guitar on and produced the album Keep On Doing by the Roches.
In 1984, Robert accepted a teaching position at the American Society for Continuous Education in West Virginia. His course, Guitar Craft, also spawned an offshoot group called The League of Crafty Guitarists, which has released several albums. The groups California Guitar Trio and Gitbox Rebellion both include former Guitar Craft students.
Fripp also started the Guitar Circle of Europe in 2007 and the Seattle Circle Guitar School in 2010.
Robert worked with David Sylvian, performing on the twenty-minute track "Steel Cathedrals" in 1985 and also joining Sylvian on his 1986 album Gone to Earth. The two toured Japan and Italy in 1991 and 1992 and in 1993, the pair released the album The First Day.
Fripp played guitar for the Orb on their albums
Lifeforms
in 1994, and
The Future Sound of London
and
Cydonia
, both released in 2001, as well as
FFWD
, a collaboration with members of that group. He also played on albums by No-Man, the Beloved, Iona and Porcupine Tree.
Fripp began working on his Frippertronics technique the creates sound loops using digital technology instead of from analogue tapes. Using this technique, Fripp had released several albums that he calls "Soundscapes", including 1999, Radiophonics, A Blessing of Tears, That Which Passes, November Suite, The Gates of Paradise, Love Cannot Bear and At the End of Time.
In 1994, Fripp re-formed the 1981 lineup of King Crimson, adding Trey Gunn and drummer Pat Mastelotto. They released the VROOOM EPin 1994 and Thrak in 1995. A sixth incarnation of the group that included Fripp, Belew, Gunn and Mastelotto released The ConstruKction of Light in 2000 and The Power to Believe in 2003.
In 2004, Fripp toured with Joe Satriani and Steve Vai as Satriani's famous guitar trio G3. Robert also worked at the studios of Microsoft to record new sounds and atmospheres for the computer operating system Windows Vista. Fripp has also played for Theo Travis, the Humans, a group in which his wife Toyah Willcox is in, Grinderman, Judy Dylbe, and for Bill Rieflin's Slow Music project.
Robert's is an interesting story within the context of The Top 100 Guitarists* for he was tone deaf when he started out. He had no rhythmical sense either. He learned how to crosspick, which became one of his signature moves. Fripp was influenced by avant-garde jazz and classical music--thus he combines rapid alternate picking with cross-picking sixteenth-note patterns for long stretches in a form called moto perpetuo, or perpetual motion.
When Crimson was starting out, Fripp used two Gibson Les Paul guitars from 1957 and 1959. The '57 had three humbucker pickups. The Crimson Guitars Robert Fripp Signature features Fernandes Susatainer and MIDIelements with a Les Paul body. Fripp recommended the Ovation 1987 Legend steel-string guitar to his Guitar Craft students.
With King Crimson, Fripp released innovative, groundbreaking songs outside the mainstream. His "Soundscapes" work is stunning. There can be no doubt that Fripp has stretched the boundaries of the guitar, and for his many accomplishments, Robert ranks #15 for the Rock Era*...