1963: The Rolling Stones played at the Station Hotel in Richmond, Surrey, England.
1964: Peter and Gordon topped the UK singles chart with "A World Without Love".
1965: The Rolling Stones opened their North American tour at the Maurice Richard Arena in Montreal, Canada.
1966: Going Places by Herb Alpert & the Tijuana Brass remained at #1 for the second of five weeks at the top of the album chart .
Rivers at Whisky a Go-Go...
1966: The Righteous Brothers enjoyed a third week at #1 with "(You're My) Soul and Inspiration. "Daydream" by the Lovin' Spoonful was #2 with Cher's "Bang Bang (My Baby Shot Me Down)" coming in at #3. The rest of the Top Ten: Johnny Rivers moved to #4 with "Secret Agent Man", the Outsiders' great song "Time Won't Let Me" jumped from 11-5, the Stones fell to #6 with "19th Nervous Breakdown", SSgt. Barry Sadler had #7 with "The Ballad of the Green Berets", B.J. Thomas remained at #8 with "I'm So Lonesome I Could Cry", the Young Rascals climbed from 16-9 with "Good Lovin'" and Paul Revere & the Raiders jumped from 18-10 with their classic "Kicks".
1969: The Beatles were #1 on the UK chart with "Get Back".
1970: Fairport Convention, Fotheringay and Matthews Southern Comfort were at the Roundhouse in London.
1971: The Rolling Stones released the album Sticky Fingers.
1975: Pink Floyd played the first of five sold out performances at the Los Angeles Memorial Sports Arena.
1976: The Ramones released their debut album.
1976: Bob Marley and the Wailers began their 42-date tour at the Tower Theater in Upper Darby, Pennsylvania.
1977: We were introduced to the younger brother of the Bee Gees, Andy Gibb, on this date as his first career single, "I Just Want to Be Your Everything", debuted on the chart.
1977: Joan Jett and Blondie performed at the Whisky A Go-Go in Los Angeles.
1977: After 19 weeks on the charts, Thelma Houston culminated her ascension at #1 with "Don't Leave Me This Way", which is the 10th longest time for a song to reach #1 in rock history. She was followed by Glen Campbell's "Southern Nights". The Eagles were climbing fast with "Hotel California" while David Soul's displaced #1 "Don't Give Up On Us" fell to #4. The remainder of the Top Ten: 10cc were at #5 with "The Things We Do For Love", Natalie Cole edged up one with "I've Got Love On My Mind", Barbra Streisand's former #1 "Evergreen" moved back up to #7, the Atlanta Rhythm Section held #8 with "So In To You", Leo Sayer had a big hit with "When I Need You" at #9 and Jennifer Warnes scored her first top ten with "Right Time of the Night".
1977: Leo Sayer topped the Adult Contemporary chart with "When I Need You".
1977: Hotel California by the Eagles topped Fleetwood Mac's Rumours on the album chart as those two would occupy either #1 or #2 or both spots on the chart for 18 consecutive weeks. The Soundtrack to 'A Star Is Born'" would have to settle for #3 with Stevie Wonder's classic Songs in the Key of Life at #4. The rest of the Top Ten: Left Overture from Kansas, This One's For You by Barry Manilow at #6, Boston's great debut at #7, Unpredictable from Natalie Cole at #8, Steve Miller's Fly Like An Eagle and George Benson's In Flight at #10.
1978:
The Police performed at the Roundhouse in London.
1979: Sister Sledge released the single "We Are Family".
1979: Newcomer Rickie Lee Jones released the single "Chuck E's in Love".
1979: Kenny Rogers released the single "She Believes in Me".
1983: Stephen Bishop was #1 on the Adult Contemporary chart with "It Might Be You".
1983: U2 began their War tour at the Carolina Concert For Children benefit in Chapel Hill, North Carolina.
1983: Thriller spent another week at #1 with Journey's Frontiers at #2 and H2O from Hal & Oates remaining at 3. The rest of the Top Ten: Business As Usual from Men At Work, Kilroy Was Here at #5 for Styx, Rio remaining at #6 for Duran Duran, Lionel Richie's debut at #7, Pyromania from Def Leppard at #8, The Final Cut from Pink Floyd moving up to 9 and Toto's classic album IV at #10.
Dexy's Midnight Runners surprised the world with a #1 song
1983: Dexy's Midnight Runners had the new #1 song with "Come On Eileen". Michael Jackson was moving up with "Beat It", Styx remained at #3 with "Mr. Roboto" and the Greg Kihn Band's "Jeopardy" was at #4. The rest of the Top Ten: "Der Kommissar" from After the Fire moved up to #6, Hall & Oates had #7 with "One On

One", Journey remained a #8 with "Separate Ways", David Bowie moved into the top 10 with "Let's Dance" and Thomas Dolby was at #10 with "She Blinded Me With Science".
1988: Iron Maiden topped the UK album charts with Seventh Son of a Seventh Son.
1988: The Dirty Dancing Soundtrack was at #1 on the U.S. album chart with Bad from Michael Jackson #2, More Dirty Dancing from the movie at #3, George Michael's Faith at #4 and Kick from INXS #5.
1988: Gloria Estefan & the Miami Sound Machine moved into the #1 slot on the Adult Contemporary chart with "Anything For You".
1988: Whitney Houston broke a record held by the Beatles and Bee Gees when she recorded her seventh straight #1 song with "Where Do Broken Hearts Go". "Devil Inside" from INXS was #2, followed by the former #1 "Get Outta' My Dreams, Get Into My Car" by Billy Ocean, "Wishing Well" by Terence Trent D'Arby and "Girlfriend" by Pebbles at #5.
1989: Kylie Minogue appeared on British television in the Australian soap opera "The Henderson Kids".
1993: Guns N' Roses played the first of two shows at Palacio de los Deportes in Mexico City, Mexico.
2001: Coldplay performed at the Music Hall, Aberdeen in Scotland.
2011: Tom King, guitarist with the Outsiders ("Time Won't Let Me") died at the age of 68.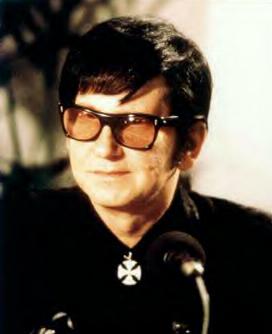 1936: Roy Orbison was born in Vernon, Texas; died of a heart attack in London December 6, 1988.
1939: Ray Peterson ("Tell Laura I Love Her") was born in Denton, Texas; died of cancer January 5, 2005 in Smyrna, Tennessee.
1949: John Miles ("Music"), songwriter, vocalist, guitarist and pianist who worked with Jimmy Page, Tina Turner, Alan Parsons and Joe Cocker, was born in Jarrow, Tyne & Wear, England.
1960: Steve Clark, co-lead guitarist of Def Leppard, was born in Hillsborough, Sheffield, South Yorkshire, England; died January 8, 1991 due to heavy alcohol consumption.
1964: Simon Matthews, drummer with Jesus Jones ("Right Here, Right Now")
1968: Stan Frazier, drummer of Sugar Ray ("Every Morning"), was born in Orange County, California.