We are inside the Top 10 now, and it comes from a guitarist steeped in knowledge of music theory. He plays lightning fast and technically accurate, as his numerous awards testify:
#9: Steve Vai: Frank Zappa, David Lee Roth, Whitesnake, Solo
33 years as an active guitarist
(guitar solo at the 2004 Crossroads Festival)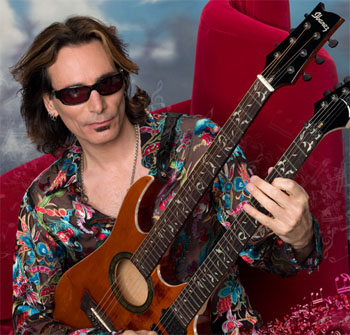 Steven Siro Vai was born June 6, 1960. He recorded and toured in Frank Zappa's band before beginning a solo career. He has also played guitar for David Lee Roth and Whitesnake. Vai has won four Grammy Awards and sold over 15 million albums.
Vai began playing guitar at age 13 and in 1974, took lessons from Joe Satriani. Many guitarists caught his attention, including Jimi Hendrix, Jimmy Page, Jeff Beck, Brian May and Allan Holdsworth. Vai attened the Berklee College of Music in Boston, Massachusetts and then auditioned for Frank Zappa at the age of 20. Zappa hired him to transcribe guitar solos, and these transcriptions were featured in The Frank Zappa Guitar Book. In 1980, Vai worked on the album You Are What You Is and toured

with Zappa that fall.

Zappa referred to Steve as his "little Italian virtuoso" and in
album liner notes, referred to Vai performing "stunt guitar" or "impossible guitar parts".
After leaving Zappa in 1982, Vai moved to California and recorded the solo album Flex-Able. In 1985, Vai replaced Yngwie Malmsteen as lead guitarist in Graham Bonnet's Alcatrazz for the album Disturbing the Peace. Vai then joined David Lee Roth for the albums Eat 'Em and Smile and Skyscraper. Vai played with Public Image Ltd. in 1986 and then replaced Vivian Campbell in Whitesnake in 1989.
Vai tours regularly with his own band and is also a regular with Satriani on the G3 tours. In 1990, Vai released possibly his best solo album Passion and Warfare. The work was nominated for a Grammy for Rock Instrumental Album and one track, "For the Love of God", was voted #29 in Guitar World magazine's poll of The 100 Greatest Guitar Solos of All-Time.

In 1994, Vai began working with Ozzy Osbourne, then received a Grammy Award for his work on the Frank Zappa song "Sofa". Steve received a string of other Grammy nominations for Best Rock Instrumental Performance, including "Tender Surrender" in 1995, "For the Love of God" in 1997, "Windows in the Soul" in 1999 and "Whispering a Prayer" in 2001.
Vai released a DVD of his show at the Astoria in London in 2001. In 2002, Steve performed with the Tokyo Metropolitan Symphony Orchestra in Tokyo, Japan for the world premiere of Fire Strings, a concerto for electric guitar and 100-piece orchestra. In 2005, Vai performed The Blossom Suite with classical guitarist Sharon Isbin at the Chatelet Theatre in Paris, France.
Vai became a supporter of Little Kids Rock, a nonprofit organization that provides free musical instruments and instruction to children in public schools in the United States. Vai is now on the project's Honorary Board of Directors. Vai is the founder of the Make A Noise Foundation, which provides funding for music education and programs for those unable to do so because of limited resources. Vai also gives master classes in such prestigious music schools as the Fermatta Music Academy.
Vai continued to earn substantial praise from his peers with four more Grammy nominations for Best Rock Instrumental Performance: "Lotus Feet" in 2006, "The Attitude Song" in 2008, "Peaches En Regalia" (which he won) and "Now We Run" in 2010.
Vai released Sound Theories in 2007, a two-CD set consisting mostly of previously released songs that Vai rearranged and played with full orchestra. In 2010, Steve finished his first full symphony and performed the songs at the Steve Vai Festival with the North Netherlands Symphony Orchestra. Vai then headlined the "Experience Hendrix Tour", which featured Eric Johnson and other top guitarists.
On March 3, 2011, Vai and the Berklee College of Music set a Guiness World Record for the world's largest online guitar lesson. The event brought together thousands of international guitarists and Vai co-authored a 12-week online course called Steve Vai Guitar Techniques.
Vai has played for Hot Chocolate and the Ohio Express, among others, in addition to those mentioned above. He has also done session work for several artists, including Alice Cooper, the Yardbirds, Al Di Meola, Whitesnake, Meat Loaf, Motorhead, Ozzy Osbourne, Joe Jackson, Jason Becker, Dream Theater and John 5. Vai's music has appeared in several movies, including Dudes, Ghosts of Mars, Bill and Ted's Bogus Journey and Crossroads, in which Vai appears as the character Jack Butler.
Vai has a great knowledge of music theory, a key factor in evaluating guitar talent. Many people consider him a virtuoso. His work features peculiar rhythmic groupings and he features a unique floating vibrato. Steve plays both double and triple neck guitars and is believed to be the first rock guitarist to use a 7-string guitar.
Vai helped design his signature Ibanez JEM series, which feature a hand grip cut into the top of the body of the guitar, a humbucker-single coil and a DiMarzio pickup. Steve currently uses the JEM7V and the Flordal JEM 77FP. He also has a custom-built triple-neck gutar with the same features as his JEM7V guitars. The top neck is a 12-string, the middle is a six-string, and the bottom is a six-string fretless guitar.
Vai's 7-string was designed by him and named Ibanez Universe. Steve also has a signature Ibanez acoustic, the Euphoria.
Before using Ibanez, Vai endorsed Jackson guitars, and worked with Carvin Guitars and Pro Audio to develop the Carvin Legacy line of amplifiers.
Vai's effects pedals include a modified Boss DS-1, the Ibanez Tube Screamer, Morley Bad Horsie, Ibanez Jemini Twin Distortion Pedal, TC Electronics G-System, Morley Little Alligator Volume pedal, the popular DigiTech Whappy, and an MXR Phase 90/Phase 100.
Vai has won three Grammy Awards, for Best Rock Instrumental Performance on "Sofa" for Frank Zappa in 1994, Best Pop Instrumental Performance for his album No Substitutions in 2001 and for Best Rock Instrumental Performance on "Peaches En Regalia" on another Zappa album in 2009.

Vai's three-necked guitar solo...


Vai has also won numerous guitar awards, first being recognized as Best Rock Guitarist in 1996 by Guitar Player magazine. Guitar Player has named him Best Overall Guitarist in 1987 and 1990 and Best Rock Guitarist in 1986, 1987, 1988, 1989, 1990 and 1995 and Vai was also inducted into the magazine's Gallery of Greats in 1995. Steve was recognized by Guitar World as Best Rock Guitarist in 1989 and 1990 and also received awards for Best Guitar Solo ("For the Love of God") and Best Album (Passion and Warfare). Vai won the Guitar in the 90's in 1986, the Hall of Fame Award in 1987, Rock Guitarist of the Year in 1988, Best Instrumental Guitarist of the Year and Reader's Choice for Guitar Album of the Year (Passion and Warfare) in 1990 and Editor's Choice Award in 1993 from Guitar for the Practicing Musician.
Vai may not be well known, but for those in the music business, especially his contemporaries, he is recognized as one of the best in the world. Steve Vai checks in at #9 for the Rock Era*...