Many of The Top 100 Guitarists* aren't widely known or recognized. #11 is an exception...
35 years as an active guitarist
Joseph Satriani was born July 15, 1956 in Westbury, New York. He is a multi-instrumentalist with several Grammy nominations. As a guitar instructor early in his career, Satriani has tutored some of the top guitarists in history, including Kirk Hammett of Metallica and Steve Vai. Joe is also the founder of the popular G3, which features three great guitarists each year on tour.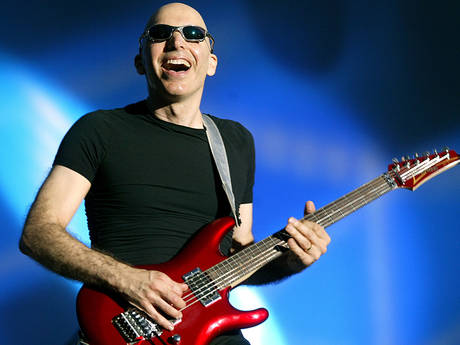 Satriani began playing guitar at the age of 14 after hearing of the death of Jimi Hendrix. In 1974, Joe studied music with jazz guitarist Billy Bauer and jazz pianist Lennie Tristano. Tristano was technically demanding, and this had a big influence on Joe's playing. Satriani began teaching guitar, with his most notable student being Vai. While teaching, Joe studied music at Five Towns College in New York. During his career, Satriani has been influenced by Jimi Hendrix, Jimmy Page, Eric Clapton, Ritchie Blackmore and Jeff Beck.
Joe began playing in the group the Squares and was then invited to join the Greg Kihn Band. When Vai gained fame playing for David Lee Roth in 1986, Vai raved about his former mentor in several magazines, including Guitar World. In 1987, Satriani recorded his second album Surfing with the Alien (his first did not do well at all), an album consisting entirely of instrumentals.
"Surfing With the Alien" was nominated for a Grammy award for Best Rock Instrumental Performance.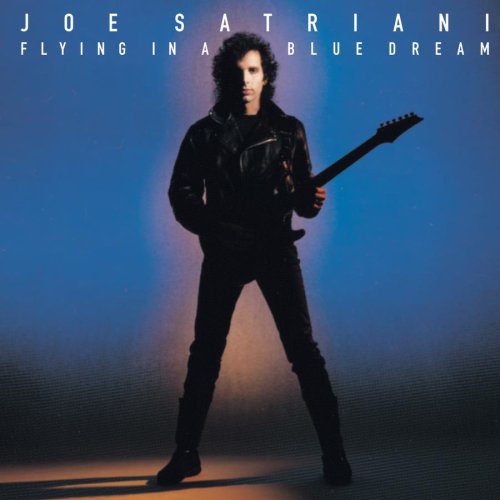 The following year, Joe helped produce an EP for the group
Possessed
, which included another of his guitar pupils. In 1989,
Flying in a Blue Dream
was released, said to be inspired by the death of his father. Satriani received his second and third Grammy nomination for "Always With Me, Always With You" for Best Pop Instrumental Performance and Best Rock Instrumental Performance for "Flying in a Blue Dream".
In 1992, Satriani released The Extremist, his best album to date. "Summer Song", "Cryin'", "Friends" and the title track also received significant airplay. "The Extremist" was nominated for Best Rock Instrumental Performance at the Grammys. The following year, Satriani joined Deep Purple as a temporary replacement for the late Ritchie Blackmore.
In 1996, Satriani founded the G3, which would go on tour as a power trio of three instrumental rock guitarists. Satriani, Vai, and Eric Johnson was the first such trio. Other guitarists who have been a part of the G3 have been Yngwie Malmsteen, John Petrucci, Robert Fripp, Uli Jon Roth, Michael Schenker and Paul Gilbert.
In 1998, Satriani released Crystal Planet, followed by Engines of Creation, which allowed Joe to experiment with electronica. The tour that followed produced the double-album Live in San Francisco. Satriani released Strange Beautiful Music in 2002 and Is There Love in Space? in 2004. The album Professor Satchafunkilus and the Musterion of Rock followed in 2008.
Satriani joined the group Chickenfoot in 2008 with former Van Halen members Sammy Hagar and Michael Anthony and Chad Smith, drummer of the Red Hot Chili Peppers. Chickenfoot released their debut album in 2009. In 2010, participated in the Experience Hendrix Tribute Tour, performing music written and inspired by Jimi.
Satriani released his 13th studio album, Black Swans and Wormhole Wizards, in 2010. Chickenfoot released a second album called III in 2011, which peaked at #9 on the album chart.
Satriani also has worked for many other artists, including Blue Oyster Cult, Alice Cooper, Crowded House and Dream Theater. Joe also appeared in the movie Moneyball, in which he plays "The Star Spangled Banner".

Satriani is considered a virtuoso on the guitar. He has mastered legato, two-handed tapping and arpeggio tapping, volume swells, harmonics and extreme whammy bar effects. Joe is also excellent at rapid alternate picking and sweep picking, but doesn't use those techniques often.
Joe was Mick Jagger's lead guitarist when Jagger went on tour in 1988.
Satriani has received 15 Grammy nominations (he is second only to Brian McKnight for the most nominations without winning) and has sold over 10 million albums.
Satriani has endorsed the Ibanez JS Series of guitars and Peavey's JSX amplified, both designed as Satriani Signature products. Satriani uses the Ibanez JS1000 and JS1200, which both feature the Edge double locking tremolo bridge, the JS double neck model the JS700, which features a fixed bridge, P-90 pickups and a matching mahogany body and neck as well as several other JS models. Joe also owns a prototype 24-fret version called the JS-2400 which he uses with Chickenfoot. His guitars use Satriani's signature DiMarzio humbucker pickups.
Satriani used the Marshall 6100 LM amplifier through 2001 when he switched to the Peavey JSC, but still uses distortion pedals with the clean channel.
Joe utilizes the Vox wah, Dunlop Cry Baby Wah, RMC Wizard Wah, the DigiTech Whammy, the BK Butler Tube Driver, several effects from Boss, the Barber Burn Drive Unit, the Fulltone Deja Vibe, the Fulltone Ultimate Octave and the Electro-Harmonix Polyphonic Octave Generator. On March 3, 2010, Satriani announced he was using the new Vox overdrive pedal Ice 9.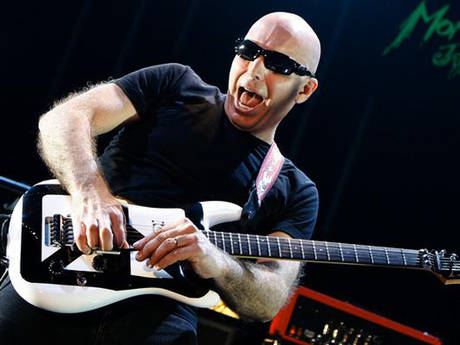 Satriani is an official supporter of Little Kids Rock, a non-profit group that provides free musical instruments and instruction to children in the United States.
He has given us a lot of great music over the years, superbly-crafted pieces which showcase his immense talent. If he keeps it up, he no doubt will continue to climb the rankings. At #11...Joe Satriani.