The #8 Guitarist is the longevity champ among The Top 100 Guitarists of the Rock Era*. His guitar playing defines the blues, and his passion for playing as won him legions of fans the world over.
62 years as an active guitarist
Riley B. (B.B.) King was born September 16, 1925 in Berclair, Mississippi. He is a blues guitarist whose impeccable string bending and vibrato has influenced nearly every guitarist after him. It is estimated that King has played over 15,000 concerts in his 62 years of performing.
When King was four years old, he was raised by his maternal grandmother in Kilmichael, Mississippi. He was influenced by T-Bone Walker and Blind Lemon Jefferson, among others, mixing blues, jazz, swing and pop into a sound all his own. He sang in the choir at Elkhorn Baptist Church in Kilmichael and acquired his first guitar at age 12. In 1943, King moved to Inverness, Mississippi to work as a tractor driver. While there, he played guitar for the Famous St. John's Quartet, performing at area churches and on WGRM radio in Greenwood, Mississippi.
In 1948, King went to West Memphis, Arkansas. He performed on Sonny Boy Williamson's radio program on KWEM, developing a local audience. This exposure led to a steady gig at the Sixteenth Avenue Grill and later a ten-minute program (King's Spot) on legendary WDIA in Memphis. King worked at WDIA as a disc jockey, where he earned the nickname Beale Street Blues Boy, later shortened to Blues Boy and finally to B.B. King's short program became so popular that it was expanded and became known as the Serpia Swing Club. It was at WDIA where King first met T-Bone Walker and knew he wanted to play guitar.


In 1949, King made a few recordings on Bullet Records in Nashville, Tennessee. He then signed a recording contract with RPM Records in Los Angeles and began recording songs. Sam Phillips, who later founded Sun Records, produced many of those early songs.
King assembled his own band, the B.B. King Review, with Calvin Owens and Kenneth Sands on trumpet, Lawrence Burdin on alto sax, George Coleman on tenor sax, Floyd Newman played baritone sax, pianist Millard Lee, bass guitarist George Joyner and drummer Earl Forest and Ted Curry. The band toured in major theaters in the United States as well as in small clubs and juke joints in the south. In 1956, King founded his own record label, Blues Boys Kingdom, and booked 342 concerts.
King racked up a string of hits in the 50's, including "3 O'Clock Blues", "Please Love Me", "When My Heart Beats like a Hammer", "Every Day I Have the Blues", "Sweet Little Angel" and "Please Accept My Love". In 1962, B.B. signed with ABC-Paramount Records, which was bought by MCA Records and finally absorbed by his current label, Geffen Records.
King received considerable visibility when he opened for the Rolling Stones on their 1969 tour of the United States. He
won a Grammy Award for "The Thrill Is Gone" for Best Male R&B Vocal Performance in 1971.
In the 1980's, King appeared on television shows and has performed up to 300 nights a year. He won four Grammys in the decade: Best Ethnic or Traditional Recording ("There Must Be a Better World Somewhere") in 1982 and Best Traditional Blues Recording Grammys in1984 (Blues 'n Jazz and 1986 (My Guitar Sings the Blues), and was given a Lifetime Achievement Award in 1987. In 1988, B.B. collaborated with U2 for the single "When Love Comes to Town" on U2's Rattle and Hum album.
King won five more Grammys in the 1990's. He was honored with Best Traditional Blues Recording for Live at San Quentin in 1991, Best Traditional Blues Album in 1992 (Live at the Apollo) and 1994 (Blues Summit) and Best Rock Instrumental Performance for "SRV Shuffle". King also received a Grammy Hall of Fame Award for "The Thrill is Gone", an award given to recordings that are at least 25 years old and have "qualitative or historical significance." In 1998, King appeared in the movie The Blues Brothers 2000, playing the lead singer of the Louisiana Gator Boys. In 2000, King worked with Eric Clapton to record Riding With the King.
King also picked up the first of seven Grammy Awards that he would win over the next 10 years for Best Traditional Blues Album (Blues on the Bayou). He followed up that with another Grammy for Riding with the King and picked up a Grammy for Best Pop Collaboration with Vocals for the song "Is You or Is You Ain't (Baby)". In 2003, King won the Best Traditional Blues Album Grammy for A Christmas Celebration of Hope and Best Pop Instrumental Performance for "Auld Lang Syne". He won yet again in 2006 for the album 80, which was honored as the Best Traditional Blues Album.
In 2006, King did a European farewell tour (although he went back later), supported by another elite guitarist, Gary Moore. A new museum in Indianola, Mississippi was dedicated to King in June and opened on September 13, 2008. In late 2006, King recorded a concert CD and DVD--B.B. King: Live, his first live recording in 14 years.
In 2007, King played at Eric Clapton's second Crossroads Guitar Festival to raise money for the Crossroads Centre for addictive disorders. B.B. also recorded his version of "Goin' Home" for the album Goin' Home: A Tribute to Fats Domino. In 2008, King played at the Monterey Blues Festival, the Chicago Blues Festival and the Bonnaroo Music and Arts Festival.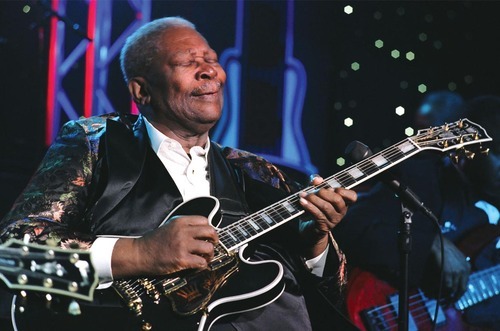 King won his 17th Grammy Award in 2009 for Best Traditional Blues Album (One Kind Favor). In the summer of 2009, King went back for another European Tour, with shows in France, Germany, Finland, Denmark and Belgium. He performed at the Mawazine Festival in Rabat, Morocco in 2010 and played at the Glastonbury Music Festival in 2011.
King is the consummate blues performer, for he comes up with notes that make you want to listen. He is famous for his use of vibrato and raking techniques, using space and phrasing to add drama, in that you don't know what's coming next. Syncopation is another trademark of King's playing.
King mixes pentatonic scales seamlessly, playing a variation of the pentatonic/Blues scale (the Mixolydian scale, which is similar to the major scale except for a lowered seventh).
He doesn't waste notes, making use of all the above in a powerful combination that makes B.B. one of the great guitar talents of all-time.
King played several guitars early in his career, including a Fender Telecaster. However, his favorite was named "Lucille", a version of the Gibson ES-355. It has a maple neck, a Varitone control and no F-holes on the top. Gibson launched the B.B. King Lucille model in 1980. The Little Lucille was produced in 1999, which is a version of Gibson's Blueshawk guitar, but with a Tune-o-matic bridge and a TP-6 stop tailpiece.
King uses the Lab Series L5 2x12" combo amplifier, which he has featured for a long time. B.B. has also used the Fender Twin Reverb. Unlike most guitarists, he doesn't use many effects, preferring to let his natural talent achieve his sound.
King uses space and phrasing in his guitar playing to generate extreme passion and emotion. He revolutionized blues guitar playing, going from the cotton fields of the Mississippi Delta to the world stage. Like a fine wine, B.B. has matured with age. His guitar playing is expressive and he exhibits a tone that is instantly recognizable.
King has inspired thousands of guitarists, including Jimi Hendrix, Stevie Ray Vaughan, Duane Allman, Eric Clapton, Buddy Guy, Peter Green, Derek Trucks and Robert Cray.
In 1991, King opened B.B. King's Blues Club on Beale Street in Memphis, Tennessee and a second club in 1994 at Universal City Walk in Los Angeles. A third club was added in New York City's Times Square in 2000 and two more at Foxwoods Casino in Connecticut in 2002 and Nashville, Tennessee in 2003. The chain spread to Orlando, Florida in 2007, West Palm Beach, Florida in 2009 and the Mirage Hotel in Las Vegas, Nevada in 2009.
In 1977, B.B. was awarded an honorary Doctor of Music by Yale University. King was inducted into the Blues Hall of Fame in 1980. In 1987, he was inducted into the Rock & Roll Hall of Fame. In 1990, B.B. received the National Medal of Arts. King was awarded the National Heritage Fellowship from the National Education Association in 1991. In 1995, King received the Kennedy Center Honors, which recognize "the lifelong accomplishments and extraordinary talents of our nation's most prestigious artists".
King's "The Thrill Is Gone"...
In 2004, King was awarded the international Polar Music Prize by the Royal Swedish Academy of Music, given "in recognition of exceptional achievements in the creation and advancement of music". In 2006, U.S. President George W. Bush awarded King the Presidential Medal of Freedom. The following year, King was presented with an honorary doctorate in music from Brown University.
In 2008, the Bluesville channel owned by Sirius XM Radio was renamed B.B. King's Bluesville. On May 14, King was presented with the keys to the city of Utica, New York and on May 18, the city of Portland, Maine celebrated "B.B. King Day" and B.B. was give the keys to that city. In 2009, Time magazine named King #3 on its list of the 10 best electric guitarists of all-time.
Each year during the first week in June, a B.B. King Homecoming Festival is held in Indianola, Mississippi. A Mississippi Blues Trail marker was added for King, commemorating his birthplace. On May 29, 2010 Sabrosa Park, in Sabrosa, Portugal, was renamed B.B. King Park.
King has won 17 Grammys in his illustrious career. His passionate blues work is recognized the world over. Although B.B. has good speed, it is his technique and style that represent his crowning achievement. King ranks #8 for the Rock Era*...