Inside the Rock Era has revealed the names of the first 14 guitarists. That brings us to #88:
#88: Michael Wilton
24 years as an active guitarist
(at the 2010 Krank NAMM Demos)
Michael Wilton was born February 23, 1962 in San Francisco, California. He inherited his first guitar, a bass, at age eight when his uncle died in a motorcycle accident. He learned to play from listening to the Beatles, the Rolling Stones, Bob Dylan and Jimi Hendrix. Michael switched to lead guitar in junior high school and played in garage bands, including one with Chris DeGarmo, Queensryche's former guitarist.
Wilton was influenced by Van Halen, Iron Maiden, Judas Priest and UFO in his high school years and began devoting more time to practicing his guitar.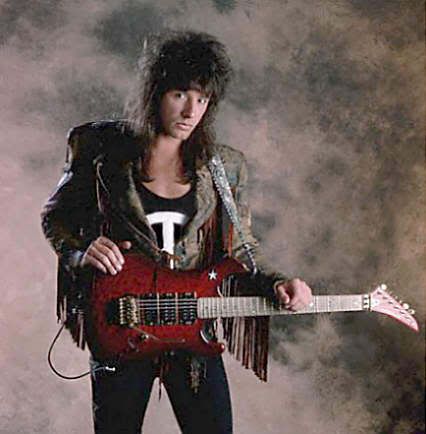 Wilton went to Cornish College of the Arts in Seattle, Washington where he met future Queensryche members Eddie Jackson (bass), lead singer Geoff Tate and drummer Scott Rockenfield. Those four were joined by Chris DeGarmo and the group began playing at parties under the name the Mob. By 1983, they had changed their name to Queensryche and released their self-titled debut album. When DeGarmo left the band in 1998, Wilton began learning the solos that DeGarmo had played and took over as lead guitarist.
In 2002, Wilton started a band on the side called Soulbender with Nick Pollock, former guitarist of Alice N' Chains. Soulbender has released one album and toured occasionally around the Northwest.
(Wilton with one of his wild solos...)
Wilton uses Gibson and Fender guitars but began endorsing ESP guitars in 1989. He owns 2004 ESP Signature Eclipse and Signature Skulls and in 2010, ESP released the LTD MW-Demon Michael Wilton signature guitar. Michael uses Marshall, Fender, Roland and Orange amplifiers and in 2006, he endorsed the Hughes and Kettner Switchblade and MKII amplifiers. In 2009, Wilton switched from Hughes and Kettner and now endorses Krank Amplification Rev+ and Nineteen80 heads with Rev+ Cabs, Nineteen80 Cabs and Rev Jr Cabs. Wilton, mostly on stage, uses a
VOX
V847 Wah pedal.
Michael Wilton...The #88 Guitarist of the Rock Era...