To recap The Top 100 Guitarists of the Rock Era* so far, at #100 was Mick Barr. Jerry Cantrell of Alice In Chains ranked #99 with Mike Bloomfield of the Paul Butterfield Blues Band #98 and Danny Kirwan, first with Fleetwood Mac before he was on his own grabbing #97. Daron Malakian of System of a Down was #96, Sam Totman of DragonForce came in #95 and Kerry King of Slayer ranked #94.
That takes us to #93. He's been around for 44 years and given us memorable solos over the years. Here's Robbie Krieger of the Doors:
#
93: Robbie Krieger, Doors
active for 48 years
Robert Alan "Robby" Krieger was born January 8, 1946 in Los Angeles. He was attracted to music in the 50's from Elvis Presley, the Platters and Fats Domino. He tried piano and trumpet but while enrolled at a private school, he taught himself to play the guitar. When he was 18, Robbie got his own flamenco guitar and played flamenco, folk, blues and jazz.
Krieger's big break came when he joined the Doors. It was Krieger's fingerstyle electric guitar playing and songwriting (he wrote many of the biggest hits) that helped make the Doors one of the top groups of the 1960's.
After lead singer Jim Morrison's death in 1971, the Doors continued as a trio with Krieger sharing lead vocals with Ray Manzarek. After the group disbanded in 1973, Krieger formed the Butts Band and had some success as a jazz guitarist, recording as The Robby Krieger Band in the 1970's and 1980's, including the albums Versions (from 1983) and No Habla in 1986. In 1982, Krieger played guitar for the group Acid Casualties that included a cover of the Pink Floyd single "Point Me at the Sky".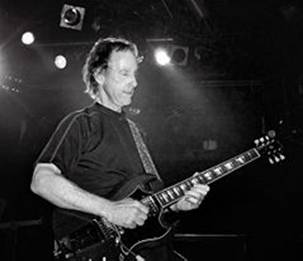 In the early 90's, Krieger formed the Robby Krieger Organization with Skip Van Winkle on keyboards and drummer Dale Alexander. In 1996, the Robby Krieger Band took shape featuring his son Waylon, Barry Oakley Jr. on bass, Alexander on keyboards and drummer Ray Mehlbaum. The band did shows in North America and Europe between 1996 and 1998. In 2000, Krieger released an instrumental fusion album called Cinematix with Billy Cobham and Edgar Winter.
Krieger and Manzarek reformed as the Doors of the 21st Century with vocalist Ian Astbury from the Cult and the band is now known as Ray Manzarek and Robby Krieger of the Doors.
Krieger played guitar on a few songs by Blue Oyster Cult and has also made guest appearances with the band Particle. In June of 2008, ZYX Studio released his concert with Eric Burdon, called Live at the Ventura Beach California.
Krieger has proven through a long career that he belongs in The Top 100 Guitarists of the Rock Era*--Robbie ranks #93.