1957: Bill Haley was welcomed by 5,000 fans when he arrived in Southampton, England for his first tour of the U.K.
1958: The National Academy of Recording Arts and Sciences (

NARAS

), which conducts the Grammy Awards, formed a chapter in New York City.
1962: The hard-working Beatles played their usual two shows, one at the Cavern Club in Liverpool, England and the other at the Kingsway Club in Southport. Ringo Starr sat in on drums as Pete Best was ill.
1966: Frank Sinatra moved to #1 on the Easy Listening chart with the great song "It Was A Very Good Year".
1966: Stevie Wonder was still on top of the R&B chart for a third week with "Uptight (Everything's Alright)".
1966: Petula Clark scored her second #1 song with "My Love", which jumped from 9 to 1. The Beach Boys, who had moved from 15-2 the previous week, remained in that spot with "Barbara Ann". The T-Bones dished out "No Matter What Shape (Your Stomach's In)" while the previous #1--"We Can Work It Out" by the Beatles, was #4. Lou Christie had a smash as "Lightnin' Strikes" moved from 20 to 5.
1966: The Beatles dominated the Album chart for a fifth week with Rubber Soul.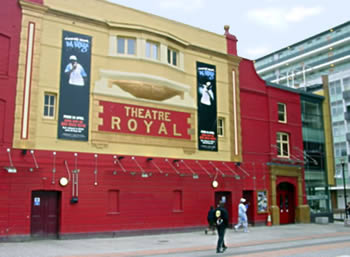 1967: The Beatles began filming the promotional film for "Penny Lane" near the Theatre Royal in Stratford, London and up and down Angel Lane.
1970: David Bowie recorded four songs at the BBC Paris Cinema Studio in London for the John Peel Sunday Concert radio show. Guitarist Mick Ronson made his debut with Bowie at this time.
1971: Black Sabbath began recording their third album Master of Reality at Island Studios in London.
"Gimme Shelter", one of the "Hot Rocks"...
1972: Don McLean had the #1 album for the third straight week with American Pie, holding off The Concert for Bangla Desh by George Harrison. Stanley, Idaho's Carole King had two of the Top 10 albums--Music at #3 and the classic Tapestry at #7 after 44 weeks of release. Led Zeppelin IV was fourth. The rest of the Top 10: Hot Rocks 1964-1971 by the Rolling Stones, Faces with A Nod Is As Good As a Wink...To a Blind Horse, Elton John's Madman Across the Water was up to #8, Chicago At Carnegie Hall and Cat Stevens reached #10 with Teaser and the Firecat.
1972: "Let's Stay Together" by Al Green, the #1 R&B Song of the 1970's*, remained #1 for a fifth week.
1972: The Carpenters had the top Adult song with "Hurting Each Other".
Britain's Badfinger...
1972: "American Pie" by Don McLean was the #1 song for a fourth week, holding off Al Green's "Let's Stay Together". Melanie slipped with "Brand New Key", but Badfinger was up to #4 with "Day After Day". The rest of a great Top 10: "Without You" by Nilsson jumped from 14-5, Three Dog Night had their 8th Top 10 in 12 tries with "Never Been To Spain", Jonathan Edwards had song #7--"Sunshine", newcomer Climax was up from 16 to 8 with "Precious And Few", the Carpenters joined the list after just four weeks with "Hurting Each Other" and the amazing instrumental "Joy" from Apollo 100 moved from 15-10.
1973: The Stylistics released the great song "Break Up To Make Up".
1973: Vicki Lawrence released her landmark single "The Night The Lights Went Out In Georgia".
1976: Rudy Pompilli, saxophonist of Bill Haley & the Comets, died at age 52 in Philadelphia, Pennsylvania of lung cancer, believed to have been born from second-hand smoke.
1977: Stevie Wonder had the top R&B song for a fourth week with "I Wish".
1977: Barbra Streisand led the way on the Adult chart for a fourth week with "Evergreen".
Scotland's Al Stewart was in the Top 10, thanks to songs like "On the Border".
1977: The Eagles returned to #1 on the Album chart with Hotel California. The Soundtrack to "A Star Is Born" was second with Stevie Wonder finally relinquishing the #1 position after 14 weeks with Songs in the Key of Life. Wings Over America by Paul McCartney & Wings was fourth with newcomer Boston still at 5 with their debut. The rest of the Top 10: A Day at the Races by Queen, Greatest Hits from Linda Ronstadt, the Doobie Brothers with their compilation album Best of the Doobies, Frampton Comes Alive!, still in the Top 10 after 54 weeks for Peter Frampton, and Al Stewart crawled into the list with Year of the Cat.
1979: The Bee Gees released their superb album Spirits Having Flown.
1979: The Bee Gees released the single "Tragedy".
1979: The Police re-released their single "Roxanne". The song had originally been released on April 7, 1978 but failed to chart.
1983: DeBarge first appeared on the chart with their first hit--"I Like It".
1983: Patti Austin and James Ingram combined for the #1 Adult Contemporary song for a third week with "Baby, Come To Me".
1983: Men At Work spent an amazing 13th week at #1 on the Album chart with Business As Usual.
1983: Journey had the week's top new song as "Separate Ways" debuted at #36.
1983: Toto's great song "Africa" reached #1. That ended a three-week run for Australia's Men At Work with "Down Under".
1985: Madonna released the single that pretty much sums up what she's about--the antiquated concept of materialism--"Material Girl".
1989: Metallica's concert at Reunion Arena in Dallas, Texas was broadcast nationally on the Z-Rock radio network.
1990: Linda Ronstadt and Aaron Neville released the single "All My Life".
1992: Nirvana was at the ANU Bar & Perfectory in Canberra, Australia.
1994: "Cry for You"
by
Jodeci
was the
#1 R&B song for a fourth week.
Celine with one of her biggest hits...
1994: The trio of Rod Stewart, Bryan Adams and Sting remained at #1 for a third week with "All For Love". Former #1 "Hero" by Mariah Carey was second with Toni Braxton's "Breathe Again" peaking at #3. Celine Dion stormed from 10 to 4 with "The Power Of Love", Janet Jackson's "Again" was on its way down and Michael Bolton had his 18th career hit with "Said I Loved You...But I Lied". The rest of the Top 10: Ace of Base with "All That She Wants", Bryan Adams was down with "Please Forgive Me" while Salt-N-Pepa ("Shoop") and Tevin Campbell ("Can We Talk") were both down a spot.
1994: Mariah Carey remained at #1 on the Album chart for a sixth week with Music Box.
1996: The Gin Blossoms released the double-sided single "Follow You Down"/"'Til I Hear It From You".
1998: Tim Kelly of Slaughter died after an auto accident in Bagdad, Arizona at age 34.
1998: Elton John and Stevie Wonder played for U.S. President Bill Clinton at the White House in Washington, D.C.
1999: The members of 'N Sync appeared on Sabrina the Teenage Witch on television.
2001: Marc Anthony and his wife celebrated the birth of son Christian Anthony Minus.
2003: John Densmore, ex-drummer and co-founder of the Doors, sued former bandmates Ray Manzarek and Robby Krieger as well as newcomers Ian Astbury and Stewart Copeland, claiming they were violating copyright by using the name The Doors of the 21st Century. The name was changed to Ray Manzarek and Robby Krieger of the Doors.
2006: The Rolling Stones performed at halftime of Super Bowl XL at Ford Field in Detroit, Michigan. Aretha Franklin and Aaron Neville sang the U.S. national anthem.
2017: Sonny Gerachi, lead singer for both the Outsiders ("Time Won't Let Me") and Climax ("Precious And Few"), died at the age of 69. Gerachi suffered a brain aneurysm in 2012 and never fully recovered.
Born This Day:
1923: Claude King ("Wolverton Mountain" from 1962) was born in Keithville, Louisiana; died March 7, 2013 in Shreveport, Louisiana.
1929: Hal Blaine, legendary session drummer for Elvis Presley, the Beach Boys, the Carpenters, Simon & Garfunkel, the 5th Dimension, the Ronettes and many others, w
as born in Holyoke, Massachusetts.
1935: Alex Harvey of the Sensational Alex Harvey band was born in Glasgow, Scorland; died of a massive heart attack in

Zeebrugge
, Belgiu
m on February 4, 1982.
1941: Barrett Strong, who along with Motown producer Norman Whitfield, wrote some of the top soul songs of the Rock Era, including "I Heard It Through The Grapevine" by Marvin Gaye and Gladys Knight & the Pips, "War" by Edwin Starr, "Smiling Faces Sometimes" by the Undisputed Truth and many great songs by the Temptations including "Just My Imagination", "I Can't Get Next To You", "Papa Was A Rollin' Stone", "Ball Of Confusion", "Cloud Nine", "Psychedelic Shack" and many others, was born in West Point, Mississippi.
1942: Corey Wells, co-founder and one of the three great lead singers of Three Dog Night, was born in Buffalo, New York.
1943: Charles Winfield, trumpet player of Blood, Sweat & Tears
1944: Al Kooper, songwriter, musician and producer for the Nashville Teens ("Short Shorts" from 1958), the Blues Project and Blood, Sweat & Tears, was born in Brooklyn, New York.
1944: J.R. Cobb of the Classics IV, which reformed under the name Atlanta Rhythm Section, was born in Birmingham, Alabama.
1948: David Denny, guitarist with the Steve Miller Band, was born in Berkeley, California.
1964: Duff McKagan, bassist of Guns N' Roses, was born in Seattle, Washington.
1968: Chris Barron of the Spin Doctors was born in Pearl Harbor, Hawai'i.
1969: Bobby Brown, member of the New Edition and a solo star, was born in Roxbury, Massachusetts.