At #31, an artist who is greatly respected by his peers...
54 years as an active guitarist
(live at the 2007 Crossroads Festival)
Albert William Lee was born December 21, 1943 in Herefordshire, England. Lee is famous for his fingerstyle and hybrid picking guitar technique. He has worked with some of the top musicians in the world in many different genres and is recognized for his tremendous talent by his peers.
Albert's father was a musician and Albert began studying piano at the age of seven. He was inspired early by Buddy Holly and Jerry Lee Lewis. In 1958, Lee's parents bought a second-hand Hofner President guitar for him and he began playing that. One year later, Albert was playing with bands that stretched from country music to R&B to rock & roll. Lee began observing the guitar work of the Everly Brothers, Scotty Moore, James Burton, Cliff Gallup and Grady Martin.
Lee was the lead guitarist for Chris Farlowe and the Thunderbirds but longed to play country music, becoming a part of Heads Hands & Feet. Lee would play his Fender Telecaster at breakneck speed, and Heads Hands & Feet became quite popular in the U.K., appearing on the program The Old Grey Whistle Test.

In 1971, Lee joined Jon Lord, the famous keyboardist from Deep Purple, on a live recording of Lord's "Gemini Suite". Purple guitarist Ritchie Blackmore had played the Suite live in 1970 but declined to appear on the second.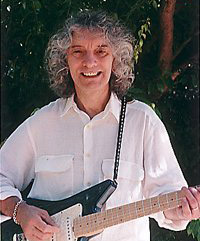 In 1974, Lee moved to Los Angeles and joined the Crickets which also included Sonny Curtis and Jerry Alison. Lee recorded three albums with the Crickets including A Long Way From Lubbock. In 1976, Lee was invited to join Emmylou Harris's Hot Band, replacing one of his idols, James Burton, who left to play guitar for Elvis Presley. Beginning in 1978, Lee worked for five years with Eric Clapton. Albert was responsible for the Everly Brothers reuniting in 1983 for a concert and played regularly with the group for over twenty years. In 1987, Lee was invited to headline a steel guitar festival in Newbury, Berkshire, England and has toured with Hogan's Heroes on a regular basis.

In addition to recording with the above-mentioned groups and 11 solo albums and numerous DVD's of guitar instruction, Lee also received several jobs as a session guitarist. This is just a partial list that doesn't fully do Lee justice, but he has played on The London Sessions albums by Bo Diddley and Jerry Lee Lewis, Under the Falling Sky by Jackson Browne, John Prine's The Missing Years, Herbie Mann's Reggae, Seven Year Ache by Roseanne Cash, Sting Ray by Joe Cocker, White Limozeen by Dolly Parton, John 5's album Death Valley and Brad Paisley's album Play.


In 2002, Lee received a Grammy Award for Best Country Instrumental Performance for the song "Foggy Mountain Breakdown" from the CD Earl Scruggs and Friends. In 2006, Lee was a part of Primal Twang: The Legacy of the Guitar, a theatrical trip through the guitar's 3500-year history. Albert was invited to Clapton's 2007 Crossroads Guitar Festival. Lee continues to work in the studio and on tours with Bill Wyman's Rhythm Kings.

Lee won the honor of "Best Country Guitarist" from Guitar Player magazine five consecutive years. Throughout the music industry, Lee is known for his great speed and technical virtuosity, but also his sense of melody. Yet Albert has never achieved great commercial success.

Albert has more than 25 guitars, including Don Everly's Gibson J-200, an all-black unit with a high gloss lacquered finish, equipped with twin Everly Brothers white pickguards. The Country Music Hall of Fame wanted the guitar, but Everly believed guitars like that should be played, not sit in a glass case. Don presented it to Lee along with his Gibson Everly Brothers model. Clapton gave Lee the Gibson Les Paul Custom guitar that he had used while with Delaney and Bonnie. Lee also plays his signature Music Man and a 1950's Telecaster (both have custom B-Benders), a 1958 Stratocaster and a Martin 000-28 acoustic.
Some may not know who he is, but people in the business do. They respect and admire Albert Lee's incredible work over 54 years. He is as solid as they get. Albert Lee--The #31 Guitarist of the Rock Era*...