We've heard from 34 of the most elite guitarists of the Rock Era. The next guy was a wonder to watch:
active guitarist for 35 years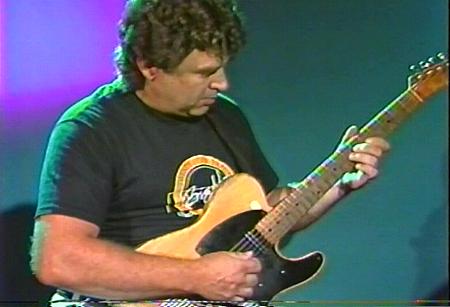 Danny Gatton was born September 4, 1945 in Washington, D.C. He fused country, rockabilly and jazz to create a unique sound.
Gatton's father, Daniel W. Gatton Sr., played rhythm guitar but decided to give it up for a more stable profession to raise his family. The younger Danny began playing in bands when he was a teenager. People took notice when he played guitar and banjo for the group Liz Meyer & Friends in the 1970's. Later, Gatton appeared with his group the Redneck Jazz Explosion and as a solo performer and backed up Robert Gordon and Roger Miller.
Gatton was known by some as "the Telemaster", a takeoff of Gatton's favorite guitar, the Telecaster. Many called him the "greatest unknown guitarist". Gatton never did achieve the commercial success that he arguably deserved, although he was nominated for Best Rock Instrumental Performance at the 1990 Grammy Awards for his song "Elmira Street Boogie".
Gatton played on stage with Alvin Lee, Jimmie Vaughan and Roy Buchanan. Danny also performed with Jack Casady and Jorma Kaukonen of Jefferson Airplane and Hot Tuna as the group Jack and the Degenerates. Gatton also played on Chris Isaak's 1993 album San Francisco Days.
Gatton favored his customized 1953 Fender Telecaster (Fender now produces a replica), with Joe Barden pick-ups and Nickel Plated Steel string. For his slide, Gatton would often use a still half-full bottle of beer, without concern as to whether it would spill all over his guitar. Danny always played with a jazz-style teardrop pick, and would use both the pick and his fingers, primarily his middle and ring fingers on his right hand. Gatton would come up with these passages that combined Bluegrass and bebop and breakneck speeds. An accomplished banjo player, Gatton learned the Scruggs style right-hand technique of banjo rolls. His backward roll included a middle finger, then a pick upstroke, then a pick downstroke.
Gatton influenced many, included Les Paul, Joe Bonamassa, Albert Lee, Steve Vai, Richie Sambora and Slash.
On October 4, 1994, Gatton locked himself in his garage in Newburg, Maryland and shot himself. He left behind no explanation for his despair. In retrospect, those close to him believe he had gone in and out of depression for many years.
While he played, however, his guitar technique was amazing. Gatton ranks #66 for the Rock Era*.