We are up to the lofty position of #3. He's one of the most innovative guitarists and certainly one of the most original:
#3: Jeff Beck, the Yardbirds, the Jeff Beck Group, solo
49 years as an active guitarist

Geoffrey Arnold "Jeff" Beck was born June 24, 1944 in Wallington, England. He was a member of the Yardbirds, before forming the Jeff Beck Group. Beck has played everything from blues-rock to heavy metal to jazz fusion and focuses on innovative, instrumental music. He is recognized by numerous sources as one of The Top 10 Guitarists in the world.

Jeff sang in a church choir at age 10. As a teenager, he learned to play a guitar and made several attempts to build his own. Beck was influenced by Les Paul, Gene Vincent, B.B. King and Steve Cropper. Beck's sister Annetta introduced him to Jimmy Page when both were teenagers. After graduating, Jeff went to the Wimbledon College of Art.
Beck joined a group called the Rumbles in 1963 as lead guitarist, playing Buddy Holly and Gene Vincent songs. Jeff earned a job as a session guitarist and played on a 1964 single by the Fitz and Startz called "I'm Not Running Away".
Beck was recruited to play guitar for the Yardbirds after Eric Clapton left. From September to November, 1966, Beck shared lead guitarist with Page. Jeff was fired, however, in the middle of a U.S. tour for his being constantly absent, as well as the problems caused by his perfectionism and temper.
After leaving the group, Beck, Page, John Paul Jones, Keith Moon and Nicky Hopkins recorded under the name Beck's Bolero and produced the U.K. hits "Hi Ho Silver Lining" and "Tallyman". Beck then formed the Jeff Beck Group, featuring lead singer Rod Stewart, bassist Ronnie Woods, Hopkins on piano, and Micky Waller eventually became the drummer.
The Jeff Beck Group produced the albums Truth in 1968 and Beck-Ola in 1969. However, personnel clashes and touring incidents led to the breakup of the group in July 1969.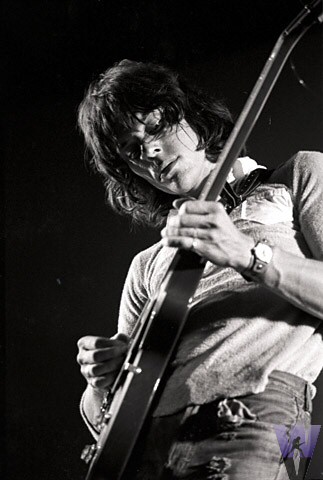 After Syd Barrett left Pink Floyd, the remaining members wanted Beck to be their guitarist and in 1969, the Rolling Stones approached Beck about joining their group but he didn't join either. He did contribute lead guitar to the Music from Free Creek project. Beck also joined bassist Tim Bogert and drummer Carmine Appice, the rhythm section for Vanilla Fudge but Beck fractured his skull in a car accident, postponing their work together.
Beck set out to recruit a new lineup for the Jeff Beck Group with vocalist/guitarist Bobby Tench, keyboardist Max Middleton and Clive Chapman on bass. This foursome produced a new sound, combining soul, R&B, jazz and rock. The group released the album Rough and Ready in 1971 and the Jeff Beck Group in 1972. Steve Cropper was brought in to produce the latter, which featured five covers of soul songs. Once again, however, the Jeff Beck Group was short-lived.
Bogert and Appice helped the Jeff Beck Group fulfill touring obligations and then together they formed the trio Beck, Bogert & Appice. This new formation toured the U.S., the U.K., the Netherlands and Germany. Beck, Bogert & Appice released their self-titled album in 1973 although the album was not received well commercially.
In 1974, the trio played at the Rainbow Theatre on a European tour, the concert shown on the television program Rock Around the World. Plans for a second album were underway, but the group split in April before the project was finished.
Beck produced and played guitar on two albums by the group Upp, which Beck had recruited as his backing band. He then began recording instrumentals with George Martin producing and arranging. Blow by Blow in 1975 featured this work and underscored Beck's great ability as a guitarist. The album reached #4 and was the most successful album of Beck's career.
Beck recruited a backing band for a tour of the United States, with Max Middleton on keyboards, bassist Wilbur Bascomb and session drummer Bernard Purdie. Beck opened for the Mahavishnu Orchestra, featuring John McLaughlin, whom we just heard in Inside the Rock Era's presentation of The Top 100 Guitarists of the Rock Era*.
At the conclusion of the tour, Beck recorded Wired, in which he collaborated with noted drummer and songwriter Narada Michael Walden and keyboardist Jan Hammer. Beck and the Jan Hammer Group opened for Alvin Lee at the Roundhouse in 1976 and then went out on a world tour. The album Jeff Beck with the Jan Hammer Group Live resulted from these shows.
Beck then released the album There and Back in 1980, which included three tracks written and recorded with Hammer. Mo Foster played bass on the album and for subsequent tours of the U.S., Japan and the U.K. In 1981, Beck and Eric Clapton performed together at several benefit concerts sponsored by Amnesty International called The Secret Policeman's Other Ball. A subsequent album and movie were released in 1982.
Another benefit show, the ARMS Concert for Multiple Sclerosis, featured Beck, Clapton and Jimmy Page, the only time all former lead guitarists of the Yardbirds appeared on stage together.
In 1985, Beck released the album Flash, which included a reunion with former lead singer Rod Stewart, who helped with vocals on the album. Beck then took a four-year break due to tinnitus, but returned with Jeff Beck's Guitar Shop in 1985, which included Beck's first work as a fingerstyle guitarist.
Jeff played guitar on Roger Waters' album Amused to Death and on the Kate Bush album The Red Shoes. Beck then recorded the instrumental soundtrack for the movie Frankie's House in 1992 and Crazy Legs in 1993. He also played on the album Muddy Water Blues: A Tribute to Muddy Waters.
Beck collaborated with guitarist Jennifer Batten for the 1999 album, Who Else! and then won his third Grammy Award for Best Rock Instrumental Performance ("Dirty Mind") on the 2001 album You Had It Coming. Jeff won another Grammy for Best Rock Instrumental Performance ("Plan B") from the 2003 album, Jeff. Beck opened for B.B. King in 2003 and appeared at the Crossroads Guitar Festival in 2004.
In 2007, Jeff performed once again at the Crossroads Guitar Festival and went out on a world tour in 2009. He also played guitar on the Morrissey album Years of Refusal and hired Harvey Goldsmith as his new manager.
Beck was inducted into the Rock & Roll Hall of Fame on April 4, 2009. In 2010, he released the album Emotion & Commotion, which won great praise. "Nessun Dorma" won a Grammy Award for Best Pop Instrumental Performance and "Hammerhead" took the Grammy for Best Rock Instrumental Performance. He also collaborated on the 2010 Herbie Hancock album The Imagine Project, which won Beck a third Grammy for Best Pop Collaboration with Vocals.
Beck enlisted the help of the accomplished Narada Michael Walden on drums for his 2010 world tour. The live album Live and Exclusive was released with recordings of selected performances.
In 2011, Beck received a fellowship from the University of the Arts in London in recognition of his "outstanding contribution to the field of Music". He also received an honorary doctorate from the University of Sussex for "an outstanding musical career".
Beck credits John McLaughlin, Les Paul, Django Reinhardt, the Shadows, Roy Buchanan, Cliff Gallup, Ravi Shankar, Chet Atkins, Steve Cropper and Lonnie Mack as influences.
Beck appears on albums by Stevie Wonder, ZZ Top, Donovan, Les Paul, Mick Jagger, Roger Waters, Brian May, Cyndi Lauper and Kate Bush. He has played with Stanley Clarke, Jan Hammer and John McLaughlin and toured with Jimmy Page, Carlos Santana, Stevie Ray Vaughan, B.B. King and Steve Lukather.
When you hear Jeff Beck play, you'll hear shrieking harmonics, grasping string bends, speedy picking and repetitive string-tapping. High, quick flurries end in the groan of a low E-string bent off-tone when he hits the tremolo bar. Beck creates a galaxy of notes, notes and sounds with just his fingers and a few effects. Beck has mastered hard rock, funk, blues, jazz fusion, electronica, rockabilly and now he is doing opera and classical.
Beck produces a myriad of sounds from his fingers and vibrato bar on his Signature Fender Stratocaster. Beck also plays Fender Telecaster and Gibson Les Paul's. He prefers Fender and Marshall amplifiers, but in his early days with the Yardbirds, he also used a 1954 Fender Esquire through Vox AC30's.
Beck frequently uses a wah-wah pedal and has played several fuzz pedals and echo units and has used the Pro Co RAT distortion pedal.
Beck helped to redefine the sound and role of the electric guitar in rock music and his playing was a great influence on heavy metal music. The hallmark of Beck's style is his melodic fearlessness, his great musicianship and his virtuosity on the guitar. The great Jeff Beck is #3 for the Rock Era...