Emulated, imitated, but never as original, as innovative, as supremely talented, as influencing, as groundbreaking, as mind-blowing as #1:
#1: Jimi Hendrix, Isley Brothers, Little Richard, Joey Dee and the Starliters, King Curtis, The Jimi Hendrix Experience
Eight years as an active guitarist
(One of his best solos from unknown location...)

James Marshall "Jimi" Hendrix (born Johnny Allen Hendrix on November 27, 1942 in Seattle, Washington), is widely considered to be the greatest electric guitarist in music history, and one of the most influential musicians of the Rock Era. He found initial success in Europe with his group the Jimi Hendrix Experience, but achieved great fame worldwide following his performance at the 1967 Monterey Pop Festival. He further added to his legacy with his performance at Woodstock in 1969 and the Isle of Wight Festival in 1970.
Jimi's father served during World War II in the South Pacific Theater and in the three years that he was away, Jimi's mother often neglected him in favor of the nightlife scene. Hendrix was cared for by family members and others during this period. When he was honorably discharged from the U.S. Army on September 1, 1945, Al Hendrix retrieved his son from a woman who was caring for him in Berkeley, California. Al legally changed his son's name to James Marshall Hendrix in memory of his late brother, Leon Marshall.
Both parents exhibited alcohol abuse which led to constant fighting. During his early years, Jimi would withdraw and hide in a closet in his home. The family moved often, staying in cheap hotels and apartments throughout Seattle. In 1951, his parents divorced. His mother developed cirrhosis of the liver and died in 1958. Jimi was placed in the care of his paternal grandmother in Vancouver, British Columbia on occasion.
Hendrix was shy and sensitive, deeply affected by the poverty and family fighting and disruption he experienced as a young boy. Jimi acquired his first guitar at the age of 15, after making do with strumming a broomstick in imitation and playing a ukulele before that. Hendrix watched others play, listened to records, talked to other guitarists, and practiced several hours a day. In 1959, Jimi's dad bought a white Supro Ozark for his son.
Hendrix played in a few Seattle bands, occasionally playing gigs elsewhere in Washington and in Vancouver, British Columbia. Jimi was influenced by Elvis Presley, whom he saw perform in 1957, as well as Little Richard, and listened to blues from B.B. King and Muddy Waters.
Soon, Jimi played with the Velvetones and the Rocking Kings, who played at the Birdland. Al Hendrix bought Jimi a white Silvertone Danelectro, which Jimi painted red and had "Betty Jean" emblazoned on it--the name of his high school girlfriend. Jimi went to junior high at Washington High School but he did not graduate from Garfield High School. He was later awarded an honorary diploma.
Hendrix twice got into trouble for riding in stolen cars. He was given a choice of spending two years in prison or joining the Army. Hendrix enlisted on May 31, 1961. After going through basic training at Fort Ord near Monterey, California, Hendrix was assigned to the 101st Airborne Division and stationed at Fort Campbell, Kentucky. While at the base, Hendrix met fellow soldier and bass player Billy Cox, and the two forged a friendship. The two would perform with other musicians both on and off the base.
By all accounts, he was a subpar soldier, sleeping while on duty and requiring constant supervision. His commanding officers submitted paperwork that Hendrix be discharged from the military after only one year.
After his discharge, Hendrix and Cox moved to Clarksville, Tennessee and formed a band called the Casuals. Jimi had seen Butch Snipes of the Sharps play with his teeth in Seattle and now Alphonso Young, the other guitarist in the band, was using the gimmick. It was then that Hendrix learned the technique, and he would become famous for it. The group played low-paying venues before moving to Jefferson Street in Nashville, home to a happening rhythm and blues scene.
After hearing that an established band had the name of the Casuals, the group changed to the King Kasuals. Larry Lee replaced Young on guitar and the group essentially was the house band at Club del Morocco.
But the group went their separate ways and Jimi played a circuit of venues in the South known as the Chitlin' Circuit. Hendrix played with his own group as well as Bob Fisher and the Bonnevilles. Jimi also played guitar for artists such as Sam Cooke, Jackie Wilson, Slim Harpo, Chuck Jackson and Tommy Tucker while on the Circuit. It was during this time that Hendrix greatly progressed as a guitarist and as an entertainer.
In 1964, Hendrix moved to Harlem and began playing around New York City. In February, Jimi won first prize in the Apollo Theater amateur contest. This landed him a spot in the club circuit and he played with several bands.
Then, Hendrix was offered the guitarist position with the Isley Brothers. Jimi's first studio recording was in March, when the Isley Brothers recorded the two-part single "Testify". Hendrix went on tour for several months with the group, but grew dissatisfied and left the band.
Hendrix began recording and performing with Little Richard. Hendrix later said, "I want to do with my guitar what Little Richard does with his voice." While touring with Little Richard in Los Angeles in 1965, Hendrix played a session for Rosa Lee Brooks on the single "My Diary". Jimi also played on Little Richard's final single for Vee-Jay Records--"I Don't Know What You've Got, But It's Got Me". Hendrix also made his first appearance on television on Night Train in Nashville with "The Royal Company", backing up "Buddy and Stacy" on "Shotgun".
Little Richard shared billing a few times with Ike & Tina Turner, but months later, Hendrix missed the tour bus in Washington, D.C. and was ousted from the band. Jimi rejoined the Isley Brothers in the summer and recorded the single "Move Over and Let Me Dance" and flip side "Have You Ever Been Disappointed".
Later in the year, Hendrix joined the R&B group Curtis Knight and the Squires. The group recorded the single, "How Would You Feel" On October 15, Hendrix signed a three-year recording contract that paid him 1% royalty. Several songs from the 1965-1966 Curtis Knight recording sessions were later released as "Jimi Hendrix" recordings after he became famous.
Hendrix then toured for two months with Joey Dee and the Starliters and then toured and recorded with King Curtis. Jimi recorded "Help Me (Get the Feeling)" with Ray Sharpe and the King Curtis Orchestra in 1966. Later in the year, Hendrix recorded with another musician in King Curtis's band, saxophonist Lonnie Youngblood. Several singles were extracted from these sessions: "Go Go Shoes"/"Go Go Place" and "Soul Food (That's What I Like)"/"Goodbye Bessie Mae" for Youngblood, the Icemen's "(My Girl) She's a Fox"/"(I Wonder) What It Takes" and "You're Only Hurtin' Yourself"/"That Little Old Groove Maker" from Jimmy Norman.
Hendrix, now going by the name Jimmy James, formed his own group, the Blue Flame, with bassist Randy Palmer, drummer Danny Casey, and 15-year old slide and rhythm guitarist Randy Wolfe. Since there were two "Randys" in the group, Hendrix called Wolfe "Randy California" and Palmer "Randy Texas". Randy California would later co-found the group Spirit ("I Got a Line on You").
The Blue Flame played at several places in New York, but they were the resident band at Cafe Wha? on MacDougal Street in Greenwich Village. Their last concerts were at the Cafe au Go Go.
Upon seeing the Blue Flames at the Cheetah Club on Broadway and 53rd in New York City, Linda Keith, the girlfriend of Rolling Stones guitarist Keith Richards, befriended Hendrix and recommended him to Stones' manager Andrew Loog Oldham and producer Seymour Stein. Neither man liked Hendrix's music, so Keith then introduced Jimi to Chas Chandler, who was leaving as the bassist for the Animals and was looking for talent to manage and produce.
Chandler liked the song "Hey Joe" and was convinced it would be a hit single with the right artist. Chas liked Jimi's version and brought him to London in September, 1966. Hendrix inked a management and production contract with Chandler and ex-Animals manager Michael Jeffery. Chandler is responsible for the spelling change of "Jimmy" to "Jimi". Hendrix formed a new band, the Jimi Hendrix Experience, with Noel Redding on bass and drummer Mitch Mitchell.
Chandler introduced Hendrix to Eric Burden, Pete Townshend and Eric Clapton, who had recently formed Cream. Chandler arranged for his new star client to join Cream on stage for a jam. Jimi performed two songs with the group and Hendrix and Clapton remained friends until Jimi's death.
After a well-received show at the Olympia theatre in Paris, France, the jam with Cream, a showcase gig at the new nightclub Bag O'Nails, and appearances on the popular television shows Ready Steady Go! and Top of the Pops, word was spreading around London about this great new talented guitarist. In particular, some of the most respected musicians in England became instant fans. Clapton, Jeff Beck, Brian Jones of the Rolling Stones, members of the Who and all four members of the Beatles regularly attended his shows and were stunned by his uncanny ability.
The managers of the Who signed Hendrix to their new label, Track Records. The first single was Hendrix's cover of "Hey Joe" featuring a female backing chorus. In 1967, Hendrix released the singles "Purple Haze" and "The Wind Cries Mary". All three songs became Top 10 hits in the U.K. and were popular throughout Europe, Australia, New Zealand and Japan, although they failed to sell when released later in the United States.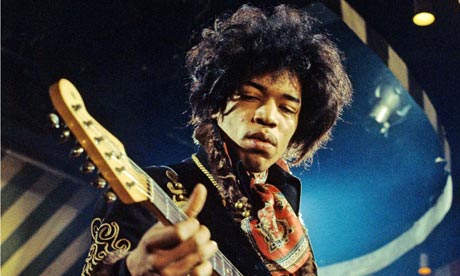 But it was his live appearances that left audiences dazed. His virtuoso ability and on-stage antics were like nothing anyone had seen before. Sure, they'd seen Clapton, Beck and Townshend, but this guy was a level above. Jimi played faster versions of B.B. King's "Rock Me Baby" and Howlin' Wolf's "Killing Floor", played the guitar with his teeth and behind his back, and did an imitation of Chuck Berry's Duck Walk.
The Jimi Hendrix Experience released their debut album, Are You Experienced, on May 12, 1967. Only Sgt. Pepper's Lonely Hearts Club Band by the Beatles prevented Are You Experienced from reaching #1 on the U.K. album chart.
By now, the Jimi Hendrix Experience was touring the United Kingdom and parts of Europe. Hendrix continued to develop his amazing stage presence, and on March 31, 1967, he set his guitar on fire at the end of his performance as a publicity stunt. On June 4, the Experience played their last show in England, at the Saville Theatre in London, before doing their first tour of America. Paul McCartney and George Harrison were in the audience, along with Beatles manager Brian Epstein, Eric Clapton and Jack Bruce of Cream, Spencer Davis and Lulu. Hendrix opened with his version of "Sgt. Pepper's Lonely Hearts Club Band", rehearsed just minutes before taking the stage after seeing the two Beatles.
Reprise Records released the U.S. and Canadian version of Are You Experienced a few months later. It was a landmark album in that it introduced what was possible with the guitar. The sound was all Jimi's, recorded on four tracks, and only modified by a "fuzz" pedal, reverb and an "Octavia" pedal used on a snippet of "Purple Haze". The sound was revolutionary, as was Hendrix's guitar playing.
Hendrix was very popular in Europe, but had yet to crack the tough United States market. This changed when McCartney recommended the Jimi Hendrix Experience to the organizers of the Monterey Pop Festival. The huge crowds and large numbers of media present were the perfect showcase for the budding superstar. He opened thousands of eyes that night, not only in the crowd but around the country, who witnessed footage of the event. The Festival was filmed and shown in movie theaters around the country in early 1969 as the documentary Monterey Pop, which immortalized Hendrix's iconic burning and smashing of his guitar for the ages.
Hendrix opened with his arrangement of Howlin' Wolf's "Killing Floor" and also played "Rock Me Baby", both staples of Hendrix's shows. He followed with "Hey Joe" and a version of Bob Dylan's "Like a Rolling Stone", before closing with a version of the Troggs' "Wild Thing", after which he lit the guitar and fire, smashed it, and threw out pieces to the audience. A large chunk of this guitar is on display at the Experience Music Project in Seattle.
After the sensation caused in Monterey, the Jimi Hendrix Experience replaced the original headliners Jefferson Airplane at the top of the bill at Bill Graham's Fillmore in San Francisco, California. Hendrix became acquainted with Stephen Stills and reacquainted himself with Buddy Miles. Hendrix and his group gave a free concert in Golden Gate Park and gave another smash performance at the famous Whisky a Go Go in Los Angeles.
The Monkees, too, had become big fans of Hendrix and asked that he open their first American tour. It wasn't a good mix, of course, and Hendrix quit the tour after a few dates. Chas Chandler later admitted that the stunt was engineered to get the maximum media exposure and publicity for Hendrix. Hendrix, however, got frustrated by stories in the media. The media can give you great publicity, but they can also focus on unimportant things like Jimi's bizarre stage acts and playing the guitar behind his back. This was but a small part of Hendrix's talent, but for some people, it took away from his true guitar wizardry and musical talent.
The Experience released a second album in 1967, Axis: Bold as Love. It was Jimi's first stereo recording, and on the opening track, "EXP", he included a stereo effect in which a sound emanating from Hendrix's guitar seemed to revolve around the listener, fading into the distance from the right channel, then returning slowly from the left. Hendrix tuned his guitar down a half-step to
E
♭
for the first time, which he used exclusively afterwards, and also used the wah-wah pedal for the first time.
The album was released in the U.K. during the group's first headlining tour, In January, 1968, the Experience toured Sweden briefly. After the first show, Hendrix, after drinking and according to Jimi his drink being spiked, went berserk and smashed up his hotel room, injuring his hand and resulting in his arrest. Following a trial, Jimi had to pay a large fine for his episode.
"Little Wing" from the Paris Olympia, believed to be in 1968...
After a third concert at the Paris Olympia, Hendrix flew to the United States for a tour, then returned to the newly-opened Record Plant Studios to work on his next album. Initially, engineers Eddie Kramer and Gary Kellgren and producer Chas Chandler were on board to assist him. But Chandler became so frustrated with Hendrix's perfectionism and with various friends and guests wanting to witness the recording that he severed his professional relationship with Hendrix. This had a definite impact in the artistic direction that the album took.
Hendrix began experimenting with different combinations of musicians and instruments and modern electronic effects. Jimi went from a regular recording schedule to an erratic one in which he often would play through the night with different musicians. Steve Winwood, Dave Mason and Chris Wood from Traffic, drummer Buddy Miles and organist Al Kooper were among those involved in recording.
Hendrix insisted on re-recording several tracks; "Gypsy Eyes" was reportedly recorded 43 times. Bassist Noel Redding was also frustrated by this, and would leave the studio to calm himself, only to return and find that Hendrix had recorded the bass parts himself. The project was eventually finished, and released in 1968 as the double-album Electric Ladyland. It includes "Voodoo Chile" and Jimi's version of the Bob Dylan song "All Along the Watchtower".
Hendrix would often appear at impromptu jams, such as with B.B. King, and Jim Morrison of the Doors joined Hendrix onstage at New York's Scene Club in March of 1968.
After a year of living in the U.S., Hendrix moved back to London, at a flat next door to the Handel House Museum in West London. The Experience toured Germany, Scandinavia, and gave a final French concert. The group performed two sold-out shows at the Royal Albert Hall on February 18 and 24, 1969.
Redding became increasingly frustrated that he was not playing his original instrument, the electric guitar, and formed his own band, Fat Mattress, which would sometimes open for the Experience. Disappointing recording sessions in London and New York City ended on April 9 and were the last to feature Redding. Jimi flew his trusted Army buddy Billy Cox to New York and began recording with him on April 21 as a replacement for Redding.

The final Experience concert was on June 29, 1969 at the Denver Pop Festival at Mile High Stadium. Police fired tear gas into the audience while the band played "Voodoo Chile (Slight Return)". The group escaped from the venue in the back of a rental truck, but the next day, Redding announced that he had quit the band.
Hendrix rented a house in Boiceville, New York, near Woodstock and near manager Michael Jeffery. Mitchell was unavailable to fulfill obligations that the group had, so Hendrix appeared on The Dick Cavett Show, backed by a studio orchestra, and on The Tonight Show, with Cox joining him on bass and session drummer Ed Shaughnessy sitting in for Mitchell.
Two investors rented farmland in upper New York from August 15-18 and the idea was to have a big music festival where attendees could see some of the top names in the business. Hendrix agreed to play, but he added rhythm guitarist Larry Lee and Juma Sultan and Jerry Velez to play congas, opting for a bigger sound for the large crowd. The festival was to be called Woodstock, after the small town nearby.
Before Hendrix arrived at the festival, he heard media reports that the crowds were going to be far larger than anticipated. Hendrix and the band were scheduled for Sunday night at midnight, but Jimi indicated that he would rather wait and close the show. After he was moved, a substantial rainstorm delayed the schedule, and by the time the group hit the stage, it was 8:30 a.m. Monday, long after Woodstock was supposed to be over. Most of the 400,000 who attended and made plans to leave Monday morning had done so, and Hendrix played before 30-40,000.
After being introduced, Hendrix launched into a two-hour set, the longest of his career. He started off with a new song, "Message of Love". Jimi's famous psychedelic rendition of the national anthem of the United States, "The Star-Spangled Banner", occurred about 3/4 into his performance. Jimi used feedback and sustain on his guitar to simulate the sound of wails and falling rockets. Hendrix's image performing this number during the day wearing a blue-beaded white leather jacket with fringe and a red head scarf is regarded as a defining moment of the 1960's. Hendrix concluded the show with "Hey Joe" as an encore, which marked the end of the 3 1/2 day Woodstock Music Festival.
This lineup only performed two other times--at a street benefit in Harlem and at the Salvation club in Greenwich Village, New York. They did some recordings, which are available on the MCA boxed set The Jimi Hendrix Experience. The group disbanded after the recording sessions.
Meanwhile, a 1967 contractual dispute had to be resolved with producer Ed Chalpin. The resolution was that Hendrix would record an LP of new material which would not be associated with the Experience band name. Jimi, Billy Cox and drummer Buddy Miles performed a series of four concerts over two nights at Fillmore East. The second night produced the tracks used for the live Band of Gypsys LP, produced by Hendrix. This lineup recorded several studio songs slated for a future album.
On January 26 and 27, 1970, Mitchell and Redding flew into New York City and signed contracts with Jeffery for an upcoming Jimi Hendrix Experience tour. The next day, the Band of Gypsys appeared at Madison Square Garden in a benefit for the anti-Vietnam War Moratorium Committee, called the Winter Festival for Peace. Just like at Woodstock, set delays forced Hendrix to take the stage late (3 a.m.), but this time, Jimi was in no shape to play. He played "Who Knows" before shouting at a woman who requested "Foxy Lady". Hendrix played "Earth Blues", then said, "That's what happens when earth screws with space-never forget that." Hendrix then set down for a minute and walked off stage. Various explanations have been offered to explain the bizarre behavior but the truth may never be known.
Redding was never allowed to rehearse for the upcoming tour, as Hendrix continued to work with Billy Cox. Hendrix made a quick visit to London in March, recording the lead guitar for "Old Times Good Times" for Stephen Stills and "The Everlasting First" for the group Love.
Jimi spent the next four months working on his next album, tentatively called First Rays of the New Rising Sun. Performances on the tour featured Hendrix, Cox and Mitchell playing this new material along with older audience favorites. The American tour included 30 performances, ending with a show at Honolulu, Hawai'i on August 1. Several shows were recorded and included some of Hendrix's best live performances. At the Atlanta International Pop Festival on July 4, Hendrix played tot he largest American audience of his career.
In August, 1970, Electric Lady Studios, jointly owned by Hendrix and Jeffery, opened in New York City. Hendrix recorded for two-and-a-half months at Electric Lady. After a recording session on August 26, Hendrix boarded a flight for London with Billy Cox, joining Mitch Mitchell to perform at the Isle of Wight Festival.
Wanting to spent time in his new studio, Hendrix wasn't eager to continue touring. In Aarhus, Jimi abandoned his show after only two songs, saying, "I've been dead a long time." On September 6, Hendrix was greeted with some booing and jeering by fans at the Isle of Fehmarn Festival in Germany, because he had refused to play the night before due to torrential rain and risk of electrocution. A live recording was later released as Live at the Isle of Fehmarn. Cox quit the tour after reportedly suffering paranoia after taking or being given LSD.
Hendrix returned to London, where he performed at an informal jam at Ronnie Scott's Jazz Club in Soho with Eric Burdon and his new band, War. Bill Baker of London, who was present throughout the performance, recorded the jam on a Sony cassette recorder. Many bootlegs were made of this recording of poor quality. The tape was cleaned up and remastered in California in December, 2010 and finally released officially. It is the last recording of Jimi Hendrix, who died approximately 24 hours later.
Hendrix died in one of the two basement apartments of the Samarkand Hotel...
On September 17, Hendrix went to a party and was picked up at about 3 a.m. by girlfriend Monika Dannemann and driven to her flat at the Samarkand Hotel, 22 Lansdowne Crescent, Notting Hill. Dannemann said in her testimony that after they returned to her home, Hendrix, unknown to her, had taken nine of her prescribed Vesparax sleeping pills. According to surgeon John Bannister, Hendrix had asphyxiated in his own vomit shortly after 3 a.m., September 18, 1970 Dannemann made accusations of malpractice in regards to Bannister not performing a tracheotomy on Hendrix. Bannister was reprimanded for two counts of medical malpractice and taken off the medical register on April 28, 1992 for fraud.
Dannemann publicly claimed that she had discovered Hendrix sick at 11 a.m., but he was breathing, though unconscious and unresponsive. The ambulance was called at 11:18 and arrived at 11:27.
The original gravestone built into Hendrix's memorial
The memorial 4agravesite in Renton, Washington...

Hendrix's body was flown to Seattle, where he was buried in Greenwood Memorial Park in Renton, Washington. As concern grew about fans damaging the adjoining graves, an expanded memorial site separate from other burial sites was constructed and in 2002, the remains of Jimi, his father Al, and grandmother Nora Rose Moore Hendrix were moved to the new site. The headstone contains a depiction of a Fender Stratocaster guitar.
The memorial remains incomplete: brass accents for the dome and a large brass statue of Hendrix were announced in 2002 but no further information as to the status of the project has been revealed. A memorial statue of Jimi stands near the corner of Broadway and Pine Streets in Seattle.
Hendrix's unfinished album was released in 1971 as The Cry of Love, which was well praised. Some tracks were used for the 1971 album Rainbow Bridge and some for War Heroes in 1972 for contractual reasons.
Hendrix popularized use of the wah-wah pedal, which he used to achieve an exaggerated sense of pitch in his solos, especially with high bends, complex guitar playing, and use of legato. He also used the tremolo bar considerably. Jimi favored raw overdriven amplifiers with high gain and treble and helped develop the previously undesirable technique of guitar amplifier feedback. Hendrix had large hands, allowing him to use his thumb to play the bass notes, which freed up his other fingers to play the melodic notes.
Hendrix utilized many styles in creating his sound and his guitar work was unique, later to be abundantly imitated by others. Hendrix established the guitar as a unique sonic source, rather than just an amplified version of the acoustic guitar. As HipHappy Times.me says:
"
In essence, Hendrix channeled the music of the cosmos, anchoring it to the earthy beat of rock and roll
. And it was supported by a visual magic that obviously you won't get if you just listen to the music. He did this thing where he would play a chord, and then he would sweep his left hand through the air in a curve, and it would almost take you away from the idea that there was a guitar player here and that the music was actually coming out of the end of his fingers."
Jimi

affected popular music, establishing a heavy yet proficient sound to rock music as a whole, significantly advancing the development of hard rock and paving the way for heavy metal. He took blues to another level, and his music has also had a great influence on funk and funk rock, carried forward by Sly Stone, George Clinton and Eddie Hazel of

Funkadelic

, Prince and John

Frusciante

of the Red Hot Chili Peppers.
Hendrix undoubtedly had an influence on every peer as well a every guitarist who followed him. Thousands of guitarists both old and young cite Hendrix as an influence. We know that countless other guitarists came to see him, although after watching Jimi, all of them walked away feeling inferior. He simply did things with the guitar that no one else had ever done or could do. According to Blogcritics.com:
"No one else has been so widely copied, admired, covered and name checked by so many different guitarists from so many different genres. From Rock to Reggae, Punk to Funk, Hillbilly to Hip Hop, Heavy Metal to Jazz, Hendrix's influence shines through to this day.
But in addition to those above, he specifically influenced Eddie Van Halen, Stevie Ray Vaughan, Bob Dylan, Miles Davis, Slash, Black Sabbath, the Cure, Lenny Kravitz, Vernon Reid of Living Colour and Robin Trower.

As a legendary guitarist himself, Eric Clapton once said, "This guy just came out of nowhere, and blew all of us established guitarists away. "He had this enormous gift and a fantastic technique, like that of someone who spent all day playing and practicing, yet he didn't seem that aware of it." To Hendrix, his talent was something as natural as breathing. He never viewed himself as being legendary, nor did he allow the praise of others to go to his head. No, he let others do his praising for him, another trait which unfortunately is pretty rare today.
Henry Rollins of Black Flag said, "
Considering Hendrix died when he was twenty-seven and had accomplished all that he did, I get the feeling he was the only real genius rock music ever had."
While the rest of us only heard what Jimi played, he "saw it" visually. He was able to paint the picture in a way that allowed listeners to see it as well. When Jimi's fingers slid down the guitar on "The Star-Spangled Banner", he allowed us to see the bombs bursting in air with the colors remaining overhead. You feel the heat of the battle going on while the song was being written, and you feel the proud moment when the flag was still standing in the end. Hendrix conveyed all of these emotions in a four-minute song.
Hendrix preferred the Fender Stratocaster guitar, which he began playing in 1966. He used right-handed guitars, turned upside down and restrung for left-hand playing. This affected the tone, in that because of the slant of the bridge pickup, the lowest string had a bright sound while the highest string had a mellow sound. Jimi also used Fender Jazzmasters, Duosonics, two different Gibson Flying Vs, a Gibson Les Paul, Gibson SG's and a Gretsch Corvette. The Flying V used at the Isle of Wight Festival was a custom left-handed guitar with gold plated hardware, a bound fingerboard and "split-diamond" fret markers that were not found on any other 1960's-era Flying Vs.
Hendrix also owned a Coral electric sitar that later wound up with Peter Frampton.
Hendrix was also an innovator in the development of modern guitar effects pedals. His high volume and extreme use of feedback required strong amplifiers. Originally, he used Vox and Fender amps, but while sitting in with Cream, Hendrix played through a new group of high-powered amps made by London drummer turned audio engineer Jim Marshall. The Marshall amps were perfect for Jimi's sound, allowing him to master the use of feedback as an effect.
Hendrix used the Vox wah-wah pedal and the Arbiter Fuzz Face consistently, and worked with engineer Roger Mayer to design the Axis fuzz unit, the Octavia octave Doubler and other effects built specifically for Jimi. The Uni-Vibe, which simulated the modulation effects of the rotating Leslie speaker, gave Hendrix a rich phasing sound noticeable on the track "Machine Gun" by the Band of Gypsys.
Hendrix was inducted into the Rock & Roll Hall of Fame and posthumously given the Lifetime Achievement Award at the Grammys in 1992. A star on the Hollywood Walk of Fame was dedicated to Jimi in 1994. An English Heritage blue plaque was erected at his former residence at Brook Street in London in 1997. In 2006, the album, Are You Experienced, was inducted into the United States National Recording Registry.
In May 2006, the city of Seattle honored Hendrix by renaming a park near Seattle's Colman School.
In 2000, the Experience Music Project was founded by Seattle billionaire Paul Allen of Microsoft with more than 8,000 Jimi Hendrix artifacts in a 140,000 square foot Frank O. Gehry-designed building to honor Seattle, Washington's native son. It features multiple innovative galleries, an Interactive Sound Lab and Sky Church, a concert venue with state-of-the art sound and lighting that houses the largest indoor LED screen in the world. The scope was expanded to include all genres of music. If you treasure music and music history, a visit to the Experience Music Project in Seattle is a must.
Hendrix has been voted in many magazines and polls as the greatest electric guitarist of all-time. Guitar World's readers voted six of Hendrix's solos among the "100 Greatest" of all-time: "All Along the Watchtower" at #5, "Voodoo Chile (Slight Return)" at #11, "Little Wing" at #18, "Machine Gun" at #32, "The Star-Spangled Banner" at #52 and "Purple Haze" at #70.


Jimi Hendrix was not the fastest nor the cleanest among The Top 100 Guitarists of the Rock Era*. If there's one thing Inside the Rock Era has proved, it is that there are lots of elite guitarists. There is no way one guitarist is going to be the best at everything he or she does; that simply isn't possible. As pointed out when we began this feature on February 1, we looked at numerous factors--when you have so many great guitarists, you have to establish a lengthy list of factors to be able to separate them.
Jimi playing "Red House" live at the New York Pop Festival...
When you don't have the benefit of a long life, it's easy to sit back and ask why Hendrix was the greatest. And it's good to be curious. It's hard to comprehend Jimi Hendrix's influence if you'r young because you've never known a time without it. As pointed out above, there are numerous guitarists today are faster, and several that were more technical. Everyone uses the tremolo bar, and a bunch of people use distortion and feedback--what's so special about that?
What's special is that when Hendrix played, he did it in a way that no one else on the planet had done before. Sure, Jimmy Page and others used these effects, but Hendrix brought them together in such a way that literally blew people away. To find out for yourself about Jimi's influence, go back and listen to music pre-1967 and see if it sounds anything like Hendrix's guitar. Compare the simple guitar chords and solos to Hendrix's sound. You can begin to see the influence in one year, as Cream (and guitarist Eric Clapton) changed their sound from the album Fresh Cream to the album Disraeli Gears. Hendrix obviously influenced the Beatles on their album Sgt. Pepper's Lonely Hearts Club Band and those that followed.
But you won't find anything that sounded like Hendrix before 1967, when he became popular. That is his legacy, his incredible impact, that he solely changed the way the guitar is played, not unlike the way the Beatles changed music forever. Unlike many revolutionaries who aren't recognized until years after their death, Hendrix's contemporaries saw his greatness. Many Hard Rock and Blues bands heard his music and changed the way they approached the guitar. Hendrix undoubtedly paved the way for acts such as Deep Purple and Black Sabbath, paved the way for Heavy Metal, and brought about the era of virtuoso guitarists in the late 70's and early 80's, spearheaded by another six-string revolutionary, Eddie Van Halen.
There simply hasn't been anyone that has popularized the instrument as much as Jimi Hendrix. Lots of guitarists can now imitate the playing of Hendrix today, but to be #1, you have to be unique; you have to come up with a groundbreaking and revolutionary style that changes the way the guitar is thought of. To be #1, you can't just be as good as the all-time leader, you have to be better. And even though Hendrix only played for eight years, frankly there hasn't been anyone that has come along and beat him.
Jimi Hendrix ranks #1 as The Greatest Guitarist of the Rock Era*...