There's only one guitarist in the Rock Era who has more overall skills than this one:
#2: Jimmy Page, Yardbirds, Led Zeppelin, Plant/Page
56 years as an active guitarist
James Patrick "Jimmy" Page was born January 9, 1944 in London. He was a prominent session guitarist before joining the Yardbirds and founding the legendary group Led Zeppelin. He is one of a handful of people who have been inducted to the Rock & Roll Hall of Fame twice, once as a member of the Yardbirds and again as a member of Led Zeppelin. He was also decorated by his country of England as an Order of the British Empire. Every respectable publication that publishes a list of The Greatest Guitarists of the Rock Era places Page in the Top Five. Inside the Rock Era concurs on Page.
In 1952, Page and his family moved to Feltham, then again to Epsom, Surrey. By coincidence, a guitar was left by the previous owners and Page began to play it at age 12. Jimmy took a few lessons but for the most part taught himself. Page was influenced by Scotty Moore and James Burton, who both played guitar for Elvis Presley. Jimmy grew up a fan of skiffle, an English music genre at the time, acoustic folk, and the blues of B.B. King, Muddy Waters, Buddy Guy, Freddie King, Willie Dixon and Hubert Sumlin.
Within one year of learning to play the guitar, Page was part of a skiffle quartet and appeared on the BBC Television program All Your Own in 1957. Page made one of those "fork in the road" decisions when he turned down a job as a laboratory assistant doing biological research and instead would go on to be the lead guitarist for the biggest rock & roll group of all-time.
Page's first group was the Crusaders, with whom he played with for two years. He soon became seriously ill, however, with glandular fever and put his musical career on hold to enroll at Sutton Art College in Surrey. But Jimmy remained active in music. He performed on stage at the famous Marquee in London with Alexis Korner's Blues Incorporated and guitarists Jeff Beck and Eric Clapton.
Page soon became in big demand as a session guitarist. He recorded with Jet Harris and Tony Meehan on the song "Diamonds in 1963. After playing briefly with Carter-Lewis and the Southerners, Mike Hurst and the Method and Mickey Finn and the Blue Men, Page devoted himself full-time to session work. Producer Shel Talmy chose Jimmy as his #1 favored guitarist, giving Page work on songs by the Who and the Kinks.
Jimmy also played guitar on "Downtown" by Petula Clark, "As Tears Go By" by Marianne Faithfull, "Tobacco Road" by the Nashville Teens, "Heart of Stone" by the Rolling Stones, "Here Comes the Night" and "Baby Please Don't Go" by Them and "Is It True" by Brenda Lee, just to name a few.
In 1964, Page was invited to replace Eric Clapton in the Yardbirds but he declined, recommending his friend Jeff Beck instead.
In 1965, Page was hired by Rolling Stones manager Andrew Loog Oldham to be the house producer and A&R man for Immediate Records. This allowed Page to play on and produce tracks by Eric Clapton, John Mayall, Chris Farlowe and others. Page played on Donovan's 1966 album Sunshine Superman, Joe Cocker's debut album With a Little Help from My Friends and Al Stewart's album Love Chronicles album in 1969.
Jimmy did three sessions a day, fifteen sessions a week. Although he couldn't read music, Page instantly picked up guitar parts and was loved because he could perform flawlessly in one take. He would do rock, blues, folk, country; at an early age, he proved his tremendous versatility--sometimes he did music for film scores. Many of these sessions are only available as bootlegs, including a jam with Keith Richards of the Rolling Stones, doing Robert Johnson's "Little Queen of Spades". Several tracks featuring Page were released on the double album Jimmy Page: Session Man.
But increasingly, Page was called on to play guitar along with orchestral arrangements, something Jimmy didn't want to do. A week after quitting his job as a session guitarist in 1966, Paul Samwell-Smith left the Yardbirds, and Page was the group's #1 choice.
(Page and Beck with the Yardbirds from the movie Blowup...)
Page agreed to play bass until rhythm guitarist Chris Dreja had rehearsed on that instrument. Though Jimmy had never played bass, again he performed like a seasoned pro. Once Dreja moved to bass, the Yardbirds featured both Page and Jeff Beck as twin lead guitarists, truly historic times. "Stroll On" was a version of "Train Kept A-Rollin'" that was featured in the movie Blowup. Director Michelangelo Antonioni instructed Beck to smash his guitar to emulate Pete Townshend of the Who.
Little else is available of this pairing of two of The Top Five Guitarists of the Rock Era, as the group did not record an album during this period and the only live recording that is still around is a cover of the Velvet Underground's "I'm Waiting for the Man". The pair did record a commercial using the opening riff of "Over Under Sideways Down" that is included on the 1992 album Little Games Sessions & More.
There is a recording that the elite guitarists did together ("Beck's Bolero") that was inspired by Ravel's "Bolero". The song, written by Page, also features John Paul Jones on bass, Keith Moon on drums and Nicky Hopkins on piano and was included on Beck's first solo album, Truth.
Beck was fired from the group for consistently poor attendance--often he wouldn't even show up for rehearsals or concerts. This made Page the sole guitarist for the remainder of the Yardbirds' career, and it is at this time that Page introduced his technique of playing with a cello bow and playing with a wah-wah pedal.
Unfortunately, Page's innovative guitar work did not help the Yardbirds continue to be successful commercially and they fell out of favor with their record company. The group toured the United States with new manager Peter Grant, and their live shows became heavier and more experimental. They played blues standards and covers such as "Dazed and Confused", which became a concert favorite.
In 1968, the individual members were being drawn apart by separate interests. Two--lead singer and harmonica player Keith Relf and drummer McCarty wanted to play a style influenced by folk and classical music but they did stay for one more American tour. Page, meanwhile, wanted to continue to play heavier music. The group's final single, "Goodnight Sweet Josephine" was more the style preferred by Relf and McCarty while the flip side, "Think About It" was heavier and included the type of riffs that Page would soon become famous for.
A concert in New York City was recorded although all tracks were not released at the band's request. However, once Led Zeppelin became popular, Epic Records tried to capitalize on Page's greatness and release the concert as Live Yardbirds: Featuring Jimmy Page. The album was stopped when Page's lawyers filed an injunction. The Yardbirds played their final concert on July 7, 1968 at the Luton College of Technology in Bedfordshire, England.
Page and Dreja decided to put a new lineup together with Page producing and Grant continuing as manager. Terry Reid was invited to be the lead singer but declined due to a new recording contract with producer Mickey Most. But he did recommend an unknown singer named Robert Plant. Once in the group, Plant recommended his friend John Bonham on drums. Dreja bowed out to pursue a career as a rock photographer so bassist John Paul Jones, who had worked with Page on several sessions, was recruited to join the band.
The new quartet began rehearsing in August in a room below a record store on Gerrard Street in London and one month later, the New Yardbirds, as they were called, went on a Scandinavian tour. Afterwards, the group returned to England to produce the first Yardbirds album with the new lineup. But as the release date approached, the group renamed themselves Led Zeppelin, a name credited to Keith Moon who had quipped th
at the Page/Beck/Moon/Jones/ Hopkins lineup that had recorded on "Beck's Bolero" would go down like a "lead balloon". The spelling of "lead" was changed to avoid confusion over its pronunciation.
Grant was able to get a contract with Atlantic Records that allowed the group great artistic freedom. The group could decide when to release albums and had the final say over the contents and design of each album. Led Zeppelin decided early on to not focus on singles but albums. They wanted their albums to be entire listening experiences, thus promoting album-oriented rock. At the time, this was virtually unheard of. The group's heavy, guitar-driven blues rock sound was also unique, and sparked the new sub-genres heavy metal and hard rock. Led Zeppelin formed their own company, Superhype, to handle all publishing rights.
On October 14, 1968, the band announced their new name and debuted at the University of Surrey on October 25. Then, Richard Cole organized a tour of the United States, opening in Denver and including several East Coast dates as wel
l as concerts in Los Angeles and San Francisco.
The group recorded and mixed their self-titled debut album, based largely on their live shows, in nine days. The album, with Page's great guitar riffs, psychedelic blues and hints of English folk, marked a distinct shift in rock music. Led Zeppelin peaked at #10 on the album chart in 1969. In 1970, Led Zeppelin was nominated for Best New Artist at the Grammy Awards.
Several tours of the United States and the U.K. followed and the group recorded new material while on the road at several North American studios. Writer Steve Waksman suggests that Led Zeppelin II was "the musical starting point for heavy metal". After the release of the album, Led Zeppelin did several U.S. tours, initially playing in clubs, then in larger venues as their popularity grew. Many of these early shows lasted more than four hours, as the band developed a reputation as being an incredible live band that featured expanded and improvised versions of their repertoire.
Page and Plant went to Bron-Yr-Aur, a remote cottage in Wales, to write songs for Led Zeppelin III. Plant was fascinated by J.R. Tolkien, and wrote much more magical, mystical lyrics and the album also featured folk and Celtic elements. Led Zeppelin produced a rich, acoustic sound for their third album, which shocked fans who had loved the heavier sound of its predecessor. However, the album still hit #1 on both sides of the Atlantic and featured the group's first hit, "Immigrant Song".
The success of the group's first three albums paled in comparison what Led Zeppelin would achieve in the next decade. They eventually gained commercial and critical success heaped on very few artists of the Rock Era, began to wear flamboyant clothing, begin traveling by private jet, and gained a notorious reputation for trashing hotel rooms and stories of debauchery.
These four symbols represented Page, Jones, Bonham and Plant and were featured on both the label and inside sleeve of Led Zeppelin IV
In 1971, the group released their fourth album with no title, but it has commonly become known as Led Zeppelin IV, IV, or as "Four Symbols", owing to the symbols appearing on the record label. Strange as it may seem today, the album had only sold one million copies through the 1970's. In fact, it really wasn't until Led Zeppelin's later breakup that Led Zeppelin IV, or any of their albums, gained huge commercial success to the level of which we now think of them. Between the group's breakup and 1990, however, it sold nine million copies and has now gone over 23 million.
Led Zeppelin IV featured two classic songs, "Stairway to Heaven" and "Rock and Roll", and is now rated as The #5 Album of the Rock Era*.
Led Zeppelin released Houses of the Holy in 1973. The album continued the group's streak of #1 albums, and the subsequent concert tour of North America broke attendance records. The group played before 56,800 fans at Tampa Stadium in Florida. Three sold-out performances at Madison Square Garden in New York City were filmed and eventually released as the movie The Song Remains the Same in 1976.
In 1974, Led Zeppelin started their own record label, Swan Song, which promoted not only their own albums, bug signed other artists, the best of which was Bad Company. Physical Graffiti in 1975 was the first release on Swan Song and it was a huge success. Plus, the back catalog of Led Zeppelin began to see renewed interest, as all previous albums simultaneously re-entered the album chart. The group enjoyed another successful North American tour and European tour.
Led Zeppelin was going to do another fall tour of North America but in August, Plant and his wife were in a serious car crash in Greece. Plant suffered a broken ankle and a blood transfusion saved wife Maureen's life. Plant recuperated at the Channel Island of Jersey, with Bonham and Page joining him. The group wrote much of the material for their next album during this time.
Presence was released in 1976, which included more guitar-based jams and less acoustic ballads and intricate arrangements. It was the least successful of any of their career albums.
In 1977, Led Zeppelin went out on a major tour of North America and set another attendance record, as 76,229 fans saw their show at the Pontiac Silverdome on April 30. Several incidents marred the tour, however. On April 19, 70 people were arrested as they tried to crash the gate at Cincinnati's Riverfront Coliseum. On June 3, a concert at Tampa Stadium was cut short due to a severe thunderstorm, despite that fact that the tickets indicated that the show would go on "Rain or Shine". A riot broke out, resulting in numerous arrests and injuries.
When the band checked into their hotel in New Orleans for a July 30 show at the Louisiana Superdome, Plant received word that his five-year-old son, Karac, had died from a stomach virus. The rest of the tour was cancelled, and as it turned out, the group had performed for the final time in America.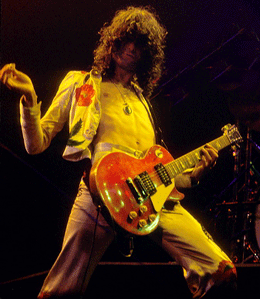 In 1978, Led Zeppelin recorded what would be one of the finest albums of their career, In Through the Out Door. The album reached #1 in both the U.K. and the United States in just its second week. This album too sparked incredible interest in the group's prior albums, as the entire Led Zeppelin catalog returned tot he album chart.
In 1979, Led Zeppelin headlined two shows at the Knebworth Music Festival, performing before 104,000 the first night. The group prepared for their first North American tour since 1977, which was set to begin in October of 1980. On September 24, Bonham stopped for breakfast prior to a rehearsal, when he drank four quadruple vodkas. He continued to drink heavily at the studio. The group went to Page's House in Clewer, Windsor and Bonham, who had fallen asleep, was taken to bed.
At 1:45 p.m. the next day, tour manager Benji LeFevre and John Paul Jones found Bonham dead. He had asphyxiated from his own vomit, the result of the heavy drinking the day before. The planned tour was cancelled and after several days of reflection, the group sent a press statement that said, "We wish it to be known that the loss of our dear friend, and the deep sense of undivided harmony felt by ourselves and our manager, have led us to decide that we would not continue as we were."
A collection of Zeppelin out-takes and unused tracks was released in 1981 called
Coda
.
Page recorded the
Death Wish II Soundtrack
in 1982 and the Death Wish III Soundtrack in 1985, both at his recording studio, The Sol in Cookham, England. In 1983, Page appeared with the Action Research for Multiple Sclerosis charity series of concerts to honor Small Faces bassist Ronnie Lane, who suffered from the disease. All of these shows featured an encore jam that included all three former Yardbirds guitarists: Clapton, Beck and Page.
After this, Plant and Page joined Jeff Beck, Paul Shaffer and Nile Rodgers in the Honeydrippers, which played more of an R&B style than Zeppelin. Page also joined John Paul Jones for the
Soundtrack to "Scream for Help"
. Page and Paul Rodgers collaborated for two albums as the Firm. The self-titled debut earned a gold record and included "Radioactive". The second release was
Mean Business
in 1986.
On July 13, 1985, Page, Plant and Jones reunited for the Live Aid concert at JFK Stadium in Philadelphia, Pennsylvania. Phil Collins and Tony Thompson played drums, but the show revealed a lack of rehearsal with the drummers, poor sound, an out-of-tune guitar and Plant's hoarse voice. Another substandard performance followed when the three surviving members joined Bonham's son, Jason, on drums for the Atlantic Records 40th Anniversary concert in 1988.
Page, whose genius would be appreciated by anyone, did session work for the Rolling Stones, Graham Nash and Stephen Stills. In 1986, Jimmy reunited with several ex-members of the Yardbirds to play on the Box of Frogs album Strange Land. Page released the solo album Outrider in 1988, which featured vocals from Plant, with Page repaying the favor by playing guitar on Plant's solo album Now and Zen.
Page supervised the remastering of tracks for the first Led Zeppelin box set, released in 1990. Led Zeppelin Boxed Set 2 was released in 1993; the two sets together contained all known studio recordings as well as some rare live tracks. Page collaborated with ex-Deep Purple member David Coverdale for a much-praised project called Coverdale Page.
In 1994, Page and Plant reunited for a 90-minute "Unledded" project on MTV. The pair released the album No Quarter: Jimmy Page and Robert Plant Unledded and embarked on a world tour.
In 1995, Led Zeppelin was inducted into the Rock & Roll Hall of Fame. The group played two brief sets with Jason Bonham and Michael Lee on drums. In 1997, the group released Led Zeppelin BBC Sessions, a double disc recorded mostly in 1969 and 1971. Page and Plant released the album Walking into Clarksdale in 1998, but it wasn't well received.
Page has been heavily involved in several charities, especially the Action for Brazil's Children Trust. He has appeared on stage with the Black Crowes, Fred Durst of Limp Bizkit and Wes Scantlin of Puddle of Mudd.
In 2003, the double live album How the West Was Won and the Led Zeppelin DVD were released. The DVD, a six-hour set of live footage, became the best-selling music DVD in history. Led Zeppelin was honored with the Grammy Lifetime Achievement Award. In 2005, Page was appointed Officer of the Order of the British Empire (OBE) in recognition of his charity work and was made an honorary citizen of Rio de Janeiro. In 2006, Led Zeppelin won the Polar Music Prize, presented to them by the King of Sweden.
On December 10, 2007, the group reunited on stage for the Ahmet Ertegun Tribute Concert in London, with Jason Bonham again taking his late father's place on drums. An astounding 20 million requests for the reunion show were made online, another Guinness World Record. There were rumors of a reunion tour, but they never materialized.
Page performed "Whole Lotta' Love" during the closing ceremonies of the 2008 Summer Olympics. Later in the year, he co-produced a documentary film called It Might Get Loud. The film examines the history of the electric guitar, focusing on the careers of Page, the Edge and Jack White. The documentary premiered at the Toronto Film Festival. In June, Page and John Paul Jones appeared with the Foo Fighters during the encore of the band's concert in London's Wembley Stadium, performing "Rock and Roll" and "Ramble On".
In 2010, Jimmy was honored with a first-ever Global Peace Award by the United Nations' Pathways to Peace organization for his work at the Show of Peace Concert in Beijing, China in October. In 2011, Page played guitar for Donovan for two shows at the Royal Albert Hall in London. In November, Conservative MP Louise Mensch began a campaign to have Page knighted for his contributions to the music industry.
Led Zeppelin are widely considered to be one of the most innovative and influential rock bands in the history of music. They have influenced bands such as Queen, Rush, Pearl Jam, Black Sabbath, Deep Purple, the Smashing Pumpkins, Nirvana, Megadeth, Velvet Revolver, Soundgarden, the Cult, Tool, the Ramones and Dream Theater as well as Madonna, Lady Gaga and Shakira.
The group helped develop album-oriented rock (AOR) and stadium rock. John Kalodner, an executive with Geffen Records said that "...next to the Beatles they're the most influential band in history. Their influence is all over records, AOR radio and concerts. They're the ones who did the first real big arena concert shows."
Led Zeppelin have sold over 200 million albums, including 111.5 million in the United States. The Group ranks as the fourth-highest selling music act in the U.S. and one of only three to earn four or more Diamond albums (for sales of over 10 million units). They won an International Artist Award at the American Music Awards in 2005 for their reunion. The group received an Ivor Novello Award in 1977 for "Outstanding Contribution to British Music" and another for Lifetime Achievement in 1997. Four Led Zeppelin works, the albums Led Zeppelin and Led Zeppelin IV and songs "Stairway to Heaven" and "Whole Lotta' Love" have been inducted into the Grammy Hall of Fame. Led Zeppelin has five Diamond albums, fourteen Multi-Platinum albums, four Platinum albums and one Gold album in the United States.
Page was inspired by English folk guitarist Bert Jansch to use open tunings and aggressive guitar strokes. Jimmy incorporated elements of blues music with those of eastern music. One of the most dynamic and versatile rhythm guitar players ever, according to UltimateGuitar.com, Page could switch between power chords to barely-strummed triad chords or arpeggios. Jimmy was a master of acoustic strumming as well ("Over the Hills and Far Away" or "Ramble On").
Page used several techniques that left other guitarists with no hope. He mastered the multi-hammer-on technique; few guitarists ever mastered it in Page's time. Jimmy also mastered the technique of using his fingers as a slide; he would use his first, second and third finger to hold down partial chords and slide them around on the neck ("Whole Lotta' Love"). Page also famously played his guitar with a cello bow on live versions of "Dazed and Confused".
Page liked to fingerpick arpeggios and he would use a lot of pentatonic scales in his solos, which are famous for great bluesy riffs.
(from Knebworth in 1979)
Allmusic says that "just about every rock guitarist from the late '60's/early '70's to the present day has been influenced by Jimmy Page." Dictators bassist Andy Shernoff states that Page's downstroke riff in "Communication Breakdown" was the inspiration for Johnny Ramone's downstroke guitar style. Ramone described Page as "probably the greatest guitarist who ever lived". Fellow elite guitarist Brian May of Queen said: "I don't think anyone has epitomised riff writing better than Jimmy Page--he's one of the great brains of rock music." Tom Scholtz of Boston said Page's guitar was the inspiration for Boston's distinctive sound.
Page's guitar solo from "Heartbreaker" was credited by Eddie Van Halen as being the inspiration for his two-hand tapping technique after he saw Led Zeppelin in 1971. Steve Vai too says "The song "Heartbreaker" had the biggest impact on me as a youth. It really is the definitive rock guitar solo." Keith Richards of the Rolling Stones says Page is "the greatest guitar player I've ever known".
Countless others in The Top 100 Guitarists of the Rock Era* credit Page for influencing them in their own guitar styles, including Jeff Beck, Joe Satriani, Yngwie Malmsteen, Tony Iommi, Angus Young, Slash, John Frusciante, Kirk Hammett, Dave Mustaine, Michael Schenker, Richie Kotzen, Alex Lifeson, Richie Sambora, Ace Frehley and Zakk Wylde, as well as Nancy Wilson of Heart, James Hetfield of Metallica, Joe Perry of Aerosmith and Paul Stanley of Kiss.
Uncut magazine calls Page "rock's greatest and most mysterious guitar hero". MSNBC.com notes that Jimmy "played some of the most fundamental and memorable guitar in rock history--from the heaviest crunch to the most delicate acoustic finger picking". Page's solo in "Stairway to Heaven" has been voted in numerous polls, including those conducted by Guitar World and Total Guitar, as the greatest guitar solo of all-time. Page was named "Guitarist of the Year" five times in the 1970's alone in Creem magazine. In a time of Clapton, Beck, Van Halen, McLaughlin, B.B. King, Iommi and Blackmore, it was Page who dominated.
Guitar World wrote: "Jimmy Page is one of the most captivating soloists the rock world has ever known." In 2002, Jimmy was voted #2 all-time in a Total Guitar magazine reader poll. Gibson's Top 50 Guitarists of All-Time also placed Page solidly at #2.
Joe Perry of Aerosmith had this to say about Jimmy:
Listening to what Jimmy Page does on guitar can transport you. As a lead player, he always plays the right thing for the right spot – he's got such remarkable taste. The solo on "Heartbreaker" has such incredible immediacy; he's teetering on the edge of his technique, and it's still a showstopper. But you can't look at just his guitar playing on its own. You have to look at what he did with it in the studio and how he used it in the songs he wrote and produced. Jimmy built this incredible catalog of experience on the Yardbirds and doing session work, so when he did the first Led Zeppelin record, he knew exactly what kind of sounds he wanted to get.

He had this vision of how to transcend the stereotypes of what the guitar can do. If you follow the guitar on "The Song Remains the Same" all the way through, it evolves through so many different changes – louder, quieter, softer, louder again.


About.com said that "Jimmy Page grew to be arguably the most influential guitarist since Jimi Hendrix."


Page was the first inductee onto the British Walk of Fame in August, 2004. Jimmy received the "Living Legend Award" at Classic Rock Magazine's Roll of Honour in 2007. In 2008, Jimmy received an honorary doctorate from the University of Surrey for his services to the music industry. Page was inducted onto the Mojo magazine's Hall of Fame in 2010.
Page became famous for playing a double neck Gibson EDS-1275 guitar. He used a 1959 Gibson Les Paul Standard with Marshall amplification beginning with Led Zep's second album. The guitar featured a shaved neck and was used by Gibson for their production of Page Signature models in 2004 Jimmy also played a 1960 Black Gibson Les Paul Custom, a 1969 Gibson Les Paul Standard (on The Song Remains the Same), a 1964 Lake Placid Blue Fender Stratocaster (used for recording In Through the Out Door), a 1966 Cream Fender Telecaster (used on Physical Graffiti), a Harmony Sovereign H-1260, a 1959 Fender Telecaster (on Led Zeppelin's debut and on the "Stairway to Heaven" solo), a 1972 Martin D28, a Danelectro 3021, a 1965 Fender Electric XII (12-String used to record "Stairway to Heaven") and a 1967 Vox 12-String.
Gibson released Jimmy Page Signature Les Paul guitars, discontinued in 1999 before the other version in 2004. They also produced Jimmy Page Signature EDS-1275's. Recently, Gibson reproduced Pagel's 1960 Les Paul Black Beauty.
In the studio, Page usually recorded with a Vox AC30, Fender and Orange amplifiers. The first Led Zeppelin album featured a Supro amplifier.
Page used very few effects, letting his natural guitar talent speak for itself. Jimmy did use a Maestro Echoplex, a Dunlop Cry Baby, an MXR Phase 90, a Vox Cry Baby Wah, a Boss Ce-2 Chros, a Sola Sound Tone Bender Professional MK II and a DigiTech Whammy.
Besides his tremendous songwriting and guitar playing, Page was known for his innovative techniques in the recording studio. He explored new ways to use microphones and amplification. Jimmy developed the idea of placing an additional microphone some distance from the amplifier (as much as 20 feet) and then recording the balance between the two. He thus became one of the first British producers to record a band's "ambient sound", the distance of a note's time-lag from one end of the room to the other.
Page also used reverse echo on many tracks, a method he invented. This technique allowed the listener to hear the echo before the main sound instead of after it. To achieve it, Jimmy would turn the tape over and using the echo on a spare track, then turning the tape back over to get the echo preceding the signal.
Bandmate John Paul Jones acknowledged Page's genius:
The backwards echo stuff [and] a lot of the microphone techniques were just inspired. Using distance-miking... and small amplifiers. Everybody thinks we go in the studio with huge walls of amplifiers, but Page doesn't. He uses a really small amplifier and he just mikes it up really well, so that it fits into a sonic picture.
A strong case can be made for Jimmy Page at #1. Originality and musical intuition separates the greatest from the greats and Page had that in spades. Jimmy played everything from folk-based ballads, featuring his unique arpeggio-driven rhythm, to epic rock paradigms, to heavy metal, allowing Page to exhibit an adeptness in all areas that the greatest guitarist of all-time would have to.
Page isn't the greatest of the technical players although he is very good. Jimmy's strength comes from the beauty and complexity of his playing, that produce an emotion in the listener emanating from the very depth of the soul. Many guitarists try to emulate his sound but fail miserably. Page is brilliant at conjuring up a place and vibe, and then successfully manages to take you there. He merges spirit and sound and gives listeners a glimpse into a magical realm of our existence.
"White Summer/Black Mountain Side" from 1970
Each of the three Top Guitarists of the Rock Era* is worthy of being #1, but they each are quite a bit above everyone behind them. What each accomplished in their incredible careers stands above anyone else who has ever picked up the instrument. Jimmy Page ranks #2 All-Time...