The #51 Guitarist really brings it:
27 years as an active guitarist
Vincent "Vinnie" Moore was born April 14, 1964 in New Castle, Delaware. As the lead guitarist for UFO, Moore is regarded as one of the most influential of the new breed of guitarists known as "shredders".
Moore began his professional career at the age of 12 when he played in clubs and bars. Although you only see his hands, Moore appeared in a Pepsi commercial in 1985. Vinnie then released the solo album Mind's Eye, which sold over 100,000 copies and won awards from several guitar magazines.
Moore joined the group Vicious Rumors for the debut album Soldiers of the Night. He then joined Alice Cooper for a tour and appeared on the album Hey Stoopid. Vinnie released two instructional videos on guitar playing and joined UFO in 2004.
UFO was a transitional band between hard rock and heavy metal and had been in existence since 1969. Moore's amazing guitar playing helped revitalize the group on their seventeeth album, You Are Here. UFO's live performances were recorded and released as a double DVD called Showtime in 2005. The group played at the Piorno Rock Festival in Granada, Spain and then released The Monkey Puzzle in 2006.
Founding member Pete Way, who had been with the group until 1982 when he formed Fastway with Motorhead's Eddie Clarke, rejoined UFO for a 2008 tour and UFO recorded The Visitor in 2009. The Visitor cracked The Top 100 album chart in the U.K., the group's first appearance there in 15 years.
UFO recently released their latest album, Seven Deadly, which was well received. It made the album charts in the United States, the U.K., Germany and Sweden.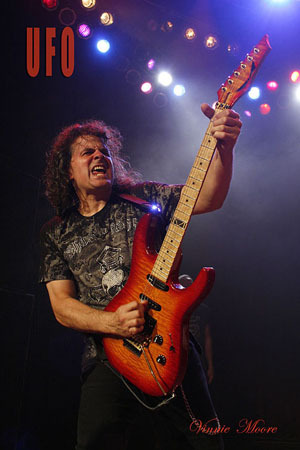 Moore has endorsed several companies, including Music Man Guitars. In 2007, he began endorsing guitars from Dean and in 2008, the Vinnie Moore Signature Model was released by Dean Guitars. The Dean VM-2000 features a
Vinnie Moore "ShredHead" Humbucker in the bridge position. Moore also endorses Engle amplifiers.
If speed is your game, you won't find many faster than Vinnie Moore. But he is more than that, with some thought and melody put into his solos. Vinnie Moore ranks #51 for the Rock Era*...