1953: Man, egg on the faces of the judges who ranked Elvis Presley second in the talent competition at the Jimmie Rodgers Memorial Show in Meridian, Mississippi. Whoever finished first came nowhere near having 18 #1 songs.
1958: Jerry Lee Lewis played what would be his final concert in the U.K., booed off stage by angry British. People found out that he had been married to his 13 year-old cousin and it was "Bye, Bye Jerry!" When Lewis returned to the United States, he was blacklisted from radio stations, his record company mocked him, and he went from making $10,000 per performance to finding gigs for $250.
Ray Charles was headed for the top...
1962: "Stranger On The Shore" from Mr. Acker Bilk landed at #1, displacing "Soldier Boy" by the Shirelles after three weeks. Dee Dee Sharp held steady at #3 while Ray Charles loomed next after a 21-4 move for "I Can't Stop Loving You".
1963: Elvis Presley recorded "(You're The) Devil In Disguise" at the RCA Studios in Nashville, Tennessee. (Note: some websites report that Presley recorded the song over two days. While he had recording sessions on both May 26 and 27, he finished "Devil In Disguise" on May 26, according to the book 'Elvis Presley: A Life In Music' by

Ernst Jorgensen.)
1965: The Rolling Stones, Sonny and Cher, Jackie DeShannon and Jimmy Rodgers appeared on the television show Shindig!
1966: The Rolling Stones reached #1 in the U.K. with "Paint It Black".
1967: The Hollies released the single "Carrie Anne".
1968: Little Willie John ("Fever") died at Washington State Penitentiary in Walla Walla, Washington at age 30.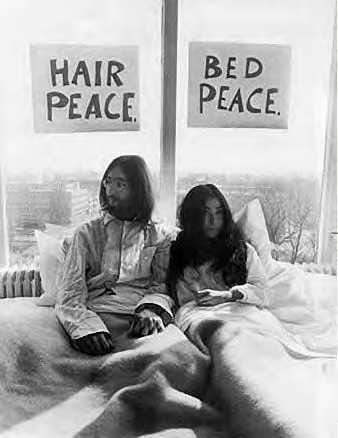 1969: After their seven day bed-in for peace at the Amsterdam Hilton in March of 1969, John Lennon and Yoko Ono began their second famous "bed-in" for peace at Le Reine Élizabeth Hotel (Fairmont Queen Elizabeth Hotel in English) in Montreal, Quebec. (Note: several websites claim the bed-in began May 21 and that it lasted ten days. The bed-in began May 26 and lasted through June 2, according to the Canadian Broadcasting Company, the book 'The Suite Life: The Magic and Mystery of Hotel Living' by Christopher Heard, and 'The Beatles Bible'.)
1971: The song may have been about "The day the music died", but that song was born this day as Don McLean went into the recording studio to record the all-time classic "American Pie" at the Record Plant in New York City.
1972: Elton John released the album Honky Chateau in the United States (he had released the LP on May 19 in the U.K.)
1973: George Harrison had the Biggest Mover on the chart with "Give Me Love (Give Me Peace On Earth)", which climbed from 59 to 34.
1973: The #3 Instrumental of All-Time* reached #1 on this date--"Frankenstein" from Edgar Winter Group. It remains the only hard rock instrumental ever to reach the top, although "Hocus Pocus" by Focus also entered the Top 10 on this date in 1973 at #10 as well. Paul McCartney & Wings had their first big hit "My Love" which was #2 on this date. Elton John's "Daniel" reached #3 while the former #1 "Tie A Yellow Ribbon Round the Ole Oak Tree" by Dawn was at 4. The rest of the Top 10: The former #1 "You Are The Sunshine Of My Life", Sylvia's "Pillow Talk" moved up to #6, Sweet fell to 7 after peaking at #3 with "Little Willy", Dobie Gray's "Drift Away" was #8 and Skylark edged up to #9 with "Wildflower".
'The Blue Album' had the perfect mix of hits and album tracks, such as "Across the Universe"...
1973: The great double greatest hits album The Beatles/1967-1970 was #1 this week and their double album The Beatles/1962-1966 was at #3 with Houses of the Holy from Led Zeppelin sandwiched in between.
1975: Janis Ian released her poignant song "At Seventeen". (Note: some websites claim the song was released July 14 and one says it was released in August. The song debuted on the Singles chart on July 14. It is physically impossible for a record company to release a single, mail it to radio stations, have the stations receive it, listen to it, add it to their playlists, report the song to the trade papers and be printed and published by the trade papers all in the same day, and it is impossible for a song to make the Singles chart (on July 14) if it has not been released as a single (in August).)
1977: The Broadway tribute Beatlemania previewed at the Winter Garden Theatre in Manhattan with opening day set for May 31.
1977: Billy Powell of the O'Jay's died of cancer.
1978: Donna Summer co-hosted The Midnight Special.
1978: A new group appeared on the Irish television show Youngline. They were then known as the Hype, today as U2.
1979: Bette Midler appeared on Saturday Night Live on NBC-TV.
1979: "Sunday Girl" became the second U.K. #1 for Blondie.



1979: Kenny Rogers' great song "She Believes In Me" took over at #1 on the Adult Contemporary chart.
1979: "Reunited" ruled supreme for the fourth week in a row for Peaches & Herb. Donna Summer was a solid #2 with "Hot Stuff". There were three new Top 10 songs--"We Are Family" from Sister Sledge, which elevated from 13 to 6, Randy Vanwarmer's "Just When I Needed You Most", up from 15 to 8, and "Love Is The Answer", England Dan & John Ford Coley's latest, at #10.
1982: Bobby Darin was given a star posthumously on the Hollywood Walk of Fame.
1984: Bruce Springsteen had the highest debut of the week with "Dancing In The Dark", which had been released earlier in the month.
1984: The Cars had the Biggest Mover with their great song "Magic" climbing from 59 to 39.
1984: Deniece Williams reached the pinnacle as the former backup singer for Stevie Wonder hit #1 with "Let's Hear It For the Boy". Lionel Richie's "Hello" slipped to #2 with Cyndi Lauper moving up behind him with "Time After Time". Phil Collins remained strong after 14 weeks with his former #1--"Against All Odds" while Steve Perry's first solo hit "Oh Sherrie" was up to #5. The rest of the Top 10: "To All The Girls I've Loved Before" by Julio Iglesias & Willie Nelson, Duran Duran moved from 12-6 with "The Reflex", Night Ranger had a big hit with "Sister Christian, up from 16 to 8, Irene Cara was back with "Breakdance" and the Thompson Twins' former #3 smash "Hold Me Now".
1990: David Bowie was sued by his ex-wife Angie for $56 million.
1990: "Hold On" by En Vogue was the #1 R&B song.
1990: Wilson Phillips topped the Adult Contemporary chart with "Hold On". Note: This song is completely different than "Hold On" by En Vogue mentioned above.
Heart closed in on the top spot...
1990: Not only did women dominate the R&B and Adult Contemporary charts, but for the first time in music history, they had every one of the top five Popular songs. Madonna had the #1 song with "Vogue", Heart's "All I Wanna' Do Is Make Love to You", Sinead O'Connor's former #1 "Nothing Compares 2 (sic) U (sic)" was at #3, "Hold On" by Wilson Phillips was next and Janet Jackson's "Alright" came in at #5.
1993: Singapore removed its ban on music by the Beatles, Creedence Clearwater Revival, Chicago and Bob Dylan.
1996: George Michael had the #1 album in the U.K. with Older.
1996: A fire at Eric Clapton's home in London caused over a million and a half dollars of damage. When firemen got to the scene, Eric was rushing

to save his guitar collection.
2000: Jailbird Tommy Lee of Motley Crue had to serve five more days in the Los Angeles County Jail after violating his parole.
2000: Richard Carpenter was given an honorary doctorate degree from California State University-Long Beach.
2004: Celine Dion returned to Caesars Palace in Las Vegas after a neck injury forced her to postpone performances for two weeks.
2005: Mariah Carey registered her 16th #1 song, "We Belong Together", leaving her two shy of Elvis Presley for #2 all-time to the Beatles.
2006: Gwen Stefani and husband Gavin Rossdale were the proud parents of son Kingston Rossdale in Los Angeles.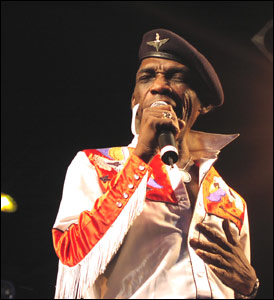 2006: Desmond Dekker ("Israelites" in 1968) died of a heart attack in Surrey, England at the age of 64.
2008: Paul McCartney was given an honorary doctorate of music from Yale University.
1920: Peggy Lee (real name Norma Dolores Egstrom) was born in Jamestown, North Dakota; died January 21, 2002 of a heart attack and complications from diabetes in Los Angeles.
1941: Art Sharp of the Nashville Teens
1943: Levon Helm,drummer and vocalist of the Band, was born in Elaine, Arkansas. (Note: some websites claim Helm was born in Marvelle, Arkansas. According to Helm's official website, he was born in Elaine.)
1944: Verdon Allen of Mott the Hoople was born in Crynant, Neath, Wales.

1946: Mick Ronson, elite guitarist who worked with David Bowie and Bob Dylan, among others, was born in Kingston upon Hull, East Riding of Yorkshire, England; died of liver cancer April 29, 1993 in London. (Note: Some websites report Ronson was born in Hull, East Riding of Yorkshire, England, and some say he was born in Hull, Humberside, England. 'Billboard' just threw up their hands and said he was born in the county of Yorkshire, England without specifying the name of the city. The official name of the town is Kingston-Upon-Hull, which is often shortened to Hull. Prior to 1974, Hull was a county borough independent of county authority. In 1974, Hull was included in the newly created county of Humberside. In 1996, the county of Humberside was abolished, and Hull was named a unitary authority area with East Riding of Yorkshire a "ceremonial county". Thus, at the time of Ronson's birth, Hull was not part of any county, and his correct place of birth was Kingston-Upon-Hull, England, or Hull, England.)



1948: Stevie Nicks, lead singer of Fleetwood Mac and a solo star, was born in Phoenix, Arizona.
1949: Vicki Lawrence, who had one of The Top 500 Songs of the Rock Era* with "The Night the Lights Went Out In Georgia" in 1973, was born in Inglewood, California.
1964: Lenny Kravitz (Note: some websites report Kravitz was born in New York City, while others say Brooklyn, and still others say Manhattan, New York. Unfortunately, there are no credible sources for any place of birth so at this point, we have to leave his birthplace blank.)
1972: Alan White, drummer for Oasis, was born in London.
1978: Jaheim Hoagland (aka Jaheim) was born in New Brunswick, New Jersey.
1981: Isaac Slade, pianist, songwriter, co-founder and lead singer for the Fray, was born in Boulder, Colorado.