Just last week I told of how Jerry Leiber was a major force behind the success of Elvis Presley. Today we learn that he died in a Los Angeles hospital on Monday.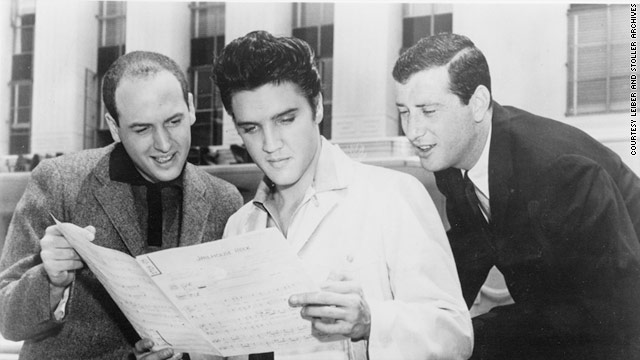 Leiber, right, and Stoller look over the music to "Jailhouse Rock" with Elvis Presley
Leiber teamed with Mike Stoller in 1950 when both were 17 years old and together, they became of the great songwriting teams early in the Rock Era. "He was my friend, my buddy, my writing partner for 61 years," Stoller said. "He had a way with words. There was nobody better. I'm going to miss him."
In 1956, a Leiber and Stoller song called "Hound Dog" rocketed to the top of the charts for Presley in 1956 and became one of The Top 50 Songs of the Rock Era*. They also wrote another of those Top Songs--"Jailhouse Rock" and many others for Elvis. But they also wrote other rock standards such as "Stand by Me" for Ben E. King, "Kansas City" by Wilbert Harrison, "On Broadway" for the Drifters, "Love Potion #9" for the Searchers and several hits for the Coasters including "Searchin'" and "Yakety Yak".
Leiber and Stoller were inducted into the Songwriters Hall of Fame in 1985 and the Rock and Roll Hall of Fame in 1987.
"Leiber and Stoller advanced rock and roll to new heights of wit and musical sophistication," says their Rock Hall biography. "They were particularly influential during rock and roll's first decade."
We salute the great contributions of Jerry Leiber to the Rock Era. He was 78.