1954: Elvis Presley released his first single on Sun Records--"That's All Right".
1957: Bobby Darin, Andy Williams, Chuck Berry and Frankie Lymon performed on Alan Freed's television show The Big Beat on ABC.
1958: Manager George Treadwell fired all of the original Drifters and inserted the Five Crowns in their place.
1960: Brian Hyland sang "Itsy Bitsy Teeny Weeny Yellow Polka Dot Bikini" on the popular television show American Bandstand.
1963: Frank Ifield enjoyed another #1 in the U.K. with "Confessin'".
1964: The Rolling Stones performed at the Hippodrome in Brighton, England.
1965: The Beatles released the single "Help" in the United States.
1966: Frank Sinatra, age 50, married Mia Farrow, 21 years old. Hey, she was legal.
1967: Elvis Presley began work on his
27th movie
, Speedway co-starring Nancy Sinatra, at the MGM Soundstage in Hollywood, California.
1967: The Beatles charted at #1 in the U.K. with "All You Need Is Love".
1968: Bo Diddley performed at the Hippodrome in San Diego, California.
1969: The Spencer Davis Group broke up.
1969: "Marrakesh Express" by Crosby, Stills & Nash debuted on the chart.
1969: The Soundtrack to "Hair" was #1 on the Album chart in its 51st week while another soundtrack--"Romeo & Juliet" was #2. Blood, Sweat & Tears had the #3 album, followed by The Age of Aquarius from the 5th Dimension. The rest of the Top 10: This is Tom Jones, A Warm Shade of Ivory by Henry Mancini & His Orchestra, Tommy from the Who at #7, Bob Dylan's Nashville Skyline coming in at #8, In-A-Gadda-Da-Vida by Iron Butterfly at #9 and the debut from Crosby, Stills & Nash entered the Top 10 in its fourth week of release.
1969: Jr. Walker & the All-Stars landed at #1 on the R&B chart with "What Does It Take (To Win Your Love)".
1969: Henry Mancini's "Love Theme From 'Romeo & Juliet' was number one on the Easy Listening chart for a sixth week.
1972: Drummer Bill Bruford left Yes to join King Crimson.
1973: Paul Simon released the single "Loves Me Like A Rock".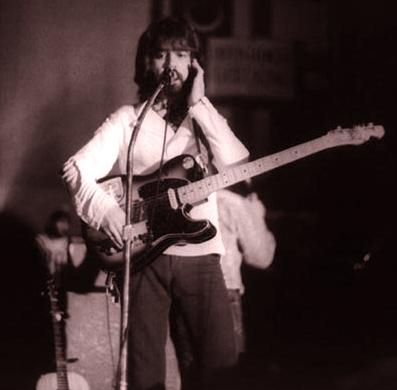 1973: Clarence White, guitarist of the Byrds, was laid to rest. White had been killed by a drunk driver at the age of 29.
1974: The Eagles headlined the Ozark Mountain Festival at the Missouri County Fairgrounds in Sedalia, Missouri. It was probably one of the Top 10 Festivals in history, with over 350,000 people attending. Among the acts performing over the three days were Aerosmith, Bob Seger & the Silver Bullet Band, America, REO Speedwagon, Bachman-Turner Overdrive, Lynyrd Skynyrd, Boz Scaggs, Joe Walsh, Blue Oyster Cult, the Charlie Daniels Band, the Marshall Tucker Band, the Ozark Mountain Daredevils, the Nitty Gritty Dirt Band, Spirit, and the Souther Hillman Furay Band.
1975: The Bay City Rollers were on top in the U.K. with "Give A Little Love".
1975: The Isley Brothers owned the #1 R&B hit with "Fight the Power Part 1".
1975: Olivia Newton-John's "Please Mr. Please" was the #1 Adult Contemporary song.
10cc made a big move on the chart...
1975: Wings scored at #1 with "Listen to What the Man Said". Van McCoy remained at 2 with "The Hustle" while the British group 10cc moved from 10-3 with "I'm Not in Love". The Eagles were racing up as well with "One of These Nights" and Olivia Newton-John moved "Please Mr. Please to #5. The rest of the Top 10: "Magic" from Pilot, Frankie Valli at position #7 with "Swearin' To God", the Captain & Tennille took a tumble with their former #1 "Love Will Keep Us Together", the Bee Gees had their 22nd hit and fifth Top 10 with "Jive Talkin'" and Gwen McCrae's "Rockin' Chair" was at #10.
1976: Deep Purple split up.
1979: Michael Jackson released the first single from his new solo album Off the Wall--"Don't Stop ('Til You Get Enough)".
1980: An art exhibit featuring paintings from Joni Mitchell, John Mayall, Ron Wood of the Rolling Stones and Commander Cody opened at Vorpal Gallery in Laguna Beach, California.
1980: Queen had the top U.K. album with
The Game
.
Jermaine had a Top 10 of his own...
1980: Billy Joel earned his first Gold single--"It's Still Rock And Roll To Me", which also hit #1 on this date. "Coming Up" from Paul McCartney & Wings slipped to #2 and Elton John had hit #29 with "Little Jeannie". The Spinners' "Cupid/I've Loved You For A Long Time" was fourth followed by the Manhattans, which rose up from 11 to 5 with the great song "Shining Star". The rest of the Top 10: Robbie Dupree's "Steal Away", "Magic" from Olivia, Bette Midler's "The Rose"
at #8, Jermaine Jackson with "Let's Get Serious" and Pure Prairie League at 10 with "Let Me Love You Tonight".
1980: David Bowie made his theatrical debut as the title character in The Elephant Man at the Denver Center of Performing Arts in Denver, Colorado.
1980: Olivia Newton-John rejoiced as "Magic" was the #1 Adult Contemporary hit.
1981: Odessa, Texas celebrated "Roy Orbison Day", giving Orbison keys to the city.
1986: The Timex Social Club had the #1 R&B song with "Rumors".
1982: Monday was the day for new single releases to radio stations and on this day, John Cougar (Mellencamp) released the follow-up to "Hurts So Good"--"Jack & Diane".
1986: Patti LaBelle registered her only #1 album in Winner in You, toppling Janet Jackson's Control after two weeks. So from Peter Gabriel, the Soundtrack to "Top Gun" and Invisible Touch by Genesis followed. The rest of the Top 10: Billy Ocean's Love Zone, the self-titled Whitney Houston, Like a Rock from Bob Seger & the Silver Bullet Band, The Other Side of Life by the Moody Blues at #9 and 5150 from Van Halen.
1986: Genesis reached #1 with "Invisible Touch" and former Genesis member Peter Gabriel had #2--"Sledgehammer". Janet Jackson's "Nasty" held down position #3 while Kenny Loggins was at 4 with "Danger Zone".
1986: Peter Cetera moved into the #1 slot on the Adult Contemporary chart with "Glory Of Love".
1987: Bruce Springsteen performed in East Germany in front of 300,000 people.
1989: James Brown was switched to a medium security cell after $40,000 in cash and checks was discovered in his minimum security cell.
1990 - Vikki Carr opened the ceremonies for dedication of the The Nixon Library. She sang in front of four Presidents, President Nixon, President Ford, President Reagan and President Bush, all which she had performed for at the White House during their terms. Henry Kissinger, Alexander Haig and Gene Autry were also present.
1991: A wax effigy of Gloria Estefan was presented at the Movieland Wax Museum in Buena Park, California.
1993: Billy Joel released the single "River Of Dreams".
1995: George Nichopoulos
, former doctor for Elvis Presley, lost his medical license 19 years after it made any difference to Presley, for being "too liberal" when prescribing addictive drugs.
1997: Oasis reached #1 on the U.K. chart with "D'You Know What I Mean".
2001: Soul and gospel singer Judy Clay, who sang with the Sweet Inspirations and worked with Ray Charles, Wilson Pickett, Billy Vera and William Bell, died at the age of 62 in Fayetteville, North Carolina, two weeks after suffering severe injuries in a car accident.
2001: In today's episode of "Inmates Run Rap Music", Russell Jones, rapper of Wu Tang Clan, was sentenced to 2-4 years behind bars for drug possession.
2005: James Blunt led the way in the U.K. with "You're Beautiful".
2006: Thom Yorke debuted at #2 with his solo album
The Eraser
.
2008: In today's episode of "Inmates Run Rap Music", DMX was arrested at a mall in Phoenix, Arizona for giving a false name to get out of paying for hospital expenses. (Note: some websites, which got their information from a story in the newspaper 'The Los Angeles Times', report that DMX was arrested July 20, 2008. The common person understands that newspapers report events that happened the previous day, but even if the website owners did not know this, the story says that DMX was arrested Saturday. Saturday in 2008 was on July 19.)
Born This Day:
1937: George Hamilton IV ("A Rose And A Baby Ruth" from 1956) was born in Winston-Salem, North Carolina.
1941: Vicki Carr ("It Must Be Him") was born in El
Paso
, Texas.
1944: George Frayne IV (Commander Cody), who sang and played piano in Commander Cody & His Lost Planet Airmen ("Hot Rod Lincoln") was born in Boise, Idaho.
1946: Alan Gorrie, guitarist, keyboardist and vocalist of the Average White Band ("Pick Up The Pieces" from 1975), was born in Perth, Scotland.
1947: Bernie Leadon of the Eagles was born in Minneapolis, Minnesota.
1947: Brian May, elite guitarist of Queen, was born in
Twickenham, England. (Note: some websites claim May was born in Twickenham, England. According to the book 'The Queen Chronology: The Recording & Release History of Queen' by Patrick Lemieux and Adam Unger, Brian was born in Hampton, Middlesex, England.
1948: Keith Godchaux, keyboardist of Grateful Dead, was born in San Francisco; died in a car crash in Marin County, California July 23, 1979. ('Billboard' reports that Godchaux was born in San Francisco, California, 'The American Book of the Dead' by Oliver Trager states that Keith was born in Concord, California, and the book 'The Grateful Dead FAQ: All That's Left to Know About the Greatest Jam Band...' by Tony Sclafani shows him born in Seattle, Washington. Our best research indicates that Keith was born in Seattle and moved to Concord, California with his family.)
1952: Allen Collins, elite guitarist of Lynyrd Skynyrd and later the Rossington-Collins Band, was born in Jacksonville, Florida; died July 23, 1990 in Jacksonville at the age of 37 from chronic pneumonia resulting from a 1986 alcohol-related car accident in which his girlfriend was killed and Collins was paralyzed from the waist down.
1960: Kevin Haskins of Love & Rockets was born in Northampton, Northamptonshire, United Kingdom.