1956: Columbia Records announced that all future record releases would be at 45 R.P.M.
1956: The Platters appeared on Tommy & Jimmy Dorsey's Stage Show on CBS. (Note: many websites claim the appearance represented their national television debut. This is not true. They appeared on 'The Perry Como Show' on February 11 on NBC-TV, as you can see in the above video clip.

This is also confirmed by 'TV.com' as well as the book 'Perry Como: A Biography and Complete Career Record' by Malcolm Macfarlane and Ken Crossland.)
1956: CBS Radio Network premiered the first scheduled national radio program of exclusively rock & roll music, Alan Freed's "Rock 'n" Roll Dance Party". The writing was on the wall that rock & roll wasn't going away.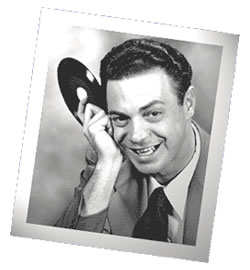 1958: Alan Freed's "Big Beat Show", a concert featuring rock performers, featured two shows at Memorial Hall in Canton, Ohio. Buddy Holly and the Crickets, Chuck Berry, Jerry Lee Lewis, Frankie Lymon, the Diamonds, Billy Ford, the Chantels, Screaming Jay Hawkins, the Pastels and Larry Williams were on the bill.
1959: Marty Robbins recorded "El Paso" at Studio 2 at Bradley Studios in Nashville, Tennessee.
1962: Mick Jagger and Keith Richards met Brian Jones for the first time at the Ealing Jazz Club in England. At the time, Jones was called Elmo Lewis and played guitar that night as a guest of Alexis Korner, who had put together a Rhythm and Blues Night at the Club. The Ealing, which received a Blue plaque as an historic place, is credited with being "the birthplace of British rhythm and blues". It is now a nightclub called The Red Room.
1962: The Beatles played at the Casbah Coffee Club in Liverpool, England. The group played without guitarist George Harrison who was ill. This was the Beatles' finale at the Casbah before returning to Hamburg, West Germany for a third engagement.
1962: Sam Cooke remained atop the R&B chart for a third week with "Twistin' The Night Away".
1962: Shelley Fabares moved to #1 with "Johnny Angel" as former #1 "Don't Break the Heart That Loves You" from Connie Francis slipped. Elvis Presley's "Good Luck Charm" moved from 9 to 4.
1963: The Beatles performed at the Savoy Ballroom in Portsmouth, England.
1966: The Beatles worked on overdubs for the track "Tomorrow Never Knows" and on a new McCartney-penned song, "Got To Get You Into My Life" for the upcoming
Revolver album. The version of the latter recorded on this date, played with a harmonium, is included on the album Anthology 2.
1967: Pink Floyd appeared at the Floral Hall in Belfast, Northern Ireland.
1968: The Who, the Troggs, MC5 and Raja played at the CNE. Coliseum in Toronto, Canada. The facility is now called Ricoh Coliseum.
1969: Mercy released the single "Love (Can Make You Happy)".
1970: "Raindrops Keep Falling on My Head" (from the movie Butch Cassidy & the Sundance Kid won Best Original Song at the Academy Awards at the Dorothy Chandler Pavilion in Los Angeles.
1972: Grateful Dead was at the Wembley Empire Pool in London, England.
What's really sad is that African-Americans insist on doing rap music rather than contribute great songs like this one from Gladys Knight & the Pips...
1973: Gladys Knight & the Pips had the top R&B song for a fourth week with the excellent "Neither One Of Us (Wants To Be The First To Say Goodbye".
1973: Tony Orlando & Dawn reached #1 on the Adult Contemporary chart on this date with "Tie A Yellow Ribbon Round the Ole Oak Tree".
1973: Diana Ross had the top album with Lady Sings the Blues. The only new album in the Top 10 was the new Pink Floyd release, The Dark Side of the Moon, which jumped from #27 to #9.
1973: The new Billboard Hot 100 chart came out on this day and Vicki Lawrence led everyone on top the Singles chart with "The Night The Lights Went Out In Georgia". Lawrence vaulted from 10 to 1, the seventh-biggest jump to #1 of the Rock Era. The rest of the top five--#2 "Neither One Of Us (Wants To Be The First To Say Goodbye)" by Gladys Knight & the Pips, #3 "Killing Me Softly With His Song" by Roberta Flack (the former #1), "Ain't No Woman (Like The One I've Got" by the Four Tops, and "Break Up To Make Up" by the great soul group the Stylistics.
1975: Stevie Wonder and his wife celebrated the birth of daughter Aisha. She's the one heard crying at the opening of Stevie's song "Isn't She Lovely".
1975: Ritchie Blackmore left Deep Purple to form the group Rainbow. Tommy Bolin replaced Blackmore in Deep Purple.
1979: Aerosmith, Van Halen, Cheap Trick, the Boomtown Rats and Ted Nugent performed at the California Music Festival.
1979: Orleans had one of the hottest new songs on the radio as "Love Takes Time" moved from 69 to 35.
1979: The new Top 100 Singles chart came out on this day; the top five: #1 "I Will Survive" by Gloria Gaynor, #2 "What A Fool Believes" by the Doobie Brothers, which was on its way to #1, #3 "Tragedy" by the Bee Gees, a former #1, the debut release from Dire Straits "Sultans Of Swing" was #4, and #5 "Shake Your Groove Thing" by Peaches & Herb.
1979: "Crazy Love" by Poco topped the Adult Contemporary chart, where it would spend seven weeks at #1.
1979: The Doobie Brothers scored their first and only #1 album
Minute By Minute
. Spirits Having Flown from the Bee Gees fell to #2 with the tasty Dire Straits debut third. Love Tracks from Gloria Gaynor preceded the latest from Rod Stewart, Blondes Have More Fun. The rest of the Top 10: 2 (sic) Hot! by Peaches & Herb, 52nd Street from Billy Joel, George Benson moved to #8 with Livin' Inside Your Love, Bad Company vaulted from 30 to 9 with Desolation Angels and the Allman Brothers Band moved to 10 with Enlightened Rouges.
1981: Bruce Springsteen and the E Street Band began their first major tour outside the U.S. at the Congress Central Hamburg (CCH) in Hamburg, Germany.
1981: Kit Lambert, the 60's manager of the Who, died on this date of a cerebral hemorrhage at age 45 resulting from a fall down a flight of stairs at his mother's home in London. Lambert produced the Tommy album and Arthur Brown's 1968 hit "Fire".
1984: "Hello" by Lionel Richie moved to #1 on the Adult Contemporary chart.
1984: The Scorpions had the fastest-rising song on this date as "Rock You Like A Hurricane" moved from 76 to 58.
1984: A record 40 British artists were on the U.S. Hot 100 Singles chart that came out on this date. The top five: #1 "Footloose" by Kenny Loggins, #2 "Somebody's Watching Me" by Rockwell with help from Michael Jackson, #3 Against All Odds" by Phil Collins (which would soon hit #1), #4 "Here Comes The Rain Again" by the Eurythmics and #5 "Jump" by the Pointer Sisters.
1984: Thriller by Michael Jackson spent a 36th week at #1 on the Album chart.
1985: Wham! became the first western rock group to perform live in China, appearing before 15,000 at the workers gymnasium in Beijing. Several solo performers had played China before.
1985: Prince wrapped up his 32-city tour at the Orange Bowl in Miami, Florida by announcing he would cease touring for "an indeterminate number of years".
1988: Alice Cooper accidentally hung himself for several seconds during a European tour when a safety rope broke. As luck would have it, a roadie saved his life.
1990: Elton John, Garth Brooks, Crosby, Stills & Nash, Don Henley, Neil Young, Kris Kristofferson, Willie Nelson, John Mellencamp, Guns N' Roses, Bonnie Raitt and Jackson Browne performed at Farm Aid IV at the Indiana Hoosier Dome to benefit America's farmers.
1990: Only Yesterday by the Carpenters climbed to the top of the U.K. Album chart. The compilation album hit #1 seven years after the death of Karen Carpenter.
1990: Bonnie Raitt had the biggest hit of her life with the album Nick of Time, which rose to #1.
1990: Taylor Dayne had the #1 hit "Love Will Lead You Back" (written by Dianne Warren). Tommy Page's "I'll Be Your Everything" was #2, followed by #3 "All Around The World" by Lisa Stansfield, #4 "I Wish It Would Rain Down" by Phil Collins and #5 was the former #1 song "Black Velvet" by Canada's Alannah Myles.
1990: Taylor Dayne had the top Adult Contemporary hit for a third week with "Love Will Lead You Back".
1994: Lee Brilleaux, lead singer and harmonica player with Dr. Feelgood, died of throat cancer at age 41 in Canvey Island, Essex, England. (Note: some websites report that Brilleaux died in Leigh-on-Sea, Essex, England. According to the newspapers 'The New York Times' and 'The Independent', Brilleaux died at his home in Canvey Island.)
1994: Courtney Love was arrested on drugs and theft charges, not aware at the time that her husband Kurt Cobain had committed suicide and lay dead at their home. Cobain's body wasn't discovered until April 8.
1994: Percy Sledge pleaded guilty to tax evasion for failing to report $260,000 in income earned between 1987 and 1989. Sledge was ordered to serve six months in a halfway house.
1996: Take That topped the U.K. Album chart with their Greatest Hits package.
1997: The Chemical Brothers released the album Dig Your Hole.
1997: Liam Gallagher of Oasis married Patsy Kensit at the Marylebone Registry office in London.
1999: Shania Twain became the first female to sell 10 million copies of back-to-back albums (
The Woman in Me
and
Come On Over). (Note: some websites state that this occurred on April 11. The RIAA (Recording Industry Association of America) certified Come On Over at 10 million on April 7.)
2000: Heinz Burt, bass player and vocalist with the Tornadoes, died of a stroke in Eastleigh, Hampshire, England at the age of 57. The group scored a #1 song with one of the top instrumentals of all-time, "Telstar". Burt also had a solo hit with a tribute to Eddie Cochran, "Just Like Eddie", that featured Deep Purple guitarist Ritchie Blackmore.
2001: Paul McCartney bought the Beverly Hills home of Courtney Love for $3.995 million.
2002: Gareth Gates, who was runner-up at the U.K. Pop Idol contest, hit #1 with his cover of "Unchained Melody", making him the seventh artist to have a hit with the Righteous Brother classic.
2002: Celine Dion had a huge #1 album with A New Day Has Come .
2003: Jury selection began in a wrongful death suit against Tommy Lee of Motley Crue following the 2001 drowning death of a boy at a pool party.
2004: Janet Jackson debuted at #2 with the album Damito Jo.
2004: More trouble for Motley Crue as Vince Neil's lawyer entered a no contest plea to a misdemeanor of battery in a Beverly Hills courtroom after a fight on Sunset Boulevard in Los Angeles in 2002.
2008: Olivia Newton-John set out on a 21-day, 141-mile walk along the entire length of the Great Wall of China to raise money for breast cancer research.
2008: Bob Dylan received a Pulitzer Prize for his impact on music and culture.
2010: Bobby Rydell had major shoulder surgery in Philadelphia, Pennsylvania after slipping on hail after a concert in Oregon four days earlier.
2013: Andy Johns, noted producer and engineer, who worked with the Rolling Stones, Led Zeppelin, Joni Mitchell, Van Halen, Jimi Hendrix, Eric Clapton, the Steve Miller Band, Jethro Tull, Free, Cinderella, Ten Years After, Humble(Note: some websites report that Johns died in Los Angeles, but he died in Van Nuys, according to his wife Annette in the story in the newspaper 'The New York Times'.)
Born This Day:
1908: Percy Faith ("Theme From 'A Summer Place'") was born on Toronto, Ontario, Canada; died on cancer February 9, 1976 in Encino, California.
1917: Mongo Santamaria, who gave us one of The Top 100 Instrumentals of the Rock Era* ("Watermelon Man"), was born in Havana, Cuba; died February 1, 2003 in Miami, Florida after suffering a stroke.
1920: Ravi Shankar (Robindro Shaunkor Chowdhury), sitar player who worked with George Harrison and performed at both Woodstock and the 1967 Monterey Pop Festival, and was the father of singer Norah Jones, was born in Varanasi, United Provinces, India; died December 11, 2012 in San Diego, California.
1935: Bobby Bare ("All-American Boy" and "500 Miles From Home") was born in Ironton, Ohio.
1937: Charlie Thomas of the Drifters was born in Lynchburg, Virginia.
1938: Spencer Dryden, drummer of Jefferson Airplane, was born in New York City; died of cancer in Petaluma, California January 11, 2005
1943: Alan Buck, drummer of the Four Pennies ("Juliet" in 1964), was born in Brierfield, Lancashire, England. (Note: some websites report that Alan was born in Brierfield, Burnley, Lancashire, England. Burnley is not a county; Brierfield and Burnley are separate towns. Buck was born in Briefield, Lancashire, according to the newspaper 'The Manchester Beat'.)
1943: Mick Abrahams, guitarist of Blodwyn Pig and Jethro Tull, was born in Luton, Bedfordshire, England.
1946: Bill Kreutzmann, drummer of Grateful Dead, was born in Palo Alto, California.
1947: Florian Schneider-Esleben, flautist, violinist and guitarist and a founding member of Kraftwerk, which scored their biggest hit with "Autobahn" in 1975, was born in Kattenhorn, Germany.
1947: Patricia Bennett, original member of the Chiffons, was born in the Bronx, New York.
1949: John Oates, singer, songwriter and producer of Hall and Oates, was born in New York City.
1951: Janis Ian, whose real name is Janis Fink ("Society's Child" and "At Seventeen"), was born in New York City.
1952: Bruce Gary, drummer of the Knack ("My Sharona"), was born in Burbank, California; died August 22, 2006 of non-Hodgkin lymphoma in Tarzana, California.