1959: "It's Just A Matter Of Time" by Brook Benton climbed to #1 on the R&B chart.
1960: Since Elvis Presley had returned from service in the United States Army, the movie Jailhouse Rock was re-released. (Note: some websites state that the film was re-released to coincide with Presley's discharge. As explained earlier on 'Inside The Rock Era', (see March 5 on Calendar*), Presley left active service on March 5, but he was not officially discharged from the Army Reserve until 1964.)
1961: The Supremes released their first single "I Want A Guy". (Note: there is much confusion as to the date of this release, with some websites saying March 3, and others in April. There aren't a lot of credible sources on this one, but
Mark Ribowsky, in his book 'The Supremes: A Saga of Motown Dreams, Success, and Betrayal", says the single was released March 9.)
1963:
The Beatles opened for Tommy Roe and Chris Montez at the East Ham Granada in London. By the end of the tour, it would be the Beatles that were the featured attraction.
1963: "Rhythm Of The Rain" by the Cascades continued to be the song to beat on the Easy Listening chart.
1964: The Beatles concluded the filming of train scenes (they traveled a total of 2,500 miles in six days) for the upcoming movie A Hard Day's Night.
1968: Bob Dylan
had the top album in the U.K. with John Wesley Harding.
1968: "Love Is Blue" by Paul Mauriat was the #1 song on the Adult chart for the fourth consecutive week.
1968: A fifth week at #1 on the Popular chart was awarded to Paul Mauriat's "Love Is Blue", one of The Top 100 Songs of the Rock Era* and The #1 Instrumental of the Rock Era*.
1970: After changing their name from Earth, Black Sabbath made their live debut at the Roundhouse in London.
1972: Barbra Streisand, Carole King and James Taylor performed at a benefit concert at the Great Western Forum in Inglewood, California for Democratic presidential contender George McGovern.
Elton John's classic "Funeral for a Friend/Love Lies Bleeding"...
1974: Bob Dylan put together a fourth week at #1 on the Album chart with Planet Waves. Court and Spark was second for Joni Mitchell while Carly Simon's Hotcakes moved to #3. John Denver's Greatest Hits was next while one of The Top Album Artists of the Rock Era*--Barbra Streisand moved from 16-5 with her latest The Way We Were. The rest of the Top 10: Yes with Tales From Topographic Oceans, the late Jim Croce was next with You Don't Mess Around with Jim after 55 weeks of release, Wings had #8--Band on the Run, Mike Oldfield found the Top 10 with Tubular Bells and Elton John was at #10 with Goodbye Yellow Brick Road.
1974: "Seasons In The Sun" by Terry Jacks took over at #1 on the Adult chart.




1974: Two new songs graced the Top 10: the husband and wife team of Carly Simon & James Taylor with "Mockingbird" and John Denver's new one--Sunshine On My Shoulders".
1976: Keith Moon, drummer of the Who, collapsed onstage at the beginning of a concert in the Boston Garden in Boston, Massachusetts. This was the opening show of a Who tour of North America, and Moon had no excuse not to be physically ready.
1977: The Jacksons' television show aired for the final time on CBS.
1979: The Heroes of Rock & Roll, featuring clips of Elvis Presley, the Beatles and Buddy Holly, among others, was shown on ABC-TV.





1981: James Taylor and J.D. Souther released the single "Her Town Too".
1981: Robert Plant and his new band the Honeydrippers debuted at the Stourbridge Wine Bar in Stourbridge, West Midlands, England.
1985: Dead or Alive owned the #1 song in the U.K. with "You Spin Me 'Round (Like A Record)".
1985: "Missing You", Diana Ross's tribute to the late Marvin Gaye, was #1 on the R&B chart for a third week.





1985: REO Speedwagon earned a second career #1 with "Can't Fight This Feeling", bumping off Wham's "Careless Whisper", which had been there for three weeks. Glenn Frey was up to #3 with "The Heat Is On", swapping spots with "California Girls" by David Lee Roth. Madonna moved from 18-5 with "Material Girl' in just its fifth week while the other new Top 10 songs were Julian Lennon's "Too Late For Goodbyes" and "Misled" by Kool and the Gang.
1985: For the fifth week, "Careless Whisper" by Wham! topped the Adult Contemporary chart.
1985: Robert "Bumps" Blackwell, producer for Little Richard ("Tutti Frutti"), Sam Cooke ("You Send Me") and Bob Dylan (the album Shot of Love in 1981), died of pneumonia in Hacienda Heights, California. (Note: some websites claim Blackwell died on January 27, but the correct date is March 9, as reported in 'The Los Angeles Times'.)
1987: John Lennon & Paul McCartney, Carole King & Gerry Goffin, Barry Mann & Cynthia Weil and Sam Cooke were inducted into the Songwriters Hall of Fame in New York City.

1987: U2 released the album The Joshua Tree.
1987:
U2
released the single "With Or Without You".
1991: The Clash rose to #1 in the U.K. with their song that they first released in 1982--"Should I Stay Or Should I Go". The song picked up new popularity due to a television advertisement.
1991: Whitney Houston continued to own the #1 song on the R&B chart with "All The Man That I Need".






1991: Whitney Houston topped the AC chart for a fourth week with "All The Man That I Need".
1991: Mariah Carey made it three straight #1's on the Popular chart to begin her career with "Someday".
1993: Michael Jackson was named Humanitarian of the Year at the Soul Train Music Awards.
1996: Mariah Carey released the single "Always Be My Baby".

1996: A historic day in the Rock Era, as "One Sweet Day" by Mariah Carey & Boyz II Men broke the record for weeks at #1 with 15. That broke the tie with "I'll Make Love To You" by Boyz II Men and "I Will Always Love You" by Whitney Houston. "One Sweet Day" would go on to score another week at #1 and is still the all-time leader with 16 weeks at the top.
1997: The self-titled Spice Girls album returned to #1 in the U.K.
1999: Mike Anthony, guitarist who worked with the 5th Dimension and Harry Nilsson, died of a heart attack at age 68.
2000: In today's episode of Dangerous Inmates Run Rap Music, Da Brat (real name is the rather plain Shawntae Harris) was arrested for aggravated battery for pistol-whipping a woman at a club.
2000: Ivo Robic ("Morgen" from 1959) died in Rijeka, Croatia at age 77.
2001: Drug charges were dropped against Leif Garrett in Los Angeles County Superior Court when Garrett proved he had successfully completed a rehabilitation program. Good for Leif and we wish him well.
2002: Stevie Wonder and Donny Osmond were among the performers at the opening ceremonies of the Paralympics in Salt Lake City, Utah.
2004: The newspaper The Miami Herald in Florida reported that the New York City Police Department was advising other cities on how to spy on rap stars and their ilk. The story recounted that the NYPD kept a file on Jay-Z, 50 Cent and Eminem and monitored their gang affiliations. That's the way to stop crime, and as Inside the Rock Era has chronicled, nearly all rap stars are criminals.
2004: But they're not the only criminals. On this date, Jack White of the White Stripes pleaded guilty to assault and battery in Detroit, Michigan.
2004: Rust Epique, guitarist of Crazy Town ("Butterfly" from 1999), died of heart failure from a heart attack in Las Vegas, Nevada at the age of 35. (Note: one website reports his death as being on March 15, while 'Rolling Stone' says he died "Monday night", which would have been March 8, 2004, and most websites say March 9. Although there are no credible sources for any of the three dates, our best research indicates that Epique died March 9.)
2007: Brad Delp, lead singer of Boston, committed suicide in Atkinson, New Hampshire.
2010: Lloyd Price Day was declared in New Orleans and in the state of Louisiana.

Born This Day:
1925: Billy Ford of Billy & Lillie ("La Dee Dah" from 1958) was born in Bloomfield, New Jersey; died in 1985.
1932: Keely Smith, who had four hits with husband Louis Prima, including their version of "That Old Black Magic" in 1958, was born in Norfolk, Virginia.
1933: Lloyd Price was born in Kenner, Louisiana.
1940: John Cale, singer-songwriter of Velvet Underground and later a producer who has worked with Patti Smith and Squeeze, among others, was born in Garnet, Wales.
1942: Mark Lindsay, lead singer of Paul Revere & the Raiders and a solo star, was born in Eugene, Oregon, but of course launched his career from Boise, Idaho.
1944: Gary Leeds of the Walker Brothers ("The Sun Ain't Gonna' Shine Anymore") was born in Glendale, California.
1944: Trevor Burton (real name Trevor Ireson), founding member and guitarist of the Move, was born in Aston, Birmingham, England.
1945: Robin Trower, original guitarist of Procol Harum, was born in Catford, London.
1948: Jeffrey Osborne, lead singer of L.T.D. and a solo star, was born in Providence, Rhode Island.
1948: Chris Thompson, guitarist and vocalist of Manfred Mann and a solo artist, was born in Ashford, Kent, England.
1948: Jimmie Fadden of the Nitty Gritty Dirt Band, was born in Long Beach, California.
1951: Frank Rodriguez, organist of ? and the Mysterians, was born in Crystal City, Texas.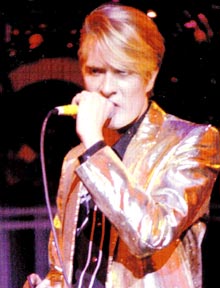 1958: Martin Fry of ABC was born in Stockport, Cheshire, England. (Note: some websites incorrectly report that Fry was born in Manchester, England--he was born in Stockport, Cheshire, England, according to ABC's official website as well as the 'BBC'.)
1968: Robert Sledge, bassist of Ben Folds Five
1980: Chingy (real name Howard Bailey, Jr.) was born in St. Louis, Missouri.
1987: Bow Wow (real name is Shad Moss) was born in Columbus, Ohio, the home of Ohio State University. Why doesn't that surprise me?