It's so interesting that the event we know of as Woodstock that was such a cultural phenomenon had such a formal name (The Woodstock Art and Music fair).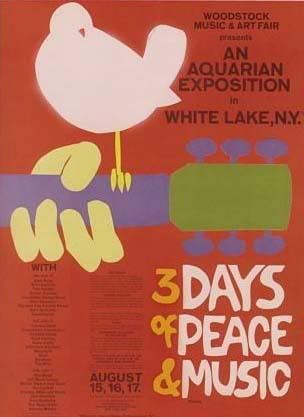 Up until Woodstock, no one was so enthused about music that they would travel thousands of miles to watch the same acts for three days solid, certainly not hundreds of thousands of people. Woodstock changed all that and showed that the youth of the 60's were a powerful force, economically, socially and politically, to be reckoned with. Billed as "An Aquarian Exposition: 3 Days of Peace & Music", it is appropriate that it occurred during what we now call The Summer of Love. For the enormity of the logistics and throngs that descended upon Max Yasgur's 600-acre dairy farm in Bethel, New York, there were very few problems. Bethel is 43 miles southwest of Woodstock, New York, hence the name of the festival.


As mentioned above, Woodstock was revolutionary. 32 artists performed in front of 500,000 fans during the three days. I highly recommend the 1970 documentary Woodstock, especially for those that weren't alive at the time. Promoter Michael Lang, Artie Kornfield and investors John Roberts and Joel Rosenman originally discussed a recording studio in Woodstock as sort of a retreat, but talk soon turned to an outdoor music and arts festival. Even then, the plan was nowhere near an event on the scale of Woodstock--it just kept getting bigger and bigger.

Creedence Clearwater Revival, who had just burst on the scene, was the first act to sign a contract, agreeing to play for $10,000. Up until that time, the Woodstock promoters had difficulty getting big-name acts to commit but once Creedence signed on the dotted line, the other big acts followed suit. In retrospect, however, you have to wonder why on earth CCR was scheduled for a 3:00 a.m. start time. Hindsight is 20/20.


The four organizers planned on about 200,000 peple. Tickets could only be purchased for $18 in advance at record stores in the New York City area and via mail at a post office box at the Radio City Station Post Office in Midtown Manhattan or for $24 at the gate for all three days. Approximately 186,000 tickets were sold in advance but once it was obvious the crowd would far exceed the estimate of 200,000, Woodstock famously became a "free concert".

Woodstock was originally scheduled to be in the 300-acre Mills Industrial Park of Wallkill, New York which Woodstock Ventures had leased. Town officials were assured that no more than 50,000 would attend. Residents protested and eventually succeeded in getting the concert banned. As the event got closer, the entrepreneurs looked elsewhere and the site was moved to Yasgur's farm after he agreed to host the concert on his property. Opposition among residents was fierce in Bethel too, with signs that read "Buy No Milk. Stop Max's Hippy Music Festival."


Yasgur's land formed a natural bowl which sloped down to Filippini Pond. The stage would be set at the bottom of the hill with the pond as a backdrop. But the late change in venue did not give organizers enough time to prepare. To complicate planning, attendees were arriving far earlier and in greater numbers than anticipated. There were massive traffic jams in little Bethel. Descriptions of the traffic jams on television no doubt discouraged thousands more not to attend. Recent rains had caused roads and fields to be muddied and hundreds of thousands of people had to brave the weather, food shortages and poor sanitation.

On Sunday morning, August 17, New York Governor Nelson Rockefeller called Roberts and told him of his plan to order 10,000 New York State National Guard troops to the festival. To his great credit, Roberts was successful in talking Rockefeller out of doing this. These people hated authority and I cannot imagine the chaos and most likely violence that would have resulted had Rockefeller's plan gone through.


Despite the logistical nightmares, the attendees loved it. These people were looking to change the world and the three-day event was filled with harmony, love, peace and great, great music. Yasgur saw it as a victory for peace and love. He noted that despite the weather, the mud, food shortages, etc. the 500,000 people turned it into a very positive event, indeed a legendary gathering. "If we join them," Yasgur said, "we can turn those adversities that are the problems of America today into a hope for a brighter and more peaceful future."
The lineup featured below is amazing--the acts who performed will never forget it. Several acts are notable for not being there, chief among them the Beatles and Bob Dylan. The Festival was placed in Bob Dylan's backyard on purpose but the guy who marches to his own beat never seriously considered it, in fact he was on a boat to England at the time that Woodstock was the hottest thing in music. As for the Beatles, there are several explanations offered, all of which I believe are not accurate. I think the reason the Beatles did not appear is the same reason they hadn't performed since 1966--they had ceased performing and were on a course towards breaking up.
Tommy James & the Shondells declined as well and later deeply regretted it. James said the group was on tour and his secretary called.
'Yeah, listen, there's this pig farmer in upstate New York that wants you to play in his field.' That's how it was put to me. So we passed, and we realized what we'd missed a couple of days later."

The Moody Blues initially agreed to appear, but backed out when they were booked in Paris, France that same weekend. Joni Mitchell was another big name scheduled to appear, but her manager advised her to cancel to appear on The Dick Cavett Show instead. No word on if the manager was fired after the weekend.


The Doors were scheduled to appear but according to guitarist Robby Krieger, the group turned it down at the last minute because they thought it would be a "second class repeat of the Monterey Pop Festival". The Doors later regretted that decision. Jeff Beck Group was scheduled to play on Sunday but Nicki Hopkins left the group (joining Jefferson Airplane, which did play) shortly before the Festival.

The Byrds were invited but also turned down the request, having performed at several festivals. They were tired and needed to rest so, as bass guitarist John York said, "We missed the best festival of all." Spirit also declined due to other engagements and did not realize how big Woodstock was going to be. Lighthouse ("One Fine Morning") also declined to appear. Led Zeppelin declined because manager Peter Grant said "We'd just be another band on the bill."
Friday, August 15
Richie Havens
Swami Satchidananda (Invocation)
Sweetwater
Bert Sommer
Ravi Shankar
Tim Hardin
Melanie
Arlo Guthrie
Joan Baez
Saturday, August 16
Quill
Country Joe McDonald
John Sebastian
Santana
Keef Hartley Band
The Incredible String Band
Canned Heat
Mountain
Grateful Dead
Creedence Clearwater Revival
Janis Joplin with the Kozmic Blues Band
Sly & the Family Stone
The Who
Jefferson Airplane
Sunday, August 17 to Monday, August 18
The Grease Band
Joe Cocker
Country Joe and the Fish
Ten Years After
The Band
Blood, Sweat & Tears
Johnny Winter featuring his brother, Edgar Winter
Crosby, Stills, Nash & Young
Paul Butterfield Blues Band
Sha-Na-Na
Jimi Hendrix