1960: The song had only been out nine weeks and five of those were at #1 for Elvis Presley--"It's Now Or Never". Waiting in the runner-up position was "The Twist" from Chubby Checker.
1963: The Beatles reached #1 in the U.K. with "She Loves You".
Ronnie & the Daytonas in a much better time...
1964: The Animals registered a second week at #1 with "The House Of The Rising Sun". The Supremes' former #1 "Where Did Our Love Go" was still at #2. The Dave Clark Five were at 3 with "Because" while Dean Martin grabbed the #4 position with "Everybody Loves Somebody". The rest of the Top 10: "Bread And Butter" by the Newbeats, Bobby Freeman and "C'mon And Swim", Ronny & the Daytonas were singing the virtues of the "G.T.O.", the Beatles were at #8 with their former #1 "A Hard Day's Night", the Shangri-Las became a member of the Top 10 with "Remember (Walkin' In The Sand)" and Roy Orbison shot up from 27 to 10 with "Oh Pretty Woman".
1966: The Roger Miller Show premiered on ABC-TV.
1966: The Beatles were awarded a Gold record for the single "Yellow Submarine".
1966: The Monkees television series debuted on NBC-TV.
1967: The Beatles continued filming of the movie Magical Mystery Tour for a second day. The bus headed for Widecombe on the Moor but was stuck on a bridge and had to drive in reverse for half a mile before turning around. The group then headed for Plymouth followed by a 20-car caravan of members of the media.
1968: The first world tour of Led Zeppelin took them to Stora Scenen in Stockholm, Sweden (They were still being billed as the Yardbirds.)
1970: Bob Dylan, Joan Baez, Pete Seeger and Arlo Guthrie performed at the Woody Guthrie Memorial Concert at the Hollywood Bowl in Los Angeles.
1970: Smoky Robinson and the Miracles had the top U.K. song with "The Tears Of A Clown".
1970: CCR scored a #1 album in the U.K. with Cosmo's Factory.
1970: Ronnie Milsap first appeared on the chart as his initial single release "Loving You Is A Natural Thing" debuted on this date.
1970: James Taylor debuted on the charts for the first time with his single "Fire And Rain" .
1970: Anne Murray made it three weeks at #1 on the Easy Listening chart with her first hit "Snowbird".
1970: R. Dean Taylor moved from 86 to 45 with "Indiana Wants Me".
1975: Pink Floyd released the album Wish You Were Here in the U.K., with the U.S. release the following day.
1977: Chicago released the single "Baby, What A Big Surprise".
1977: B.T. Express performed at the White House for U.S. President Jimmy Carter.
1977: Paul & Linda McCartney celebrated the birth of son James Louis in London.
1979: Gary Numan had the #1 song in the U.K. with "Cars". He was followed by Cliff Richard and "We Don't Talk Anymore", the Crusaders with "Street Life", ELO's "Don't Bring Me Down" and Dollar with "Love's Gotta' Hold On Me".
1981: Meat Loaf had the #1 album in the U.K. with Dead Ringer.
1981: "Endless Love" from Diana Ross & Lionel Richie remained #1 for a fourth week on the R&B chart.
"My Kinda Lover" from Squier's new album...
1981: Journey posted the only #1 album of their career on this date--Escape. Bella Donna from Stevie Nicks was #2 with 4 from Foreigner trailing. Pat Benatar's great album Precious Time was fourth followed by Don't Say No from Billy Squier.
The Pointer Sisters had a huge hit with this slow rocker...
1981: Diana Ross & Lionel Richie teamed up for a fifth week at #1 with "Endless Love" and the Pointer Sisters held on to #2 for a third week with "Slow Hand". Christopher Cross roared into the Top 10 with "Arthur's Theme (Best That You Can Do)".
1986: Justin Hayward of the Moody Blues required hospitalization after collapsing in Los Angeles from exhaustion.
1987: Reacting to the departure of Johnny Marr earlier in the month, Morrissey left the Smiths to pursue a solo career.
1987: Michael Jackson began his world tour at Korakuen Stadium in Tokyo, Japan, the first of three dates at the venue.
1987: Michael Jackson owned the top album in the U.K. with Bad.
1987: Michael Jackson & Siedah Garrett spent a third week at #1 on the Adult Contemporary chart with "I Just Can't Stop Loving You".
1989: Linda Ronstadt and Aaron Neville released their version of the great Bill Medley song "Don't Know Much".
1989: Aerosmith released the album Pump.
1990: Stevie Nicks and Christine McVie announced they were done touring with Fleetwood Mac (at least temporarily).
1992: Sun Valley, Idaho's Peter Cetera remained at #1 on the Adult Contemporary chart with "Restless Heart".
1992: Boyz II Men held on to #1 on the R&B chart for a fourth week with "End Of The Road".
1996: Oasis canceled all dates on an upcoming tour of the United States, citing "internal differences".
1997: Stig Anderson, manager of ABBA and founder of Polar Records, died of a heart attack at the age of 66. Anderson co-wrote hits such as "Waterloo", "Mamma Mia", "S.O.S.", "Fernando", "Dancing Queen", "Knowing Me, Knowing You" and "The Name Of The Game". Anderson's funeral was broadcast live on Swedish television.
1999: Graham Nash broke both legs after his sailboat was hit by a large wave in Hawai'i. (Note: some websites say the incident occurred on September 13, but according to the Hawai'i newspaper 'The Star Bulletin', it was September 12.)
2000: Christina Aguilera released an album in Spanish, Mi Reflejo, which included Spanish versions of her debut as well as new songs.
2000: The family of Jimi Hendrix released The Jimi Hendrix Experience, a four-CD boxed set that included 56 rare tracks.
2003: Olivia Newton-John joined Neil Finn of Split Enz and Crowded House and Daniel Johns of Silverchair in a PETA protest against the ritual torture of elephants in Thailand.
2003: Mike Smith, lead singer of the Dave Clark Five, was paralyzed due to a fall on his estate in Spain.
2003: Johnny Cash, who crossed over to the rock charts several times, died of respiratory failure at the age of 71 in Nashville, Tennessee.
2004: The Pet Shop Boys performed a soundtrack composed for the Russian movie Battleship Potemkin in Trafalgar Square in London.
2004: Brian McFadden rose to #1 on the U.K. chart with "Real To Me".
2004: Tim McGraw had the top album in the United States with Live Like You Were Dying.
2004: Kenny Buttrey, drummer on the albums Tapestry by Carole King, Harvest by Neil Young and Bob Dylan's Nashville Skyline and who also worked with Elvis Presley, George Harrison, Dan Fogelberg and Donovan, died of cancer in Nashville, Tennessee at the age of 59.
2005: Seal and his wife Heidi Klum celebrated the birth of a son, Henry Günther Adeola Dashtu Samuel.
2007: The surviving members of Led Zeppelin announced in a press conference that they would reunite for the first time in 19 years for a tribute to the late Ahmet Ertegun, founder of Atlantic Records. Jason Bonham, son of the famous Zeppelin drummer John Bonham, took his place for the one-of-a-kind concert at the O2 Arena in London November 26.
2009: Colbie Caillat had the top album with Breakthrough.
2010: Ides of March Way was dedicated in the group Ides of March's ("Vehicle" from 1970) hometown of Berwyn, Illinois.
2011: Aretha Franklin was given the Founders Award from the Thelonius Monk Institute of Jazz at the Kennedy Center in Washington, D.C.
Born This Day:
1933: Jewel Akens ("The Birds And The Bees") was born in Houston, Texas; died March 1, 2013 in Inglewood, California from complications of back surgery.
1946: Tony Bellamy, lead guitarist, pianist and vocalist of Redbone ("Come And Get Your Love" from 1973), was born in Las Vegas, Nevada; died December 25, 2009 in Las Vegas of liver failure.
1943: Maria Muldaur ("Midnight At The Oasis") was born in Manhattan, New York. (Note: many websites report that Muldaur was born in Greenwich Village, New York. Greenwich Village, Harlem, or any other neighborhood anywhere in the world is not an official place of birth, and will never be listed on an official birth certificate. Muldaur was born in Manhattan.)
1944: Barry White was born in Galveston, Texas; died July 4, 2003 in Los Angeles, California after suffering a stroke in May. White had high blood pressure that triggered kidney failure, and doctors were unable to stave off infections.
1944: Colin Young of the Foundations ("Build Me Up Buttercup") was born in Barbados, West Indies.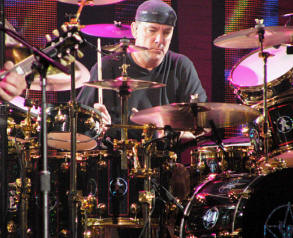 1952: Neil Peart, elite drummer and lyricist of Rush, was born in Hamilton, Ontario, Canada.
1952: Gerry Beckley, guitarist and founding member of America, was born in Fort Worth, Texas.
1956: Barry Andrews, vocalist and keyboardist of XTC, was born in Lambeth, London, England. (Note: several websites report Andrews was born in West Norwood, London. West Norwood is an area of town located in the Borough of Lambeth, not its own town. Andrews was officially born in Lambeth.)
1965: Norwood Fisher, bassist and founder of Fishbone
1966: Ben Folds, frontman and pianist of the Ben Folds Five, was born in Winston-Salem, North Carolina.
1968: Larry LaLonde, guitarist of Primus, was born in Richmond, California.
1981: Jennifer Hudson was born in Chicago, Illinois.