1956: Buddy Holly recorded at Decca Records for the first time, laying down "Blue Days, Black Nights", "Don't Come Back Knockin'", "Love Me" and "Midnight Shift" at Bradley's Barn Studio in Nashville, Tennessee.
1957: "Blue Monday" by Fats Domino was #1 on the R&B chart.
1960: Frankie Avalon appeared on The Arthur Murray Party on NBC-TV as a dancer.
1961: Elvis Presley had his sixth #1 song in the U.K. with "Are You Lonesome Tonight".
1963: The hard-working Beatles performed two concerts, one at the El Rio Club and Dance Hall in Macclesfield, Cheshire, England with Wayne Fontana and the Jets opening. The group then drove 20 miles to King's Hall, Stoke-on-Trent in Staffordshire for a night concert.
1963: The Rooftop Singers moved to #1 on the Easy Listening chart with "Walk Right In".
1963: "Walk Right In" made the fifth-biggest leap to #1 (11-1) of the Rock Era. "Hey Paula" by Paul & Paula also had a nice move (10-2) and those two outdistanced previous #1 "Go Away Little Girl" from Steve Lawrence. "Tell Him" by the Exciters came in fourth and Bobby Vee ranked #5 with "The Night Has A Thousand Eyes".
1965: Freddie Garrity of Freddie & the Dreamers ("I'm Telling You Now") was thrown out of the windshield of his car in an accident in England. Amazingly, he was treated and released from the hospital hours later.
1966: Eric
Burdon
sang lead vocals for Manfred Mann at a concert in London.
1969: When creative genius appears, get out of the way. On this day, while recording "Let It Be" and "The Long and WInding Road" for their album Let It Be at Apple Studios in London, the Beatles also recorded several covers, including "Shake Rattle and Roll", "Kansas City", "Miss Ann", "Blue Suede Shoes", "Tracks of My Tears", "You Really Got a Hold On Me" and "Lawdy Miss Clawdy". Drummer Ringo Starr wrote the song "Octopus's Garden" and the group came up with the idea of performing live on the roof of their headquarters. Not bad for a day's work.
1970: John Lennon wrote and recorded "Instant Karma".
1970: Chicago released their second album, ironically called Chicago II.
1970: Australia's first rock festival, the Ourimbah Rock Festival, drew a crowd of 11,000.
1970: Elvis Presley played two shows at the International Hotel in Las Vegas, Nevada.
1974: Dolly Parton first appeared on the charts as her first single, "Jolene" debuted.
1974: The Doobie Brothers opened their first tour of Europe in London.
1974: "Love's Theme", one of The Top 10 Instrumentals of the Rock Era* from Barry White's Love Unlimited Orchestra, was #1 on the Adult chart.
1974: Ringo Starr officially achieved his first #1 solo song with "You're Sixteen", although many radio stations had "It Don't Come Easy" at #1 in 1971. That sent previous #1 "Show and Tell" from Al Wilson down, while Barbra Streisand's hot song "The Way We Were" was up to #3.
One of Wings' finest albums yielded "Nineteen Hundred and Eighty-Five".
1974: The late Jim Croce was 1-2 on the album chart with You Don't Mess Around with Jim #1 for a third week and I Got A Name second. The Singles 1969-1973 from the Carpenters was next, followed by Elton John's Goodbye Yellow Brick Road and The Joker by Steve Miller Band. The rest of the Top 10: John Denver's Greatest Hits, Bette Midler at #7 with her self-titled release, Paul McCartney & Wings were up to #8 with Band on the Run, the Soundtrack to "Jonathan Livingston Seagull" from Neil Diamond and Charlie Rich had #10--Behind Closed Doors.
1975: BBC television aired the David Bowie documentary Cracked Actor.
1977: Peter Green, the first lead guitarist of Fleetwood Mac, was committed to a mental hospital in England. Green, who left the group in May, 1970, had threatened accountant Clifford Adams with an air rifle when Adams attempted to deliver a $51,000 royalty check to Green.
1980: The Clash appeared at the Deeside Leisure Centre in Queensferry, Flintshire, Wales.
1980: Prince made his television debut on Dick Clark's American Bandstand on ABC.
1980: Teri Desario with K.C. (of the Sunshine Band) took the Barbara Mason song "Yes I'm Ready" to #1 on the Adult Contemporary chart.
1980: Michael Jackson ruled on the R&B chart for a fourth week with "Rock With You".
1980: The great album Phoenix by Dan Fogelberg entered the Top 10.
1980: Michael Jackson's "Rock With You" couldn't be beaten for a second week as the Captain & Tennille stayed at 2 with "Do That To Me One More Time". Kenny Rogers advanced with "Coward of the County" while former #1 "Escape (The Pina Colada Song)" by Rupert Holmes was fourth and Smokey Robinson had a big solo hit with "Cruisin'". The rest of the Top 10: Stevie Wonder's "Send One Your Love", Cliff Richard and "We Don't Talk Anymore", Queen commanded an 18-8 move for "Crazy Little Thing Called Love", the Eagles moved into the Top 10 with "The Long Run" and the great song "Sara" from Fleetwood Mac moved from 15-10.
1985: Foreigner had the #1 album in the U.K. with Agent Provocateur.
Foreigner came up with such an incredible song that Madonna would have to step aside for soon
.
1985: Madonna had the #1 song for a fifth week with "Like a Virgin" but the fast-closing "I Want To Know What Love Is" from Foreigner was up to #2. Chicago's "You're the Inspiration" trailed those two, with "Easy Lover" from Phil Collins & Phillip Bailey fourth and Wham! moved from 10-5 with "Careless Whisper". The rest of the Top 10: "All I Need" from Jack Wagner, Bryan Adams slipped with "Run To You", Don Henley with "The Boys of Summer", Billy Ocean moved from 16 to 9 with "Loverboy" and Prince scored his ninth career hit and fourth consecutive Top 10 from Purple Rain--"I Would Die 4 (sic) U (sic)".
1986: Allen Collins, guitarist of Lynyrd Skynyrd, crashed his car, paralyzing him from the waist down and killing his girlfriend Debra Jean Watts.
1989: Bon Jovi performed at Reunion Arena in Dallas, Texas.
1989: Donnie Elbert ("Where Did Our Love Go" from 1971) died of a stroke at age 52 in Philadelphia, Pennsylvania.
1989: Rolf Harris ("Tie Me Kangaroo Down, Sport") was made a member of the Order of Australia.
1991: Cher filmed a video for the troops of Desert Storm during the Gulf War, with assistance from Paul Simon, Janet Jackson, Van Halen and Bonnie Raitt.
1991: Queen rose to #1 in the U.K. with "Innuendo".
1991: Enigma had the top U.K. album with MCMXC.
7
1
991: Surface had themselves a #1 song with "The First Time".
1991: "Because I Love You" by Stevie B was #1 on the Adult Contemporary chart for a second week.
1993: Rage Against the Machine performed at the Underworld in Camden, London.
1995: Joni Mitchell appeared at the Gene Autry Western Heritage Museum theater in Los Angeles.
1997: James Brown, ZZ Top and the Blues Brothers performed during the halftime show of Super Bowl XXXI.
2003: Billy Joel was admitted to a hospital after crashing his car into a tree in Sag Harbor, New York.
2005: In today's edition of Inmates Run Rap Music, Irv Gotti, boss of The Inc. Record Company, surrendered to the FBI, which accused the label of funneling drug money and using their company as part of a criminal empire.
2006: B.B. King performed for U.S. president George W. Bush at the White House.
2010: Lady Antebellum released the album
Need You Now
.
2011: Gladys Horton of the Marvelettes died from complications of a stroke at age 65.
Born This Day:
1939: Marshall Lieb of the Teddy Bears ("To Know Him Is To Love Him"); died March 15, 2002.
1943: Jean Knight ("Mr. Big Stuff") was born in New Orleans, Louisiana.
1944: Merilee Rush ("Angel of the Morning" from 1968) was born in Seattle, Washington.
1945: Ashley Hutchings, vocalist, songwriter, arranger and bassist of Fairport Convention and later a producer, was born in Southgate, Middlesex, England.
1946: Deon Jackson ("Love Makes the World Go Round" was born in Ann Arbor, Michigan.
1948: Corky Laing, drummer of Mountain ("Mississippi Queen"), was born in Montreal, Quebec, Canada.
1949: Derek Holt, bassist of Climax Blues Band ("Couldn't Get It Right") was born in Stafford, England.
1950: Paul Pena, who wrote "Jet Airliner" for Steve Miller, was born in Hyannis, Massachusetts.
1951: David Briggs, guitarist of the Little River Band and later an engineer and producer
1957: Eddie Van Halen, elite guitarist and songwriter of Van Halen, was born in Nijmegan, the Netherlands.
1958: Norman Hassan, vocalist and conga player of UB40, was born in Birmingham, England.
1958: Anita Baker was born in Toledo, Ohio.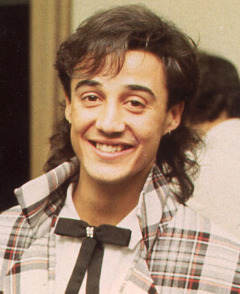 1963: Andrew Ridgeley, singer-songwriter and guitarist of Wham! was born in Windlesham, Surrey, England.
1963: Jazzie B (real name Beresford Romeo) of Soul II Soul was born in Hornsey, London.
1964: Susannah Melvoin, vocalist with Prince, Eric Clapton, Roger Waters and Mike Oldfield and songwriter for Madonna, Clapton and Prince, was born in Los Angeles.