In compiling The Top 500 One-Hit Wonders of the Rock Era*, we considered the initial and current popularity of the song and the artist, complexity of the song and the number and quality of future releases. Other factors taken into consideration include how much input the artist had into the One Hit Wonder: songwriting, instrumentation, production, etc. In other words, the more talented the artist, the more complex the song, the more popular the song, then and more importantly now, and the better their subsequent releases were, the higher the ranking.
To be eligible, an artist must have either had only one Top 100 hit or they scored a big hit and either never hit the Top 20 before or after that or never had more than one other Top 40 hit. Some organizations who construct similar One Hit Wonder lists eliminate an artist if they had two Top 40 or Top 100 hits. However, these songs are only minor "hits" that the majority of the people do not ever hear. By setting the bar at Top 20 hits, this list includes artists who scored a mainstream hit then essentially never tasted widespread success after their "One Hit Wonder".
This does exempt groups like EMF ("Unbelievable"), which is not eligible to be called a "One-Hit Wonder" because "Lies" was a hit in 1991, reaching #18. Similarly, A-Ha, which has enjoyed great worldwide success, landed the Top 20 hit "The Sun Always Shines on T.V." in addition to their smash "Take on Me". Michael Murphey ("Wildfire" in 1975) was headed for status as having one of The Top One-Hit Wonders of the Rock Era* until he landed at #19 with "What's Forever For" in 1982.
Then you have an artist such as Berlin, which had the minor hit "No More Words" before their #1 "Take My Breath Away", and then nothing after that. They are a judgement call. In Berlin's case, "No More Words" was a big enough hit, in fact one of
The Top Unknown/Underrated Songs of the Rock Era*
, that they are classified as having two hits. Stephen Bishop never hit the Top 20 after his Top 15 song "On and On". But he had three other Top 40 hits, enough success to be excluded from One Hit Wonder status.

Some artists, while perhaps having only one "hit" as defined by the industry, are nonetheless recognized as major stars and contributors to the Rock Era or to music in general, and can hardly be defined as One Hit Wonders. One example would be Getz & Gilberto, who combined for one of the landmark albums of all-time, Getz/Gilberto. Stan Getz did hundreds of albums in his career and won multiple Grammys and can i no way be called a "One-Hit Wonder". Jimi Hendrix, Dave Brubeck, Bobby McFerrin and Joan Baez are others, who may have had only one big hit, but are regarded as significant long-term stars. The inability of an organization or trade publication to gauge popularity of an artist or their music doesn't make them "One Hit Wonders".
Artists who were part of a successful group and only had one Top 20 solo hit are also a judgement call. Essentially, if the artist in question did an album occasionally away from the group, then continued on with the group does not fit the category. An example here is Ace Frehley of Kiss, who had the Top 20 hit "New York Groove". Marty Balin of Jefferson Airplane and Starship only had one Top 10 hit, "Hearts". But obviously, his contributions to one of the best groups of the Rock Era are so great that he doesn't fit the category.
Another judgement call is how serious the group was in staying together. This might seem silly but there are several instances in which a group of musicians just got together for a "one-off", to do one song or one album. Examples include Reunion ("Life Is A Rock") and the Firm ("Radioactive"). Temporary groups are not eligible for inclusion in this special.
An artist who only had one big hit in collaboration with another separate artist isn't eligible as a One Hit Wonder. Brooklyn Dreams comes to mind. They scored a Top 5 song with Donna Summer with "Heaven Knows" in 1979 and were never heard from again. The group reached the Top 5 largely because of Summer, and without her, they couldn't maintain that success. Rockwell scored one big hit largely with the considerable help of Michael Jackson, then had nothing else after that. There are numerous other examples of artists whose only big hit was largely the result of collaboration with and major contributions made by an established star.

There are several cases where an artist would classify as a One Hit Wonder in the United States or Great Britain, Canada, or another country. But if they exhibited significant worldwide success, to include them as a One Hit Wonder would not only be incorrect; it would be offensive. Shirley Bassey only had one big hit in the U.S.--"Goldfinger", but certainly great success in England and with her exposure in other James Bond movies. Take That, which only had one major hit in the United States, have nonetheless been superstars in Europe. Oasis, which technically only had one worldwide hit with "Wonderwall" ("Champagne Supernova" was only released as a "radio single" and Billboard magazine wasn't able to determine its popularity), nonetheless were pretty much superstars throughout Europe and received significant airplay in North America.
Stanley Clarke & George Duke, teamed for three albums with one big hit--"Sweet Baby". But each is a significant success on their own in the field of jazz and cannot be called a One Hit Wonder. Similarly, Lee Ritenour has been a huge star in jazz, as his 19 Grammy Award nominations attest to, and to classify him as a One-Hit Wonder because "Is it You" was his only big hit would be a mistake.

If an artist that had only one big hit isn't here, it doesn't mean they're not a One Hit Wonder--just that they don't rank among The Top 500 One-Hit Wonders*.


Starting us off, a Swedish group who enjoyed an unlikely worldwide hit in 1994:
#500: Cotton-Eye Joe--Rednex
Swedish producers Janne Ericsson, Örjan "Oban" Öberg and Pat Reiniz created this group that mixes A
merican folk music with Eurodance. They remade the folk song "Cotton-Eyed Joe" into a dance song in 1994 with huge worldwide success. The song hit #1 in the U.K., Germany, Austria, Sweden, the Netherlands, Norway and Switzerland and reached #25 in The United States.
The album Sex & Violins was released following the single's success. Annika "Mary Joe" Ljungberg sang most of the lead vocals on the album and was joined by Arne "Ken Tacky" Arstrand, Kent "Bobby Sue" Olander, Jonas "Billy Ray" Nilsson and Pat "Mup" Reiniz. Urban Landgren (BB Stiff) replaced Reiniz shortly afterwards. A follow-up album Farm Out was released in 2000 contained "Spirit of the Hawk", a #1 song in Germany.
Rednex records their songs with studio musicians and have rotated 19 different stage performers that are responsible for the image of the group at live shows.
The group has achieved achieved near superstar status in Germany with four Top 5 songs and have spent 25 total weeks at #1 in that country. Rednex has also been particularly popular in their home country of Sweden and has had hits in other parts of Europe, but "Cotton-Eyed Joe" has been their only worldwide hit. Rednex has released 17 singles in their career.
This One-Hit Wonder comes from 1971:
#499: Rings - Cymarron
Rick Yancey, Sherrill Parks and Richard Mainegra formed Cymarron, naming their group after Cimarron Strip, a television western from 1967. "Rings" was the first single released on Entrance Records, a division of Columbia. The song reached #17 in the United States in 1971. Although Yancey was a songwriter, "Rings" was written by outside writers. Lobo recorded his version of "Rings" in 1974. Cymarron was not able to follow up their success despite two albums and several other singles.
At #498, a group whose name in music means "a method of identifying compositions":
This group with lead singer Herwig Rudisser, guitarist Ewald Pfleger, Petra Douglas Charles Welby on glockenspiel, keyboardist Kurt-Rene Plisnier and drummer Gunter Grasmuck.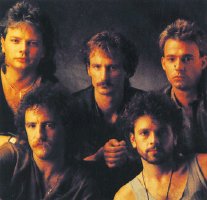 In 1985, Opus released the single "Live Is Live", which topped the Canadian charts for seven weeks, and hit #6 in the U.K. and #32 in the United States. The song has become a favorite at sporting events throughout Europe. "Flyin' High", which was #5 in their native Austria, is the group's next-biggest hit.
Opus has released 10 albums and six singles in their career.
The group at #497 is the result of one of several projects that Ron Dante originated:
#497: Tracy--Cuff Links
"Tracy" was the product of one of several anonymous recording sessions by Ron Dante ("Sugar, Sugar" was another). "Tracy" sold over a million copies. Dante promised "Tracy's" songwriters, Paul Vance and Lee Pockriss, that he would record an entire Cuff Links album if the song was a hit. This they did, with novice arranger Rupert Holmes hired to work on the album. "When Julie Comes Around" peaked at #41, and the Cuff Links released another album and a total of eight singles. There was some further success for the group in the U.K., but they could never match the overall success of "Tracy".
Up next, the actor and singer who is best known as Detective Kenneth "Hutch" Hutchinson in the popular 70's show Starsky and Hutch:
#496: Don't Give Up On Us--David Soul
At age 19, Soul turned down a professional baseball contract with the Chicago White Sox to study political science. Soul studied at the University of the Americas in Mexico City and the University of Minnesota. While in Mexico, Soul learned to play guitar and followed his passion for music.
Soul appeared on the television shows Merv Griffin, Flipper and The Streets of San Francisco. He got a big break when he was cast by Clint Eastwood in the movie Magnum Force. This led to Soul's role as "Hutch", and Soul also made guest appearances on Star Trek, All in the Family, Gunsmoke, Cannon, McMillan & Wife, I Dream of Jeannie, and numerous television movies and mini-series including Homeward Bound, World War III and Rage, a movie for which he received an Emmy nomination.
In 1977, Soul released "Don't Give Up On Us", #1 on both the popular and Easy Listening charts, which sold over a million copies.
Soul has released five albums and five singles, and had some continued success in the U.K., but could never match the worldwide success of "Don't Give Up on Us".
David loved Great Britain and gained British citizenship in 2004.
Up next, a group assembled by the leader of the group Foxy:
#495: Fascinated--Company B
This trio was formed in 1986 by producer Ish Ledesma and consisted of Lori Ledesma, Charlotte McKinnon and Susan Gonzalez. The group released "Fascinated" in 1986 on the independent label The Summer. The song did so well in the Miami area that Atlantic Records picked it up and re-released it. It was a #1 Dance song and reached #21 overall.
Company B released two more albums but subsequent singles failed to chart.
We now look at the singer, songwriter and arranger that is credited with discovering the group the Dixie Cups:
#494: You Talk Too Much--Joe Jones
Jones hailed from New Orleans, Louisiana and in addition to his Top Five song "You Talk Too Much", he also recorded "California Sun", which became a hit for another One Hit Wonder, the Rivieras. It was Jones' only other charted song.
We turn to a Dutch novelty act that was popular in the United States, the United Kingdom, throughout Europe and Australia in the early 1980's.
#493: Medley--Stars on 45
The group consisted entirely of studio session musicians under the direction of Jaap Eggermont, who made a name for himself as part of Golden Earring ("Radar Love" and "Twilight Zone"). Eggermont popularized the medley by recreating hit songs as faithfully as possible and assembling them with a common tempo and underlying drum track. The technique was later copied often, most notably by the Hooked on Classics series of recordings later in the decade.
The vocalists were all established Dutch singers. Bas Muys of the 1970's Dutch group Smyle sang John Lennon's parts, Hans Vermeulen of Sandy Coast sang Paul McCartney's parts and George Harrison's parts and Okkie Huysdens sang George Harrison's vocals. Eggermont and arranger Martin Duiser wrote an original chorus, added at intervals to help string differing sections together.
The song hit #1 in the Netherlands and the United States and #2 in the U.K. and went gold in the U.S. It continues to hold the all-time record as being the #1 song with the longest name, as,
because of legal requirements, each song in the medley had to be listed in the title.
Stars on 45 released 5 albums and 9 singles, and achieved some success in U.K. and Netherlands, one of the best of these was the "Abba Medley".
Just ahead, an actor/comedian who scored a surprise hit in the recording studio:
#492: Party All the Time--Eddie Murphy
Murphy grew up in Brooklyn and at age 15, was writing his own comedy routines. He moved to San Francisco and performed stand-up at the same Bay Area Comedy Club as Robin Williams and Whoopi Goldberg. Throughout his career, however, Murphy was unable to get consistent laughs without swearing and in time, the act wore thin.
Murphy was a regular on Saturday Night Live and parlayed that success into starring roles in several blockbuster movies, including 48 Hours and Beverly Hills Cop I & II.



He dabbled at singing with his debut album How Could It Be. The album included the single "Party All the Time", which amazingly reached #2. He recorded the album Love's Alright, but it bombed.
This artist is better known as an actor, but his song in 1984 made him a One-Hit Wonder:
#491: "All I Need"--Jack Wagner
Wagner went to St. Francis Borgia Regional High School, where he played football and basketball. He attended the University of Missouri for one year and eventually received a full drama scholarship at the University of Arizona.
Wagner landed his big acting break when he was cast as Frisco Jones on the hugely-popular television soap opera General Hospital. In 1985, Jack was nominated for a Daytime Emmy Award for Best Younger Actor. Wagner also starred on other soap operas such as Melrose Place, The Bold and the Beautiful and Santa Barbara and appeared in several television movies. Wagner received another Daytime Emmy nomination for Best Lead Actor in 2005 for his role in The Bold and the Beautiful.



Wagner has also recorded five albums in his career. Jack was introduced to legendary producer Quincy Jones while acting in soap operas. With Jones's help, Wagner scored the #2 hit "All I Need" (#1 on the Adult Contemporary chart) in 1984 but despite six albums, the best he could do besides that was "Too Young" in 1985.
Wagner is one of the top celebrity golfers, as he is the only non-professional athlete to have won the American Century Celebrity Golf Classic (2006 and 2011).
The artist at #490 had releases in the double digits, but one big hit:
#490: Things I'd Like to Say--New Colony Six
Lead singer Ray Graffia, drummer Chick James, Pat McBride on harmonica, Craig Kemp (organ), bassist Wally Kemp and guitarist Gerry Van Kollenburg formed the New Colony Six in Chicago, Illinois in 1965. Ronnie Rice replaced Kemp in 1966.
The group achieved local success with "I Confess" in 1966 from their debut album, Breakthrough. "Things I'd Like to Say" reached #16 in 1969. The next-best song by the New Colony Six was "I Will Always Think About You" (#22 from 1968). The group released four albums and 10 singles in their career.


Just ahead of New Colony Six, a duo which met at an early age and transformed their friendship into a One Hit Wonder act in the 1980's:
#489: Don't Stop the Music--Yarbrough and Peoples
Cavin Yarbrough and Alisa Peoples grew up in Dallas, Texas. They met taking piano lessons and remained friend throughout childhood. The two started the band Grand Theft before moving to Los Angeles. The duo signed a recording contract in 1979 and released their debut album, The Two of Us. "Don't Stop the Music" reached #1 on the sub R&B chart and #19 overall in the United States and #7 in the U.K.



Yarbrough and Peoples released four albums and did well on the R&B chart, but would never crossover to the mainstream again.
They did, however, form their own music production company and continue to write, produce, and perform concerts and mentor music newcomers.
#488--time for our first instrumental:
#488: Alley Cat--Bent Fabric
Bent Fabricius-Bjerre began a jazz ensemble after World War II and founded his own recording label, Metronome Records, in 1950. In 1961, he recorded "Omkring et Flygel", which means "Around a Piano", and the song became a hit in Denmark. Worldwide, the song was released as "Alley Cat". It reached #7 in the United States and #1 in Australia and sold over a million copies.
Fabric released 11 albums and four other singles in his career.
The next One Hit Wonder tried a proven song to get their big moment:
#

487: Baby, I Love Your Way--Big Mountain
This group evolved from the band Rainbow Warriors in San Diego, California. Their remake of the Peter Frampton hit, "Baby, I Love Your Way" was included on the "Reality Bites" Soundtrack and launched Big Mountain to the #6 position.

The group released five albums and tried nine more singles, but all fell short of the mark.
This artist from Oakland, California became one of the top bongo players of his time:
#486: Bongo Rock--Preston Epps
Epps learned to play percussion, including the bongos, while stationed in Okinawa, Japan during the Korean War. After military service, Preston moved to Southern California, playing coffee shops and working several odd jobs to make ends meet. Local disc jockey Arthur Laboe signed Epps to Original Sound Records, which released the single "Bongo Rock" in 1959.
The song reached #14 for Epps. A follow-up, "Bongo Bongo Bongo" was #78, and further bongo-related singles did not match the success of his initial release. Epps appeared as a bongo player in the movie Girl in Gold Boots, and played as a session musician in the 1960's and 1970's.
We shine the One Hit Wonder spotlight now on a British novelty act of the 60's:
#485: Winchester Cathedral--New Vaudeville Band
Geoff Stephens created this group of session musicians as a vehicle to record his novelty composition. To his surprise, the song became a big hit, reaching the Top 10 in the U.K. and #1 in the U.S. Sales of the single topped three million, one million in the United States and the song won a Grammy for Best Contemporary Song of 1967.
The group released an album titled Winchester Cathedral. When Stephens received several requests for the New Vaudeville Band to tour, he had to put together a group, since only session musicians had recorded the album. In 1967, the group released the On Tour album. The New Vaudeville Band also contributed to the Soundtrack of "The Bliss of Mrs. Blossom", but the novelty was beginning to wear off.



Another album--While We Are All Assembled--was released in 1979 as the group reunited briefly.
Another great One Hit Wonder is up next from Marshall Hain:
#484: Dancing in the City--Marshall
Hain
Marshall Hain were a British duo consisting of keyboardist Julian Marshall and vocalist and bassist Kit Hain. The two met while attending school at Dartington Hall School in Devon, England. "Dancing in the City", written by both members, reached #3 in the U.K. in 1978, #1 in Australia and South Africa and #43 in the United States.
The duo released the album Free Ride but it didn't sell well and Marshall Hain called it quits in 1979. Hain released two solo albums and has been a prolific songwriter. She has written songs for Fleetwood Mac, Cher, Heart, Peter Cetera ("Feels Like Heaven"), Cyndi Lauper, Judy Collins, 'Til Tuesday, Roger Daltrey and Kiki Dee, among others. Marshall became a member of Flying Lizards and later formed Eye to Eye, themselves a One Hit Wonder.
Our next One-Hit Wonder comes straight out of the disco era:
#483: Native New Yorker--Odyssey
Odyssey formed in New York City with sisters Lillian and Louise Lopez and singer Tony Reynolds later joined. "Native New Yorker" reached #21 in the United States and #5 in the U.K. in 1978.
Reynolds left after the first album and despite seven successive albums and 10 singles, the group could never match the worldwide success of their One Hit. They were able to score further hits in the U.K., but they were limited in their reach.
Just ahead, the act that was once the backup band for Boyz II Men and Shanice:
#482: Live and Learn--Joe Public
Joe Public evolved from the group Atension and were signed to Island Records in 1989. The group from Buffalo, New York included lead singer and bassist Kevin Scott, keyboardist and guitarist Jake Carter, Dwight Wyatt on drums and lead guitarist Joe "J.R." Sayles. Joe Public released their self-titled debut album on Columbia Records, and the single "Live and Learn" reached #4 in the United States and #43 in the U.K. Joe Public was the first R&B group to perform on MTV's Unplugged series.



"I Miss You" was the next best song for the group, but it only reached #55. The group recorded a second album,
Easy Come, Easy Go
in 1994 and continue to write songs, penning "Keep It Comin'" for Keith Sweat and also writing songs for Tyrese.
The next featured artist is a talented act with an eclectic repertoire:
#481: Third Rate Romance--Amazing Rhythm Aces
This group went by the name of Fatback when they originated in Knoxville, Tennessee in the late 1960's. Lead singer and songwriter Russell Smith, bassist Jeff "Stick" Davis and drummer Butch McDade formed the Aces, bringing in keyboardist Billy Earhart III, lead guitarist and multi-instrumentalist Barry "Byrd" Burton and pianist James Hooker.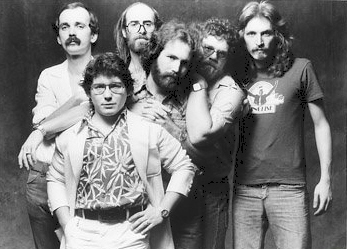 The group released their debut album in 1975, Stacked Deck, which included "Third Rate Romance". The song reached #14 in the United States and #1 in Canada and was the talented group's only song to make the Top 40. The group released three other albums before disbanding.
Smith turned his attention to songwriting after the Aces split, Earhart joined Hank Williams, Jr's Bama Band, Cameron joined Sawyer Brown and Burton went on to become a successful producer and session guitarist. The Aces reformed in 1994 and have released several albums since. The group has released a total of 14 albums and six singles, but could never match the success of "Third Rate Romance".
Up next, an artist doomed by the number of years between album releases:
#480: Kiss The Rain--Billie Myers
Myers was born in Coventry, England and after school, worked as a nurse and an insurance agent. She soon turned to music and was discovered in a club by producer Peter Harris. Encouraged by Harris, Myers began writing songs for a debut album.
Myers inked a recording contract with Universal Records in 1997. The album Growing, Pains was produced by Desmond Child and contained the single "Kiss the Rain", which hit #4 in the U.K. and #15 in the United States. "Kiss the Rain" helped the album go gold and the song and other singles appeared in television commercials and in the television series Dawson's Creek. "Tell Me" was released as the next single and reached #28 in the U.K. but only charted on the Adult chart in the U.S. Two other singles from Growing, Pains went nowhere.


Myers then went three years before another album, a cardinal sin in the music business. Myers wrote the score for the movie Down to You, but when she finally released Vertigo in 2000, the public had largely forgotten about her. Both singles from Myers' second album failed to chart.
In 2005, Myers released the single "Just Sex", and although it was a Dance hit, the song didn't get played beyond that.
Myers released her third album nine years after Vertigo. By that time, she had been dropped from Universal, and she started her own record company, Fruit Loop Records. Of course, she didn't have the capacity to promote the album that major labels do, and although "Wonderful" received airplay in clubs, radio ignored it.
Myers has released three albums and nine singles in her career.
This artist from Spanish Town, Jamaica enjoyed a gold record with her big hit:
#479: Shy Guy--Diana King
King signed a recording contract with Sony Music following her appearance on the 1994 song "Respect" by the Notorious B.I.G. "Shy Guy" reached #13 in the United States and #2 in the U.K. and sold over five million singles worldwide.
King has released four albums and 11 singles in her career.
This group launched their career when they convinced a department store in San Diego, California to play their music through the listening booths in the store's record department:
#478: Angel Baby--Rosie & the Originals
After getting exposure in a most unique way, listeners responded in such a way that Highland Records signed the band and promoted "Angel Baby". The song hit #5 in 1960.
Rosie & the Originals wrote their own music and released four other singles after their One Hit Wonder.
At #477, the pride of Providence, Rhode Island:
#477: Sweet Mary--Wadsworth Mansion
Wadsworth Mansion released their self-titled debut album on Sussex Records in 1971. "Sweet Mary", written by guitarist Steve Jablecki, reached #7, but two subsequent releases failed and the group was short-lived.
This next artist proved that optimism pays!
#476: The Future's So Bright (I Gotta' Wear Shades)--Timbuk3
Timbuk 3 was formed by the husband and wife team of Pat (acoustic, electric, bass and MIDI guitars, harmonica, vocals and drum programming) and Barbara MacDonald (electric and acoustic guitar, mandolin, violin, rhythm programming and vocals).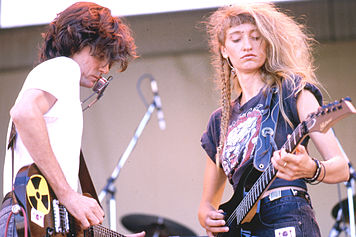 Timbuk3 signed with I.R.S. Records in 1986 and released their debut album, Greetings from Timbuk 3. The duo was nominated for Best New Artist at the Grammy Awards and appeared as the house band in a bar in the 1988 movie D.O.A. "The Future's So Bright, I Gotta' Wear Shades" reached #19 in the United States and #21 in the U.K.



Despite releasing seven more albums, the group could not follow up their success and broke up in 1995. Pat moved to Barcelona and has released several albums on Ulftone, an independent label in Germany. Pat has released two albums, including a set of acoustic covers of Timbuk3 songs.
And there you have the first 25. Join us tomorrow for the next edition!