We have 25 more of The Top 500 One-Hit Wonders of the Rock Era* all cued up:
Two talented musicians joined together for their big hit in 1980:
#350: Video Killed the Radio Star--Buggles
Trevor Horn (vocals, bass guitar, guitar) and Geoff Downes (keyboards) first met in 1979 but joined different groups. Horn wanted to become a producer, but he couldn't find the right artists to work with. As a result, he reunited with Downes and, along with Bruce Wooley, began writing music. Downes and Horn formed the Buggles and a demo of "Video Killed the Radio Star" was sent to Island Records, who signed them immediately.
The duo released their debut album, The Age of Plastic, in 1980. "Video Killed the Radio Star" reached #1 in 16 countries. Horn and Downes began work on a second album, working in a studio next to the group Yes, who had recently lost lead singer Jon Anderson and keyboardist Rick Wakeman. Brian Lane, who was a manager of both bands, suggested that Yes invite Horn and Downes to become members. This came to be, and Horn and Downes were part of Yes for the 1980 album Drama, but Yes broke up the following year. Horn and Downes resumed recording the Buggles' follow-up album, Adventures in Modern Recording, which was not successful. When Downes left to join the new group Asia, the Buggles split.


Horn in fact realized his dream of being a successful producer, working with Paul McCartney, Cher, Tina Turner, Seal, Simple Minds, the Pet Shop Boys, Charlotte Church, ABC, Dollar, Frankie Goes to Hollywood, the Art of Noise, and with a reformed Yes for the albums 90125 and Big Generator.
Downes continues to play with Asia but he and Horn have been performing Buggles songs together since 1998 as well.
This blues giant broke through for one song that received airplay in 1987:
#349: Smoking Gun--Robert Cray
Cray began playing guitar as a teenager and went to Denbigh High School in Newport News, Virginia. His first ambition was to be an architect, but while studying architectural design, Robert formed the band Steakface.
Inspired by the live shows of Albert Collins, Freddie King and Muddy Waters, Cray formed his own band and began playing gigs on the West Coast. Cray was the bassist in the house party band in the 1978 movie National Lampoon's Animal House. After good regional success, Cray signed a contract with Mercury Records in 1982.
It was Cray's third album, Strong Persuader, that pushed Cray into the mainstream, won him a Grammy Award, and gave him the only song, "Smoking Gun", that had wide appeal. The single peaked at #22 in the United States. Through the strength of "Smoking Gun", Cray began opening for major stars such as Eric Clapton.
Cray has released 16 albums and 12 singles, and has continued to do well in his genre. In 2011, Cray was inducted into the Blues Hall of Fame.
Electronic wizardry from the #348 One-Hit Wonder:
#348: Autobahn--Kraftwerk
This German group from Dusseldorf is one of the pioneers of electronic music. Ralf Hutter (organ and synthesizers)) and Florian Schneider (
flutes, synthesizers and electro-violin
) formed the group in 1970 and have led them until Schneider's departure in 2008. The two met while attending Robert Schumann Hochschule in the late 1960's.
Hutter and Schneider joined a group called Organisation and released an album but the group disbanded shortly afterwards. Hutter and Schneider worked with several musicians in recording three albums consisting of free-form experimental rock as Kraftwerk in the early 1970's. Wolfgang Flur joined the group in 1973, and they performed as a trio on the television show Aspekte in Germany.
This early music utilized more common instruments such as lead guitar, bass, drums, etc., but they evolved into synthesized sound, drum machines and the vocoder (a voice encoder that is used to reproduce human speech). Kraftwerk released the album Autobahn in 1974 and for the first time, toured the United States, Canada and the U.K. The title single "Autobahn" reached #4 in New Zealand, #11 in the U.K. and #25 in the United States. Flur and new member Karl Bartos performed self-made electronic percussions; this lineup remained in place until the late 1980's.
Kraftwerk has released 10 albums and 24 singles in their career. Their influence is evident in acts such as Depeche Mode, the Human League, Orchestral Manoeuvres in the Dark and Soft Cell, to name a few. Kraftwerk has done very well in their native Germany and in the U.K., but "Autobahn" represents their only major worldwide success.
This Canadian group wasn't in the public eye for long, but they gave us this memorable song:
The Bells (originally known as the Five Bells) formed in Montreal, Canada in 1965. South African natives Anne and Jackie Ralph were joined by Cliff Edwards, Doug Gravelle and Gordie McLeod.

The group enjoyed their first hit with "Moody Manitoba Morning" in 1969 and after shortening their name, followed that up with "Fly Little White Dove Fly", a Top 10 hit in Canada. Pianist Frank Mills joined the Bells for a brief time from 1970 to 1971; he later would gain fame with the song "Music Box Dancer".

After Mills left, Dennis Mill became the group's pianist and Charlie Clark also joined the group as vocalist and guitarist. In 1971, the Bells released "Stay Awhile", a duet between Ralph and Edwards. The song reached #1 in Canada, #7 in the United States and #9 in Australia and sold over four million copies worldwide. This led to appearances on The Tonight Show and The Merv Griffin Show.
The group broke up when Edwards left for a solo career. The Bells had three Top 10 hits in their native Canada from their final album, Pisces Rising.
Up next, a group whose live act include wild satires of politics, media and consumerism:
#346: She's a Beauty--Tubes

The Tubes began when two bands from Phoenix, Arizona, the Beans and the Red, White and Blues Band, both moved to San Francisco in 1969 and eventually merged. Lead singer Fee Waybill, Bill "Sputnik" Spooner (guitar and vocals), Roger Steen (Guitar), Prairie Prince on drums, Michael Cotten (synthesizer), Vince Welnick (piano) and Rick Anderson on bass formed the Tubes and that lineup remained intact for more than a decade.

The group exaggerated show business, with Waybill assuming an onstage persona of a drunk, drugged out lead singer, wearing flashing glasses and stilt-like platform shoes. They opened for Led Zeppelin in San Francisco in 1973. The group recorded their self-titled debut album in 1975. Live shows featured references to movies such as Saturday Night Fever, Dr. Strangelove and Grease, television (including Let's Make a Deal) and literature.

The Tubes were resident performers at the Winterland Ballroom and the Palace of Fine Arts in San Francisco, the Whisky a Go Go and Hammersmith Odeon in London.

These live shows were expensive, and after recording four unsuccessful albums, the group was short of money by 1980. A&M Records released the group prior to a fifth album, but the Tubes were able to sign with Capitol Records. Out of necessity, however, they scaled back their live performances and reinvented themselves as a rock group, joining with producer David Foster.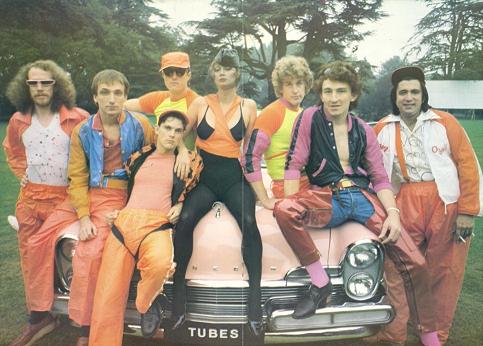 The group landed a spot on the Xanadu Soundtrack thanks to Foster, performing the rock portion of the cross-genre song "Dancin'" opposite a big band. The Tubes released The Completion Backward Principle in 1981 and enjoyed a Rock hit with "Talk to Ya Later". They hit the Top 40 for the first time with "Don't Want to Wait Anymore". In 1983, the Tubes released the album Outside Inside, which included their only overall success, "She's a Beauty".

In 1985, the Tubes hired Todd Rundgren to produce their sixth album, Love Bomb, but the group was dropped by Capitol just as they went on a national tour. As a result, the group found themselves half a million dollars in debt, and the act which satarized consumerism was forced to play low-budget concerts to pay it off.

Waybill left the group in 1986 and although the group went on to record 14 career albums, they were never the same.
This artist gave us one of the only foreign language #1 songs of the Rock Era:
#345: Sukiyaki - Kyu Sakamoto
Sakamoto developed an interest in high school in Kawasaki, Japan and played the trumpet in the school band. He began singing and in 1958, joined the Japanese group the Drifters (not to be confused with the classic U.S. soul group of the same name).
Kyu left the group in 1958 and joined the band Danny Lida and Paradise King. The group landed a recording contract with JVC Records and released the single "Kanashiki rokujyussai" in 1960. Danny Lida and Paradise King was popular in their native Japan, which led to Sakamoto obtaining a solo contract with Toshiba Records.
Sakamoto enjoyed a top-selling Japanese song in 1961 with "Ue o muite aruko". In 1963, Louis Benjamin, owner of Pye Records, visited Japan and heard the song. Benjamin wanted to bring it back to England but because the title would be difficult for English speakers to pronounce, renamed it "Sukiyaki", which has no actual connection to the song.
Pye Records released an instrumental version of the song by Kenny Ball and His Jazzmen, a hit in England. But Capitol Records released Sakamoto's original Japanese version in the United States, which caught fire and reached #1 for three weeks. The song sold over one million copies and led to a world tour for Sakamoto. Kyu appeared on several television shows including The Steve Allen Show in 1963.
Sakamoto released three albums, but "China Nights" (Shina no Yoru)" was the best he could do at #58. He also appeared in seven movies in his career. A full 49 years later, Sakamoto's song remains as the only Japanese song to ever reach #1 in the United States. A Taste of Honey remade the song in 1981 and enjoyed a Top 10 hit with it. In 1999, Japan Post issued a stamp in honor of Sakamoto and "Sukiyaki".
This group had everyone talking in 1971 with their big hit:
Rupert Holmes, who later enjoyed success with songs such as "Escape" and "Him", discovered the Buoys and convinced Scepter Records to sign them to a contract. "Timothy" was deliberately written by Holmes to get banned so as to draw attention to the group. It was based on a theme of cannibalism. The song was censored by some radio stations and banned by others, but despite this, reached #17 in the United States in 1971. Executives at Scepter did not understand what the song was about until after it was released, after which they claimed that Timothy was a mule.
Holmes also co-wrote the song "Give Up Your Guns" for the group, but it only reached #84. He also wrote several other songs for the Buoys, but none caught on like "Timothy".
This artist took a clever song that enabled her to break out of the country market for one hit:
Sylvia first performed at a church near her hometown of Kokomo, Indiana at age three. She moved to Nashville, Tennessee in 1976 and started out as a secretary for producer Tom Collins. Sylvia kept her music aspirations alive, and signed a recording contract with RCA Records in 1979.
Sylvia enjoyed some country success but the large majority of people had never heard of her. Then in 1982, she released the album Just Sylvia.
Sylvia enjoyed her only crossover success from the small but loyal country market with "Nobody" in 1982, which reached #15 and went Gold.
Although Sylvia continued to record until 1987, releasing eight albums and 20 singles, "Nobody" was the last major hit for her.
This innovative and versatile artist provided inspiration for dozens of acts following him:
Gary Numan utilized heavy synthesiser hooks fed through guitar effects pedals to achieve his unique sound that made him a groundbreaker in commercial electronic music.
Numan (real name Gary Webb) went to Slough Grammar School. He owned his first guitar at age 15 and played in bands including Mean Street and the Lasers. At the end of the 70's, Numan became the lead singer, writer and producer for Tubeway Army.
In 1978, Numan and Tubeway Army signed with Beggars Banquet Records. They released several singles and a self-titled debut album. The single "Are Friends Electric?" reached #1 in Numan's native U.K. but couldn't achieve worldwide success.
Numan released a solo album (The Pleasure Principle) in 1979 that finally hit home on both sides of the Atlantic. The album yielded "Cars", which was #1 in the U.K. and Canada and #9 in the United States. Numan played to sold-out crowds in promotion of the album and released a concert video that is thought to be the first full-length commercial music video release.
After several electronic albums, Numan tried his hand at jazz, funk, and rhythmic pop.
Artists such as Dave Grohl of the Foo Fighters and Nirvana and Trent Reznor of Nine Inch Nails have said they were influenced by Numan's music.
To date, Numan has released 23 albums and 47 singles, and he's enjoyed good success in Europe, but "Cars" remains his only mass appeal worldwide success.
This group rode an Animals classic to their one big hit:
#341: The House of the Rising Sun--Frijid Pink
Frijid Pink began when drummer Richard Stevers, bassist Tom Harris, guitarist Gary Ray Thompson and singer Tom Beaudry joined in Detroit in 1967. The group played gigs in the Detroit area for two years before signing with Parrot Records. Frijid Pink's first two singles failed to chart, but in 1969, they made it with a distorted guitar version of the Animals' classic "House of the Rising Sun".
"House of the Rising Sun" was a Top 10 song in both the United States and the U.K. and sold over one million copies. Frijid Pink can brag that once in 1969, Led Zeppelin actually opened for them in Detroit.
Frijid Pink released their debut album in 1970 but subsequent releases were unsuccessful and they went through several lineup changes. The group has reunited several times in various forms where audiences can hear them perform that one big hit.
At #340, the artist responsible for one of the biggest disco hits of the Rock Era:
#340: Born to Be Alive--Patrick Hernandez
Hernandez toured dance halls and ballrooms in his native France with several groups in the 1970's. He met arranger, guitarist and vocalist Herve Tholance and the two formed a duo. They began achieving success backing French musicians such as Francis Cabrel, the group Gold and Laurent Voulzy.
In 1978, Hernandez met producer Jean Vanloo and signed a recording contract. After working with Vanloo for a year, songs were released on Aquarius Records in France in November. The first single was "Born to Be Alive", which caught on in Italy, spread throughout Europe (hitting #1 in France) and then catching on like wildfire all over the globe. The single was remixed and reached #16 in the United States, selling over one million copies, and hitting #10 in the U.K.
Hernandez held auditions in New York City for dancers to accompany him on a worldwide tour. One of the dancers chosen was a young Madonna. In the 80's and 90's, Hernandez toured and played with other artists in Europe.
Up next, the only Italian group among the One-Hit Wonders:
#339: Blue (Da Ba Dee)--Eiffel
Eiffel 65 is a three-piece Italian group formed in 1998. Group DJ and producer Gabry Ponte, Jeffrey Jey on vocals and bass and Maury Lobina (keyboards and guitar) made up the band. "Blue (Da Ba Dee)" peaked at #6 in 1999. But Gabry Ponte broke up the group to concentrate on a solo career.
Up next, an artist who reinforced women's opinion of men:
#338: Mambo No. 5--Lou Bega
David Lubega spent much of his childhood in Italy before the family moved to Munich, Germany. He also lived in Miami, Florida and Uganda.
At age 13, Bega formed a hip hop group and they eventually released a CD in 1990. Upon returning to Munich, Bega met Goar manager Goar Biesenkamp and producers Achim Kleist and Wolfgang von Webenau. Together, they developed the concept for the song "Mambo No. 5 (A Little Bit of...)". The song is a remake of a 1949 instrumental from Perez Prado in which Bega added the words.
"Mambo" reached #1 in most European countries including the U.K. and Germany and it peaked at #3 in the United States. A follow-up single, "Tricky Tricky" was #18 in Canada and #74 in America, but that was the next best thing Bega could do as a performer. He has hosted the American Music Awards and the Grammy Awards.
A return to the music industry proved golden for this next soul singer:
#337: Groove Me--King Floyd
Floyd began his career as a singer at the Sho-Bar on Bourbon Street in New Orleans, Louisiana. After serving in the United States army, Floyd moved to California and hooked up with producer Harold Battiste. But after his debut album, A Man In Love, failed to attract fans, Floyd returned to New Orleans and worked for the U.S. Postal Service.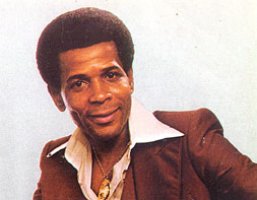 In 1970, arranger Wardell Quezergue talked Floyd into recording "Groove Me" with Malaco Records. Initially, "Groove Me" was the B-side to the single "What Our Love Needs", but when DJ's in New Orleans began playing the flip, the song became a local hit. Atlantic Records assumed national distribution of the song which hit #1 on the R&B chart, reached #6 overall and sold over one million copies. Floyd had to quit his job at the post office to perform a U.S. tour. His follow-up single, "Baby Let Me Kiss You" reached #29, just shy of having a second Top 20 hit and making him eligible for this special. Subsequent songs failed to make him a star, as disco dominated the late 1970's.
Up next, an artist who capitalized on the CB craze of the 70's:
#336: Convoy--C.W. McCall
In 1973, C.W. McCall (real name William Fries, Jr.) created a Clio Award-winning television advertising campaign for the Metz Baking Company while working for the Omaha, Nebraska advertising agency Bozell & Jacobs. The ads featred a truck driver named C.W. McCall (played by an actor) and songs such as "Wolf Creek Pass" and "Black Bear Road". Fries sang and wrote the lyrics while Chip Davis, later of Mannheim Steamroller, wrote the music.
In 1976, CB radios were all the rage; they just weren't for 18-wheeler drivers anymore. McCall rode the wave with "Convoy", which reached #1 and sold over two million copies. Two years later, the movie Convoy was released, based on McCall's hit song.
McCall released eight albums and 12 singles, but "Convoy" was his only song to reach the Top 20. But he did serve as mayor of Ouray, Colorado for six years beginning in 1986.
At #335, this act from Chapel Hill, North Carolina:
#335: Brick--Ben Folds Five
The Ben Folds Five was actually a trio formed by Ben Folds (lead vocals and keyboards), Robert Sledge (bass and synthesizer) and Darren Jessee on drums and percussion. The three formed in 1993 in Chapel Hill, North Carolina.

The Ben Folds Five recorded their self-titled debut album in 1995 on Caroline Records. But it was their second album, Whatever and Ever Amen in 1997, that brought them success. The album contained "Brick", which is by far the best song they've done although they have had other limited success on the sub-genre Modern Rock chart. "Brick reached #19 for the group and also found favor on the Adult Contemporary chart.
Although Folds has released solo albums, the Ben Folds Five reunited for a concert in 2008 and reportedly are set to record a new album.
This artist went from accompanying Bruce Channel on his #1 hit in the 50's to enjoying his own hit in 1980:
#334: Giving it up for Your Love--
Delbert McClinton
McClinton has been a side musician since 1962; he's played blues, country and rock. He worked in a bar band in Texas known as the Straitjackets. McClinton recorded several singles before playing harmonica on "Hey! Baby" for Bruce Channel. While touring in the U.K., McClinton showed his skills to John Lennon.
In 1972, Delbert moved to Los Angeles and released a couple of albums with Glen Clark before embarking on a solo career. In 1980, McClinton released the album The Jealous Kind, which contained the #8 song "Givin' It Up for Your Love". McClinton won a Grammy in 1991 for his duet with Bonnie Raitt, "Good Man, Good Woman". He also recorded the opening song "Weatherman" for the movie Groundhog Day.
McClinton has released 23 albums and 16 singles, but never enjoyed success like he did with his one hit.
Up next, a talented and respected singer-songwriter who owns one of The Top Unknown/Underrated Songs of the Rock Era*. Had more radio stations played it, he likely would have become a big star:
(Click on link to listen...)
Schwartz graduated from York University in Toronto, Ontario, Canada and began playing guitar for Charity Brown's backing band. In 1979, he signed a solo contract with Infinity Records. Eddie released the album Schwartz in 1980 with A&M Records. One of the songs he wrote, however, generated more attention. That was "Hit Me With Your Best Shot", which became one of Pat Benatar's biggest career hits.

Schwartz followed that up with the album No Refuge in 1981. "All Our Tomorrows" generated considerable interest in both the United States and Canada, reaching #28 in the former. At least half of the songs on the album have since been covered by other artists.

Public Life was released in 1983 and featured another hit in his native Canada, "Strike" as well as "Special Girl", a song which became a hit for the group America.
In the late 1980's, Schwartz focused on songwriting and producing, working with the Doobie Brothers, Donna Summer, Rita Coolidge and Paul Carrack and writing "Don't Shed a Tear" for Carrack and "The Doctor" for the Doobie Brothers.
Up next, one of the most-loved performers in England:
#332: Stranger on the Shore--Mr. Acker Bilk
Bernard Stanley "Acker" Bilk received his nickname from the slang word for friend. He learned clarinet while serving in the Royal Engineers in the Suez Canal Zone. By the mid-1950's, Bilk was playing professionally.
In 1954, Bilk joined Ken Colyer's traditional jazz band before forming his own ensemble, the Paramount Jazz band, in 1956. The group had good success on the British chart with "Summer Set" and other singles that followed.
Then, an experiment with a string ensemble playing his song clicked with the masses. Bilk had written a song named after his newborn daughter called "Jenny". A British television series asked him for permission to use the melody, but to change the title to "Stranger on the Shore". Bilk recorded the song with the Leon Young String Chorale. The single was on the U.K. charts for 55 weeks and hit #1 in the United States, selling over one million copies.
But then, the British invasion took place, and Bilk shifted musical direction. He released 34 career albums featuring his unique clarinet style. Bilk had some success on the British chart after that, but "Stranger on the Shore" was his moment in the sun.
This country artist crossed over for the only time with one great song:
#331: I Believe in You--Don Williams
Williams began playing guitar as a teenager and graduated from Gregory-Portland High School in Portland, Texas in 1958. He was with the Pozo-Seco Singers before beginning his solo career in 1971.
Williams started as a songwriter for Jack Music, Inc. and then signed with JMI Records. By the mid-70's, he was with ABC/Dot and recorded several songs popular with country audiences. But 90% of people didn't know who he was until this song released in 1981.
Williams has released 27 albums and 58 singles in his career, but "I Believe In You" is the only one that crossed over into the mainstream. He is still recording and touring.
This group landed one of the biggest hits of the doo-wop era:
#330: Get a Job--Silhouettes
The Silhouettes recorded this song in October, 1957 at Robinson Recording Laboratories in Philadelphia, Pennsylvania and it was released on Junior Records. Ember Records handled national distribution of the song, which reached #1 in 1958. The group performed on Dick Clark's American Bandstand several times to promote the record, helping it sell over a million copies. "Get a Job" has been featured in numerous movies, including American Graffiti and Stand By Me. Several other singles, however, failed to attract attention for the group.
People expected great things from this artist after her debut album in 1996:
#329: Criminal--Fiona Apple
Apple got her start when she recorded a demo tape in 1994 and got it in the hands of music publicist Kathryn Schenker. Schenker in turn gave the tape to Andy Slater of Sony Records and Apple had herself a recording contract.
Apple released her debut album Tidal in 1996. The album sold over 2.7 million copies, thanks to the single "Criminal".
Apple won a Grammy Award for Best Female Rock Vocal Performance and captured the MTV Video Music Award for the video to "Criminal". Future releases won Apple the same critical acclaim but that's different than getting people to like your music enough to buy it. She was nominated for a Grammy Award for Best Pop Vocal Album for Extraordinary Machine. But Apple never achieved widespread success after "Criminal".



This innovative artist had fun his entire career. And his hair was perfect.
#328: Werewolves of London--Warren Zevon
Zevon studied modern classical music at the home of Igor Stravinsky in Fresno, California. Zevon moved to New York City and began writing songs. He performed with high school friend Violet Santangelo in a duo called lyme & cybell, and spent time as a session musician and jingle composer.
Warren wrote songs for the Turtles ("Like the Seasons" and "Outside Chance"). Zevon recorded his first solo album in 1969 (Dead or Alive) but it did not sell. In the early 70's, Zevon played keyboard for the Everly Brothers on tour. But Warren wasn't exactly making ends meet, and he moved to Spain in 1975, where he lived and played in The Dubliner Bar near Barcelona.
Zevon moved back to Los Angeles, where he roomed with then-unknown musicians Stevie Nicks and Lindsey Buckingham. He worked with Jackson Browne, who produced Zevon's self-titled major-label debut. Members of Fleetwood Mac, Linda Ronstadt, the Eagles and Bonnie Raitt helped on the album, evidence of the respect he had earned inside the Los Angeles music community.
In 1978, Browne again was on hand to produce Excitable Boy for Zevon, his breakthrough album. "Werewolves of London" reached #21, which included Mick Fleetwood on drums and John McVie on bass. Other than "A Certain Girl" (#57 in 1980), "Werewolves" was the only Zevon song to reach the Top 100.
Zevon has written many songs for other artists, most notably Linda Ronstadt. Ronstadt has recorded "Poor Poor Pitiful Me", "Hasten Down the Wind", "Carmelita", "Accidentally Like a Martyr" and "Mohammed's Radio", all written by Warren. Before his death, Zevon released 12 career albums.
This artist is among the most talented in our special:
#327: Baby, It's Tonight--Jude Cole
Cole played guitar and sang background vocals for Moon Martin ("Rolene" from 1979) on three of his albums from 1979-1981 before releasing his self-titled debut album in 1987. He got songwriting help from Bruce Springsteen among others on that album.
In 1990, Cole released his breakthrough album A View form 3rd Street. The album contained "Baby, It's Tonight", which hit #16. A second single, "Time for Letting Go" reached #32. In 1992, Jude released the album Start the Car, containing the title track, which is one of The Top Unknown/Underrated Songs of the Rock Era*. One could say the same about the album itself; it contains several tracks worthy of an accomplished songwriter.
I Don't Know Why I Act This Way in 1995 continued to reveal the depth of this artist, though he got little airplay and attention from it.
Cole sang backing vocals for Jewel on her 1998 album Spirit. He has also worked with Styx, Peter Noone of Herman's Hermits, Del Shannon, Ted Nugent, Dave Edmunds and Patrick Simmons of the Doobie Brothers among many others.
Cole released his final album Falling Home in 2000. He has written the musical scores for three films with actor/director Kiefer Sutherland. He now is the manager of the group Lifehouse and has co-written songs for them with Jason Wade.
De-evolution helped this group score their one big hit:
Devo formed in 1972 with members from Kent and Akron, Ohio. Their name stands for de-evolution, an idea that instead of continuing to evolve, mankind has actually begun to recess. This fact should be obvious to anyone who has ever heard rap music.
The idea was developed by Gerald Casale and Bob Lewis in the late 1960's. Then on May 4, 1970, National Guard troops called in by President Richard Nixon shot and killed four Kent State students who were merely protesting the war in Vietnam. That tragedy has been cited many times as the impetus for forming Devo.
The classic line-up included Mark and Bob Mothersbaugh, Gerald and Bob Casales and Alan Myers. The group first performed at the 1973 Kent State performing arts festival. In 1976, Devo released their first single "Mongoloid". In 1977, Neil Young asked them to help him make his film Human Highway, which was released in 1982.
David Bowie and Iggy Pop helped the group land a recording contract with Warner Brothers. Devo released their first album, Q: Are We Not Men? A: We Are Devo! in 1978. Devo appeared on Don Kirshner's Rock Concert in 1979 to promote their second album, Duty Now for the Future.
In 1980, the group released the album Freedom of Choice and Whip It" reached #14. Devo once again performed on Kirshner's Rock Concert as well as American Bandstand.
Devo released nine career albums and 27 singles, but nothing captured the public's attention as much as "Whip It".
Hard to believe, but we're reaching the halfway point in our special. The talent level of the artists in this range should be obvious to those with even an elementary knowledge of music. We have 325 left to go--be sure to join us tomorrow for the next installment of The Top 500 One-Hit Wonders of the Rock Era*.