Get set for the second half of The Top 500 One-Hit Wonders of the Rock Era*, beginning with these 25...
Up next, an artist who always gave their fans their money's worth:
#250:

Hot Rod Lincoln--Commander Cody & His Lost Planet Airmen
Boise, Idaho's George Frayne IV founded this group in 1967 that also included Billy C. Farlow (vocals and harmonica), John Tichy (guitar and vocals), Bill Kirchen on lead guitar, Andy Stein (saxophone and fiddle), bassist Paul "Buffalo" Bruce Barlow, drummer Lance Dickerson and stell guitarist Bobby Black. The group mixed rock & roll, country, Western swing, rockabilly and jump blues.
After playing for years in local bars in Michigan, the core members of Commander Cody & His Lost Planet Airmen moved to San Francisco and signed a recording contract with Paramount Records.
The group became known for its long live shows lasting well into the night.
The band released their debut album Lost in the Ozone in 1971, which included the single "Hot Rod Lincoln". The song hit #9 in early 1972.
Commander Cody & His Lost Planet Airmen released 13 albums and 12 singles before disbanding in 1976. Tichy became head of the Department of Mechanical, Aerospace and Nuclear Engineering at Rensselaer Polytechnic Institute in Troy, New York. "Hot Rod Lincoln" was voted as a Legendary Michigan Song in 2008 and the group was inducted into the Michigan Rock and Roll Legends Hall of Fame the following year.
This Los Angeles group took a Ritchie Valens tune and remade it into their only hit:
#249: La Bamba--Los Lobos
Vocalist/guitarist David Hidalgo and drummer Louie Perez met at Garfield High School in Los Angeles and began writing songs. They borrowed reel-to-reel recorders from a friend and created multi-track recordings of music spanning from parodies to jazz. The two later invited fellow students Cesar Rosas and Conrad Lozano to join the group in 1973.
The band originally was known as Los Lobos del Este (de Los Angeles) but soon shortened it to Los Lobos. began playing traditional Mexican music, which attracted fans. They performed at hundreds of weddings and dances between 1974 and 1980. But soon, they added rock songs to their repertoire.
Los Lobos opened for Public Image Ltd. in 1980 at the Olympic Auditorium in Los Angeles and in 1983, the group released the EP ...And a Time to Dance. The group also captured a Grammy Award for Best Mexican-American Performance with the song "Anselma". Proceeds from the sale allowed Los Lobos to purchase a van and tour the entire United States.
In 1984, the group recorded its debut album How Will the Wolf Surivive? They also recorded the song "One Time, One Night" for the movie Colors. In 1987, Los Lobos released the album By the Light of the Moon and recorded Ritchie Valens covers for the "La Bamba" Soundtrack. The title song was released as a single and hit #1.
In 1988, the band released the album La Pistola y El Corazon, with original and traditional Mexican songs, which won them a second Grammy for Best Mexican-American Performance. By this time, Los Lobos was touring throughout the world, openings for such acts as U2, Bob Dylan and the Greateful Dead.
In 1995, Los Lobos released the album Papa's Dream on Music. They also scored music for the movie Desperado. One song from the movie, "Mariachi Suite", won a Grammy Award for Best Pop Instrumental Performance.
In 1996, the group released the album Colossal Head but was dropped from Warner Brothers Records. Los Lobos released 15 albums and 17 singles in their career but could never match the success of "La Bamba".
At #248, one of the only foreign language songs to reach #1 in the Rock Era:
#248: Volare--Domenico Modugno
At the age of 9, Domenico and his family moved to San Pietro Vernotico, Italy. Modugno attended secondary school in Lecce.
Early on, Domenico had dreams of becoming an actor and in 1951, after his military service, he enrolled in acting school. In 1957, his song "Lazzarella", sung by Aurelio Fierro, finished second in the Festival della Canzone Napoletana.
Modugno acted in the comedy La Rosa di Zolfo at the Festival della Prosa in Venice in 1958. Also that year, Modugno became the manager of Franco Franchi and Ciccio Ingrassia, helping that comedy duo get started. Domenico also entered the Sanremo Music Festival, presenting "Nel Blue Dipinto Di Blu", which he co-wrote. The song won the contest, and became a huge worldwide hit.
"Nel Blue Dipinto Di Blu" reached #1 in the United States, received two Grammy Awards, and has now sold over 22 million copies.
In 1959, Modugno won the Sanremo Festival again with "Piove" and captured a third title in 1962 with "Addio..., addio..." He acted in 44 movies and produced two.
We turn to the country of Jamaica for the #247 One-Hit Wonder:
#247: Israelites--Desmond Dekker
Desmond Dacres grew up in Kingston, Jamaica and attended the Alpha Boy's School. He worked first as a tailor and then as a welder before auditioning for Derrick Morgan at Beverley Records.
Morgan helped Dekker sign a recording contract and he recorded several songs popular in his native country before changing his name to Dekker. His fourth release, "King of Ska", was particularly popular in Jamaica and Dekker then hired four brothers, Carl, Patric, Clive and Barry to become his backing band, the Four Aces.
In 1969, Dekker released the single "Israelites", which went to #1 in the U.K. and #9 in the United States. In the 1970's, Dekker toured and moved to the U.K., where he continued to record. He has released 10 albums and 45 singles, but could never repeat his success of "Israelites".
This next song became a hit not because of record company foresight, but rather because, as is often the case, radio played the song the record company wasn't promoting:
#246: Music Box Dancer--Frank Mills
Mills grew up in Verdun, Quebec, Canada, and began playing piano at age three. He studied at McGill University for five years, beginning in Engineering, switching to a Bachelor of Science program, then Arts and finally majored in the Department of Music.
While in college, Mills played songs for his fellow students. In the late 1960's, Mills became a member of the Bells, but left the group in 1971 prior to their smash hit "Stay Awhile". Mills was the pianist for CBC-TV and recorded his debut solo album Seven Of My Songs. The track "Love Me, Love Me Love" was a minor hit (#46) in the United States and reached #8 on the Easy Listening chart.
In 1974, Mills released an album that contained "Music Box Dancer", but the song was not a hit. When Frank re-signed with Polydor Records in 1978, the label released a new song as a single with "Music Box Dancer" on the B-side. The single was sent to Easy Listening stations in Canada, but a copy was sent by mistake to CFRA-AM, a popular music station in Ottawa.
The program director at CFRA couldn't figure out why the song on the A-side had been sent to him, so he played the B-side to see if the single had been marked by mistake. He liked "Music Box Dancer" and added the song to his station's playlist. It became a Canadian hit and the album went gold in Canada. This prompted Polydor to release both the album and single in the United States.
WNGE-TV in Nashville, Tennessee began playing the song over the closing credits of the newscast. DJ's in Nashville quickly began playing the song and it took off. "Music Box Dancer" reached #3 in 1979 and both the single and album went gold in the U.S.
Mills never matched the success of "Music Box Dancer", however. His follow-up release, "Peter Piper", peaked at #48. The latter release did reach the Top 10 on the segmented Adult Contemporary chart and won Mills Juno Awards for Composer of the Year and Instrumental Artist of the Year.
This surfing standard has endured through the years:
#245: Wipe Out--Surfaris
This group, consisting of lead singer and drummer Ron Wilson, lead guitarist Jim Fuller, rhythm guitarist Bob Berryhill and bassist Pat Connolly formed in Glendora, California in 1962.
Wilson's energetic drum solo helped make "Wipe Out" one of The Top 100 Instrumentals of the Rock Era*. The song is also known for a cracking sound and a maniacal laugh followed by the only two words of the song "Wipe Out!", added by manager Dale Smallin.
The song, written by the four members of the group, made it to #2 and sold over one million copies. The Surfaris released several other surfing-related songs such as "Surfer Joe" and "Point Panic", then disbanded in 1966.
This group came out of nowhere for a #1 smash in 1980:
#244: Funkytown--Lipps Inc.
Steven Greenberg, who wrote and produced all of Lipps Inc.'s music, formed the group in Minneapolis, Minnesota. Greenberg also played several instruments for Lipps Inc., which also included lead singer and saxophonist Cynthia Johnson. A revolving ensemble of session musicians comprised the rest of the group.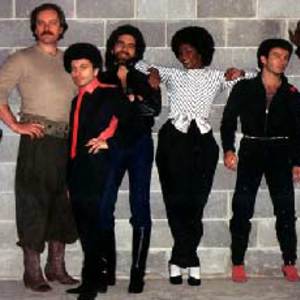 Lipps Inc. released their debut album Mouth to Mouth in 1980. The second single, "Funkytown" rose to #1 and spent four weeks at the top in the United States, was #2 in the U.K. and a hit around the world. The song went over two million in sales.
The next best the group could do, however, was "Rock It", which only reached #64. Lipps Inc. released five albums and 15 singles in their career and did manage some other minor dance hits such as "How Long", a remake of the Ace hit from 1975.
There are California artists galore in our special and here's one of them at #247:
#243: Counting Blue Cars--Dishwalla
This alternative rock group started in Santa Barbara, California. Bassist Scott Alexander and lead guitarist Rodney Browning have been the most constant members of Dishwalla. Lead singer, guitarist and keyboard player J.R. Richards and drummer George Pendergrast were also original members. Dishwalla recorded "It's Going to Take Some Time" on the Carpenters tribute album If I Were a Carpenter in 1994.
In 1996, Dishwalla recorded the album Pet Your Friends and a single from the album, "Counting Blue Cars" began picking up airplay. The song rose to #15 and picked up a Billboard Award for Best Rock Song and ASCAP Awards for Rock Track of the Year in both 1996 and 1997. It was a #1 Modern Rock and #2 Mainstream Rock song.
But their follow-up album And You Think You Know What Life's About failed to generate interest. Since then, Dishwalla has landed several songs on movie soundtrack albums and television shows such as The OC and Smallville have used their songs. The group continued to have moderate success on segmented charts with "Charlie Brown's Parents", "Give" and "Once in a While".
We go back 42 years for this next One-Hit Wonder:
#242: I've Found Someone of My Own--Free Movement
The Free Movement formed in 1970 in Los Angeles with Godoy Colbert, Josephine Brown, Cheryl Conley, Jennifer Gates, Adrian Jefferson and Claude Jefferson.
The group released the single "I've Found Someone Of My Own" on Decca Records in 1971, which reached #5. They signed with Columbia the following year for an album but could only reach #50 with "The Harder I Try (The Bluer I Get)".
Tony Burrows has had a hand in several artists in the Rock Era and this one makes our list:
#241: My Baby Loves Lovin'--White Plains
This British group evolved from the group the Flower Pot Men with Tony Burrows on lead vocals and Pete Nelson, Robin Shaw and Neil Landon. They had recorded a single on Deram Records but when that didn't chart the group changed their name to White Plains.
The band recorded "My Baby Loves Lovin'" and released the single in 1970. It reached #4 in Canada and #13 in the United States. White Plains reached #13 in the U.K. with "When You Are A King" and #35 in Canada with "Lovin' You Baby" but neither approached the overall success of "My Baby Loves Lovin'".
The second time around was good for this next act:
#240: Back Here--BB Mak
Mark Barry (vocals), Christian Burns (acoustic guitar and vocals) and electric guitarist Stephen McNally formed BB Mak.
In 1999, they released "Back Here" with little fanfare. But after their debut album
Sooner or Later
was released in 2000, the single was re-released with much better results. This time, it hit #5 in the U.K. and #13 in the United States.
BB Mak's next single "Still On Your Side" reached #8 in the U.K. but only #54 in the United States. Nevertheless, the group sold out concerts and performed live in Times Square on New Year's Eve. The group's third single "Ghost of You and Me" was a Top 10 hit on the segmented Adult Contemporary chart.
After that, the best BB Mak could do was #56 with "Out of My Heart (Into Your Head)" and they broke up in 2003.
Here's one of several artists who used a stint in Linda Ronstadt's backing band as a stepping stone towards success:
#239: Personally--Karla Bonoff
Karla Bonoff's main strength is her songwriting. Her compositions have been recorded by artists such as Linda Ronstadt (most notably the great "Someone To Lay Down Beside Me"), Bonnie Raitt, Wynonna Judd and Lynn Anderson.
Bonoff began her career singing background vocals for Ronstadt before releasing her self-titled debut album in 1977. In 1982, her album Wild Heart of the Young contained the one song she was successful with as a recording artist. "Personally" reached #19 in the United States, but was a smash (#3) on the Adult Contemporary chart.
On the strength of "Personally", Bonoff was able to land a song on the monumental "Footloose" Soundtrack. She released four albums and three other singles, but nothing approached the success of her one hit.
This artist wasn't chosen to sing lead for Blue Oyster Cult, but she went on to score a big hit of her own:
#238: Because the Night--Patti Smith Group
Smith grew up in Chicago before her family moved to New Jersey. She graduated from Deptford Township High School in 1964 and began working at a local factory.
In 1967, Smith left Glassboro State College (now Rowan University) and moved to New York City. In 1969, she began busking and doing performance art in Paris, France. After returning to the Big Apple, Smith appeared in the play Femme Fatale. As a member of the St. Mark's Poetry Project, she spent the early part of the 70's painting, writing and performing. In 1971, she gave a one-night only performance of Cowboy Mouth, a play she co-wrote with Sam Shepard. She also wrote several poems about her relationship with Shepard.
Smith was considered for the lead singer position in Blue Oyster Cult and contributed the lyrics to several of the group's songs including "Debbie Denise", "Baby Ice Dog", "Fire of Unknown Origin" and "Shooting Shark". Smith also contributed articles in Rolling Stone and Cream magazines.
By 1974, Smith was performing, initially with guitarist Lenny Kaye and later with a full band that included Kaye, Ivan Kral on guitar and bass, drummer Jay Dee Daugherty and Richard Sohl on piano. The band recorded the single "Hey Joe" in 1974.
The Patti Smith Group signed a recording contract with Arista Records and recorded their debut album Horses in 1975. The group toured the United States and Europe before recording the album Radio Ethiopia. While touring in support of the album in 1977, Smith accidentally danced off a high stage in Tampa, Florida, and fell 15 feet into a concrete pit, breaking several neck vertebrae.
After intensive physical therapy, she resumed her work, recording the album Easter in 1978. The single "Because the Night", co-written with Bruce Springsteen, reached #13. The follow-up album, Wave, was less successful.
For much of the 1980's, Smith was in semi-retirement from music, concentrating on her family with Fred "Sonic Smith, former guitar player for MC5. In 1988, Smith released the album Dream of Life but in 1994, Fred Smith died of a heart attack. Friends urged her to go back on the road, and she toured briefly with Bob Dylan in 1995.
In 2005, Smith was named a Commander of the Ordre des Arts et des Lettres by the French Minister of Culture. In 2007, she became one of the hundreds to be inducted into the Rock and Roll Hall of Fame. Smith has released 11 albums and 23 singles in her career with just one song that was a worldwide success.
This hard-working songwriter/producer landed one of the biggest disco hits in the mid-70's:
#237: The Hustle--Van McCoy
McCoy learned to play piano at an early age and sang with the Metropolitan Baptist Church choir as a teenager. He began writing songs at the age of 12. Van and his older brother Norman Jr. formed a duo called the Starlighters with two high school friends.
The group went on tour and recorded three singles for End Records in 1959. McCoy also sang with a group called the Marylanders. In 1961, McCoy met Kendra Spotswood, and the two sang and recorded music for the next five years.
McCoy studied psychology at Howard University but dropped out after two years to form his own recording company, Rockin' Records. He released his first solo single "Hey Mr. DJ" in 1959. Florence Greenberg, owner of Scepter Records, was impressed and hired McCoy as a staff writer.
Immediately, McCoy began achieving success, writing songs for artists such as the Shirelles, managing the labels Vando and Share and co-owning the Maxx label in the mid-1960s, recording artists such as Gladys Knight & the Pips and the Ad Libs.
McCoy's career was in full swing when he worked for producers Jerry Leiber and Mike Stoller and then signed with the April-Blackwood publishing company connected with Columbia Records. McCoy wrote for Knight & the Pips, Jackie Wilson, Ruby and the Romantics, Barbara Lewis and Betty Everett. McCoy also was responsible for discovering Peaches & Herb, arranging and co-producing their first hit.
In 1966, McCoy recorded the solo album Night-time Is a Lonely Time. McCoy wrote or produced for the Presidents, Faith, Hope & Charity and David Ruffin ("Walk Away from Love" and arranged several hits for the Stylistics.
But McCoy didn't give up on a solo career. He appeared on the television shows The Tonight Show, The Mike Douglas Show and Don Kirschner's Rock Concert. In 1975, Van released the mostly instrumental album Disco Baby. Unexpectedly, the single "The Hustle" written about the dance of the same name rose to #1 in the United States, was #3 in the U.K. and won a Grammy Award.
But future efforts gave him 12 albums and 18 singles, but no praise from the public. Nevertheless, McCoy's "The Hustle" is still played over 30 years since his death of a heart attack at age 39 in 1979. He has over 700 songs to his credit.
This duo's great sound propels them into the top 250:
#236: I'm G
onna' Be (500 Miles)--Proclaimers
Brothers Craig and Charlie Reid grew up in Edinburgh, Cornwall and Auchtermuchty, Scotland. They graduated from Bell Baxter High School, and after several punk rock bands, the two formed the Proclaimers in 1983.
They developed a following in Scotland, and a fan sent a demo of their music to the group to the group the Housemartins, which led to the Proclaimers opening on a 1986 tour of the U.K. This exposure helped the duo hit #3 in the U.K. with "Letter from America", although it didn't break anywhere else.
But a single from the Proclaimers' second album, Sunshine on Leith, became a huge worldwide hit. "I'm Gonna' Be (500 Miles)" reached #3 in the United States, #7 in Ireland and #11 in the U.K.
The group has released nine albums and 15 singles and remarkably, have never achieved further success.
A song in 1994 gave this artist her universal hit:
#235: You Gotta' Be--Des'ree
Des'ree was introduced to reggae, calypso and jazz by her parents, and she began pursuing a career at age 13. Her first single "Feel So High" was a Top 10 hit in the U.K. and other European countries.
But it was "You Gotta' Be" in 1994 that spread across the globe. It was a #5 song in the United States and was a hit in the U.K. three separate times. Her album I Ain't Movin' sold over 2.5 million copies worldwide as a result and helped Des'ree open for Seal on his American tour in 1995.
Her single "Life" in 1998 was a big hit in Europe, and won her the BRIT Award
for British Female Solo Artist
, but the song was not successful elsewhere.
"You Gotta' Be" remains far and away her best overall work, winning her a World Music Award and now racking up five million airplays in the United States alone.
This act achieved one of the great soul songs of all-time but were never able to score a follow-up:
James Mitchell, who had previously been successful with the Detroit Emeralds, formed this group with brother Paul, Larry Cunningham, Charles Clark and Ralph Mitchell.
James Mitchell wrote "Float On", whose lyrics spotlighted each member of the group, who introduced themselves with their name, astrological sign and ideal romantic partner. "Float On" was released on ABC Records in 1977 and reached #1 in the U.K. and #2 in the United States and sold over one million copies.
Future efforts disappointed, with "You Don't Have to Say You Love Me" their next-best song, which reached #28 on the segmented R&B chart.
This next act gave us this great song in 1987:
#233: Heart and Soul--T'pau
This band formed in 1986 in Shropshire, England, named after the Vulcan priestess in the classic television series Star Trek. Carol Decker was the lead singer and songwriter, accompanied by lead guitarists Dean Howard and Taj Wyzgowski, rhythm guitarist and songwriter Ronnie Rogers, drummer Tim Burgess, Michael Chetwood on keyboards and bassist Paul Jackson.
After their initial single "Heart and Soul" flopped in the U.K., it caught on in the United States, hitting #4 in 1987. Upon its re-release in their native country, T'Pau also hit #4 in the U.K.
The group's next single, "China in Your Hand", became a #1 song in the U.K. and other European countries, but didn't even make the Top 100 across the Atlantic. T'Pau also enjoyed regional success with "Valentine".
In 1988, T'Pau released the album Rage, which contained the U.K. Top 20 single "Secret Garden". But the album paled by comparison to their debut. Future releases showed diminishing returns, although the group still performs live occasionally.
You don't often find a National Merit Scholar finalist in rock & roll, but here he is:
#232: Fooled Around and Fell in Love--Elvin Bishop
Bishop and his family moved to Tulsa, Oklahoma when he was ten years old. He attended Will Rogers High School and won a full scholarship to the University of Chicago as a National Merit Scholar finalist to study physics.
In 1963, Bishop met harmonica player Paul Butterfield and joined his blues band for five years. Elvin then formed the Elvin Bishop Group and signed with Fillmore Records. Bishop toured with the Allman Brothers Band and received airplay in 1975 with "Travelin' Shoes".
In 1976, Bishop released the single "Fooled Around and Fell in Love", which reached #3 in the United States and #34 in the U.K. The song featured lead singer Mickey Thomas and drummer Donny Baldwin, who both later joined Jefferson Starship.
In 1984, Bishop performed at the Long Beach Blues Festival. In 1988, he signed with Alligator Records and has released several blues-oriented albums that have been well received in that genre. In 2008, his album The Blues Roles On, aided by such stars as B.B. King, Derek Trucks and George Thorogood. The album was nominated for a Grammy Award for Best Traditional Blues Album.
Bishop has recorded 18 albums in his career and released five singles, but "Fooled Around and Fell in Love" is his only hit.
This act achieved their big success, then disappeared:
#231: Girl Watcher--O'Kaysions
This group first formed as the Kays in 1959. Lead singer and organ player Donnie Weaver, guitarist Wayne Pittman, Eddie Dement on trumpet, saxophone player Gerald Toler, bassist Jimmy Hinnant and Steve Watson on drums were the original members. "(I'm A) Girl Watcher" was released in 1968 on a local record label before being picked up nationally by ABC Records. It went to #5 in the United States and sold over one million copies.
The group recorded a self-titled debut album after their single took off, but it was the only album the O'Kaysions ever released.
Here's another artist who scored one big hit, but had a bigger impact as a songwriter:
#230: Break My Stride--Matthew Wilder
Wilder started as one-half of the folk group Matthew & Peter in the 1970's. In 1978, he moved to Los Angeles, where he sang for television commercials and served as a backing vocalist for Bette Midler and Rickie Lee Jones.
Wilder released his debut album, I Don't Speak the Language in 1983. "Break My Stride" helped the album get off the ground, reaching #5 in 1984. He was able to reach #33 with "The Kid's American" from the same album, and the title cut from his next album Bouncin' Off the Walls hit #52, but Wilder was never able to reach the Top 20 after "Break My Stride".
Although his solo career went downhill, Wilder continued to write and produce for artists such as Christina Aguilera, No Doubt and Kelly Clarkson. Wilder was nominated for an Academy Award along with David Zippel and Jerry Goldsmith for Original Music Score for the movie Mulan in 1998.
At #229, a group that made the most of their opportunity:
#229: Too Shy--Kajagoogoo
Nick Beggs (bass), lead guitarist Steve Askew, keyboardist Stuart Croxford Neal and drummer Jeremy Strode formed Art Nouveau in 1979 in Bedfordshire, England. The group released a single but record companies were not interested.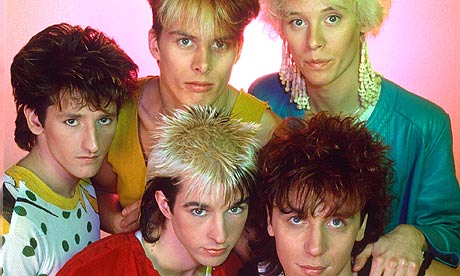 In 1982, the group advertised for a lead singer and chose Christopher Hamill, who went by the stage name of Limahl. They changed their name to Kajagoogoo and were able to sign a recording contract with EMI Records with help from Nick Rhodes of Duran Duran. Rhodes produced Kajagoogoo's first single, "Too Shy", which went to #1 in the U.K. and #5 in the United States.
Further releases did OK in their native country and in some other European countries, but didn't spark worldwide interest. Tensions rose in the group, and Limahl was fired in 1983. They were able to score one more big hit in the U.K. with "Big Apple" and a popular dance song in the U.S. with "Turn Your Back On Me" but nothing matched the overall success of "Too Shy".

Up next, a group helped by Nirvana:
#228: Backwater--Meat Puppets
The Meat Puppets formed in 1980 in Phoenix, Arizona. Their original lineup was Curt Kirkwood on guitar and vocals, bassist brother Cris Kirkwood and Derrick Bostrom on drums. The three met while attending Brophy Prep High School. Joe Carducci of punk rock label SST Records became interested in the group and the Meat Puppets signed a recording contract.
The group released their self-titled album in 1982 and Meat Puppets II in 1984. But the members grew tired of punk rock and began experimenting. The Meat Puppets stayed with SST for a decade and released several albums in addition to a heavy touring schedule.
The Kirkwood brothers were guest musicians on Nirvana's MTV Unplugged performance in 1993. Kurt Cobain and the other members of Nirvana stated that they had been influenced by the sound of the Meat Puppets, and this greatly boosted the group's popularity.
The following year, the Meat Puppets recorded the album Too High To Die, which featured "Backwater" and a hidden-track update of "Lake of Fire", which they had performed with Nirvana. The song only made it to #47, but the album went gold because of it.
However, just like Nirvana, members of the Meat Puppets were destroyed by the use of drugs. The group deteriorated and broke up in 2002. They released a total of 13 albums and 16 singles, with "Backwater" being their only hit.
This group backed up some of rock's pioneers, then found themselves with a big hit of their own:
#227: Tobacco Road--Nashville Teens
Arthur Sharp began his music career as manager of Aerco Records in Woking, Surrey, England. Sharp and Ray Phillips joined with pianist John Hawken, guitarist Mick Dunford, Pete Shannon Harris on bass and drummer Dave Maine to form the Nashville Teens. Eventually, Barry Jenkins became the drummer and John Allen took over on guitar for Dunford.
The group backed Jerry Lee Lewis for his Live at the Star Club album in Hamburg, Germany, an album many considered as one of the best live rock albums ever. They later backed Carl Perkins and played with Chuck Berry when he toured Great Britain. Famous producer Mickie Most spotted the Nashville Teens at a concert and produced their debut single in 1964, "Tobacco Road".
The song reached #6 in the U.K. and #14 in the United States. The group followed that up with "Google Eye", a Top 10 song in the U.K. that went nowhere in other countries. The Nashville Teens appeared in three movies in 1965--Pop Gear, Be My Guest and Gonks Go Beat. When other songs failed to chart, Jenkins left to join the Animals and by the latter part of the decade, the group was back to playing for other artists like Perkins, Chuck Berry and Gene Vincent. The Nashville Teens broke up in 1973.


This backup singer scored her big hit in 2001:
#226: Hit 'Em Up Style (Oops)!--Blu Cantrell
Tiffany Cobb recorded several demos and sang backup for "artists" such as Puff Daddy, and I use that term loosely, prior to being discovered by Red Zone Entertainment. She also sang with Dionne Warwick, Usher, Babyface and Herbie Hancock.
Her producers placed her in the hands of famous producer Antonio "L.A." Reid, who heard one song Cantrell wrote and also sang for her. In 2001, Cantrell released her debut album, So Blu. The album's single "Hit 'Em Up Style (Oops!) went to #2 in the United States, #3 in Australia and #12 in the U.K., helped the album go gold and earned Cantrell Grammy nominations for Best R&B Song and Best Female R&B Vocal Performance and an American Music nomination for Favorite Soul/R&B New Artist.

Cantrell wrote material for other artists, then released her second album, Bittersweet. That album contained "Breathe", which was #1 in the U.K. but lacked the worldwide appeal of "Hit 'Em Up Style".
Then, Cantrell went 10 years without albums and has been largely forgotten, except for her One Hit Wonder.
We could have presented The Top 100 One-Hit Wonders of the Rock Era, or The Top 200, but hopefully the last few days have shown you why we decided on 500. The truth is that there are so many talented artists in this category that 500 was the right number. The background, experience and talent is simply too great to leave out. And we have 25 more artists tomorrow.