1956: Mickey & Sylvia recorded "Love Is Strange".
1957: The Elvis Presley movie Jailhouse Rock premiered in Memphis, Tennessee at the same theater where Elvis used to work as an usher-- Loew's State Theatre.
1960: Mick Jagger met his high school friend Keith Richards accidentally on a train. The two talked about R&B records and, as fate would have it, later both joined the group Little Boy Blue & the Blue Boys. (Note: many websites claim this meeting took place on October 25, but the BBC states that the two met at a train station in Dartford, Kent on October 17.)
1960: Dion & the Belmonts parted ways.
1960: "Kiddio" by Brook Benton was #1 on the R&B chart for the eighth straight week.
The great Drifters...
1960: The Drifters moved into the #1 position with "Save the Last Dance for Me". Connie Francis had #2 with "My Heart Has A Mind Of Its Own" but Sam Cooke slipped with "Chain Gang". Brenda Lee moved from 9 to 4 with "I Want To Be Wanted" while the former #1 "The Twist" from Chubby Checker was now #5.

1962: In between lunchtime and night shows at the Cavern Club in Liverpool, England, the Beatles made their television debut on the Manchester local program People and Places on the Grenada Television Network in England, performing "Some Other Guy" and "Love Me Do".
1963: There was a bit of extra magic in the studio on this day as the Beatles recorded "I Want to Hold Your Hand" in studio two at the EMI Studios on Abbey Road in London. It was the first song the group had recorded using four tracks, and they recorded 17 takes of the song. The Beatles also recorded the flip side of the single, "This Boy", as well as the first of seven Christmas recordings that they gave away to members of their fan club.
1964: Another wave rode in from England as Herman's Hermits first appeared on the chart on this date with their debut single "I'm Into Something Good".
1964: The Rolling Stones released their second album 12 x 5.
Streisand with her breakthrough...

1964: A Hard Day's Night by the Beatles was the #1 album for the 13th straight week. Something New by the Beatles was second, followed by Everybody Loves Somebody by Dean Martin and People by Barbra Streisand, which moved from 17 to 3.
1964: "Do Wah Diddy Diddy" from Manfred Mann replaced the previous #1 song, Roy Orbison's "Oh Pretty Woman" ,which fell to #3.
1966: Pat Boone's daytime series, appropriately titled The Pat Boone Show, debuted on NBC-TV.
1967: Tommy Boyce and Bobby Hart ("I Wonder What She's Doing Tonight") starred along with Phil Spector on I Dream of Jeannie on NBC-TV.
1967: The great musical Hair premiered at the Public Theatre in New York City and would run for 1,758 performances.
1967: Members of the Beatles attended the funeral of manager Brian Epstein at the New London Synagogue.
1969: Led Zeppelin began their fourth tour of the United States at Carnegie Hall in New York City. (Note: many websites claim that it was the third U.S. tour, when it was the fourth, as confirmed on the group's official website.)
1969: The Kinks opened for Spirit at the Fillmore East in New York City in their first U.S. show in four years, after being banned for four years by the American Federation of Musicians for "unprofessional conduct". In their 1965 tour, the Kinks spent as much time fighting on stage as they did playing.
The incredible duo featured one of the top voices of the Rock Era in sister Karen...
1970: The Carpenters maintained their position at #1 on the Easy Listening chart with "We've Only Just Begun".
1970: The Jackson 5 first hit #1 with "I'll Be There", knocking Neil Diamond's "Cracklin' Rosie" out of the top spot. Sugarloaf was up from 8 to 3 with "Green-Eyed Lady" and Free edged up with "All Right Now". The Carpenters were up nicely (9-5) with "We've Only Just Begun". The rest of the Top 10: "Candida" from Dawn, the former #1 "Ain't No Mountain High Enough" from Diana Ross, the double-sided CCR hit "Lookin' Out My Back Door"/"Long As I Can See The Light" at #8, "Julie, Do Ya Love Me" from Bobby Sherman and James Taylor's first hit "Fire And Rain" moved from 17 to #10.
"Ramble Tamble", the first track on the new CCR album...
1970:
Cosmo's Factory
by CCR continued to hold on to the #1 album spot for the ninth week.
Abraxas
by Santana was generating excitement and moved from 8-2.
Mad Dogs & Englishmen
from Joe Cocker was #3 followed by
A Question of Balance
from the Moody Blues. The rest of the Top 10:
Third Album
from the Jackson 5, the
Soundtrack to "Woodstock"
, James Taylor moved to #7 with
Sweet Baby James
,
After the Gold Rush
from Neil Young edged up to #8,
Chicago II
was still going after 36 weeks and
Get Yer (sic) Ya-Ya's Out!
by the Rolling Stones debuted at #10.
1972: Loggins & Messina released the single "Your Mama Don't Dance".
1972: Billy Williams, lead singer of the Charioteers and a solo singer ("I'm Gonna' Sit Right Down And Write Myself A Letter" from 1973) died in Chicago, Illinois at the age of 61.
1973: Keith Richards of the Rolling Stones and his girlfriend received sentences of one year for drug possession and were barred from entering France for two years.
1975: Maurice Gibb of the Bee Gees married Yvonne Spencely.
1975: Olivia Newton-John had a fast riser (52-19) with "Something Better to Do".
Sweet sings of a "Ballroom Blitz"
1975: "Bad Blood" from Neil Sedaka & Elton John, moved from 6-1 on this date, leaping the double-sided John Denver hit "Calypso"/"I'm Sorry". "Fame" by David Bowie was third, the novelty song "Mr. Jaws" from Dickie Goodman came in #4 and Jefferson Starship rocketed from 22 to 5 with "Miracles". Although "Miracles" peaked later at #3, in most markets it became a #1 song. The rest of the Top 10: "Ballroom Blitz" from Sweet, "Dance With Me" by Orleans, Helen Reddy told us that it "Ain't No Way To Treat A Lady", Austin Roberts found himself at #9 with "Rocky" and the Eagles surged into the Top 10 with an 18-10 move for "Lyin' Eyes".
1977: Lynyrd Skynyrd released the album Street Survivors, three days before vocalist Ronnie Van Zant, guitarist Steve Gaines Steve's wife Cassie, a backup vocalist with the group, and road manager Dean Kilpatrick were killed in a plane crash.
1978: Barbra Streisand and Neil Diamond recorded one of the top duets of all-time--"You Don't Bring Me Flowers" at the Cherokee Studios in Los Angeles, California.
1979: The Eagles were in concert at the Convention Center in Roanoke, Virginia.
1981: Christopher Cross logged a fourth week at #1 on the Adult Contemporary chart with "Arthur's Theme".
1981: "Arthur's Theme (Best That You Can Do)" by Christopher Cross took over at #1 after a nine-week reign by Diana Ross & Lionel Richie's "Endless Love". The Rolling Stones saw an opening and got to 3 with "Start Me Up". Sheena Easton had "For Your Eyes Only" while Eddie Rabbitt hopped up "Step By Step". The rest of the Top 10: Hall & Oates with "Private Eyes", Stevie Nicks with Tom Petty & the Heartbreakers had song #7--"Stop Draggin' My Heart Around", Journey were on their way down with "Who's Crying Now", Dan Fogelberg had a big hit with "Hard To Say" and the Little River Band notched their 10th hit and fifth Top 10 with "The Night Owls".
1987: Bruce Springsteen ruled the U.K. Album chart with Tunnel of Love.
1987: The Bee Gees became the only group in the Rock Era to achieve a #1 song in the U.K. in three decades as "You Win Again" reached the top.
1987: "Bad" by Michael Jackson took over on the R&B chart.
1987: Lisa Lisa & Cult Jam scored another #1 with "Lost in Emotion".
1987: Bad, which had debuted at #1 on the Album chart for Michael Jackson, continued to set the pace for the fourth week. Whitesnake was #2 with Whitney from Whitney Houston trailing. Hysteria by Def Leppard climbed up to #4 and Pink Floyd reached the #5 position with A Momentary Lapse of Reason. The rest of the Top 10: The "Dirty Dancing" Soundtrack, La Bamba from Los Lobos #7, John Cougar Mellencamp with The Lonesome Jubilee, U2's The Joshua Tree was #9 and Heart's Bad Animals closed out the list.
1991: Tennessee Ernie Ford died in Reston, Virginia at age 72 after suffering severe liver failure from years of alcoholism. He died exactly 36 years after his huge hit "16 Tons" was released.
1992: Prince owned the #1 album in the U.K. with Symbol, or Untitled.
1992: "Erotica" by Madonna debuted at #13.
1992: Celine Dion hit #1 on the AC chart with "Nothing Broken But My Heart".
1992: "End of the Road" by Boyz II Men tied "Physical" by Olivia Newton-John and Debby Boone's "You Light Up My Life" for the existing Rock Era record of 10 weeks at #1. And the Boyz weren't ready to give up yet.
1995: Sting's former financial adviser was sentenced to six years in prison following his conviction in London of stealing $9.4 million from Sting.
1995: The video boxed set The Monkees was released on 21 videocassettes, the largest video box set to be released.
1998: Phil Collins reached #1 on the U.K. Album chart with his Hits album.
1999: Thomas Durden, who wrote "Heartbreak Hotel" for Elvis Presley, died in Houghton Lake, Michigan at the age of 79.
1999: Bruce Springsteen and the E Street Band opened the brand new Staples Center in Los Angeles with a show.
2000: George Michael purchased the piano that John Lennon used to write his classic "Imagine".
2001: Songwriter Jay Livingston, who wrote "Whatever Will Be, Will Be (Que Sera, Sera)" for Doris Day and "Mona Lisa" for Nat King Cole with Ray Evans, died of pneumonia in Los Angeles.
2001: In today's episode of Dangerous Inmates Run Rap Music, Jay-Z was sentenced after he pleaded guilty to misdemeanor assault charges for stabbing a record producer during a nightclub fight in December of 1999.
2001: We were beginning to find out the injustices done by the nation's record companies. The heirs of Bing Crosby filed a $16 million lawsuit accusing Universal Music Group of underpaying royalties on Crosby's songs.
2004: Marc Almond, singer with Soft Cell ("Tainted Love") suffered serious injuries to the head when his motorcycle collided with a car in London.
2004: R.E.M. owned the #1 album with Around the Sun.
2004: Usher and Alicia Keys had the top song with "My Boo".
2006: Stevie Wonder received a Lifetime Achievement Award from the National Civil Rights Museum in Memphis, Tennessee.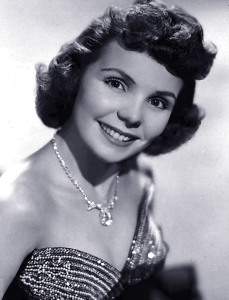 2007: Teresa Brewer, who had 24 career hits ("Let Me Go, Lover") in the early years of the Rock Era, died at her home in New Rochelle, New York of neuromuscular disease at age 76.
2007: Part of West Grand Boulevard in Detroit, Michigan (the original home of Motown Records) was renamed Berry Gordy, Jr. Boulevard after the Motown founder.
2007: The State of California announced that Dionne Warwick owed $2.67 in back taxes.
2008: Levi Stubbs, the incomparable lead singer of the Four Tops, died at his Detroit, Michigan home at age 72. Stubbs had been diagnosed with cancer in 1995 and he suffered a stroke and other health problems in the years following.
2009: Barbra Streisand had the #1 album in both the U.S. and U.K. with Love Is the Answer.
Born This Day:
1909: Cozy Cole ("Topsy II") was born in East Orange, New Jersey; died of cancer in Columbus, Ohio on January 31, 1981. (Note: some websites report the death as January 9 and January 29--but the book 'American Big Bands' by William F. Lee, as well as the more reliable sites such as 'Billboard' and 'Allmusic.com' show his death as January 31.)
1933: Jeanine Deckers, aka The Singing Nun ("Dominique" in 1963), was born in Brussels, Belgium; died March 29, 1986 by committing suicide.
1941: James Seals of Seals & Crofts was born in Sidney, Texas.
1941: Alan Howard, bassist of the Tremeloes ("Silence Is Golden" from 1966), was born in Dagenham, Essex, England.
1942: Gary Puckett of Twin Falls, Idaho, whose incredible lead vocals were featured with the Union Gap, was born in Hibbing, Minnesota.
1950: Michael Hossack, drummer of the Doobie Brothers, was born in Paterson, New Jersey; died of cancer in Dubois, Wyoming on March 12, 2012.
1946: Jim Tucker, original guitarist of the Turtles, was born in Los Angeles.
1949: Bill Hudson of the Hudson Brothers ("So You Are a Star" from 1974) was born in Portland, Oregon.
1967: Rene Dif, better known as Aqua ("Barbie Girl") was born in Frederiksberg, Denmark.
1968: Ziggy Marley, son of Bob Marley and leader of Ziggy Marley and the Melody Makers, was born in Trenchtown, Jamaica.
1972: Eminem was born in Saint Joseph, Missouri.
1972: Wyclef Jean of the Fugees was born in Croix-des Bouquets, Haiti.
1977: Chris Kirkpatrick of 'N Sync was born in Clarion, Pennsylvania.