1959: The funeral for Buddy Holly was held at Tabernacle Baptist Church in Lubbock, Texas. Over 1,000 mourners attended.
1959: Richie Valens was laid to rest at the San Fernando Mission cemetery in San Fernando, California.
1959: Lloyd Price moved to #1 with "Stagger Lee", jumping over "16 Candles" by the Crests and "Donna" from Ritchie Valens, who died in the tragic plane crash of February 3.
1961: Elvis Presley released the single "Surrender".
1963: The Beatles' first single--"Please Please Me" was released in the United States on Vee Jay Records, although it would be a year until the group was promoted properly.
1963: Paul & Paula had the new #1 song with "Hey Paula". The Rooftop Singers fell from their perch with "Walk Right In" and Bobby Vee peaked at #3 with "The Night Has A Thousand Eyes". Johnny Thunder traveled up a spot with "Loop De Loop" while the great new Drifters song "Up On The Roof" was fifth. The rest of the Top 10: the 4 Seasons with their third single, and the follow-up to the #1 "Sherry"--"Walk Like A Man", which moved from 15-6, Dion climbed up five with "Ruby Baby", the Miracles entered the Top 10 with "You've Really Got A Hold On Me", the Cascades stormed up from 19 to 8 with the great song "Rhythm Of The Rain" and Steve Lawrence's big hit "Go Away Little Girl" fell to #10.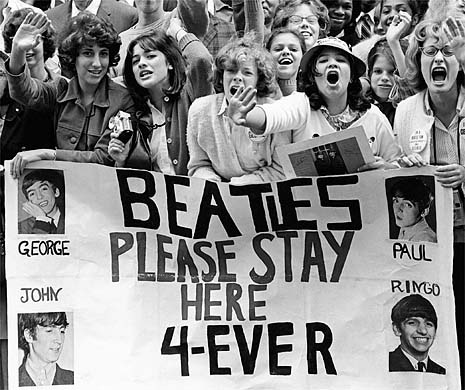 1964: The Beatles arrived in New York City at Kennedy Airport on Pan Am Flight 101 for their first tour of the United States. A crowd of 5,000 screaming fans that caused a riotous scene were there to greet them.
1967: Barry, Robin and Maurice Gibb returned to England after living in Australia for nine years.
1967: A documentary about the UFO Club and its house band, Pink Floyd, was shown on BBC-TV.
1967: Michael Nesmith and Mickey Dolenz of the Monkees appeared on Top of the Pops on BBC-TV.
1969: The Who recorded "Pinball Wizard" at Morgan Studios in London.
1969:
This Is Tom Jones
premiered as a regular series on ABC-TV. The Moody Blues and Mary Hopkins were guests on the show. (Note: some websites incorrectly state that the show premiered on this date, when the correct terminology is that it began as a regular series on this date. The show premiered on January 9, according to 'TV.com' and other credible sources.)
1969: Jim Morrison, lead singer of the Doors, continued to have issues as he was arrested for drunk driving and driving without a license in Los Angeles.
1970: Ian Anderson, flutist and vocalist with Jethro Tull, married Jennie Franks.
1970: Led Zeppelin II was the #1 album in the U.K.
1970: Dionne Warwick attained the #1 song on the Adult chart with "I'll Never Fall In Love Again".
1970: The Sly & the Family Stone song "Thank You (Falettinme Be Mice Elf Agin)" was #1 on the R&B chart.
1970: The Shocking Blue had one of The Top 500 Songs of the Rock Era*, and on this date it reached #1. The Jackson 5 slipped with "I Want You Back" while former #1 B.J. Thomas was still a solid 3 with "Raindrops Keep Fallin' On My Head". Sly & the Family Stone moved from 8 to 4 with the double-sided "Thank You (Falettinme Be Mice Elf Again)"/"Everybody Is A Star".
1975: The Jackson 5 were at Radio City Music Hall in New York City.
1976: Neil Sedaka had the new #1 adult song with "Breaking Up Is Hard To Do".
1976: The Captain & Tennille were red-hot as their new single "Lonely Night (Angel Face)" moved from 50 to 25.
1976: Paul Simon made one of the biggest leaps to #1 (10-1) of the Rock Era with "50 Ways To Leave Your Lover". Donna Summer's "Love To Love You Baby" was runner-up, followed by Hot Chocolate's "You Sexy Thing" and former #1 "I Write The Songs" from Barry Manilow. Earth, Wind & Fire reached #5 with "Sing A Song" and previous #1 "Love Rollercoaster" slid down for the Ohio Players. The rest of the Top 10: "Times Of Your Life", the 46th career hit and final Top 10 for Paul Anka, Rhythm Heritage was on the move (17-8) with "Theme From 'S.W.A.T.'", former #1 "Convoy" by C.W. McCall and Neil Sedaka's slower version of his 1962 hit "Breaking Up Is Hard To Do" entered the Top 10.
1979: The Clash began their first tour of the United States at the Berkeley Community Center in Berkeley, California. (Note: some websites report that their first U.S. gig was in New York City, when in fact that show was their sixth in the United States.)
1979: Stephen Stills became the first major label American artist to record on digital equipment at the famous Record Plant Studio in Los Angeles.
1980: Pink Floyd played the first of several concerts to promote the album The Wall at the Los Angeles Sport Arena. The show featured an actual wall built between the band and the audience during the first half of the concert. The gig was delayed, however, when fireworks set fire to the stage curtains.
1981: This artist, who was a teenage prodigy when he joined the Spencer Davis Group, first appeared on the chart as a solo artist. He put out some great music, (and it was so positive!) over the next several years. Steve Winwood debuted on the chart with his first solo release--"While You See A Chance".
1981: "Woman" by the late John Lennon was the #1 song in the U.K.
Pat's remake of the Kate Bush song "Wuthering Heights"...
1981: Double Fantasy by John Lennon remained #1 on the Album chart for the seventh week. Pat Benatar's Crimes of Passion remained a solid second while Neil Diamond moved up with the Soundtrack to "The Jazz Singer". Kenny Rogers was as hot as anyone out there and his Greatest Hits was #4. The rest of the Top 10: The Police with Zenyatta Mondatta, AC/DC remained at #6 with Back In Black; meanwhile, after 10 years of toiling on the circuit, REO Speedwagon's ship had finally come in as Hi Infidelity moved from 12 to 7, Stevie Wonder's Hotter Than July slipped to #8, Blondie and Autoamerican while Styx drove up from 18-10 with Paradise Theater.
1981: ABBA took over at #1 on the Adult Contemporary chart with their great song "The Winner Takes It All".
1981: There's nothing like your first #1 song and on this date Kool & the Gang was so awarded with "Celebration".
1985: Matt Monro ("Walk Away" from 1964) died of liver cancer at age 54 at the Cromwell Hospital in Ealing, London.
1987: "Ballerina Girl" by Lionel Richie was the new #1 on the Adult Contemporary chart.
1987: Madonna scored her fifth #1 with "Open Your Heart", knocking off "At This Moment" by Billy Vera & the Beaters. From behind, came the fast-charging Bon Jovi with "Livin' On A Prayer".
The Bangles' great song "Following"...
1987: Bon Jovi logged their fifth week at #1 on the Album chart with Slippery When Wet. Different Light by the Bangles was still #2 after 54 weeks of release while Night Songs from Cinderella was #3.
1989: Billy Randall, state representative of Georgia, introduced a bill to make "Tutti Frutti" by Little Richard the state's official rock song.
1994: Shannon
Hoon
of Blind Melon was thrown out of the ceremony for the American Music Awards in Los Angeles for loud and disruptive behavior and charged with battery, assault and resisting arrest.
1995: In today's edition of Dangerous Inmates Run Rap Music, Tupac Shakur was sentenced to up to 4 1/2 years in jail for sexual abuse. Loser.
1999: Blondie scored their sixth #1 song in the U.K. with "Maria".
2009: Chris Brown was under police investigation over claims that he attacked girlfriend Rihanna following a pre-Grammys party. (Note: some websites report that Brown was being investigated on February 16, when in fact the police responded Saturday night, February 7, according to Reuters news agency. When the police arrived, Brown had left, but he surrendered by walking into a police station the next morning and was arrested.
2000: Dave Peverett of Savoy Brown and the lead singer and rhythm guitarist of Foghat, died of kidney cancer in Orlando, Florida at age 57.
2006: By now, the evidence was obvious that Dangerous Inmates Run Rap Music and in today's second edition, Don P of Trillville was arrested for raping a 16-year-old girl in suburban Atlanta, Georgia.
2008: The Rolling Stones documentary Shine a Light was shown at the Berlin Film Festival.
2010: The Who performed at halftime of Super Bowl XLIV at Sun Life Stadium in Miami, Florida.
Born This Day:
1934: King Curtis (Curtis Ousley), saxophone player in New Orleans and a member of the Rock & Roll Hall of fame, was born in Fort Worth, Texas; stabbed to death on the front steps of his home in New York City on August 13, 1971.
1946: Sammy Johns ("Chevy Van" from 1975) was born in Charlotte, North Carolina; died January 4, 2013 in Gastonia, North Carolina.
1948: Jimmy Greenspoon, organist of Three Dog Night, who also played with Linda Ronstadt, the Beach Boys, America, Donovan, Jimi Hendrix, Eric Clapton, Stephen Stills, Beck, and Leon Russell, to name a few, was born in Los Angeles; died March 11, 2015 of cancer in North Potomac, Maryland.
1949: Alan Lancaster, founding member and bassist of Status Quo ("Pictures Of Matchstick Men"), was born in Peckham, London.
1949: Stony Browder, Jr. of Kid Creole & the Coconuts; died October 6, 2001 in the Bronx, New York.
1959: Brian Travers, saxophonist of UB40, was born in Birmingham, England.
1960: Steve Bronski, founding member of Bronski Beat ("Smalltown Boy" from 1984), was born in Glasgow, Scotland. (Note: some websites show he was born in Scunthorpe, England, but according to Sharon Davis, in her book '80's Chart-Toppers: Every Chart-Topper Tells a Story', Bronsky was bonr in Glasgow.)
1962: Garth Brooks was born in Tulsa, Oklahoma.
1962: David Bryan (real name David Rashbaum), keyboardist for Bon Jovi, was born in Edison, New Jersey. (Note: some websites claim he was born in Perth Amboy, New Jersey, and
'Rolling Stone' , 'MTV', and 'Allmusic.com' all got it wrong, saying he was born in Sayreville, NJ. As usual, the lazy journalism of the above mentioned sites did not bother checking the facts--according to David Bryan's official websites, he was born in Edison.)
1968: Sully Erna, guitarist and vocalist of Godsmack, was born in Lawrence, Massachusetts.
1975: Wes Borland, guitarist of Limp Bizkit, was born in Richmond, Virginia. (Note: some websites show his birthplace as Nashville, Tennessee, but according to the book 'Limp Bizit' by Justin Wilson, Borland was born in Richmond, then moved to Nashville.)