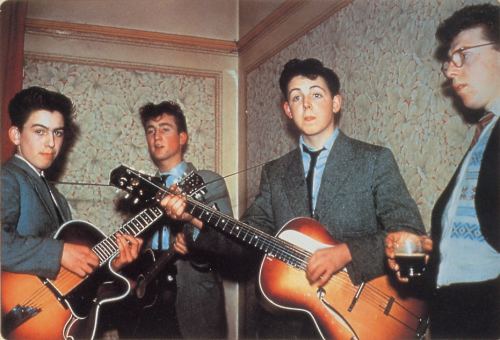 It has long been thought that George Harrison joined the Beatles after a successful audition at Wilson Hall on February 6, 1958. Several websites, in fact, report that date. However, new research by author David Bedford in the book The Fab one Hundred and Four shows that Harrison had to have joined the group earlier.
Bedford points out that guitarist Eric Griffiths left the Quarrymen because he had been replaced by George. After his exit, Griffiths quit music and joined the Merchant Navy. According to Eric's Navy records, Eric joined his first ship on February 11, 1958. Obviously, one cannot immediately hop on a ship after deciding to join.
Eric qualified as an officer cadet in January 1958, already contradicting the February 6 date shown above on several websites. In order to complete officer cadet training, Griffiths would have had to sign up for the Merchant Navy no later than mid-December, 1957.
Therefore, Harrison must have joined the Quarrymen prior to the middle of December, 1957. All sources agree that Harrison joined the group after an audition at Wilson Hall. And it so happens that on December 7, 1957, the Quarrymen played that venue. The logical conclusion is that Harrison replaced Griffiths after that audition, and Griffiths quit the guitar and signed up for the Merchant Navy the following week.