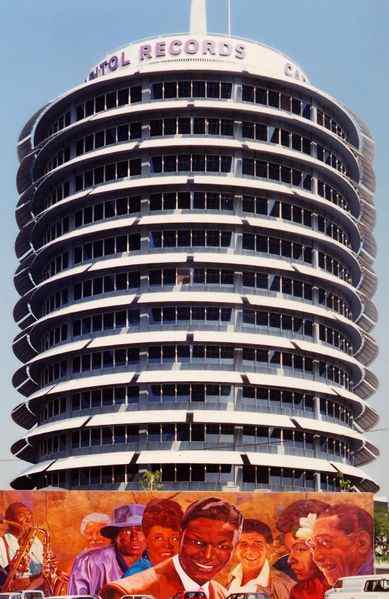 1956: Capitol Tower, the home of Capitol Records, was dedicated in Los Angeles, California. The iconic building was the first circular building (13 stories and 92 feet in diameter) in America.
1960: Tony Williams left the Platters to pursue a solo career.
1960: The Silver Beatles and Gerry and the Pacemakers performed at the Grosvenor Ballroom in Liscard, Lancashire, England.
1962: The Beatles auditioned for producer George Martin of EMI Records, playing "Love Me Do" and "Ask Me Why".
1964: "Chapel Of Love" moved into the #1 position for the Dixie Cups. The Beatles were knocked off with "Love Me Do" while Mary Wells' former #1 "My Guy" remained in the #3 spot. The Ray Charles Singers were there with "Love Me With All Your Heart" while Louis Armstrong made it four #1 songs on the Top Five on this date, creating a logjam. The rest of the Top 10: "A World Without Love" from Peter & Gordon, Dionne Warwick rose from 10-7 with "Walk On By", "Little Children" from Billy J. Kramer, the Reflections fell with "(Just Like) Romeo & Juliet" and the Beatles added another Top 10 with "P.S. I Love You".
1965: Herman's Hermits performed on The Ed Sullivan Show.
1968: The Rolling Stones added new lyrics to their upcoming song "Sympathy For The Devil" following the assassination of Robert Kennedy.
1969: Rod Stewart signed a solo recording contract with Mercury Records.
1970: Christie had a #1 song in the U.K. with "Yellow River".
1970: The Jackson 5 had another smash as "The Love You Save" vaulted from #45 to #15.
1970: The album McCartney r
emained at #1 while the Beatles last studio album Let It Be rose from #104 to #2.
1971: The final episode of
The Ed Sullivan Show
aired on television. One of the most popular shows for 23 years (1948-1971) and a total of 1,059 episodes, it was canceled. Gladys Knight & the Pips were Ed's guests that night.
1977: The Emotions released the single "Best of My Love". (Note: some websites naively say the song was released June 9. Seeing as the chart came out on June 10, it is physically impossible for a group to release a single, mail it to radio stations, arrive at radio stations, be listened to and added to radio station playlists, reported to the trade papers and printed and published by the trade papers, all in one day.)
1977: Queen appeared at Earls Court in London.
1977: Stevie Wonder gave an unannounced lecture to a UCLA class that was studying the record industry. He also performed for the shocked but happy students.
1979: Def Leppard appeared in concert at Crookes Workingman's Club in Sheffield, England, leading to a recording contract with Phonogram Records.
1981: Champaign had the #1 Adult Contemporary song for a second week with "How 'Bout Us".
1981: Kim Carnes continued to hold off everyone at #1 for the fourth week on the Popular chart with "Bette Davis Eyes".
1982: Stevie Wonder, Linda Ronstadt, Tom Petty, Stevie Nicks, Bob Dylan, Crosby, Stills & Nash, Jackson Browne and Bonnie Raitt played at the Peace Sunday: We Have a Dream concert for nuclear disarmament before 85,000 at the Rose Bowl in Pasadena, California.
1986: U2, Bob Dylan, Bryan Adams, Tom Petty and the Heartbreakers, Jackson Browne, Sting and Joan Baez performed at the Amnesty International concert at the Forum in Inglewood, California. (Note: some websites naively say the concert was in Los Angeles. The Forum is located in Inglewood.)
1987: Simple Minds had the top U.K. album with
Live in the City of Light
.
1987: Kim Wilde became the third artist to score a big hit with "You Keep Me Hangin' On" hitting #1, following the original by the Supremes and the remake from Vanilla Fudge. Atlantic Starr closed with "Always" while Lisa Lisa & Cult Jam were right behind with "Head To Toe". Chris DeBurgh's memorable song "The Lady In Red" dropped to #4. The rest of the Top 10: previous #1 "With Or Without You" from U2, Genesis scored their fifth Top 10 in a row and 17th overall hit with "In Too Deep", Bon Jovi moved up with "Wanted Dead Or Alive", Fleetwood Mac's "Big Love", Herb Alpert made a comeback with "Diamonds" and Whitney Houston bounced into the Top 10 after just four weeks with "I Wanna' Dance With Somebody".
1987: The Joshua Tree by U2 remained as the #1 album.
1988: Steve Winwood released the single "Roll With It".
1991: Stan Getz, the great saxophonist who teamed with Joao Gilberto for the classic album Getz/Gilberto died of liver cancer in Malibu, California at the age of 64.
1992: David Bowie married Iman in Florence, Italy.
1992: Celine Dion had her third Top 10 song as "If You Asked Me To" moved from 12 to 9 on this date.
1996: William Palmer, inventor of the magnetic tape recorder, passed away of a stroke at age 85 in Menlo Park, California.
1997: When Phil Collins left for a highly successful solo career, Genesis announced that they were replacing him with Ray Wilson, formerly of Stiltskin.
1998: In the U.K., B"Witched debuted at #1 with "C'est La Vie".
1998: Brandy & Monica rose to #1 for the first of what would be 12 weeks at the top with "The Boy Is Mine".
1999: The Backstreet Boys had the #1 album with Millennium, which is the #99 Album of All-Time in the Rock Era*.
2003: The Eagles were in concert at the Savvis Center in St. Louis, Missouri.
2003: Dave Rowberry, who gave us one of the most memorable keyboard solos of the Rock Era on the Animals song "House Of The Rising Sun", was found dead in his home in East London of an ulcer hemorrhage. Rowberry was 62.
2004: Metallica, minus drummer Lars Ulrich, played
at the Download Festival at Donington Park in Leicestershire,
England. Ulrich, who came down with an undisclosed illness just hours before Metallica was due on stage, was replaced by
Joey Jordison of Slipknot and Dave Lombardo from Slayer.
2004: Performers at Eric Clapton's Crossroads Festival in Dallas, Texas included Santana, ZZ Top, James Taylor, John Mayer, Booker T. & the MG's, Stevie Ray Vaughan, Joe Walsh, Stevie Vai, Buddy Guy and host Clapton.
2004: Mario Winans led the way on the U.K. Singles chart with "I Don't Wanna' Know".
2004: Avril Lavigne had her second #1 album in the U.S. with Under My Skin.
2006: Keyboard whiz Billy Preston died from kidney failure at the age of 59 in Scottsdale, Arizona.
2010: Marvin Isley, bass guitarist of the Isley Brothers, died at the age of 56 in Chicago, Illinois from complications with diabetes. He had stopped performing in 1996 due to problems with diabetes, which had robbed him of the use of his legs.
Born This Day:
1936: Levi Stubbs, one of the great lead singers of the Rock Era for the Four Tops, was born in Detroit, Michigan; died October 17, 2008 in Detroit from complications of a stroke he suffered in 2000.
1939: Gary "U.S." Bonds (Gary Anderson) was born in Jacksonville, Florida.
1942: Howie Kane of Jay and the Americans was born in Queens, New York.
1944: Peter Albin, bassist of Big Brother and the Holding Company, was born in San Francisco, California.
1948: Terry Williams of the New Christy Minstrels and co-founder and guitarist of the First Edition, was born in Hollywood, California.
1951: Dwight Twilley ("I'm On Fire" in 1975) was born in Tulsa, Oklahoma.
1960: Elite guitarist Steve Vai, who played with Frank Zappa, David Lee Roth and Whitesnake, was born in Long Island, New York.
(Note: some websites naively say Vai was born on Long Island, New York, while others say he was born in Carleplace, New York. Long Island is neither a city nor a state; it is simply an island, and you will never see Long Island listed on an official birth certificate. Vai was born in Carle Place, according to MTV and the book 'Gear Secrets of the Guitar Legends: How to Sound Like Your Favorite Players' by Pete Prown and Lisa Sharken. There is no such town as Carleplace in New York; the correct spelling of his city of birth is Carle Place, a hamlet and census-designated place in the town of North Hempstead.)
1961: Tom Araya, bassist and vocalist of Slayer, was born in Viña del Mar, Chile.
1970: James Shaffer, guitarist of Korn, was born in Rosedale, California. (Note: some websites report Shaffer was born in Bakersfield, California. According to the
book 'Gear Secrets of the Guitar Legends: How to Sound Like Your Favorite Players' by Pete Prown and Lisa Sharken, James was born in Rosedale.)
1974: Uncle Kracker (real name Matthew Shafer) was born in Mount Clemens, Michigan.