1957: The Everly Brothers signed with Cadence Records and recorded "Bye Bye Love" at the RCA Studios in Nashville, Tennessee.
1958: Buddy Holly started his only tour of the U.K. at the Trocadero at Elephant & Castle in London.
1966: Gene Clark of the Byrds announced he was leaving the group. It is not lost on observers that a member of the Byrds declared that he "had a fear of flying", which made it difficult for Gene to tour with the group.
1966: One day after the famous Cavern Club in Liverpool, England closed, hundreds of incensed fans barricaded themselves inside. Believe it or not, someone actually proposed bulldozing the place to build a subway stop, but the smarter people prevailed and the Club took its proper place as a historic site.
1967: The Beatles began recording a song John Lennon had been working on--"Lucy In The Sky With Diamonds". They had tried to record the song the previous day in eight hours of recording, but weren't satisfied, and most of the tapes from that session were erased.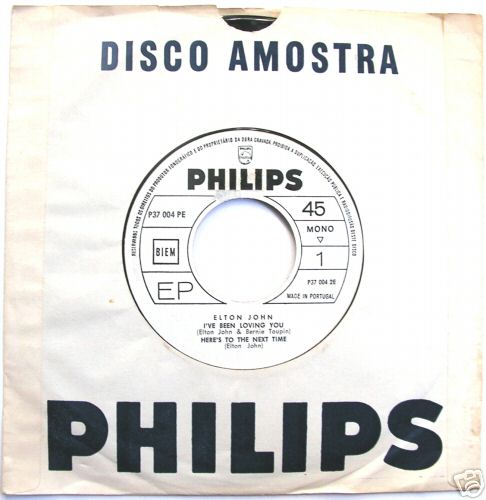 1968: Elton John released his first single "I've Been Loving You" in England.
1969: In his final years, Jim Morrison, lead singer of the Doors, had more trouble in a concert at the Dinner Key Auditorium in Miami, Florida. Feeling that he wasn't getting the attention from the crowd (as if he was the only talented member in the Doors!), Morrison dropped his drawers. Sad to go out that way. Morrison was arrested four days later and charged with lewd and lascivious behavior, indecent behavior, open profanity and public drunkenness. He was convicted and sentenced to eight months of hard labor and fled to Paris, France while his lawyer filed an appeal. Morrison died a little over two years later in Paris at age 27. (Note: many websites claim that Morrison was arrested on this date. Not true. The concert was March 1; Morrison was arrested on March 5, according to the Doors' official website and the book 'Busted: Mugshots and Arrest Records of the Famous and Infamous'.)
CCR moved closer to the top...
1969: Sly & the Family Stone held on to #1 for a third week with "Everyday People". The former #1 smash "Crimson And Clover" was #2 for the third straight week by Tommy James & the Shondells. The Foundations had their biggest hit--"Build Me Up Buttercup" while the Doors remained at #4 with "Touch Me". Many radio stations had that song higher. CCR moved to #5 with "Proud Mary" while the Turtles continued their hot streak with "You Showed Me". The rest of the Top 10: "This Magic Moment" from Jay & the Americans, Smokey Robinson & the Miracles were at #8 with "Baby, Baby Don't Cry", Brooklyn Bridge with "Worst That Could Happen" and Tommy Roe bounced from 25 to 10 with "Dizzy".
"Sugar On Sunday" helped TJ & the Shondells score a big hit album...
1969: The White Album by the Beatles registered a ninth week at #1 on the Album chart. The Soundtrack to "Yellow Submarine" by the Beatles was next with Glen Campbell's Wichita Lineman in third. TCB from Diana Ross & the Supremes with the Temptations held on to #4 with the Greatest Hits by the Association right behind. The rest of the Top 10: Blood, Sweat & Tears with their great self-titled album, Ball by Iron Butterfly moved from 14 to 7, Crimson & Clover from Tommy James & the Shondells, the farewell album Goodbye from Cream and Iron Butterfly's previous album In-A-Gadda-Da-Vida was #10.
1970: Clips of the Beatles performing "Let It Be" and "Two Of Us" aired on The Ed Sullivan Show on television, the final time the group appeared on the show that kickstarted their career.
1972: John Lennon was granted an extension of his American work visa. (Note: some websites claim this occurred on February 29 or March 15. They appear to be confused with the facts. The visas for both John and wife Yoko Ono expired on February 29. Lennon's lawyer had helped the couple get a fifteen-day extension on March 1, which would have expired on March 15. However, on March 6, Lennon's visa was summarily canceled. These facts are verified by the book 'The Love You Make: An Insider's Story of the Beatles' by Peter Brown and Steven Gaines.)
1973: The Robert Joffrey Dance Company premiered Deuce Coupe Ballet, based on the music of the Beach Boys, at City Center in New York City.
1974: Queen began their first tour as a headline act in England at the Winter Gardens in Blackpool.
"Heaven Is 10 Zillion Years Away"...
1975: Fulfillingness' First Finale by Stevie Wonder was named Album of the Year at the Grammy Awards show at the Uris Theater in New York City. (Note: one website claims the awards were presented on March 2, but that was only if one taped the show the night before and watched it on March 2. According to the official website for the Grammys, the show was on March 1.)
1975: Olivia Newton-John won the prestigious Record of the Year for "I Honestly Love You" at the Grammy Awards.
1975: Shirley and Company took over at #1 on the R&B chart with "Shame, Shame, Shame".
1975: "Poetry Man" by Phoebe Snow was the new #1 on the Adult chart.
1975: The Eagles were perched at #1 with "Best Of My Love". Olivia Newton-John was back with "Have You Never Been Mellow" and the Doobie Brothers climbed to 3 with "Black Water". Frankie Valli had one of his biggest solo hits with "My Eyes Adored You". The rest of the Top 10: Grand Funk with their smash "Some Kind Of Wonderful", America was stalled at #6 with "Lonely People", the instrumental "Pick Up The Pieces" from Average White Band was #7, LaBelle rocketed from 17 to 8 with "Lady Marmalade", Stanley, Idaho's Carole King was up to #9 with "Nightingale" and the excellent "Lady" from Styx entered the Top 10.
1977: Sara Lownds Dylan filed for divorce from Bob Dylan.
1980: Patti Smith ("Because The Night" from 1978) married Fred "Sonic" Smith, formerly the guitarist for MC5, in Detroit, Michigan.
1980: Blondie scored their third career #1 in the U.K. with "Atomic", which in the United States became one of The Top Unknown/Underrated Songs of the Rock Era*, unfortunately.
1980: The Whispers reached #1 on the R&B chart with "And the Beat Goes On".
1980: Anne Murray's remake of the Monkees' classic "I'm A Believer" rose to #1 on the Adult Contemporary chart. It was Anne's eighth career #1 in the genre.
1980: The Eagles were on fire with their new single, "I Can't Tell You Why", which rose from 60 to 32.
Pink Floyd with their biggest album since 'Dark Side of the Moon'...
1980: "Crazy Little Thing Called Love" from Queen remained at #1, holding off "Yes, I'm Ready" from Teri DeSario and K.C. The Captain & Tennille bowed out with "Do That To Me One More Time" and Dan Fogelberg was up to 4 with "Longer". The rest of the Top 10: "Desire" from Andy Gibb, Donna Summer's "On The Radio", Smokey Robinson's great smooth sound with "Cruisin'", Michael Jackson was on his way down to #8 with "Rock With You", the Spinners had their sixth career Top 10 with the medley "Working My Way Back To You/Forgive Me Girl" and Pink Floyd had their first and only career Top 10 with "Another Brick In The Wall".
Rush was making 'Permanent Waves' in the music business...
1980: The Wall by Pink Floyd was #1 on the Album chart for the seventh week but there was a great #2--Damn the Torpedoes from Tom Petty & the Heartbreakers. Off the Wall by Michael Jackson was third followed by another incredible album--Phoenix from Dan Fogelberg. Rush moved up to join that group with Permanent Waves. The rest of the Top 10: Donna Summer with On the Radio-Greatest Hits-Volumes I & II, The Long Run from the Eagles, Kenny by Kenny Rogers was eighth, the Whispers moved into the Top 10 with their self-titled album and Neil Diamond remained in the #10 slot with September Morn.
1986: The Bangles were in concert at the Queen Margaret Union at Glasgow University in Glasgow, Scotland.
The great track "Is It a Crime" from Sade...
1986: Newcomers Mr. Mister achieved a great feat when Welcome to the Real World reached #1 on the Album chart. Promise from Sade was still a strong second while the debut from Whitney Houston amazingly was now heading back up after 49 weeks. Barbra Streisand's former #1 The Broadway Album was fourth and the real undiscovered gem was Scarecrow from John Cougar Mellencamp. The rest of the Top 10: Heart and their self-titled release, Starship were at 7 with Knee Deep in the Hoopla, Dire Straits with Brothers in Arms, Afterburner from ZZ Top was #9 and Simple Minds moved to #10 with Once Upon a Time.
1986: Mr. Mister hit #1 with "Kyrie", knocking off Whitney Houston's "How Will I Know". Heart had the only new song in the Top 10 with their 19th hit and fifth career Top 10--"These Dreams".
1989: R.E.M. began a tour at the Louisville Gardens in Louisville, Kentucky.
1989: Bruce Springsteen's divorce from Julianne Phillips was official. (Note: many websites report that the divorce was finalized on December 13, 1988, but the correct date is March 1, 1989, according to 'CNN' and numerous other reputable sources. Julianne had filed for divorce on August 30, 1988.)
1990: Janet Jackson set out on her first concert tour at the Miami Arena in Florida.
1991: Frank Smith from Air Supply died of pneumonia at the age of 42 in Melbourne, Australia.
1991: The movie The Doors opened in theaters with Val Kilmer playing Doors lead singer Jim Morrison.
1994: Nirvana performed for the final time at The Terminal Eins (3,000 capacity) in Munich, Germany.
1995: Bill Berry of R.E.M. suffered a brain aneurysm while performing at the Patinoire Auditorium in

Lausanne,

Switzerland.
1995: Bruce Springsteen won Song of the Year, Best Rock Song and Best Male Vocal Performance for "Streets Of Philadelphia" at the Grammy Awards at the Shrine Auditorium in Los Angeles.
1995: Sheryl Crow won the Grammy for Female Pop Vocal Performance ("All I Wanna' Do") and also captured the Best New Artist award. Crow is one of the few recipients of the Best New Artist trophy that actually panned out.
1995: In what is really an amazing story, Tony Bennett won the Album of the Year for his Unplugged.
2002: Doreen Waddell of Soul II Soul ("Back To Life") died in Shoreham-By-Sea, West Sussex, England after being hit by three cars while she attempted to cross the street. Waddell was running from store officials who suspected her of shoplifting.
2003: Mariah Carey and LL Cool J won Outstanding Career Achievement honors at the Soul Train Music Awards. Nelly, Ashanti, Musiq and B2K received two awards each.
2004: WEA (Warner Brothers, Elektra and Asylum Records) used to be a powerhouse. Then the Time corporation bought it and renamed it Time Warner. On this date, Time Warner sold the Warner Music Group like somebody's garage sale item to an investment group. WMG at this point still included Madonna, Metallica, Faith Hill and others.
2005: It wouldn't be a normal day without an episode of Inmates Run Rap Music and on this date, Lil' Kim went on trial for perjury. She was arrested for lying to a grand jury which was investigating a shooting in 2001 between her rap crew Junior M.A.F.I.A. and fellow rapper Foxy Brown's crew. Raise your hand if you think rap is taking us backwards.
2006: Johnny Jackson, a family cousin and drummer of the Jackson 5, was stabbed to death at his home in Gary, Indiana at age 54.
2009: Never heard it put this way in a song but on this date, Kelly Clarkson had the #1 song with "My Life Would Suck Without You".
Born This Day:
1927: Harry Belafonte ("The Banana Boat Song (Day-O)") was born in Harlem, New York. (Note: some websites claim Belafonte was born in New York City, but according to the newspaper 'The New York Times', he was born in Harlem.)
1939: Warren Davis of the Monotones was born in Newark, New Jersey.
1943: Jerry Fisher, who took over as lead singer of Blood, Sweat & Tears after David Clayton Thomas left, was born in Dekalb, Texas.
1944: Roger Daltrey, lead singer of the Who, was born in Shepherd's Bush, London, England. (Note: some websites list Daltrey's birthplace as London, while others say he was born in Hammersmith, or Hammersmith, London. According to the Who's official website, Roger was born in Shepherd's Bush, London, England. Hammersmith is a borough of London--Shepherd's Bush is a suburb of London located in the county of London.)
1944: Mike D'Abo, songwriter and lead singer of Manfred Mann, was born in Betchworth, Surrey, England.
1958: Nik Kershaw, who wrote songs for Elton John and Bonnie Tyler among others, was born in Bristol, England.
1963: Rob Affuso, drummer of Skid Row, was born in Newburgh, New York.
1973: Ryan Peake, guitarist of Nickelback, was born in Brooks, Alberta, Canada.
1987: Kesha ("Tik Tok" from 2009) was born in Los Angeles. Our sympathies to you, Los Angeles.
1994: Justin Bieber was born in London, Ontario, Canada. And our sympathies to you, London.