1961: Del Shannon released the single "Runaway" on Big Top Records.
1961: The Marcels released the single "Blue Moon".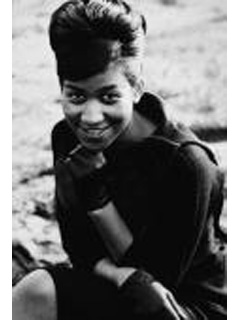 1961: This woman first entered the charts with her first career single "Won't Be Long". Little did we know it, but she would go on to have 77 hits and become the Queen of Soul--Aretha Franklin.
1961: Chubby Checker had his second #1 with "Pony Time". Lawrence Welk had to take a bow with "Calcutta" while the Capris moved to #3 with "There's A Moon Out Tonight". The big story was Elvis Presley, who moved from 24 to 4 with "Surrender". The rest of the Top 10: "Don't Worry" from Marty Robbins, the Shirelles moved up with "Dedicated To The One I Love", Connie Francis had her 22nd hit with "Where The Boys Are", the Miracles' #2 song "Shop Around" was on its way down, the Everly Brothers moved from 18-9 with "Ebony Eyes" and the String-A-Longs remained stuck at 10 with "Wheels".
1965: Herman's Hermits, Del Shannon and Wayne Fontana & the Mindbenders began a U.K. tour at City Hall in Sheffield, South Yorkshire, England.
1965: "My Girl" by the Temptations was #1 on the R&B chart for a fourth straight week.
1965: "King Of The Road" by Roger Miller topped the Easy Listening chart for a third week.
1965: The Supremes' latest ("Stop In The Name Of Love") was behaving the way several from the trio before had--moving from 80 to 41.
1966: The Supremes were guest stars on the television show What's My Line.
1968: Frankie Lymon died from drugs in Manhattan, New York at the age of 25. (Note: some websites claim that Lymon died on February 28. The newspaper article in The New York Times that reported the death was dated February 28, but it plainly says that Lymon "died yesterday" (February 27). Newspaper articles are printed the day following news, and the February 27 date is confirmed by the gravestone pictured above.)
1971: The Carpenters collected their third straight #1 on the Adult chart with "For All We Know".
Lightfoot sings his first big hit...
1971: "One Bad Apple" by the Osmonds remained at #1 for a third week. "Mama's Pearl" by the Jackson 5 was #2 although most radio stations didn't have it that high. Dawn went down with their former #1--"Knock Three Times" while Lynn Anderson dropped with "Rose Garden" and Gordon Lightfoot remained in the #5 position with "If You Could Read My Mind". The rest of an excellent Top 10: "Sweet Mary" from Wadsworth Mansion, Jerry Reed had a big hit with "Amos Moses", the Nitty Gritty Dirt Band and "Mr. Bojangles" and Janis Joplin moved from 25-10 with the posthumous release "Me And Bobby McGee".
"Mercedes Benz"...
1971: Pearl moved to #1 on the Album chart by the late Janis Joplin.

1976: Mick Jagger, lead singer of the Rolling Stones, checked into a hospital in New York City with a respiratory infection.
1977: Keith Richards, guitarist of the Rolling Stones, was charged with possession of heroin (22 grams) with the intent to sell and possession of cocaine (5 grams) in Toronto, Ontario, Canada.
1978: Jefferson Starship released the single "Count on Me".
1978: George Benson released his remake of the Drifters' hit "On Broadway".
1980: Billy Joel had officially arrived--he won the Album of the Year at the Grammy Awards for 52nd Street.
1980: The Doobie Brothers were at their career peak as "What a Fool Believes" won both Record and Song of the Year honors at the Grammys.
1980: Rickie Lee Jones was named Best New Artist at the Grammy Awards show at the Shrine Auditorium in Los Angeles.
Journey's "Open Arms" outlasted all of its competition...
1982: The J. Geils Band remained at #1 for a fourth week with "Centerfold" while "Open Arms" by Journey, which was #1 at many stations, moved up to #2. Hall & Oates were on the way down with "I Can't Go for That (No Can Do)" with the Cars at #4 with "Shake It Up". The rest of the Top 10: "That Girl" from Stevie Wonder, Air Supply's new one--"Sweet Dreams" was sixth, Quarterflash and "Harden My Heart", Juice Newton was going the wrong way with "The Sweetest Thing (I've Ever Known)", Joan Jett & the Blackhearts had all the right signs as "I Love Rock 'N Roll" moved from 18 to 9 and Dan Fogelberg closed the list with "Leader Of The Band".
1988: "She's Like The Wind" by Patrick Swayze and Wendy Fraser moved to #1 on the Adult Contemporary chart.
The great lead singer Paul Carrack kept one for himself...
1988: George Michael scored his third #1 solo hit with "Father Figure". The Pet Shop Boys & Dusty Springfield were passed over and they screamed "What Have I Done to Deserve This?" Patrick Swayze and Wendy Fraser moved from 7-3 with "She's Like The Wind" and Rick Astley made a strong move with "Never Gonna' Give You Up". The rest of the Top 10: Eric Carmen's "Hungry Eyes", former #1 "Seasons Change" from Expose, Foreigner with "Say You Will", Belinda Carlisle was back in the Top 10 with "I Get Weak", Paul Carrack had a solo hit with "Don't Shed A Tear" and Glorida Estefan & Miami Sound Machine moved up with "Can't Stay Away from You".
1990: Wilson Phillips released the single "Hold On".
1990: Here's what Rob Pilatus of Milli Vanilli had to say in Time Magazine: "Musically, we're more talented than any Bob Dylan or Paul McCartney. Mick Jagger can't produce a sound. I'm the new Elvis." There's appropriate places for people like this where others can care for them.
1991: James Brown was given parole after serving in prison near Columbia, South Carolina for two years of a six-year sentence. Brown had led police on an interstate car chase.
1992: Whitney Houston set a new Rock Era record with "I Will Always Love You" as it was the #1 song for the 14th week, breaking a tie with "The End Of The Road" from Boyz II Men. The song still is tied as the second-longest running #1.
1996: Alanis Morissette released the single "Ironic".
1999: Britney Spears had the #1 U.K. song with "...Baby One More Time".
2000: The movie
The Beach Boys
was televised on ABC.
2001: The Dave Matthews Band released the album Everyday.
2001: Carlos Santana was given the key to his hometown of Autlan, Mexico in quite a celebration. The street Avenue Carlos Santana was named after him, and a statue was unveiled as well.
2002: Jennifer Lopez had the #1 album with the remix package J to tha Lo!
2004: Bobby Brown was sentenced to 60 days in jail for violating terms of his probation. Brown refused to take a drug test, did not pay court-supervision fees on time and couldn't prove he had completed his substance-abuse rehabilitation program.
2004: A judge in Chicago, Illinois dismissed seven of the 21 child pornography charges against R. Kelly. Meaning he did not dismiss 14 of them. Kelly's lawyers' best defense was that the charges of soliciting a minor to appear in a sex tape were based on a law that wasn't in effect yet.
2005: Nelly and Tim McGraw teamed up for the #1 U.K. song "Over And Over".
2007: Bobby Brown was sentenced to 30 days in jail for failing to pay $19,000 in unpaid child support. A warrant for Brown's arrest was issued in October, 2006 after the deadbeat failed to show up at a hearing for overdue child support for Kim Ward, the mother of two of his children. When you make the mistake of being with someone like Bobby Brown, you end up paying for it for the rest of your life. So ladies, the moral of the story is: try to find someone the exact opposite of Bobby Brown.
2010: U2 made twice as much money from touring, record sales and royalties than anyone else in 2009, with a haul of $109 million. Bruce Springsteen brought in $58 million, followed by Madonna with $47 mil and AC/DC with $44 mil.
2011: Randy Newman won Best Original Song at the Academy Awards for "We Belong Together" from Toy Story 3.
2013: Richard Street, member of the Temptations, died of pulmonary embolism in Las Vegas, Nevada at the age of 70.
Born This Day:
1948: Eddie Gray, guitarist of Tommy James & the Shondells, was born in Scottsdale, Pennsylvania.
1950: Robert Balderrama of ? & the Mysterians ("96 Tears")
1954: Neal Schon, elite guitarist with Santana and Journey (Note: some websites say he was born in San Mateo California, or Midwest City, Oklahoma, or Midland City, Oklahoma. Some sources say that Schon's official website shows he was born on Tinker Air Force Base in Oklahoma, although a check of it shows no such information. Since there are no credible sources at this time as to his birthplace, we will leave that blank for now.)
1957: Adrian Smith, elite guitarist of Iron Maiden, was born in Hackney, East London.
1959: Johnny Van Zant, lead singer of Lynyrd Skynyrd and the brother of former lead singer Ronnie Van Zant and the founder of .38 Special Donnie Van Zant, was born in Jacksonville, Florida.
1960: Paul Humphreys, lead singer and co-founder of Orchestral Manoeuvres in the Dark ("If You Leave"), was born in London.
1971: Chilli (real name Rozonda Thomas)
of TLC was born in Atlanta, Georgia. (Note: some websites say she was born in Columbus, Georgia. While there are no credible sources of either city being her birthplace, our best information indicates that she was born in Atlanta.)
1972: Jeremy Dean, saxophone and keyboard player of Nine Days
1981: Josh Groban was born in Los Angeles.