1957: Elvis Presley donated thousands of teddy bears to the National Foundation for Infantile Paralysis.
1960: Neil Sedaka shot up from #100 to #57 this week with "Calendar Girl".
1960: Elvis Presley's "Are You Lonesome To-night?" was #1 for a fifth week.
1963: The Beatles released the single "I Want To Hold Your Hand" in America.
The Stones from '12 x 5'...
1964: Beach Boys Concert by the Beach Boys was #1 on the Album chart for the fourth consecutive week. Elvis Presley was lined up at #2 with the Soundtrack to "Roustabout" while 12 x 5 from the Rolling Stones came in third. People by Barbra Streisand was #4 while the Supremes moved up with Where Did Our Love Go and the "Mary Poppins" Soundtrack was #6. The rest of the Top 10: The Beatles moved back up to 7 after 24 weeks with the Soundtrack to "A Hard Day's Night", The Beatles' Story moved from 20-8 after three weeks, Dean Martin held on with The Door Is Still Open to My Heart and the Soundtrack to "My Fair Lady" dropped to #10.
1964: Petula Clark's first single ("Downtown") was on its way, moving from 87 to 41 in its second week.
1964: The Beatles scored another #1 with "I Feel Fine". The group finished the year with six #1 songs and monopolized the #1 position for 18 weeks. "Come See About Me" from the Supremes was second with Bobby Vinton remaining at 3 with "Mr. Lonely". The Beatles moved from 14-4 with "She's A Woman" while the Zombies were on their way down with "She's Not There".
1966: The Spencer Davis Group released the single "Gimme' Some Lovin'".
1967: The Doors and Chuck Berry began a weeklong series of concerts at the Fillmore West in San Francisco, California.
1968: A new group arrived in the United States for their first tour and on this night, Led Zeppelin opened in Denver, Colorado.
1970: "Stoned Love" by the Supremes was the new #1 on the R&B chart.
1970: A new Canadian artist that would produce some of the world's great music in the years to come first debuted on the chart on this date. Gordon Lightfoot's first career single "If You Could Read My Mind" entered the chart.
1970: George Harrison became the first Beatle to earn a #1 solo hit as "My Sweet Lord" climbed to the top. The 5th Dimension was second with "One Less Bell To Answer". The previous #1 "The Tears Of A Clown" from Smokey Robinson & the Miracles was third, followed by Dawn's "Knock Three Times" and "Black Magic Woman" from Santana. The rest of the Top 10: The former #1 "I Think I Love You" from the Partridge Family, the Supremes remained at #7 with "Stoned Love", Chicago wouldn't budge with "Does Anybody Really Know What Time It Is?", Brian Hyland was still at #9 after 17 weeks with "Gypsy Woman" and Badfinger finished the list with "No Matter What".
1979: Paul McCartney held the first of three concerts at Hammersmith Odeon in London to benefit relief efforts in the war-torn country of Kampuchea, with help from the Who, Queen, the Clash, Elvis Costello and Rockpile.
(Note: many websites incorrectly say that the concerts premiered December 22, and that there were only three. There were four shows, and they began on December 26, according to the book 'Band on the Run: A History of Paul McCartney and Wings' by Garry McGee.)
1981: AC/DC had their second straight #1 album as For Those About to Rock We Salute You moved to the top spot. Barbra Streisand had the only new Top 10 album, her compilation called Memories.
1987: Jason Mizell of Run D.M.C. was hospitalized after his Jeep was hit head-on by a driver going the wrong way.
1987: Michael Jackson moved to #1 on the R&B chart with "The Way You Make Me Feel".
1987: Patrick Swayze & Wendy Fraser jumped from 84 to 55 with "She's Like The Wind".
INXS with one of the great songs from the album 'Kick'...
1987: George Michael made it three weeks at #1 with "Faith". Whitney Houston moved to challenge with her new one "So Emotional" while Whitesnake swapped places with Whitney with "Is This Love". George Harrison edged up with "Got My Mind Set On You". The rest of the Top 10: Debbie Gibson's "Shake Your Love", Jody Watley with "Don't You Want Me", Michael Jackson was up to #7 with "The Way You Make Me Feel", Pretty Poison remained at #8 with "Catch Me (I'm Falling)", John Cougar Mellencamp scored another Top 10 with "Cherry Bomb and the hot new song from INXS--"Need You Tonight" bounced up from 16 to 10.
1992: The "Bodyguard" Soundtrack was #1 on the Album chart for the third week. Home for Christmas by Amy Grant was #2.
1992: "I Will Always Love You" was the top R&B song for the fourth straight week.
1992: Whitney Houston was accumulating weeks at #1 (5 now) and climbing up the rungs of history with "I Will Always Love You".
1997: The Spice Girls' movie Spice World was released in the U.K.
2003: You have one hit and you think you own the world. Cris Kirkwood, bassist for the Meat Puppets ("Backwater") got his due when he was shot in the stomach by a security guard in Phoenix, Arizona. Kirkwood got into an argument with the guard over a parking spot and beat the guard with his own baton before finally being put in his place.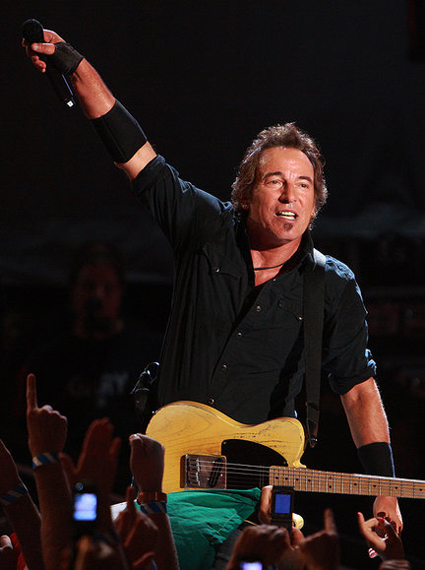 2003: Bruce Springsteen finished the year with the top tour as he grossed $115.9 million. Celine Dion was second, earning $80.5 mil from shows at Caesar's Palace in Las Vegas, Nevada.
Born This Day:
1935: Abdul Fakir of the Four Tops was born in Detroit, Michigan. He is the only surviving original member of the group.
1939: Phil Spector, songwriter and famed record producer of "The Wall of Sound" and convicted murderer, was born in The Bronx, New York. (Note: some websites, including 'Biography.com' and 'Allmusic.com incorrectly put his birth as 1940, but, as pointed out in Carlton's smith book

Reckless: Millionaire Record Producer Phil Spector and the Violent Death of Lana Clarkson

, Spector entered the year 1939 for his birthday when his group the Teddy Bears signed a record contract, and 1939 was also the year entered in Spector's arrest sheet.)
1946: Bob Carpenter of the Nitty Gritty Dirt Band was born in Philadelphia, Pennsylvania.
1946: Gordon Edwards, keyboardist of Pretty Things, was born in Southport, Lancashire, England; died of drugs in 2002.
1953: Steve Witherington, drummer of Ace ("How Long" from 1975), was born in Enfield, Middlefield, England.
Kashif, formerly Michael Jones, who changed his name after he converted to Islam, died Sunday at his home in Los Angeles of undetermined causes. He was 59.
1956: Kashif, six-time Grammy nominee who, did session work for the Four Tops, Tavares, Gloria Gaynor and Stephanie Mills, had eight Top 20 R&B hits and produced for Whitney Houston, Dionne Warwick, Kenny G., George Benson, the Average White Band and Evelyn "Champagne" King", was born December 26 in New York City; died September 25, 2016 in Los Angeles. (Note: some websites claim Kashif was born in 1959. According to 'Billboard' and the newspaper 'The Los Angeles Times', he was born in 1956.)
1963: Lars Ulrich, drummer and founding member of Metallica, was born in Gentofte, Denmark.
1966: Jay Yuenger, guitarist of White Zombie, was born in Chicago, Illinois.
1969: Peter Klett, guitarist of Candlebox, was born in Seattle, Washington
1979: Chris Daughtry was born in Roanoke Rapids, North Carolina.